WildAx Solaris XL
The WildAx Solaris XL is a van conversion with a difference due to being a full four-berth without featuring a pop-top or extra-high roof – a feat achieved thanks to two bunk beds. Nick Harding assesses it's credentials as a genuine family campervan.
West Yorkshire-based WildAx is one of a select band of specialist van converters in the UK. It typically sells its products directly to the public but also has a small dealer network. The Solaris XL has been its best-selling model for some years and is unusual in that it's a full four-berth without featuring a pop-top or extra-high roof. It has an unusual floorplan, too, with two bunk beds, rear washroom, nearside kitchen and four individual seats for travel/lounging.
On-the-road prices start at £54,995 for 2021, although here we take a look at a 2020 model that was on sale for £54,675.
Build quality – 84%
Flush-fitting side windows – all openable – are the first indicator that this is a premium product. Underneath, the fresh and waste water tanks are bigger than many, each holding 100 litres. Fully insulated, also with heating for extremes of cold, their location means they don't impinge on interior storage. Ditto for the permanent gas tank, also tucked underneath.
WildAx offers a choice of 10 exterior colours, including one pearlescent (red) and four metallics, of which the Lake Blue seen here is one. WildAx tops all this off with alloy wheels.
Inside, the furniture has a solid feel to it, the upper-level lockers featuring tambour doors. There are acrylic surrounds to the living quarters windows, which should make them easy to keep clean. Unsure about the internal colour scheme? WildAx can offer a plethora of upholstery options (at around £900 extra).
Driving – 78%
Based on the evidence of this example, the driving environment is a hushed one. Power comes from the Citroën Relay's more-than-adequate 2.2-litre, 140bhp HDi engine, with six-speed manual transmission. If you want automatic, the Solaris XL is available on Fiat's Ducato – it's a £2,600 option, the engine again boasting 140bhp.
In terms of the Citroën, safety/security features include ESC (Electronic Stability Control) and the usual immobiliser. For optimum security, you might want to consider a Category 1 alarm (£450). Because of the seating configuration, a second sliding door is a possibility at £350.
As standard, the Solaris cab features plenty of 'nice stuff' such as the leather steering wheel and gear knob, DAB stereo, sat-nav, reversing camera and four rear parking sensors. Remis cab blinds are here too for the windscreen and side windows – and you also get thermal screen panels.
The Solaris is pre-wired for a solar panel (the panel itself, at 120W, is a further £500), while other conversion extras include the likes of an awning (£900), 19in TV with bracket (£495), double bike rack (£495), air conditioning (£700) and towbar (£495).
Daytime – 75%
With two tables and no fewer than three table 'slots' you're spoilt for choice in normal daytime mode. Do note the cab and rear seats are at different heights, though, and with the former fully swivelled your legs are likely to dangle (despite the fact they are adjustable). As an alternative, you can make an inward-facing settee, with a commendably high backrest, along the offside.
You'll certainly enjoy good views out of the windows, and there will always be the temptation to throw back the sliding door when weather conditions allow.
Night-time – 79%
Both featuring metal frames with wooden slats, 
those bunks are an impressive 6ft 8in long. The upper one is hinged so it can be locked in a nearly-upright position to make the whole rear area seem much roomier in daytime mode.
Each has its own locker (again with tambour door) at its foot as well as a fabric pouch, plus generous lighting provision (there is a reading lamp as well as two downlighters per bed).
The main bed, though, is the transverse double made up from all the lounge seating (but not the swivelled cab seats). There's some metal framework to drop in after you've folded the two rear seats flat. It's a decent enough size, at 5ft 11in x 4ft 3in but, of course, it cuts across the sliding door. I would consider a mattress topper if you want a softer sleeping surface.
Kitchen – 87%
Few van conversions can offer as large a kitchen area as this. It's still fairly uncommon to provide a full cooker like the Thetford Caprice with four gas rings, separate oven and grill plus a floor-level pan store, as here – let alone place it in the very centre of the worktop. You will need to close the lid to add the drainer when you're washing up, but there's a helpful section of permanent worktop to the right of the cooker.
Kitchen storage includes three overhead lockers, four drawers to the right of the cooker and two lockers to the left. A further two, gloss-finish doors between the washroom and kitchen open to reveal a wardrobe (where you'll also find the Truma iNet box, TV aerial control and two table legs) and a lower locker which also houses a waste bin. Across the galley, the microwave oven is standard, bringing the Solaris XL's inventory up to something you're more likely to get in a coachbuilt. It's not often you get anything as large as the 141-litre fridge in a van conversion, either.
Washroom – 78%
There's a space-saving tambour-door entrance to the washroom, where WildAx has squeezed in a Dometic swivel-bowl toilet, a shower on a riser bar and a fixed basin, the latter set in front of an illuminated alcove.
As well as a deep shower tray (admittedly with just one plughole) and a fixed rail for hanging wet clothing and so on (that extends across the back wall), handy details include a mug and holder, mirror, rooflight and toilet roll holder.
Details – 79%
Opening and closing the various drawers and lockers is enough to convince you this is a well-built conversion. Indeed, all-round storage is very good, with WildAx seemingly never missing an opportunity to add more in terms of fabric pockets.
Truma's Combi 4E boiler for heating and hot water comes with iNet as standard, while items ranging from an electric slide-out step and flyscreen at the sliding door to smoke and carbon monoxide alarms are on the initial inventory.
Downsides? The gas isolator switches are neatly housed but they're not easily accessible at the back of the kitchen floor locker. And the carpet sections tend to curl up at the edges, potentially impeding the opening of floor lockers etc.
Verdict – 80%
A well fitted-out, extra-long van conversion that really can cater for families of four. As well as bunk beds, you get a great kitchen and a decent washroom.
More like this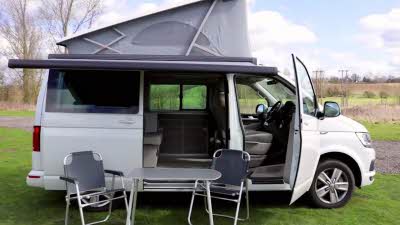 By Nick Harding
21/03/2021
There is little doubt the Volkswagen California is iconic in the campervan world but does the Ocean model based on the T6 Transporter offer value for money? Nick Harding takes it to the beach to find out.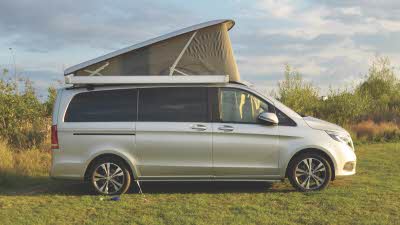 By Nick Harding
20/03/2021
The Mercedes Benz Marco Polo is more of a glampervan than a campervan. The four-berth camper is in the same mould as the popular VW California but which is better?