Bailey Pegasus Grande SE Ancona
Room for a Few
Rob McCabe examines a tourer that provides plenty of space for families with a wide bodyshell and its twin-dinette layout
It's not often that one of our caravans under review can claim to be unique, but the new Bailey Pegasus Grande SE Ancona certainly is that – it's the only UK tourer on the market to offer the family-friendly, twin-dinette layout in the increasingly popular 8ft-wide bodyshell. Let's take a look...
Build quality 94%
Pretty much full marks for the presentation of our test example and the attention to detail paid by the designers. The smooth, sturdy, silver-finished GRP sidewalls give the Pegasus a modern appearance: they're mated to the rest of the structure using the now-familiar Alu-Tech build method, which does away with timber altogether (and exterior fasteners almost altogether) to promise near-imperviousness to moisture.
Indoors, everything opened, closed, glided and slid as intended, and the quality of the joinery was very good indeed, with nice, even panel gaps and neat finishing-off inside lockers and cupboards.
Towing 87%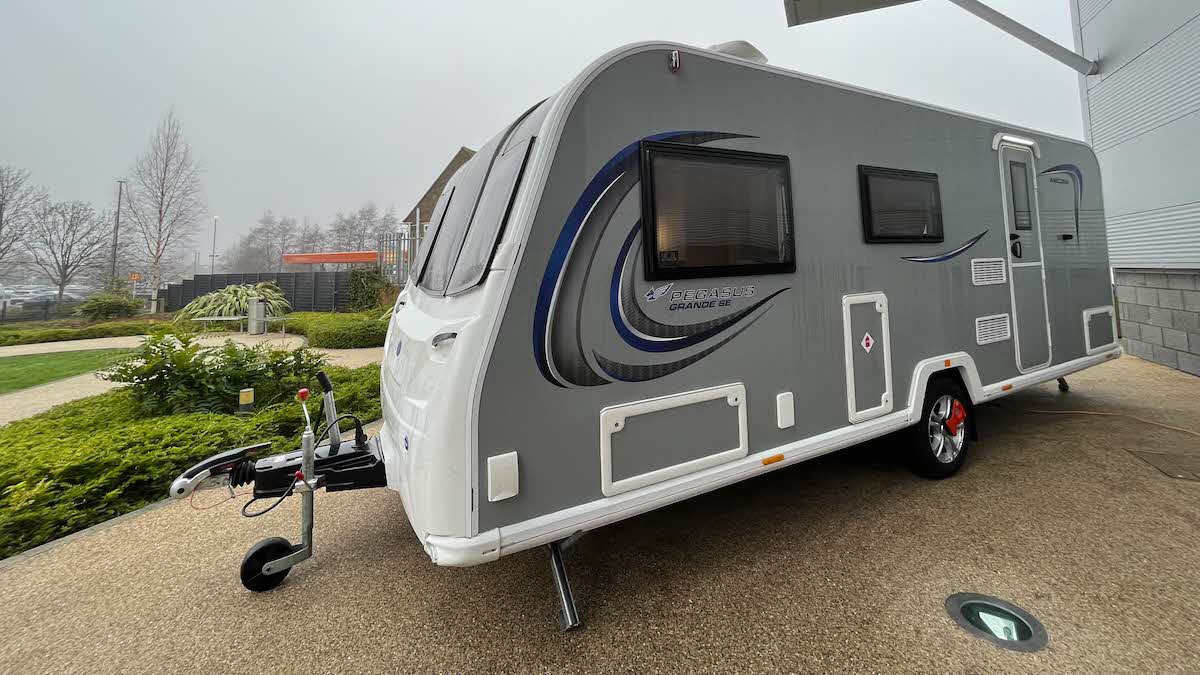 If you use up all (or nearly all) of the Ancona's available payload, you'll be hauling a caravan that registers 1.6 tonnes on the weighbridge, so your towcar of choice will be from the chunky end of the spectrum.
If you take care of that, Bailey has pretty much taken care of everything else, thanks to the win-win of Al-Ko's ATC trailer control system and the usual built-in hitch stabiliser, plus near-perfect weight distribution: the gas locker and all the heavy kitchen appliances are clustered over or around the axle.
As with all eight-footers, it's the width that you'll need to be most aware of out on the road, especially if you like to frequent CLs or other sites where access can be a wee bit tight. Maybe you should give the very narrowest lanes a bit of a – pardon the pun – wide berth.
Daytime 91%
What a great lounge! Four comfy corners to lean into, nicely sculpted upholstery, lots of natural light and – of course – the available room makes it feel like somewhere you'll be glad to spend time in. The sofas are 6ft 2in long, so it's an ideal entertaining space for four adults; there'll be no problem seating a family of five around the table at mealtimes, either. One disappointment is that the slide-out extension to the front chest didn't sit flush with the full-time surface, ultimately limiting its practicality.
The rear lounge shuts off from the rest of the caravan by way of a pull-out blind, creating that all-important personal space. It's very well done, with comfortable 'L'-shaped seating, a sturdy table that secures to a bracket in the floor (it lives in the wardrobe beside the bigger freestanding table when not in use), a television viewing station and plenty of storage options.
Now, it's fair to assume that your average 21st-century family of five never goes anywhere without a multitude of electronic devices. So, a gold star to Bailey for scattering mains sockets around the interior like confetti, with a strong supporting cast of built-in USB slots. There's a mains socket outside too, alongside a gas barbecue point. A roof-mounted solar panel ensures that the battery will stay energised during periods of lay-up.
The built-in stereo outputs to two great speakers, and comes with Bluetooth connectivity so that you can play your own tunes from one of those many devices. (Good luck during the arguments about whose turn it is to have their playlist given an airing, mind.)
Storage is a strong point, limited hanging space in the wardrobe notwithstanding. There's a network of good, deep lockers, cupboards and drawers, while the 'garage' under the rear seating has through-access from exterior hatches on either side.
Night-time 93%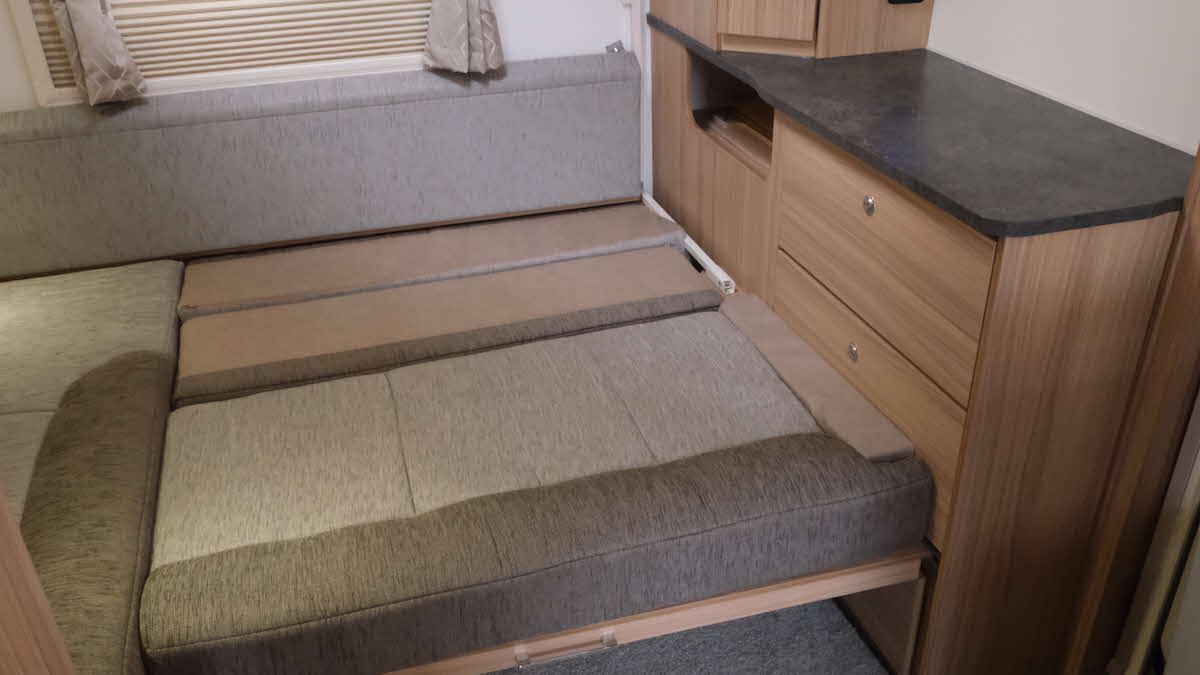 It's a five-berth, which means plenty of sleeping options. For example, there may be times when it's just two of you grabbing a quick weekend away, in which case you could leave the rear double bed made up and enjoy the benefits of a fixed-bed caravan. Three of you? Same goes – that's an opulent 'single' bed for somebody at the back. Make sure your dealer demonstrates making up the bed – it all fits snugly, but there's a definite knack to it.
The fifth berth is courtesy of a pull-out overhead bunk. At just 5ft 6in long, your taller offspring will have to give it a miss.
Up front there are more options. Those 6ft 2in parallel sofas make excellent single beds or contribute to a wonderfully comfortable double should you want it – again, everything fits tightly.
Kitchen 98%
For many more years than I care to think about, I've encountered kitchens in family-sized caravans that struggle to cater for two, never mind four or five. This isn't one of them. With the worktop-matching hob cover in place, you get an uninterrupted swathe of work/serving surface; and even when the hob is in use there's still a generous amount of room. You feel the benefit of the caravan's extra width when using the kitchen – oh, the luxury of someone being able to walk behind you rather than having to move you out of the way!
Importantly, you have the full house of cooking options at your disposal, courtesy of a dual-fuel hob, separate grill and oven, and a helpfully low-level microwave. The latter operates without a turntable, so there's one fragile item fewer to stow away.
Personally, I could do without the rather garish branded splashguard, but I'd happily live with everything else in this splendid kitchen.
Washroom 85%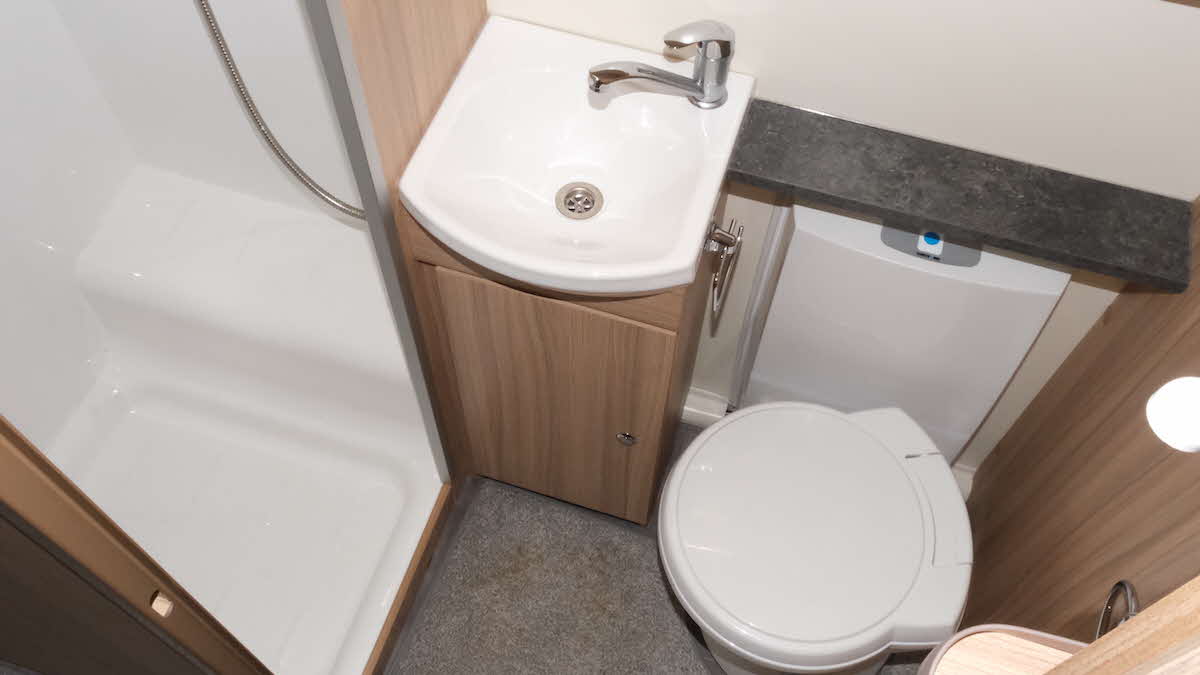 If you're going to use a site's facilities more often than not, then this facility is all it needs to be. Lockers and generous open shelving provide all the storage space needed, an opening skylight supplies ventilation, and they've even managed to accommodate a separate, adult-sized shower cubicle with bi-fold doors.
Lighting 88%
The Ancona isn't under-lit; it's just that the range of options is limited. You do get over-locker strips that run pretty much the entire length of the interior, and a trio of powerful, flush-fitting lamps bathe that huge kitchen in light. The little washroom is well catered for too, and includes a separate lamp in the shower. It's also good to see a dedicated downlight for the long mirror on the outside wall of the washroom.
Curiously, the lounge has three, instead of the usual four, reading lamps, so make sure you don't end up in the naughty corner if you want to catch up with your book for a bit.
Verdict 91%
This is an enduringly popular layout, so pairing it with an 8ft-wide body could be a shrewd move from Bailey. It's a spacious, thoughtfully equipped and well-turned-out tourer – and if you regularly spend time preparing family meals when you go caravanning, this could be the one for you!
More like this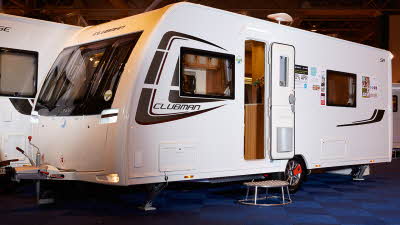 By Rob McCabe
08/01/2019
Rob McCabe tests a four-berth caravan with plenty of pedigree