Xplore 304 SE
The Xplore 340 SE is one of the hottest caravans on the market at the moment - especially among first-time buyers – due to its compact size and lightweight credentials together with a very competitive price. Rob McCabe sees if it lives up to the hype.
You're looking at one of the UK's most in-demand caravans. The Xplore 304 SE is the single most enquired-about model produced by the Erwin Hymer Group in County Durham. It might come as a surprise that a tiny four-berth entry-level tourer is hogging the limelight, but these are far from normal times, and there are many reasons why it is attracting such interest.
Build quality – 94%
Entry-level it may be but the Xplore has the same build quality as the luxury Buccaneer twin-axles from the same group that cost over twice as much. Built using the SoLiD construction technique, this lightweight vehicle is claimed to be near-impervious to water ingress, a claim backed up by a 10-year body integrity warranty.
Our test caravan presented itself well, displaying neat, even panel gaps on doors and lockers, and smooth-running blinds and flyscreens. (However, the massive blind that serves the single-piece front window is cumbersome and needs slow, careful handling.) Opening the drawers reveals proper dovetail joints and the overhead lockers have a pleasingly uncluttered look thanks to concealed catches.
Towing – 95%
A staff member at the dealership where I tested the Xplore told me that about half of all their new caravan sales are currently to first-time caravanners – an unprecedented statistic for unprecedented times.
So, the 304's MTPLM figure of a mere 1,043kg goes a long way towards explaining its popularity. If you're one of the thousands being tempted to give caravanning a go but have never towed before, there's a lot of reassurance to be gained from something so light and which only just extends beyond 18 feet long.
Of course, the light weight means a comfortable tow for all manner of cars – but another important consideration for many newcomers is the driving licence they hold. If you passed your test from 1 January 1997 and hold an ordinary car licence, the combined maximum weights of any outfit you drive must not exceed 3,500kg.
Daytime – 90%
The published list price of the Xplore 304 is £15,194 on the road, but it's almost impossible to find any without the added 'SE' pack. Specifying it would be a bit of a no-brainer anyway, given that this £479 package includes an Al-Ko hitch stabiliser, alloy wheels, a spare wheel, and a Pioneer stereo and speakers – all worth having. Additionally, our test example had a neatly built-in microwave, and even with the additional cost of £212 for that, the all-in price is still comfortably under £16,000. I think that'll surprise many seasoned caravanners, never mind newcomers.
The L-shape lounge with a deep picture window on the off-side makes a great impression when you first step inside. It is, by necessity, a compact facility that is lovely and comfy for two, and fine for three, but with four, you'd be deep into just-about-getting-by territory.
However, the dinette in the off-side rear offers two more substantial seats, so it serves as a breakfast bar for two, or you could give the kids their own dining area if you're travelling with a full complement of four. If you're going to be out for much of the day, you could leave the front double bed made up and then just sit in the dining area for a nightcap before retiring to bed to watch a bit of telly. Speaking of television, the dedicated spot for the box is on a shelf that folds up from the sidewall of the wardrobe.
The Whale space heater, sited under the floor to free up space, works on either gas or electricity – and it does a fine job of warming the admittedly small space. It's impressively quiet on its dedicated night-time setting, too. The wardrobe offers plenty of hanging space and gives a convenient home to the freestanding table that attaches unobtrusively to its back wall.
Night-time – 93%
Another surprise: the Xplore is a genuine four-berth, thanks to the rear dinette that transforms quickly into a full bedroom. The clip-on table drops to provide the base for an adult-sized single, with snugly fitting upholstery sections making a fine mattress. The lift-up overhead bunk is delightfully quick and simple to put into place, so it really wouldn't be a massive chore to fold it all away every morning if you needed daytime mode.
Both beds have a wall-mounted lamp, and a wraparound curtain provides privacy. There's even a floor-level mains socket for device-charging duties. It's really well executed and thoughtfully planned.
The L-shape at the front means you can only create a double bed at night – but it's huge, at 6ft 7in long. The presence of the picture window on the offside means that's where toes will have to be – otherwise you'd be crushing the blind if you sat up in bed.
Kitchen – 82%
The aforementioned microwave boosts the practicality of the small but attractive kitchen. A three-burner gas hob sits atop a combined oven and grill (all spark-ignited), with the glossy black fridge-freezer on the opposite side under the roomy wardrobe. There's not much work surface, even with the little fold-out extension in play – so the table in the dinette opposite will certainly earn its keep at serving-up time .
Washroom – 88%
It may be small, but the Xplore's designers have done a great job with the space available. There's a stylish hand basin, separate mixer taps for the basin and the shower, and a wraparound curtain to protect the rest of the space when washing. The outlet for the blown-air heating is a nice touch. A little skylight deals with condensation and there's a wall-mounted cupboard for toiletries.
Lighting – 91%

If you want mood lighting in the Xplore, you'll have to bring your own – no roof-level LEDs or backlit mirrors here. That said, nowhere has been left wanting for illumination. There are two reading lights in the lounge, one of which can be angled into the kitchen. A pair of bright, flush-fitting ceiling lamps and an LED strip on the underside of the front overhead lockers give you decent options here.
The kitchen also has two flush-fitters, which do a very good job of brightening the entire area, likewise the wall-mounted lamps in the dinette.
A big thumbs-up for having not one but two long mirrors (one in the washroom, one on its outside wall), both of which have dedicated downlighters. That's user-friendliness above and beyond the Xplore's entry-level credentials.
Verdict – 90%
Small but packs a mighty punch. Ingenious use of the available space makes it a great two-, three- or four-berth option, and its light weight will appeal to owners of towcars large and small. Outstanding value for money is the icing on an already very tempting cake.
More like this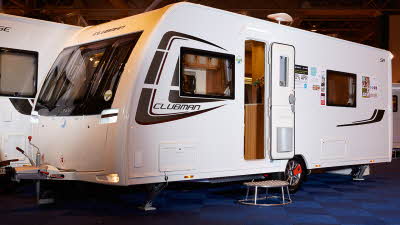 By Rob McCabe
08/01/2019
Rob McCabe tests a four-berth caravan with plenty of pedigree