Coachman Laser 665
If you want a palatial washroom in your caravan along with fixed single beds then he Coachman Laser 665 could fit the bill perfectly. But is it worth the £30,000+ price tag?
The Coachman Laser range features three flagship twin-axle models which are positively groaning under the weight of their standard equipment; unsurprisingly, given their £30,000+ price tags. The three permanent-bedroom layouts include the 665 on review here which boasts two fixed single beds and 
a massive centre washroom.
Build quality – 93%
Sometimes, it's the little things that make a difference. Take, for example, the removable shelves that sit in some of the overhead lockers here: they are delightfully chunky and neatly finished. The bigger stuff is equally well sorted – all the drawers have proper dovetail joints and glide sweetly on metal runners, while the soft-close operation of the locker doors provides an upmarket touch. Indeed, the quality of the joinery everywhere is commendable.
Outside, this big caravan is supported by heavy-duty corner steadies. The huge expanses of aluminium and GRP are fully bonded together using Coachman's Advanced Bonded Construction (ABC) method, and hung on to 
a polyurethane skeleton frame; a theoretically water-impervious barrier that means a 10-year water-ingress warranty comes as part of the deal.
Towing – 81%
Match the right vehicle and towing a twin-axle caravan is as easy as it gets. This is because you have twice the size of footprint on the road compared to a single axle. The hitch-mounted stabiliser and ATC add to the feeling of stability. Same applies to low-speed manoeuvring, such as reversing on to a pitch: those four wheels mean that turns happen slowly and precisely. The trade-off is weight. Fully laden, the Laser tops 1,800kg, so only full-size SUVs need apply. That amount of heft means that trying to move this thing by hand is hernia-inducing – you're handing over more than 30 grand, so haggle to see if a motor mover can be included as part of the deal!
Daytime – 81%
With so much floorspace devoted to the bedroom and washroom, it's the lounge that has seen the sharp end of the designer's scalpel. Sure, you'll seat four perfectly comfortably but there's little scope for spreading out – and it's disappointing that such an expensive, luxury-orientated caravan still can't stretch to a bulkhead and bolster for the door-side edge of the nearside sofa.
Luckily, it's peachy in all other regards.
 The elegant, deep window shelf is far more glamorous than the traditional front chest, while still offering plenty of stowage space; and the pull-out extension slides out and springs up to sit level with the rest of it. The free-standing table – whose bespoke locker is conveniently nearby – also rests at the same height as everything else, which is pleasing to see.
The built-in Pioneer stereo with matching speakers is a great-sounding set-up, and offers Bluetooth connectivity. No DAB digital radio, though, which is something you might have
 expected this far up
 the caravanning food chain.
 There are lots of mains
 sockets sprinkled about
 (including one outside next
 to a gas barbecue point), as 
well as USB sockets. The Alde
 wet central heating system is
 quiet and quick. So too is the internal fresh water tank.
Though a four-berth caravan, the 665 will 
be used by lots of couples, and they'll be pleased with the immense amount
 of storage. There's plenty of space under each bed, both of which have exterior-access lockers. The front sofa bases support easily on hydraulic struts, which makes up for the lack of front-opening hatches. Outside, you'd be forgiven for assuming you have two gas lockers – but both bottles live in the nearside compartment. The other is simply a 'shed'.
Night-time – 89%
On two separate occasions during the test at Ferry Meadows Club site, fellow caravanners stopped to have a quick chat about the Coachman. When peering into the bedroom, both had identical instant reactions: "Ooh, it's nice!" That's what I thought, too. The two beds (impressively long at 6ft 3in and very comfortable) sit either side of a practical bedside table, while the thickly-padded headboards add a warm, home-from-home ambience. It's not just the beds that spoil you:
 as well as a wall bracket and socketry for a telly, there's another pair of branded speakers for the stereo. It's an undeniably nice feature, but the killer touch would be a power switch – as it stands, you'll need to take it in turns to get up and turn it off at the unit in the lounge. A big sunroof, two central heating radiators under each window, masses of storage and a bedside mains socket set the seal on a brilliant bedroom.
Any guests will be very happy with their enormous double bed up front, quickly brought into being thanks to well-engineered slats that glide serenely in and out of their compartment. And, of course, the central location of the washroom makes it accessible for all occupants.
Kitchen – 89%
There's 
a decent slab of work surface and a useful fold-up extension creates a bit more. There's plenty of storage too, headed up by a huge cupboard that contains a generous pull-out wire rack.
 The dual-fuel hob is protected by a suitably upmarket-looking cast-iron pan support, and above that is an Omnivent extractor fan. The sleek tower fridge opposite has a cool trick up its sleeve – both the fridge and freezer doors can be opened from either side.
Washroom – 92%
I'm not sure I have ever encountered a caravan washroom as big as this. With its acres of space, warm ambience and superb lighting, it makes a great dressing room – although the lack of a longer mirror takes the edge off its credentials in this regard. Surprising too that there are no hooks for towels or dressing gowns. The shower cubicle is generously sized and well thought-out, with its own light, a big footrest/shelf and an array of little shelves for all your gels and shampoo. Two domestic-style doors shut the room off from the rear bedroom and the front of the caravan.
Lighting – 90%
The Laser takes mood lighting to a whole new level – quite literally. As well as the usual glow from above the overhead lockers, there's another layer on the underside of said lockers... and then yet another running along the sofa bases in the lounge. This last one does look rather dramatic with everything else switched off! The bedroom doesn't miss out either, with over-locker illumination to go with the two reading lamps. There's a little pin-hole night light just above floor level in here, too.
There are four lights in the washroom, although there's no means of switching them on/off individually, which is a bit overwhelming in the middle of the night when all you want is a little support to see what you're doing.
A long strip of LEDs takes care of kitchen duties, and there are two exterior lights – one for the awning and another over on the other side for your services.
Verdict – 88%
It's expensive but it's impeccably finished and, a few details aside, you do feel that you're getting a lot for your money.
More like this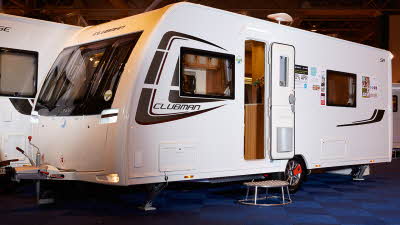 By Rob McCabe
08/01/2019
Rob McCabe tests a four-berth caravan with plenty of pedigree