Coachman Pastiche 520
Rob McCabe looks at one of only three specialist three-berth caravans on the UK market – the Coachman Pastiche 520 – to see how it shapes up.
Here's something you don't see very often. Coachman Pastiche 520 is one of only three pukka three-berth touring caravans still offered by UK manufacturers (Bailey and Lunar also get in on the act). It is, in effect, an alternative layout for those couples not sold on the idea of the en-suite bedroom. There's good reason to give this layout a closer look – especially when it comes wrapped in a plush Pastiche-shaped package.
Build quality – 93%
It's difficult to say anything about this without repeating what I said the last time I tested a Coachman, and the time before that. The company really does know how to turn out a well-made caravan. This example keeps that reputation intact, with exemplary joinery – the drawers are all dovetail-jointed, for example, and glide along on proper metal runners – and everything is tucked away neatly inside lockers and cupboards. The only thing to note on our test model was that the exterior stay for holding the entrance door open was far too stiff, needing two hands to use it – a little adjustment needed there.
All Coachman models are put together using a fully bonded construction method that attaches the exterior panels to a rot-proof, polyurethane frame, so you get a water ingress warranty that lasts a full decade.
Towing – 84%
Even though the use of more advanced materials has brought the weight of Coachman caravans down in recent years, they're still not the lightest kids on the block. The 1,445kg MTPLM of this one puts it in large estate car territory at least. But get your match right and you'll have a hitch stabiliser and ATC (Al-Ko Trailer Control) batting for you every time you take to the road.
Daytime – 89%
This is where not having a space-eating fixed double bed (or indeed two fixed singles) really pays dividends. The lounge is exceptional with comfortable sofas that are not only great to flop back into, but also large enough to seat four with masses of room to spare.
The front chest extends telescopically to give a decent-size table for two, so you shouldn't need to call on the services of the free-standing table too often. This is maybe just as well, given that you'd need to lug it all the way from its store in the washroom at the back of the caravan.
The side dinette offers additional seating – somewhere to park yourself if you've already made the front bed up before going out for the evening.
It may be the mid-range Coachman, but the Pastiche still showers you with goodies that give it an upmarket air, including Alde wet central heating, posh-looking pleated blinds on all but the kitchen and washroom windows, exterior gas barbecue and mains sockets, and the aforementioned ATC trailer control system.
You get a branded stereo and speakers too, although – oddly – the USB function only works with Android devices and not the market-leading i-things. You can connect these via an AUX cable but the sound quality's not the same and, other than volume, there's no control from the unit itself. Shame.
There's masses of storage in all areas of the caravan; and although the front seat lockers don't have wide-opening hatches, the bases do lift supremely easily and self-support on hydraulic struts. The loose-fit carpeting is divided into easily-manageable sections, and it feels nice and plush underfoot.
Night-time – 85%
When you've finished making up the front double bed, you have a vast mattress more than six and a half feet long and nearly five feet wide to fall into – and it's superbly comfortable. Prefer singles? Then you get a pair, both 6ft 1in long. Even the side dinette seats transform into a six-foot bed if you have an overnight guest (just be aware that there's no privacy curtain here, though). A pull-out overhead bunk is a £295 option.
Okay, so you need to invest a few minutes at either end of the day converting from lounge to bedroom and back again, but you do get a tremendous bed – and then, in the morning, a tremendous lounge, too. So, while there's a bit of a compromise involved in switching between day and night modes, there's none at all involved in actually using and enjoying them.
Kitchen – 92%
For two people, work surface is bountiful – even more so if you include the side dinette opposite as an occasional sit-down food preparation area. The work surface is made of attractive-looking stuff that goes by the name of FENIX NTM, basically an acrylic resin material that's claimed to resist damage from heat and scratches – I can't vouch for that, but it's certainly a handy attribute to have in a kitchen. So too is the option of an electric hotplate or gas rings on the hob. With that, a fitted microwave and separate grill and oven, you're pretty well covered.
Washroom – 91%
You're well looked after here, both in terms of visual appeal and practicality. The heated towel rail is a touch of luxury – and it does get proper hot, very quickly, which is great for those who don't put your tourers into winter hibernation. The big, backlit mirror provides another hint of glamour. With a window and a sunroof, it always feels light and airy in here.
There's almost an embarrassment of storage, with overhead and floor-level cupboards and usable open shelving. The wardrobe is in here too – it comes with a neat laundry bag and drawers underneath. The shower is a beauty – spacious, nicely lit and with plenty of places to put your gel and shampoo.
Lighting – 89%
Like the washroom, you get practicality and bling here. The bling comes from the appealing mood lighting that casts its warm glow from above the overhead lockers, and from the subtle night-light option on the push-to-operate reading lights, of which there are four in the lounge. There are a couple of flush-fitting lamps built into the sunroof surround, too – so you can pretty much dial in the ambience you want of an evening.
The kitchen and side dinette are well-served by LED strips under the overhead lockers, and the washroom includes a bespoke light in the shower and a downlighter right above the mirror. The exterior mains socket means you can also bring along a table lamp to use in the awning as a gentler alternative to the built-in awning light.
Verdict – 89%
In a caravan just 22ft 9in long, you have a huge, luxurious lounge and a huge, luxurious bed. There isn't a fixed-bedder anywhere that can give you that! You also get the many finer things in caravanning life that come as part of the Pastiche package. What's not to like?
More like this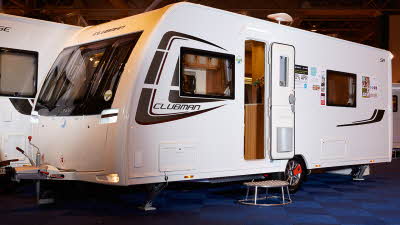 By Rob McCabe
08/01/2019
Rob McCabe tests a four-berth caravan with plenty of pedigree