Knaus StarClass 560
The StarClass range from Knaus offers premium quality at a premium price. Rob McCabe reviews the four-berth 560 which features a fixed double bed to see whether it offers bang for your buck.
The StarClass name is a familiar one to UK caravanners, although it did have a rest for seven years from 2009. German manufacturer Knaus revived the name in 2016 with the introduction of a pair of über-luxurious tourers boasting perennially popular layouts. These layouts are, of course, four-berth with fixed single beds and four-berth with a fixed double. The version we're taking a closer look at here is the latter – the StarClass 560.
Build quality - 9/10
Outside, the StarClass is all chunky, brick-wall-like aluminium, precision panel joins and corner steadies of which Isambard Kingdom Brunel would have been proud. Indoors, he'd no doubt have approved of the indestructible nature of the free-standing table. The quality of the joinery in all areas of the caravan is uncommonly good: everything from locker doors to hinges, front bed slats, seat bases and internal shelves feels neat and tight.
Additionally, when you open a locker or cupboard, you see that all the pipes and cables (that so often glare back at you in other caravans) have been trunked away out of sight – even the trunking itself has been neatly installed and finished. It really is all very admirable.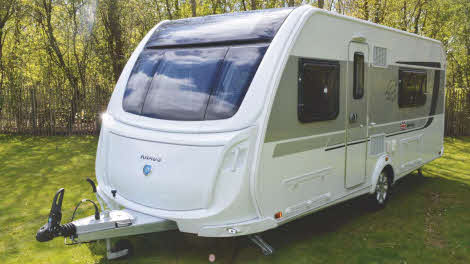 Towing - 8
As the StarClass has a 1,600kg MTPLM, you'll need a motor that's not about to have sand kicked in its face. But get that bit right and all will be well, because the StarClass is equipped with a built-in hitch stabiliser and IDC (Intelligent Drive Control), which is chassis manufacturer BPW's equivalent of the more widespread Al-Ko ATC electronic trailer control system. And with the heavy on-board appliances all gathered helpfully around the axle, weight distribution when hitched is near ideal.
Daytime - 8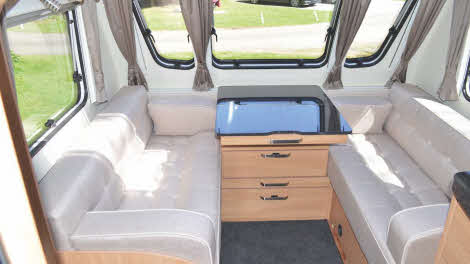 The 560's designers have set their stall out very clearly – they've made the lounge at the front and the washroom at the rear as compact as they could get away with, in order to make the bit in between as spacious as possible. The result is a vast double bed and a delightfully roomy kitchen-cum-entrance-lobby.
Size apart, it is a tremendous lounge – the upholstery is gorgeous to behold and squidgily agreeable to flop down into. Storage is impressively expansive too – one vast cupboard calls for tiptoes to reach the back of it, and the kitchen drawer is almost comically gigantic.
The biggest space of all, of course, is under the double bed. The first time you lift the base to get to it, an eyebrow is raised when only one half of it opens up – the reason is that the aforementioned behemoth of a free-standing table lives in here, slotted into its holder. From here, it can be slid out through the external hatch or hauled inside to sit in the lounge.
The table, although bulletproof, is so heavy, it's a real struggle to pull it out and transport it to the front. Some users may heave it into place at the start of the holiday and just leave it there, although earlier comments about the already-small lounge apply. Thankfully, the front chest has a fold-out extension that's more than big enough to accommodate dinner for two.
User-friendliness extends to outside the caravan: the weatherproofed mains socket is accompanied by aerial, satellite and 12V connections, so you can watch telly in the awning if you really want to. There's an awning warmer, too. Talking of warming, the standard-fit electric underfloor heating is an undeniably luxurious feature that will go down well with those who want to spend their winters on upland rally fields.
Night-time - 8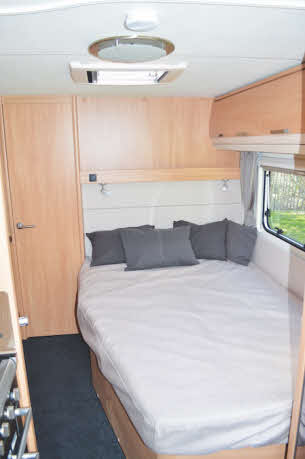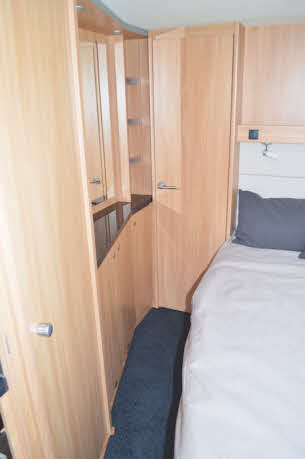 This is one of the most opulent caravan beds I've had the pleasure to test, offering a fabulously comfortable yet supportive mattress.
There is an issue with it, though. The full-width storage shelf that runs along the wall behind the bed is, on the face of it, a nice idea, providing plenty of room for odds and ends. But while sitting up in bed to read, it coincided exactly with the back of my head, which niggled me somewhat during the test.
All the lighting in this room can be switched off and on from bed, as it should be in a caravan designed to pamper. The wall-mounted TV bracket by the entrance door swivels right around to allow viewing while tucked up, too. There's a small opening sunroof to let morning light in – I'd have expected a larger one, similar to the one that adorns the lounge.
If you do need to make up the double bed in the lounge, you'll smile at the superbly engineered, taut slat mechanism, which is guaranteed to stick to its line more effectively than a put-upon MP on a three-line whip.
Kitchen - 9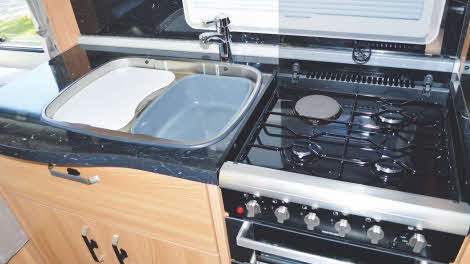 There is plenty to admire here, including the super-smart, thick, dark marble-effect worktop and matching wall covering. It gives off a pleasing gleam when the kitchen lights shine down on to it; said lights cover the full extent of the kitchen.
Although there is lots of space for the chef to move around, there's not much in the way of preparation surface – it's probably just about adequate when catering for two.
In terms of equipment, though, it ticks all the boxes. The sink and adjacent recessed drainer is elegant and practical, as is the built-in mega-fridge opposite. The separate freezer compartment is also huge. Cooking facilities consist of the usual upmarket caravan fare: dual-fuel hob, separate grill and oven and a fitted microwave.
With a range of big, deep cupboards and lockers, this is a kitchen with a place for everything, and maybe a bit more besides.
Washroom - 7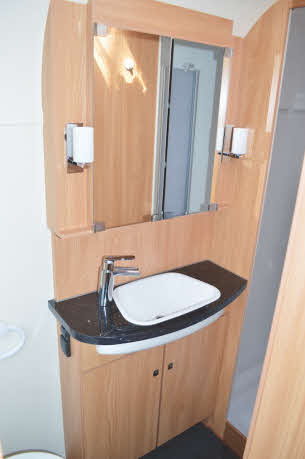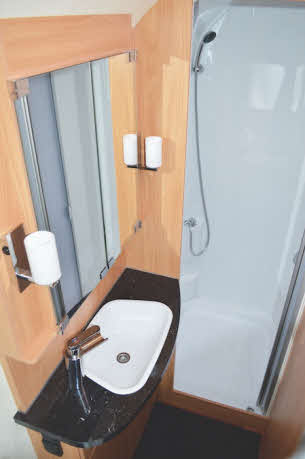 Yes, this room is small – but we've discussed the allocation of floorspace already, and I think the Knaus designers have called it about right. As elsewhere on board, this room is very easy on the eye, with smart, subtle styling that won't look out of date a few years down the line – the pair of wall lamps that flank the mirror unit add a dash of élan. That mirror doubles as twin doors to a wall cupboard; another slimline one sits under the basin.
The separate shower cubicle is devoid of shelf space for toiletries, which is a surprising omission.
Lighting and electrics - 9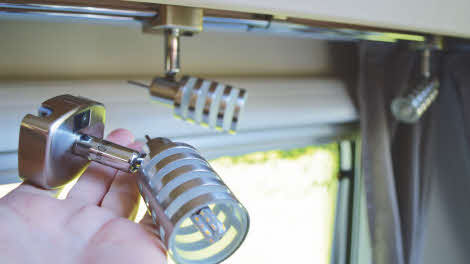 There are power points everywhere you'd expect to find them, and also where you wouldn't – there's one in the washroom. Lounge, kitchen, bedroom and awning are all power-ready. The lounge also plays host to the built-in stereo radio/CD player, which has a USB slot for music devices.
Lighting has been thoughtfully provided, and Knaus even gives you the opportunity to impress visitors by demonstrating how you can move the reading lights in the lounge by sliding them to and fro along rails.
Verdict - 8
You pay a premium price – but you most definitely get a premium product in exchange, with upmarket looks inside and out, and outstanding build quality.
More like this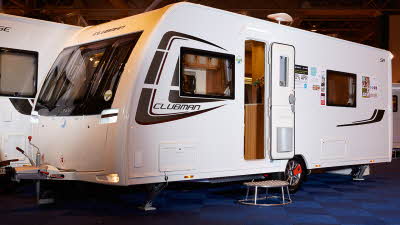 By Rob McCabe
08/01/2019
Rob McCabe tests a four-berth caravan with plenty of pedigree