Swift Basecamp 6
Ready for an adventure? Rob McCabe takes a closer look at the innovative Swift Basecamp 6 which is designed with active families in mind.
Isn't it always good to see something a bit different? I'm not alone in looking back fondly on the super little ABI Adventurer of the mid-1990s, with its rear door, ladder, roof rack and fold-up seating designed to appeal to those surfers, mountain bikers and abseilers who fancied accommodation with a few more creature comforts than a bivvy under a hedgerow.
Sadly, the Adventurer didn't sell brilliantly and so its time in the limelight was brief. But Swift's modern-day take on the idea has been more of a hit: the Basecamp has proved so popular that you can now choose from three models, thanks to the arrival of the new Basecamp 6 (this six-berther joins its two- and four-berth siblings). So, will it also scale the sales heights? Or will adventure-loving families go and look for summit else? Okay, okay... I'll get my coat.
BUILD QUALITY – 90%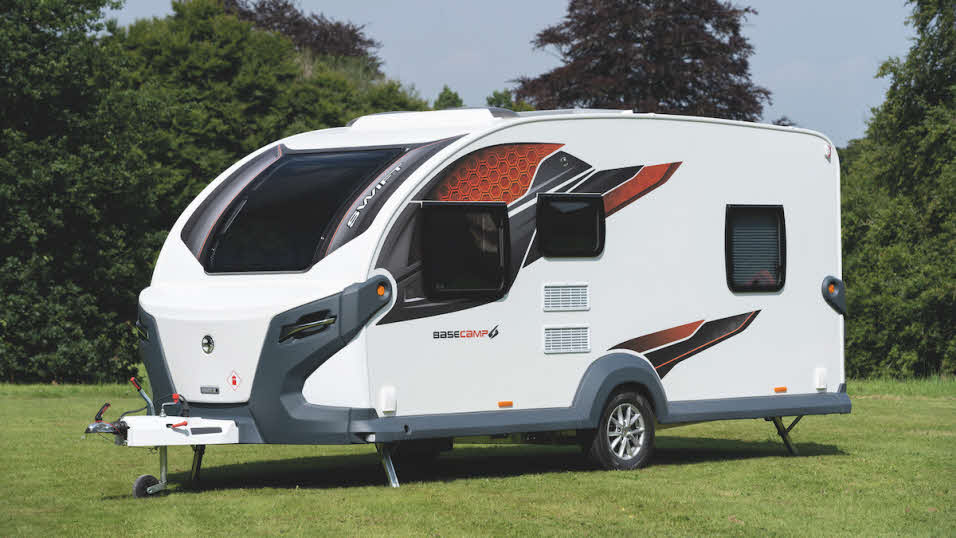 What an imposing-looking caravan this is! Its chunky front end, huge sweeping window and in-your-face graphics combine to make this a real head-turner. If the example pictured above is not head-turning enough for your liking, for another £895 you can choose from eight highly individual exterior graphics schemes in varying degrees of far-outness.
The Basecamp is built using Swift's SMART construction method, meaning a timber-free frame cloaked in sleek GRP outer panels, set off by graphite lower mouldings.
While many people will be attracted to the Basecamp by that sharp exterior appearance, when they open the door they'll find that this caravan is equally sturdy on the inside: sprung slats and reassuringly beefy metalwork give confidence that it's built to last.
TOWING – 92%
It looks like quite a beast, so it may come as a surprise to find that the Basecamp 6 boasts a relatively modest MTPLM of 1,331kg, giving it a wide choice of potential towing suitors. A hitch stabiliser is of course standard, while Al-Ko's ATC is a £375 factory-fit option – a box that I imagine most buyers will tick.
DAYTIME – 84%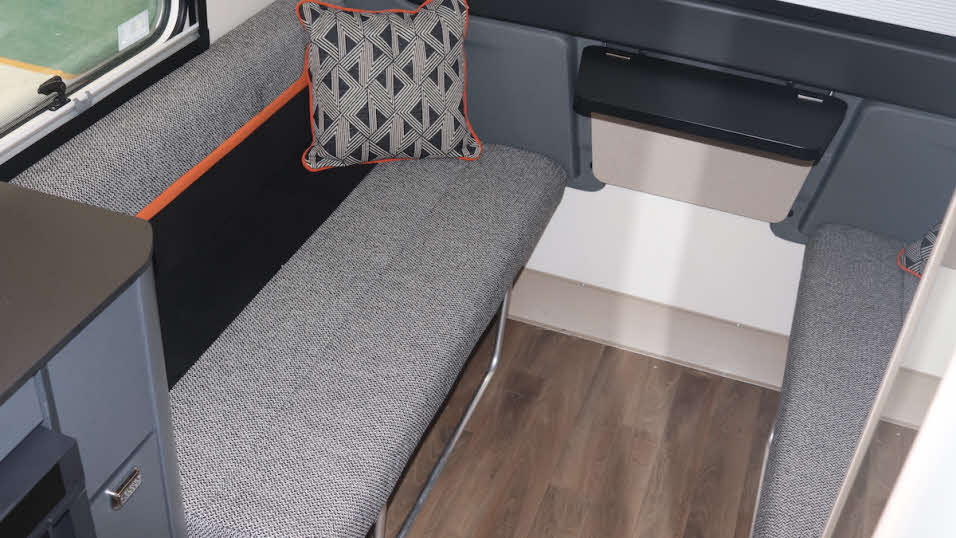 A lot of people buy caravans as a living space, in the same way that they would rent a cosy holiday cottage. Well, the Basecamp isn't for them. The seats in the lounge are fine, but they're not set up for all-day relaxing – you sit here for a quick breakfast before grabbing the paddleboards and heading for the river, or setting off on the bikes for a day on the moorland trails.
But there is room to spread out a bit if the rear seats are in use: each pair is well served by an excellent, sturdy table that is easy to fit and remove (just separate the table tops from the legs and stow them in the dedicated locker) – it's very well done. The freestanding table for the lounge lives in the wardrobe, and you'll need it: the little foldaway shelf under the front window is of limited practical use.
The popularity of the Basecamp comes from its amazing versatility as a mobile garage that offers masses of secure stowage for expensive leisure equipment while on the move (it's 3ft 3in longer than the Basecamp 4), and then converts to somewhere you can cook, eat, shower and sleep when you reach your destination.
And it really excels in this department. All the seating, front and rear, hinges up out of the way to generate a tremendous amount of floor space, with lashing points for all the family's bikes, which you lift in through the suitably wide rear door. Of course, once you've configured the interior into actual seats – a quick job – you'll need to stow all the gear outside.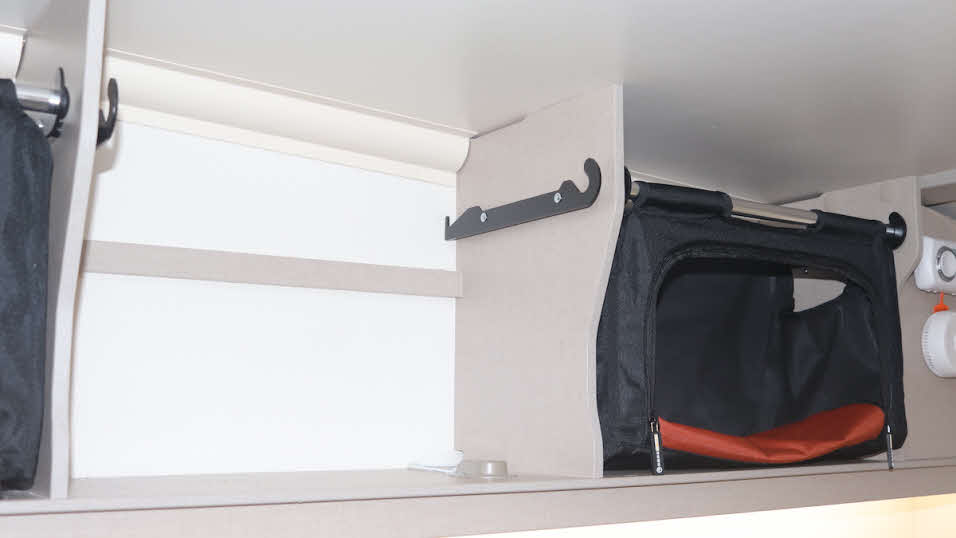 The removable zipped pouches that sit where the overhead lockers would in a more conventional tourer will bring a touch of familiarity to converted tent campers. They're versatile too, because you can keep them at home to load up with clothing before you go. Because of the lift-up nature of the seating, there are no under-seat lockers for bedding storage, but you can always pile duvets etc into the wardrobe if you don't need too much hanging space.
It goes without saying that there are plenty of USB points for charging up mobiles, GPS units and helmet video cameras before you go off thrill-seeking, and the standard roof-mounted solar panel is a boon if you're staying off-grid, as many Basecamp owners are bound to. The exterior shower attachment on the offside wall is a user-friendly fitment; likewise, the gas barbecue point that also fits the demographic of this caravan perfectly. There's an exterior mains socket too.
If you're caravanning with a complement of five or six, an awning becomes something of a necessity, and so the optional bespoke Vango air awning is bound to be a popular choice.
NIGHT-TIME – 80%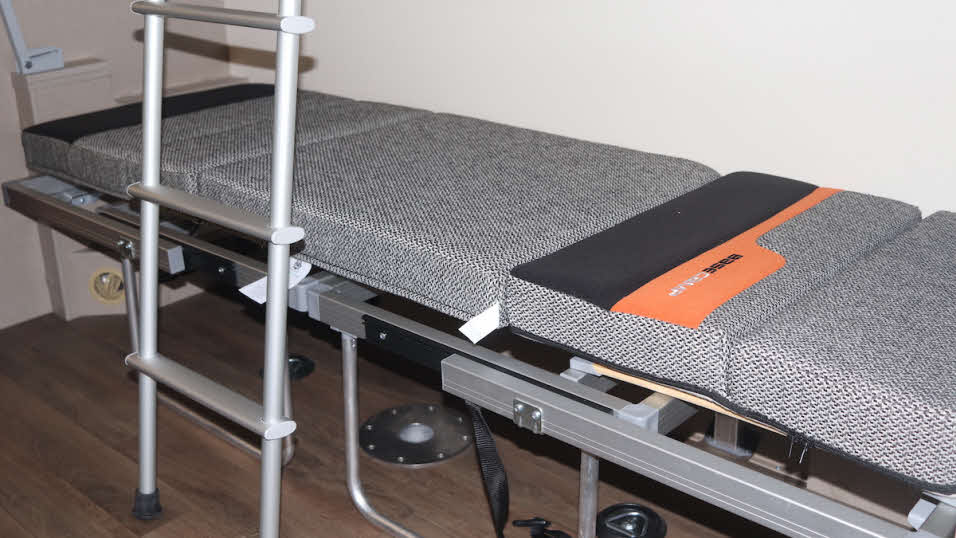 You do have to invest a fair bit of time to put up the two overhead bunks, make up the mattresses from the requisite upholstery sections and fit the security netting. And if you're putting these (and the lower bunks) away again in the morning so you can use the seats... well, let's just say you'll probably be a well-oiled bunk-building machine by the end of a two-week holiday. That's the compromise buyers have to accept in order to be able to transport their cargo.
All four of the beds up back – separated from the front quarters by a full-height privacy curtain – are 5ft 10in long and a modest 1ft 9in wide, so they're not future-proofed against those teenagers who embark on particularly rapid growth spurts. Up front, there are no such constraints – the parallel sofas make up into a pleasingly comfy and supportive big double. No troublesome slats to worry about, either: the seat bases slide out to meet in the middle.
KITCHEN – 80%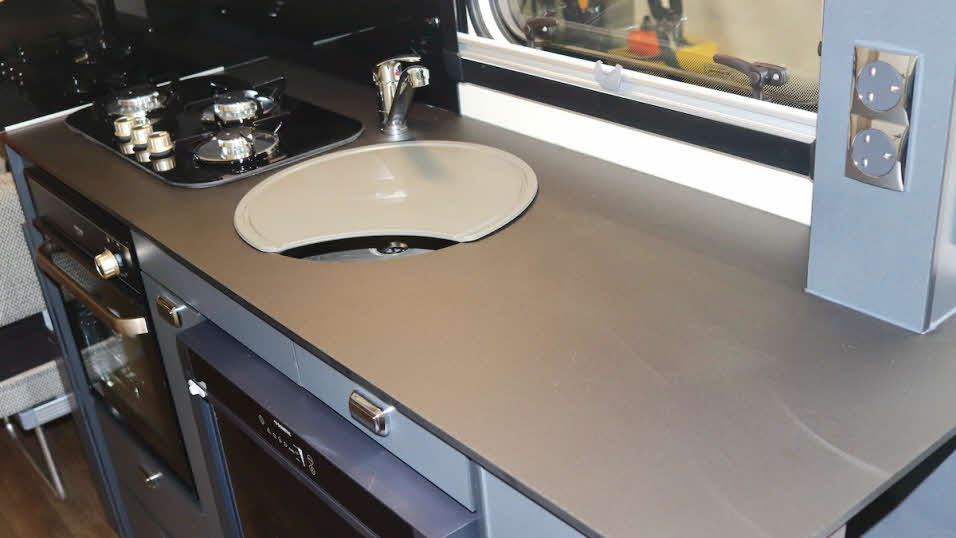 Well, I guess you could cater for a family of six here, but the modest cooking facilities would mean careful menu-planning. The three-burner gas hob is complemented by a combined oven and grill but there's no microwave. There's a decent amount of work surface, and this is the one area of the caravan that does benefit from regular overhead lockers. Two adjacent mains sockets serve your toaster and kettle.
WASHROOM – 87%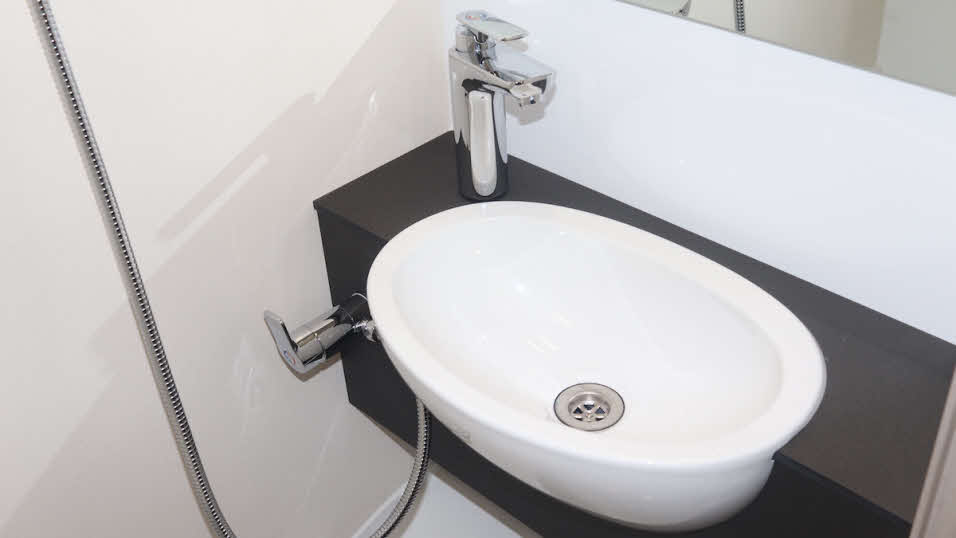 Swift was right not to devote too much precious space to this facility. But everything you need is here, including a cupboard, a skylight for ventilation, a big mirror and a separate mixer tap for the shower, should you ever need to use it. The nicely sculpted wash basin brings a smattering of style to the proceedings.
LIGHTING – 90%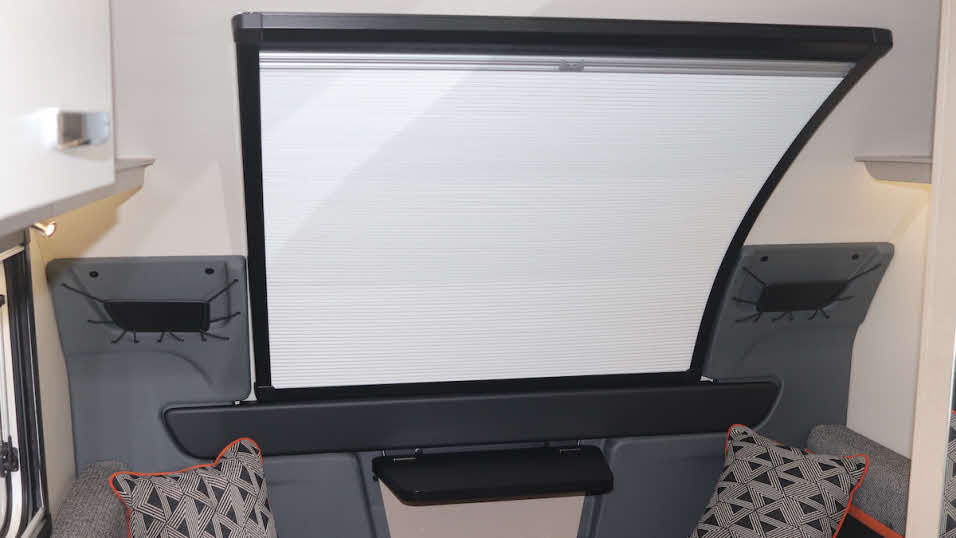 Illumination is pretty good throughout, and there's even a bit of ceiling-level mood lighting thrown in for good measure. The downlighters in the lounge have built-in USB sockets, and they're adjustable, so the nearside one can be directed towards the kitchen to support the under-locker LED strip.
Two lamps – one of which illuminates the mirror – really brighten up the small washroom. While the occupants of the upper bunks each have a light, those underneath have to do without.
VERDICT – 86%
This isn't luxury accommodation, but it excels at its raison d'être – giving safe passage to as much holiday equipment as its payload will allow, and providing sleeping accommodation for six at journey's end. And what a tremendous-looking vehicle!
More like this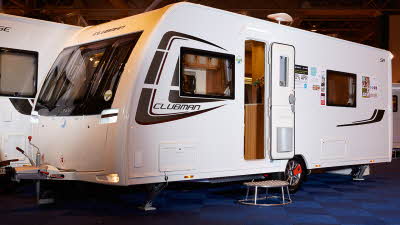 By Rob McCabe
08/01/2019
Rob McCabe tests a four-berth caravan with plenty of pedigree