Swift Sprite Compact
Looking for a lightweight caravan that's easy to tow but doesn't feel claustrophobic inside? If so then the two-berth Swift Sprite Compact could fit the bill nicely.
With demand for caravans at never-before-seen levels, UK manufacturers could probably knock out models using mismatched, ill-fitting upholstery, leave a big hole where the fridge should be to save a bit of weight and paint the outside dark brown – and they'd still sell out.
Thankfully, they are instead responding to the situation by creating new models to suit areas where there is demand – and a fine example is the brand-new Swift Sprite Compact, which is shorter than even the dinky Xplore 304 and weighs under 1,100kg when laden to the max. Caravanning newcomers whose first priority is (lack of) weight, perhaps due to owning a small hatchback or being restricted by their driving licence, will be attracted – especially when they see that the upholstery fits like a glove and that the fridge is securely in place.
BUILD QUALITY – 91%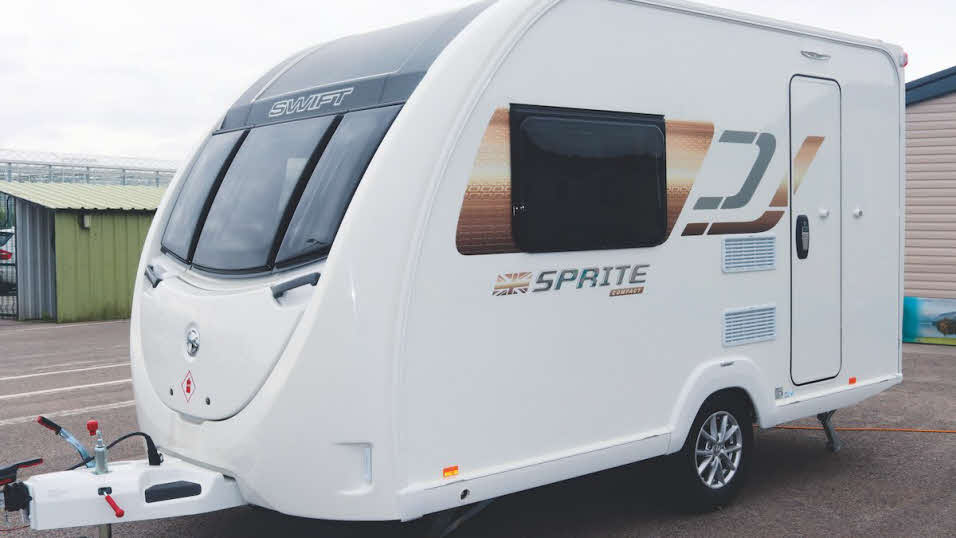 The Swift Group's SMART construction method results in a timber-free body, so there's nothing to rot, even if water does get in (and a six-year body warranty, extendable to 10 years, says it won't). The GRP outer skin gives a pleasingly smooth, fresh look, enhanced by this year's graphics.
Indoors, all is well – buttery-smooth blinds and flyscreens, reassuringly hefty locker catches, good-quality carpentry, while lockers and hatches are neat and tidy inside. Good job!
TOWING – 96%
Towing doesn't get any easier than this. The Compact's lack of girth is a boon for negotiating busy high streets, not to mention the sometimes teeth-suckingly narrow lanes on the approach to the more bucolic CLs. And although a motorised mover may still be worthwhile for manoeuvring into tight spaces – between a garden wall and the side of your house, say – it's delightfully easy to move around by hand when pitched on site.
At just 1,094kg fully laden, the smallest Sprite won't make much of a dent in the 3,500kg maximum train weight limit that applies to you if you passed your driving test after 1 January 1997.
DAYTIME – 83%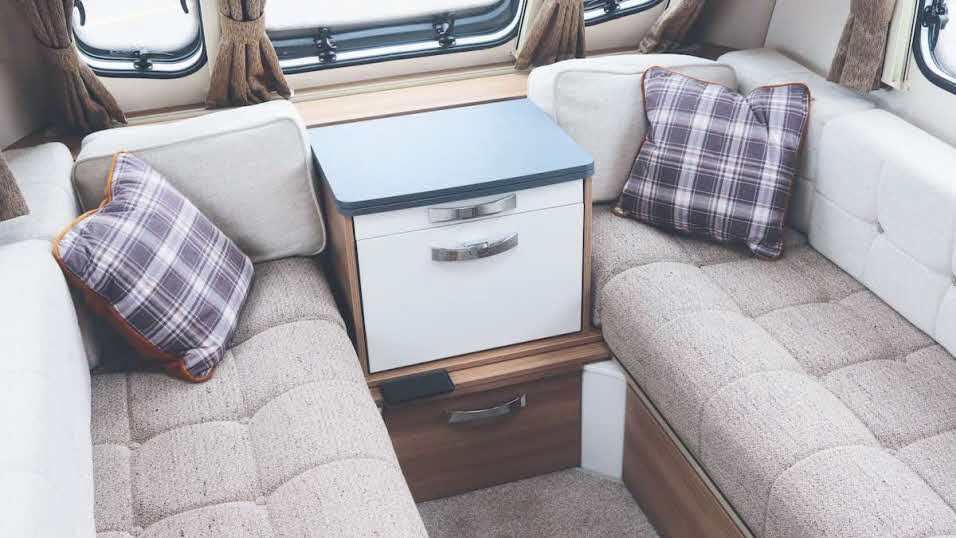 Many smaller and/or entry-level caravans make do with a little flip-up shelf under the front window – so full marks for the proper chest, including an extendable section that sits flush with the rest of it when pulled out. It's an attractive bit of furniture.
On the whole, the Compact's interior is a nice place to be, thanks to the co-ordinated décor that includes two attractive, well-fitting carpet sections. The pale-coloured doors on the wardrobe and the big overhead kitchen locker contrast with the wood-look finish elsewhere, which is a cool design touch.
There's little chance of avoiding feet/leg clashes with whoever's sitting opposite you in the lounge – which I state merely as a fact, not a criticism. In a caravan this narrow, something's got to give! Despite this, it's a very comfy space, although you'll need to go shopping to bolster the standard ration of two scatter cushions.
While the built-in stereo with aux and USB connectivity is great, the placement of the speakers is baffling. There's one on each side of the lounge, on the underside of the overhead lockers – so, seated on the sofa, all you can hear is the sound coming from the speaker directly above your head. There's a dedicated TV viewing station on the nearside dresser, which also hosts a pair of USB inputs. There are four more USB sockets in the lounge – in marked contrast to the dearth of main sockets (there are just two of those in the whole caravan).
There's not a lot of real estate for the Truma blown-air heating system to warm up, but it does the job quickly and quietly on either gas or mains.
NIGHT-TIME – 80%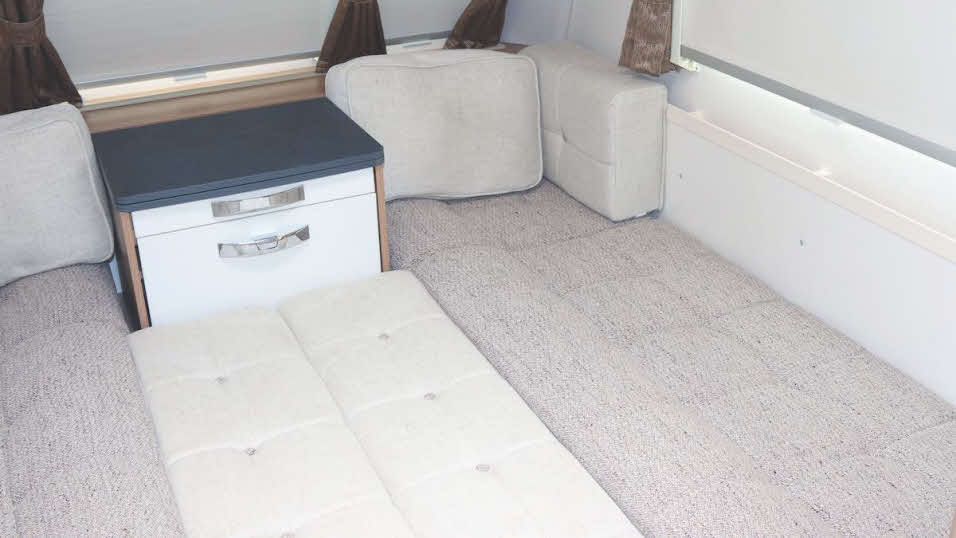 Well-engineered slats whoosh out to complete the base for the front double, with snug-fitting upholstery sections providing a firmly luxurious mattress that stays securely in place. At 5ft 11in, I could stretch out and be perfectly comfortable –
six-footers should get down to the forecourt and try it for size, but there's plenty of width to accommodate lying at a slight angle without bashing ankles with your partner. The Sprite's spaceframe furniture allows for the fitment of full-width hatches that give straightforward access to both seat lockers – really handy when it comes to retrieving and putting away bedding.
KITCHEN – 86%
The end kitchen may be small but it looks great, with the slate-coloured worktop and glossy-black appliances contrasting well with the stainless steel sink. The nicely-fitted microwave bolsters the three-burner gas hob, small oven and grill, and storage is exceptional – the deep, low-level cupboard is huge.
The lack of work surface is mitigated by the nearside dresser top, which is substantial enough to be used at serving-up time, even if your telly's in place there. There's plenty of daylight and ventilation in the kitchen area: as well as the rear window, there's a small, wide-opening sunroof overhead.
WASHROOM – 91%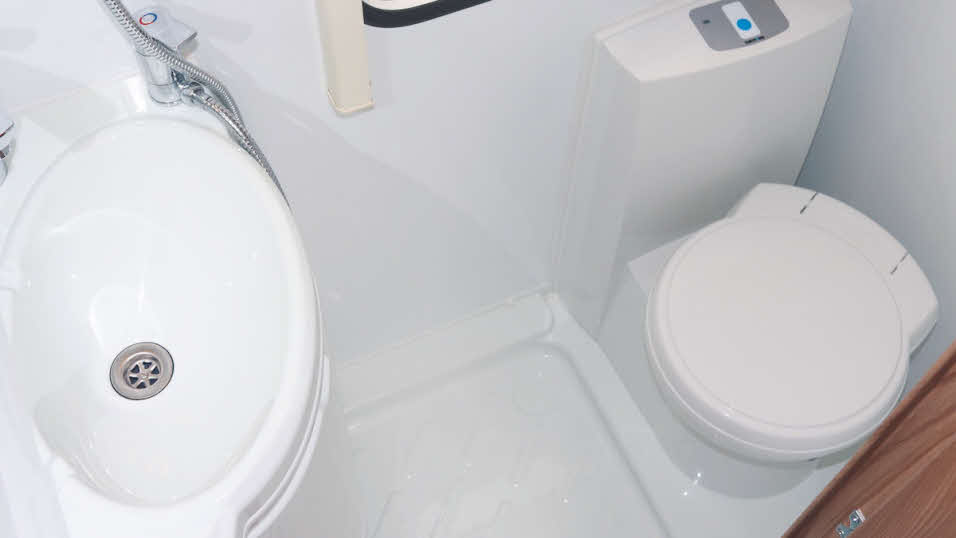 Given that the washroom is compressed into the offside rear corner, it feels surprisingly spacious. Open the pleasingly substantial door and it immediately looks more than the sum of its parts. With the wraparound curtain in play, the shower is a good size and benefits from its own mixer tap. Condensation worries are banished
by a proper, wide-opening sunroof, rather than the more workaday skylight often seen in smaller washrooms, and there's also an opaque window served by a blind and flyscreen.
Storage is bountiful for two, with the cupboard under the washbasin complemented by a big, deep shelf along the rear wall. The mirror is usefully big too. There's lots to like here.
LIGHTING – 82%
The light switches are nice and tactile to use and the lighting itself is decent, but there are a couple of shortcomings. The lounge is served by four flush-fitting reading lamps and LED strips above the overhead lockers, leaving it lacking a little in terms of firepower; and, although the hob is illuminated by two flush-fitters, another one over the sink wouldn't have gone amiss. The washroom does best of all, with a really smart-looking, touch-to-operate ceiling lamp. Above-locker LEDs run from front to back to add a nice glow of an evening.
VERDICT – 87%
The commendable thing about this small Sprite is that its small-ness doesn't make you feel that you're having to compromise on anything very much. It's delightfully presented, comfortable to live in and thoughtfully equipped.
More like this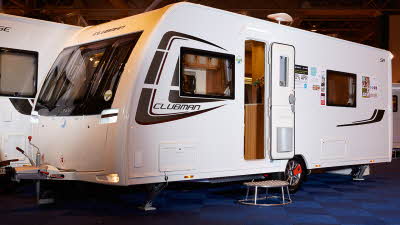 By Rob McCabe
08/01/2019
Rob McCabe tests a four-berth caravan with plenty of pedigree