Wheelhome Dashaway
The super-compact Wheelhome Dashaway is like no other caravan on the market. It is so lightweight that it can be towed by just about any car and is capable of going completely off-grid. Rob McCabe squeezes on board to check it out.
Wheelhome boss Stephen Wheeler doesn't do normal. His latest creation, the Dashaway, looks nothing like a normal caravan and doesn't behave like one either. It's marketed as an 'e-caravan' because of its 'future-proof' ability to be towed by hybrid or even fully-electric vehicles, and also because its solar panel and on-board inverter allow it to provide 'mains' power – without hooking up. It may be tiny, but there are some big ideas here – as we're about to find out.
Build quality – 94%
Wheeler's stock-in-trade is ingenuity (he's picked up praise aplenty for his small camper conversions over the years), and there's no shortage of it here.
The Dashaway's core body is a glassfibre commercial trailer, adapted radically by unique panelling that incorporates the 'Podrant', the electrically-operated extension that glides out to create the space for the double bed. When not in use, it tucks away into the slimline interior of the caravan. The pop-up roof is also electrically operated – pushing a button brings into play a muscular hydraulic strut at the front.
There are two built-in bike racks, one running along each sidewall. Because of this cunning positioning, they have zero impact on stability or aerodynamics. Setting up the Dashaway or getting it ready for towing takes just a couple of minutes – and if the electrics ever decided 
to down tools, there's a manual override. The furniture inside is all reassuringly chunky, and the various portable table tops and shelving fit snugly into their respective slots.
Towing – 99%
It's sobering to think that future generations of caravanners will be unable to buy a new petrol- or diesel-engined car with the government committed to phasing out the sale of them by 2030.
In the years leading up to that, there will clearly be ever-increasing numbers of hybrid (although these will be banned from 2035 too) and fully-electric cars on the UK's roads – and it is this market that the Dashaway e-caravan serves. Some of these cars have incredibly modest maximum towing weights but with an MRO of just over 700kg, the little Wheelhome can be towed by just about anything.
The massive, custom-designed, flexible solar panel that takes up almost all of the roof space charges the caravan's auxiliary batteries, so nothing is taken from the car battery to operate the fridge and the LED lights.
There's no built-in stabiliser – hardly
 a surprise on a caravan that sits so low, and which is so narrow there's not even any need for towing mirrors – but a motorised mover is standard. This allows owners to 'walk' the Dashaway into a tight garage, say, and to fine-tune positioning on site.
Daytime – 82%
Even with the Podrant deployed and the roof raised, there's only so much living space you can magic up in something as small as this – not everyone could get by with the slightly enclosed ambience of the interior, not helped by having just one little window to look out of when seated. That said, the attractive leather/suede double seat is plush and comfortable, and even with the neat, slide-on tables in place at mealtimes, there's still enough room for someone to wander (okay, step) over to the fridge to fetch another beer.
There are two big 
ventilation panels in the
 canvas sides of the roof 
extension and, when 
their covers are unzipped, 
a lot of welcome day light
 gets in. I left them unzipped
 during a fairly heavy downpour
 and no rain infiltrated, although
 you'd probably need to close them some of the way during prolonged bad weather.
You do have the option of an awning – an inflatable Kampa – which takes minutes to erect and makes a big difference to the amount of living space.
It feels a bit odd plugging in
 a kettle and a phone charger when you're not even connected to a hook-up. Just flick the switch to turn on the inverter – which converts 12V electricity to 220V – and away you go. You can connect to the site's power supply in the usual way should you wish, but I never bothered for the four days I spent with the caravan. (Even in the cloudy, rainy early summer of the UK, there was enough sunlight to keep both solar panels operating efficiently.) 
There's a double mains socket inside – with a useful pair of USB ports – and a single socket outside, which can be used to charge an electric car.
You may have noticed there's been no mention of gas. Well, there's a very good reason for that – there isn't any! Here's a caravan that can be used independently of gas or mains hook-up – quite a thought.
There's a surprising amount of storage – every square inch of space is made to pay its way. The cleverest examples of this can be found beneath the flush-fitting covers on the kitchen surface.
One gives access to a waste bin, the other a laundry bag, both concealed behind the compact exterior cover on the front of the caravan.
There's even a wardrobe – the hatch on the wall behind the sofa backrest opens to reveal some useful hanging space – while one of the floor-level cupboards by the kitchen gives a home to the standard-fit electric fan heater.
Night-time ­– 88%
Extending the Podrant gives you the lower section of the double bed, plus somewhere
 to stash your bedding and any other bits and pieces during the day. There's minimal
 effort involved in making up the bed – just flip out the support leg and relocate the seat backrest. It's a comfy mattress too, and there's a drop-down shelf you can leave in place to give an overnight home to paperbacks, specs, phones and the like. If you're having a solo couple of nights away, there's even the option of making a single bed, the advantage being that you get a little bit more floorspace.
Kitchen – 84%
An induction hob in a caravan – that's certainly 
a first for me. We do have one at home, though, and the same benefits apply here – ease of cleaning, sleek good looks and adjustability that rivals gas. If you're using the hob (just one ring) via the inverter, the inverter fan stays on the whole time because of the relatively high power usage involved (the rest of the time, its operation is silent). There's also a compact microwave and a mini conventional oven/grill. The Waeco compressor fridge is very neatly installed. The sink is served by a cold-water-only tap 
– with no shower on board, a water heater would add weight and expense for very little benefit.
Washroom – N/A
Er, no. A floor-level cupboard in the kitchen area discreetly conceals a portable loo – and there 
is space for it to be used with the bed made up, even if the most likely (and most dignified!) overnight home for it would be in the awning.
Lighting – 80%
An LED strip serves the kitchen, there's another further back on the ceiling and one more on the nearside by the bed that serves as a reading light. They all give decently strong, white illumination, although a little table lamp would provide a warmer ambience in the evenings.
Verdict – 88%
There really is nothing quite like this, so it's not the easiest caravan to sum up. Ultimately, though, it achieves what it sets out to do really well, and its creator deserves credit for producing a sturdy, well-thought-out tourer that's already geared up for a future free of fossil fuels.
More like this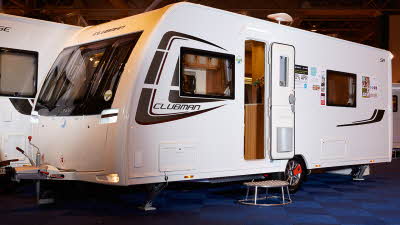 By Rob McCabe
08/01/2019
Rob McCabe tests a four-berth caravan with plenty of pedigree