Xplore 422
Looking for an affordable caravan that is both light weight and compact but offers practical living space for two people? If so then Rob McCabe believes the Xplore 422 might just fit the bill.
It's scarily easy nowadays to stroll around a new caravan showroom or forecourt and see window prices on the wrong side of £25,000, not to mention weights that are within touching distance of two tonnes, or even beyond. But there are still options out there that are far lighter on the pocket and that don't need to be hitched up to a chunky 4x4.
Take this handsome little fella, for example – the Xplore 422 is under 16 grand, weighs less than 1,100kg fully laden and has a spacious interior that belies its modest proportions. A small caravan, sure – but there's a lot going on.
Build quality

– 91%
Just like its more expensive Elddis, Compass and Buccaneer-branded stablemates, ithe Xplore range is produced using the SoLiD construction method, which employs the same techniques used in the car and aviation industries to form a fully-bonded bodyshell. Water shouldn't get in – and you receive a 10-year anti-ingress warranty to back that up.
Our test example acquitted itself superbly. Everything on board was placed together tightly and evenly, and it's nice to see an entry-level model get fine details such as dovetail joints on the drawers and heavy-duty sprung seatbases. All the blinds were smooth and easy to operate – even the sometimes-awkward giant one-piece thing that covers the front window – as were the bed slats. There were a few untidy strands of wiring lurking at the back of a couple of lockers, but it's a good day at the office when that's all there is to blot an otherwise impressive copybook.
Towing – 94%
One of the 422's biggest attractions is its weight. The most it can weigh, ready for the road, is 1,099kg – and in many cases, its actual laden weight will be less than that. In other words, you'd have to be pretty unlucky to own a car unable to tow this thing safely and happily.
The other vital stats are just as user-friendly: it's only just over 19ft long and a modest 7ft 2in wide, so manoeuvring it into restricted spaces is that much easier.
Like almost every Xplore, our example comes with the £469 SE pack – which means it has a very worthwhile AKS Al-Ko hitch stabiliser for added reassurance when towing. The other benefits of the pack include (very smart) alloy wheels, a steel spare wheel, a wheel-lock receptor and a fitted stereo. That adds up to decent value.
Daytime – 90%
Why on earth would any couple opt for a caravan with a sleeping arrangement that involves having to rearrange the furniture twice every day? Walking into the 422 and surveying your surroundings will give you the very clear answer. The lounge is way bigger than you'll find in most fixed-bed tourers, and it's impressively comfy, with something to lean into in all four corners. (Cushion and bolster provision is a bit mean, so you'll need to go shopping for reinforcements.)
The living quarters in general have an air of spaciousness. Key to imparting this aura is the 'one room' benefit of having an end kitchen – most two-berthers have an end washroom that clearly needs to be closed off, thus restricting your living space. The decor is just about perfect, with the curtains and scatter cushions providing a cheerful splash of colour that complements the subtle grey upholstery and the attractively-grained light wood of the furniture.
So, it's very pretty – but practical too. There's plenty of storage for a couple, and some of the cupboards are so deep it takes 10 minutes for your echo to come back (okay – fake news alert, but you get my drift). There are just two sections of carpet to whisk out of the way, and the smart floor covering underneath is exactly the same as you'll find in stablemates costing 10 grand more.
The space-saving Whale heating system (it runs under the floor) works on gas or electric, and it's highly efficient. Whack it up high to warm an ice-cold caravan and you'll be turning it down before too long.
Night-time – 84%
I totally get the hassle-free luxury of a full-time bedroom. But, equally, I understand why many caravanners regard the few minutes spent bedmaking at either end of the day as a price well worth paying for all the benefits mentioned above.
That's especially so in a caravan such as this, where free-running slats and perfectly fitting upholstery sections (which you reverse to get an almost totally flat mattress) mean you can have the bed in place in about 90 seconds. It's a superbly comfortable double bed too and the sheer size of it dwarfs anything you'd find in a fixed-bedder. You waste even less time if you just use the sofas as single beds – each is nearly 6ft 5in long.
Kitchen – 78%
The kitchen looks great in all its well-lit, L-shaped, two-window splendour – but the cost-saving elements of the Xplore are almost all to be found here. The hob has three rings, which is fine, but there's no electric hotplate among them. Nor is there a fitted microwave, although you can specify one as a cost option, while the grill and oven share the same real estate. The curved bank of overhead lockers
and roomy cupboards provides more storage space than you're likely to need, although work surface is at a premium if you're not able to use the sink cover.
Washroom – 92%
What's not to like about this washroom? Most showroom visitors to the 422 will, surely, raise an eyebrow when they open the domestic-style door to this room and discover a separate, full-size shower cubicle – a design tour de force in this little caravan. The very trendy, deep-dished wash basin sits in front of a nice, long mirror, and the unit it's built into includes a cupboard and useful open shelving. A double-doored wall locker provides even more storage, and the blown-air outlet keeps the room toasty in the colder months. Brilliant.
Lighting – 87%
The biggest surprise is in the kitchen, where four, piercingly bright, flush-fitting lamps are built into the underside of the overhead lockers – they are a pleasant change from the stuck-on LED strip that is pretty much the norm in caravan kitchens now, and an unexpected upmarket touch. Very efficient too.
You can't really say the same for the lounge, where the old entry-level bugbear of having only two reading lights rears its head again. This is especially a nuisance at bedtime, when someone will either have to do without or turn on the ceiling lamps for a bit of reinforcement, which is far from ideal. Salvation may come in the shape of the mains socket on the front window shelf – a little table lamp brought from home would look good here.
You couldn't ask for more in the washroom, which boasts a flush-fitting lamp sited optimally right above the mirror and a dedicated light in the shower cubicle.
Verdict – 88%
Next time you encounter a 422 on site, you'll have to forgive the owners their slightly smug countenance. They have every reason to feel self-satisfied – the Xplore's light weight, reasonable cost, cheery disposition, practicality and terrific layout combine to make it an almost irresistible package.
More like this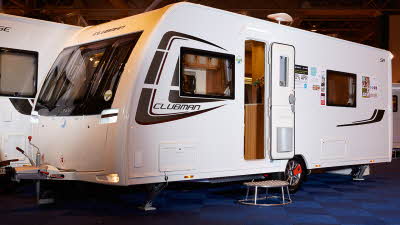 By Rob McCabe
08/01/2019
Rob McCabe tests a four-berth caravan with plenty of pedigree