Certificated Location of the Year winners for 2023
17/10/2023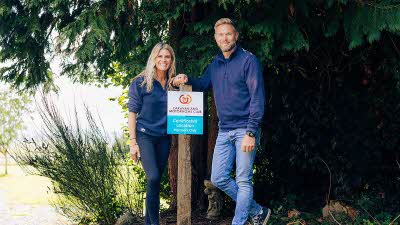 Six campsites across the UK have won this year's Caravan and Motorhome Club's Certificated Location (CL) of the Year 2023 Awards for England, Wales, Scotland and Northern Ireland, as well as best newcomer and most unique Certificated Location. New to 2023 is the Certificated Location Sustainability Award to recognise valuable work being undertaken to protect the environment.
The awards celebrate privately-owned, maximum five-pitch campsites CL's – that are open exclusively to Caravan and Motorhome Club members. Many CL's are found in the countryside and remote locations such as farms, country estates and inns, providing a valuable and additional income stream for the campsites owners and local communities, whilst offering more choice for Club members to get out in the great outdoors.
This year's winners include:
Best CL in England: Cholsey Grange in High Wycombe
Cholsey Grange, who scooped third place in 2020 offers five fully-serviced hardstanding pitches with views of the stunning Chilterns Area of Outstanding Natural Beauty. There are plenty of great walks around the farm and longer jaunts to dog-friendly village pubs and nearby landmarks. Owner, Ted Howard-Jones, comments: "I think what our visitors like about CL's is that they are relaxed, very personal and they get to be out in the countryside, often having the sites almost to themselves or just with a couple of other vehicles so they get a real, rural experience."

Best CL in Scotland & Northern Ireland: Landis Farm in Dumfries and Galloway
Landis Farm is run by Colin and Sandra Carruthers and is set just outside the pretty village of New Abbey, famous for the ruins of Sweetheart Abbey. The quiet surroundings offer tourers peace and tranquility with plenty of walks from the campsite taking visitors to the Nith Estuary, Waterloo Monument and Criffel Hill.
Owner, Sandra Carruthers comments: "We are lucky to have a lot of returning customers and a lot of them have become friends. They thoroughly enjoy the peace and quiet of the farm and the local area, there is far more to do in Dumfries & Galloway than people realise."

Best CL in Wales: Terfyn Mawr in Carmarthenshire
Terfyn Mawr is set in the countryside over one mile away from Newcastle Emlyn, a quaint market town dating back to the 13th century and is run by Gerald and Hazel Hands. Nearby tourers can also visit the natural beauty spot of Cenarth Falls, where the falls cascade through the village. Owner, Hazel Hands said: "We like to treat people the way we want to be treated ourselves if we are visiting a site, and the feedback we get seems to show it works. We hand on heart do not do this as a business, we do this as a hobby. We thoroughly enjoy meeting people and love the fact that they are appreciating the area we live in."
Betley Park, in Shropshire, which is run by Guy Robinson and Jo Fellows won Best Newcomer. The adult-only campsite, is located a short walk from Lyth Hill Country Park and is run by the team behind the popular 'Vanlove Fest' Jo Fellowes said: "We want to extend our huge thanks to everyone that took the time to vote, the people who have stayed here and those who have written five star reviews, it means the world to us. There's been a huge amount of effort put into this project, far more than we thought and it has been epic."
The Most Unique CL award went to Abbotts View Alpacas, based in Aylesbury and run by James and Jo Dell. The campsite offers tourers the chance to stay on a working eco farm that also breeds alpacas. The campsite is surrounded by alpaca paddocks and also is home to ducks, ponies, rare breed sheep and pigs, pygmy goats, guinea pigs and rabbits.
The Caravan and Motorhome Club is able to grant certificates to landowners to operate CL's due to the Caravan Sites and Control of Development Act (1960). Members nominate their favourite site for the CL of the Year Awards, recognising the best in the country and rewarding hard-working owners who go above and beyond for guests.


In its inaugural year, Brisley Hall Farm in Norfolk, run by Sally Whales scooped the CL Sustainability Award. Certificated Location owners were able to nominate themselves in this category explaining why their campsite is sustainable. The final winner, among 19 entries, was chosen by the Strategic Product Development and Sustainability Executive and Head of Strategic Product Development and Sustainability.
Sally Whales comments: "Our aim is to provide quality facilities while focusing on minimal impact on the environment including limiting the use of plastics. We are always looking for more ways to expand our green credentials and would like to thank the Club for presenting us with the sustainability award and recognising what we are trying to do to protect the environment around us, not just for us but for everybody."
Nick Lomas, Director General of the Caravan and Motorhome Club, said: "Our CL portfolio across the UK is growing in numbers, each one providing our members with an opportunity to stay somewhere often more rural and rare. So many CL owners do such valuable work in their communities and our awards recognise how they go above and beyond to make memorable stays for their guests. I would like to congratulate all the winners for their great work."
For small businesses anywhere in the UK and Northern Ireland such as a pub, a farm or a golf course with an expanse of land that would fit up to five caravan or motorhomes, registering via the Caravan and Motorhome Club is easy. Owning a CL can be a hugely gratifying experience and anyone with enough land can apply.
For more information on the Caravan and Motorhome Club or for how to apply to become a Certificated Location owner, please visit www.camc.com/cls
Notes to Editors:
Images can be found here – https://we.tl/t-aOpJLwcADd
Captions:
Landis: Colin and Sandra Carruthers at Landis Farm, Best CL in Scotland & NI

Cholsey: Ted Howard-Jones at Cholsey Grange, Best CL in England

Terfyn Mywer: Gerald and Hazel Hands at Terfyn Mywer, Best CL in Wales

Betley Park: Jo Fellows and Guy Robinson at Betley Park, 2023 Best Newcomer.

Abbots View Alpacas: James and Jo Dell at Abbotts View Alpacas, Most Unique CL

Brisley: Sally Whale and partner Neville Middleton at Brisley Hall Farm, 2023 CL Sustainability Award.
About Caravan and Motorhome Club
Championing and helping its members get more from the great outdoors, whether glamping or touring, the Caravan and Motorhome Club represents the interests of over 1.1 million caravan, motorhome, campervan and trailer tent owners across the UK. With over 116 years of knowledge and expertise, the Club has a wealth of experience and prides itself on offering great value and high quality campsites for tourers and glampers.
Caravan and Motorhome Club membership is just £59 per year and provides members with access to over 2,700 quality campsites across the UK and Europe. As the UK's No. 1 rated touring club* it makes sure members get the most from their membership, saving them money with great value offers whether touring or at home.
The Club also offers a range of escorted European tours which are protected by ABTA. Plus escorted and independent tours in Australasia, North America and Southern Africa which are also fully protected, either by ABTA or ATOL when a flight is included. All members can take advantage of expert advice, overseas travel services, cover and insurance and exclusive member offers and discounts.
For further information about becoming a member of the Caravan and Motorhome Club, please visit www.camc.com or call 01342 318 813.
*As rated on Trustpilot
About Experience Freedom
Experience Freedom from the Caravan and Motorhome Club provides glamping accommodation in some of the most beautiful locations in the UK. Helping members get more from the great outdoors, Experience Freedom offers a choice of glamping accommodation, motorhome hire and tent camping, all of which are available to non-members. Motorhome hire, including some discounted hire schemes can be found here https://www.experiencefreedom.co.uk/motorhome-hire/
Experience Freedom is operated by the Caravan and Motorhome Club, a membership organisation with a wealth of experience in operating high quality campsites.
Caravan and Motorhome Club members can save up to 10% on glamping accommodation for themselves and their friends and family when staying at the campsite with them. It is automatically applied to the booking when the membership number is used. To book friends and family, simply call on 01342 777533 to make a booking with your Club membership card.
To find out more, visit www.experiencefreedom.co.uk