SsangYong UK
Save up to £1,500 on the double award winning Korando!
There remains limited stock of the previous generation Korando which has proven ever popular with Club members. Korando now starts from £17,995 (including discount), offering outstanding value for money and won the Caravan and Motorhome Club Towcar of the Year (sub £24K) for 2018.
You can save up to £1,500 and members also receive a free towbar and electrics.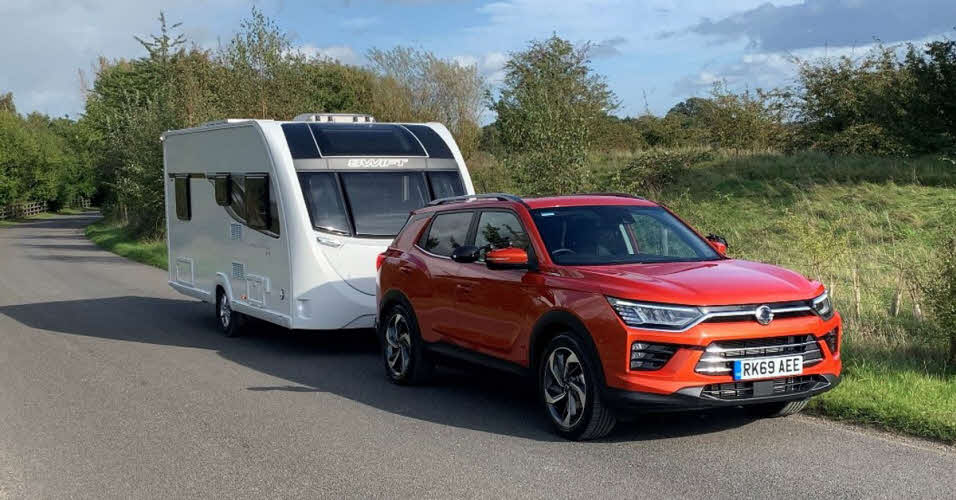 All-new Korando making friends in the caravan world
The all-new Korando is now available with both petrol and diesel engines and with a range of specs starting from just £20,395.
The new model combines increased engine efficiency whilst maintaining towing performance with a choice of a highly efficient GDi-T petrol engine that develops 280NM and can tow a maximum of 1,500KG or a 1.6 turbo diesel that develops 324NM and can tow a maximum of 2,000KG, our towing credentials are maintained.

Prices start from £20,395, and both Pioneer and Ultimate diesel models are tailored for the caravanner - all backed by our industry-leading 7 year/150,000 mile warranty, the all-new Korando is well worth a look.
You may have seen our TV campaign which features Vinnie Jones:
Rexton is now the best value 4x4 with the award for 2021 by 4x4 magazine for the fourth year running, and they know a thing or two about SUV's! As a full-sized flagship SUV it tows how it looks – with purpose and with style to give a manufacturers towing limit of 3.5 tonnes with a GVW of over 2.1 tonnes. The free towbar offer is available on the Rexton making it a great deal for club members.
The Musso pick-up – from £22,355 ex VAT, which being based on the Rexton means it genuinely does feel and drive like an SUV rather than a truck, all whilst towing up to 3.5 tonnes and carrying up to 1085kg at the same time! The press have recognised its unique blend of abilities with a second win of the What Car? Award for pick-up's under £28,000 and the best value pick-up award from 4x4 magazine for the third year running!
Free towbar and electrics for club members
SsangYong is becoming a well-known brand to keen caravanners having worked with the Caravan and Motorhome Club for many years and gained an understanding of your requirements. Most important is a solid and stable tow vehicle and a totally reliable towbar – SsangYong are happy to provide members with a free fixed tow bar and electrics to complement their great range of towing vehicles and give members even better value for money.
SsangYong is a specialist 4x4, SUV and pick-up producer with over 65 years of experience that has created a range of tough, good looking and capable vehicles all of which are at the top of the class when it comes to towing.
Industry leading warranty on all SsangYong vehicles
All SsangYong vehicles now come with an industry leading 7 years or 150,000 mile warranty to offer complete peace of mind as you'd expect from the Korean SUV specialist.
How to order
Visit your local SsangYong dealer or visit ssangyonggb.co.uk, test drive one of the range and find your next tow car. Your dealer will take care of the rest whilst you look forward to many years of relaxed motoring. Don't forget to bring your Caravan and Motorhome Club membership card.
---
Terms and conditions


Free towbar:
Offer only available to members of 3 months or longer.
Membership cards must be presented at the point of purchase. Offer cannot be supplied retrospectively.
Offer on new vehicle purchases only and not available on Tivoli, Tivoli XLV or Motability vehicles.
Fixed tow bar only (members can upgrade to a detachable on some models for an extra change).
Korando saving:
Up to £1,500 saving is only available on the previous generation Korando and subject to availability.
Offer cannot be used in conjunction with any other SsangYong offer, dealer initiative or affinity deal (including but not limited to: Country and Field, Tools and Trade, Frontline Workers, BASC, Mole Valley farmers, Scottish NFU and Ringlink Scotland)
Offer valid on new purchases made before 31 March 2021.