La Motte
D270 Lieu de La Motte , Le Fouilloux, 17270, France
View on map
Why stay here ...
The site is located in a rural setting between forest and vineyards, between the Dordogne in the east and the Atlantic beaches in the west and a perfect short break on the trip to Spain and Portugal, just an hour north of Bordeaux Lovely.
Perfect for walks and cycling trips along quiet roads and paths direct from the campsite entrance. The Dutch owners have chosen to limit the new classification to one star, but if you want more you only have to look up at night and to see more stars.
At La Motte the emphasis is on relaxation, not so much on entertainment.
Around and About
Montguyon, Le Palais, Beau Vallon Lake, Aubeterre sur Drone, St Emilion, Bordeaux, Cognac caves, Royan Rochefort, La Rochelle, Walks, Cycling.
Prices
Map
Directions
From the toll-free N10 dual carriageway
On the tollfree N10 Poitiers → Bordeaux exit Montendre, Montguyon and Montlieu-la-Garde

End of exit left direction Montguyon (from here 12km / 8miles)

After 7km (4,5miles) on roundabout in St Martin d'Ary follow "Toutes Directions"

After 1km (0,6m) on roundabout left direction Saint Aigulin (D910b and D730)

After 1km (0,6m) on roundabout near Intermarché straight on direction St Aigulin (D730)

After 1,8km (1,1m) 3rd road left direction Le Genétouze (D270). This is the 2nd road after the new viaduct. Camping La Motte is signposted on the crossing of D730 and D270.

After 1,8km (1,1m) entrance of the camping on the left
From the A10 motorway (péage)
On the A10 Poitiers → Bordeaux exit 37 Mirambeau

After the péage turn right and on the roundabout right again direction Mirambeau Center

In Mirambeau left onto D730 direction Montendre (from here 43km / 27miles)

Follow the D730 through Montendre and Montlieu-la-Garde (where you cross the N10) direction Montguyon

7km (4,5m) after crossing the N10 on roundabout in St. Martin d'Ary follow "Toutes Directions"

After 1km (0,6m) on roundabout left direction Saint Aigulin (D910b and D730)

After 1km (0,6m) on roundabout near Intermarché straight on direction St Aigulin (D730)

After 1,8km (1,1m) 3rd road left direction Le Genétouze (D270). This is the 2nd road after the new viaduct and camping La Motte is signposted on this crossing.

After 1,8km (1,1m) entrance of the camping on the left
Sites key: Overseas Site
Postcode:

17270

Region:

Nouvelle Aquitaine

Distance to Calais: (kms)

805
GPS:

Lat 45.212121 / Lon -0.136543

Michelin map no.

0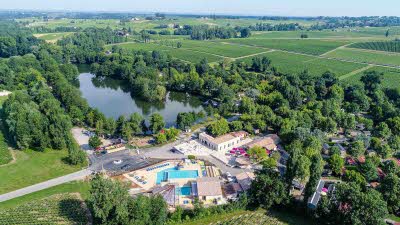 20.38 miles