We're keeping some of our sites open for longer!
12/10/2020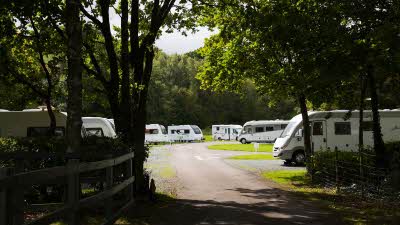 77 of our Club campsites are open until January, with over 55 of these remaining open all year round and this year we're adding Brecon Beacons, New Forest, Norfolk Broads and Rookesbury Park to the list. These four sites are in picturesque locations across the UK, and each offers the opportunity to explore the beautiful countryside and quaint towns and villages.
Brecon Beacons
Now open until 4 January 2021*
Situated in glorious Welsh countryside, Brecon Beacons Club Campsite offers breathtaking views over the National Park and has a wealth of facilities including two toilet blocks, a shop and play areas for children. There's also a circular dog walk which leads to a quaint stream and woodland area, where you'll find an adventure course suitable for adults and children alike. Of course, a trip here wouldn't be complete without exploring the local countryside.
*Due to the current national lockdown in Wales, our Brecon Beacons Club campsite will be closed from 6pm on 23 October until the start of 9 November 2020.
Top three things to do in the area:
Norfolk Broads
Now open until 4 January 2021
Norfolk Broads Club Site is located in the heart of the Norfolk Broads, which combines over 200 miles of waterways with windmills, market towns and lovely river settings. Dog owners will love this site as there are so many walks to choose from in the local area, and equally those without dogs will be able to make the most of the surrounding Norfolk countryside. Keen cyclists will also feel at home here, and just 10 miles away the coast awaits with plenty of seaside towns to explore.
Top three things to do in the area:
New Forest Centenary
Now open until 4 January 2021
Originally part of a Second World War airfield, the New Forest Centenary Campsite has an abundance of history to offer. It's set amidst beautiful Hampshire countryside and is home to the Club's Centenary Gardens where you can discover lovely birdlife. The campsite is a great base from which to explore the local area by foot or bike, with cycle routes starting as nearby as 200 yards. The busy towns of Christchurch, Poole and Bournemouth are nearby, and you'll find a wealth of beaches to explore on the coast too.
Top three things to do in the area:
Rookesbury Park
Now open until 4 January 2021
Set in tranquil parkland with the magnificent Forest of Bere at its edge, Rookesbury Park Club Campsite has plenty to offer nature lovers. Dubbed the 'Gateway to the South Downs', here you can enjoy country walks as well as an abundance of wildlife and birdlife. Equally, you'll be within easy reach of local towns and villages and well as cities like Portsmouth and Southampton should you wish to explore further afield. The campsite is even well-placed for a day trip to the Isle of Wight.
Top three things to do in the area:
We've also opened up more dates at the following sites:
Struggling to find availability at your favourite sites?