Sites in Switzerland
Head to Switzerland in your caravan or motorhome for breathtaking scenery, chocolate and expensive watches.
Basel will probably be your first stop as you cross the border from either France or Germany – take a wander round the Old Town for a bit of a pit stop.
Geneva is a sightseer's dream; nestling on the beautiful shores of Lake Geneva it's a great base for some Alpine activities.
Don't miss out on visiting Albert Einstein's house in the capital Bern or the stunning city of Lausanne – it's built on three hills.
We recommend that you book a stay at the following caravan sites in Switzerland – all have been inspected by us – so you can expect high standards.

Did you know you could save money when you book your ferry crossing and campsite or overseas site night vouchers together?
At a glance
When to go: late summer
Don't miss: The biggest flower clock on the planet
Motorway speed limit: 50mph (caravan) 74mph (motorhome under 3.5t) 62mph (motorhome over 3.5t)
Driving tip: Driving on the motorways requires a vignette
Take a tour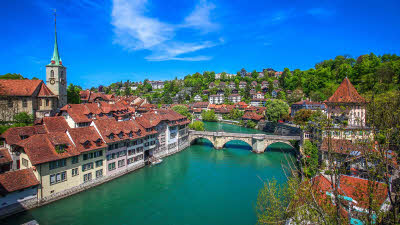 Tour departs 7 September 2018
Be captivated by alpine Switzerland on this 11-day tour
Top questions
How do I book an overseas site?
Overseas site bookings can be made online. Discounts are common when you combine a site booking with your ferry or Eurotunnel crossing.
Does the Club take deposits for overseas bookings?
Yes, deposits for overseas bookings are calculated at 20% for a site and 25% for a ferry (unless it is a non-refundable ferry/Eurotunnel in which case full payment is due at time of booking). The final balance is due 10 weeks prior to travel.
Is the standard of overseas sites similar to that of the UK?
European sites are star-rated by local authorities and will have different standards and regulations to the UK. The Club's site inspectors ensure they are of a high standard for our members.
This is my first visit abroad with my caravan/motorhome. How can the Club help?
The Club's first time abroad section explains everything you need to know about going on your first overseas touring holiday.