Visit a vineyard this summer in the UK and Europe
01/06/2018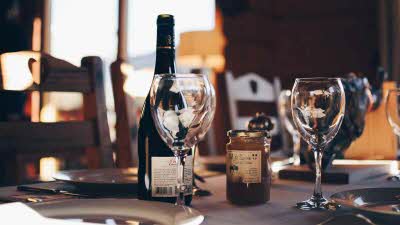 When you think of wine regions, most of us think to Burgundy, Champagne and La Rioja - why not explore the vineyards a little closer to home?
Believe it or not, there are plenty of award-winning wineries across the UK, many of which are close to our sites. Of course, we've included a special mention to our European campsites within some of the most famous wine regions on the continent.
Check out our top picks for vineyards near our sites this summer:


Vineyards in the UK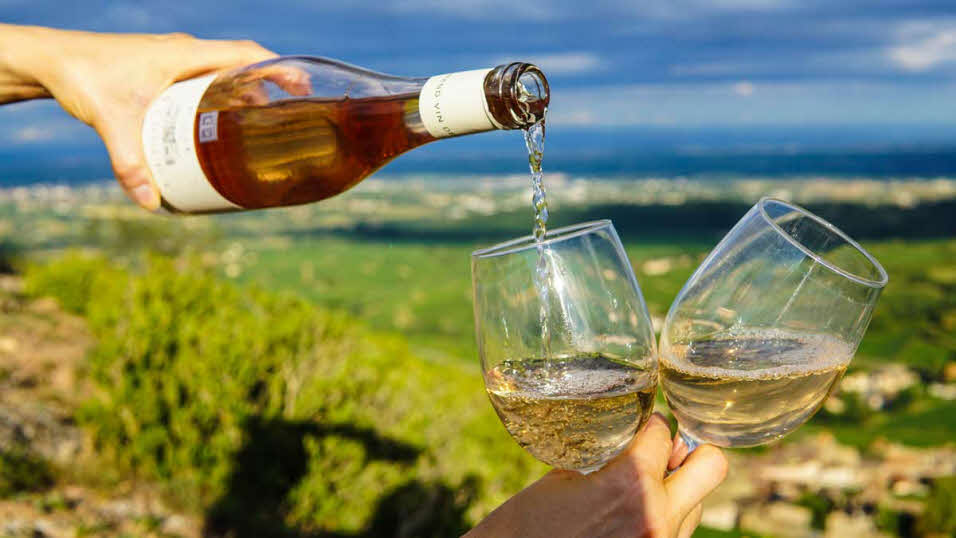 Camel Valley Vineyard, Cornwall
Camel Valley's 2008 and 2015 Pinot Noir Rose Brut won the gold award at the International Wine Challenge and also took the top spot in the Wine GB Awards. Tour Cornwall's largest and most celebrated vineyard with 82 acres of grape vines, located just off the Camel Trail near Bodmin Moor.
Stay at: Camelford Caravan Club Site, 11 miles


Halfpenny Green Wine Estate, Staffordshire
Visit the wine loft at Halfpenny Green to sample their wine tasting menu - here you can enjoy wine from their vineyard, plus tasting notes, crackers and a selection of cheeses from their on site deli.
Stay at: Stanmore Hall Touring Park, 6 miles

Harrow and Hope, Buckinghamshire
Owned by Laithwaite's Wine who offer our members great deals on wine and prosecco, this vineyard in Buckinghamshire offers tours of the winery and vineyard, plus wine tasting tours.
Stay at: Henley Four Oaks Caravan Club Site, 9 miles

Sharpham Wine & Cheese, Devon
In the same hands for 30 years and overlooking the River Dart near Totnes in Devon, Sharpham is a serious producer of more than a dozen wines, as well as unpasteurised cheeses, contained on an estate created by the famous 18th century landscape architect Capability Brown. Visitors to the site can either wander on a self-directed Trek and Taste, or a Vineyard Ramble with expert guides.
Stay at: Steamer Quay Caravan Club Site, 4 miles

Winbirri Vineyard, Norfolk
Throughout the year Winbirri offer vineyard tour and tasting experience days, where you will be guided by head winemaker Lee Dyer around the vineyards. You can also explore the winery and learn about the production of Winbirri's award-winning wines.
Stay at: Great Yarmouth Racecourse Club Site, 24 miles

Rathfinny Wine Estate, East Sussex
Tour the Rathfinny Estate and experience Sussex sparkling wine from grape to glass or explore the Rathfinny Trail, a peaceful footpath that runs through the Estate with views over the South Downs.
Stay at: Brighton Caravan Club Site, 16 miles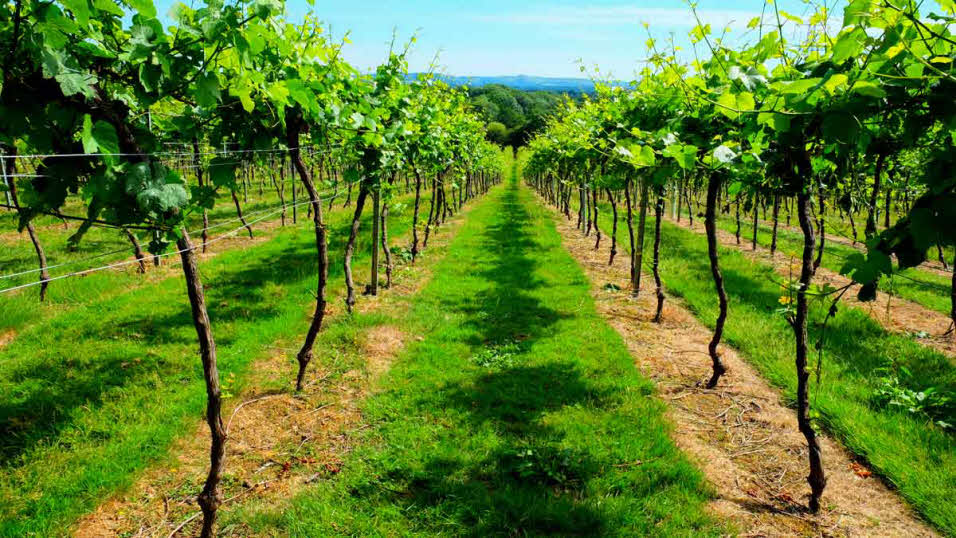 Three Choirs Vineyard, Gloucestershire
Explore this 70 acre vineyard in the Forest of Dean, complete with wine tasting experiences, visitor centre and restaurant which serves traditional yet upmarket pub grub, plus 14 different varieties of Three Choirs wine.
Stay at: Malvern Hills Caravan Club Site, 15 miles

Adgestone Vineyard, Isle of Wight
This vineyard is the oldest in Britain at the grand old age of 42. On the edge of Brading Down to the east of the island, this 10 acre vineyard produces a white müller-thurgau, a rondo red and a crisp sparkling white. Stop in at the shop, or sample afternoon tea in the vineyard's cafe.
Stay at: Southland Caravan Club Site, 3 miles

Biddenden Vineyards, Kent
Ten varieties of vine at Biddenden produce a range of reds, whites, roses and sparkling wines, alongside Kentish ciders and apple juices. Visit the shop and tea room, or experience the free tour the vineyard offers twice a month.
Stay at: Daleacres Caravan Club Site, 20 miles

Valley Farm Vineyards, Suffolk
As well as eight acres of Wisset Wines' vines, this vineyard offers a visitor centre, vineyard trail and even a herd of alpacas! Set in an idyllic corner of Suffolk, you can take a self-guided tour around the fields, finished off with a wine tasting.
Stay at: White House Beach Caravan Club Site, 17 miles

Hidden Spring Vineyard, Sussex
Hidden Spring Vineyard in Heathfield was established in 1986 and has since evolved into 23 acres of vines, livestock and organic apple and pear orchards. Explore the East Sussex countryside and enjoy a guided tour of the vineyard and winery.
Stay at: Broomfield Farm Caravan Club Site, 5 miles

Glyndwr Vineyard, South Wales
In the vale of Glamorgan, this vineyard has established a fine collection of Welsh wine - fruity whites, a vintage sparkling and an oak-aged red. Explore the gardens, meet the chickens, the ducks and llamas and taste the wine with canapés or a country platter.
Stay at: Tredegar House Country Park Caravan Club Site, 30 miles

Wine regions in Europe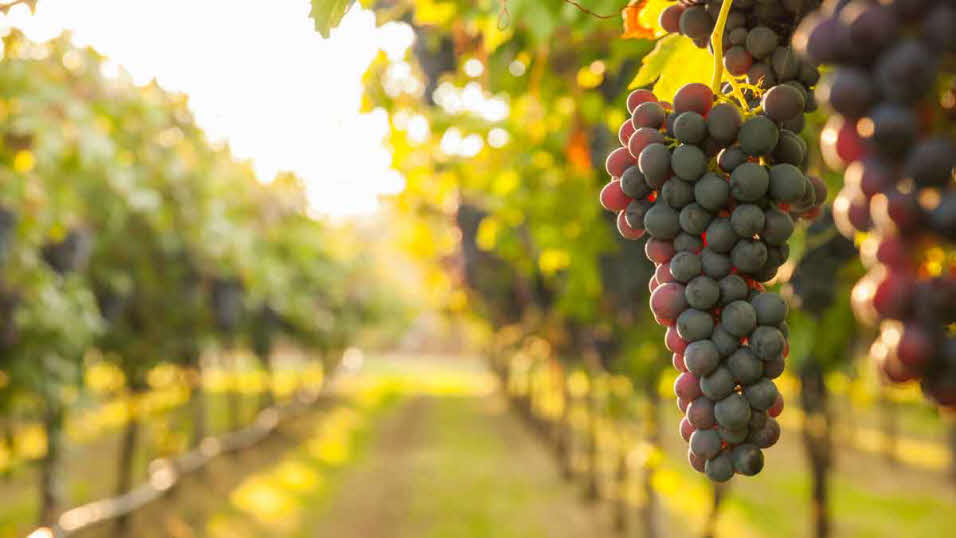 Bordeaux, France
Centred around the city of the same name, the Bordeaux wine region is split into numerous growing areas, including Saint-Émilion – a UNESCO World Heritage Site. The wines of Saint-Émilion are usually blended from Merlot, Cabernet Franc and Cabernet Sauvignon grape varieties. For information on wine tours see saint-emilion-tourisme.com/uk.
Stay at: Saint-Émilion

Monbazillac, France
Monbazillac, just to the south of Bergerac, close to the river Dordogne, was given 'Appellation d'Origine Contrôlée' (AOC) certification for its sweet white wine in 1936. Set within the beautiful vineyards is the Château de Monbazillac – guided and self-guided tours are available.
Stay at: Pomport Beach

Loire Valley, France
Set within the stunning Loire Valley, the wineries of Saumur produce a variety of whites, rosés and reds with tastes ranging from dry to very sweet. Famous varieties to try include Cabernet de Saumur, Saumur Puy-Notre-Dame, Saumur Blanc and Saumur Brut. A good place to start your wine odyssey is the Maison des Vins d'Anjou et de Saumur next to the tourist office.
Stay at: Le Domaine de la Brèche

La Rioja, Spain
The town of Logroño in northern Spain is the capital of the province of La Rioja, famed for its red wine. In mid-September it plays host to a festival celebrating all things grape-related. Activities include traditional foot-crushing of the fruit, bull running, parades and music.
Stay at: De Haro

Jerez, Spain
The Andalusian town of Jerez is home to the famous González Byass Tio Pepe sherry winery ('bodega'). Why not go on a tour to find out about the production process and finish off with a sherry tasting or spot of tapas?
Stay at: Valdevaqueros

Douro Valley, Portugal
The slopes of the Douro Valley are renowned for the production of port and table wines – it is believed that grape harvesting in the region has taken place for more than 1,800 years.
Stay at: Angeiras

Extend your holiday
Many of our overseas tours explore wine regions across the globe, head to Italy and sample the fruits of San Marino and Chianti on our Italian Explorer tour.