SsangYong UK Ltd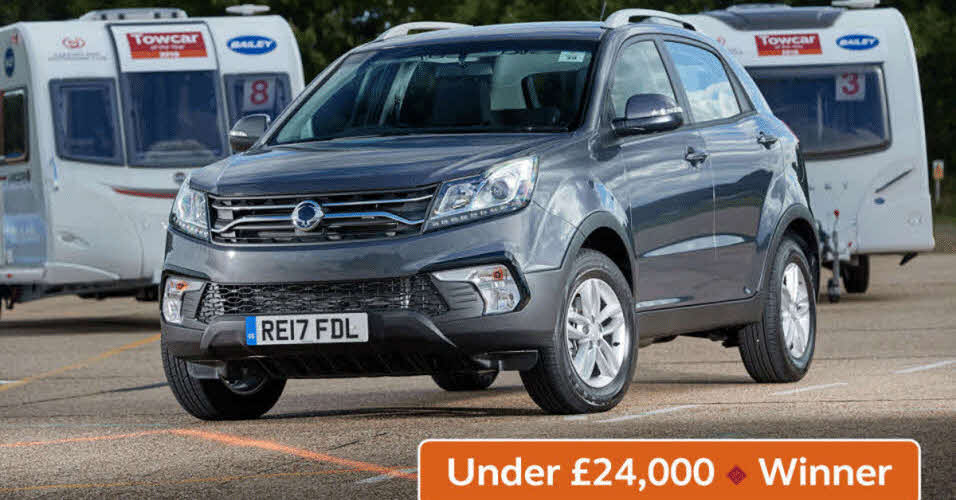 Free fixed towbar and electrics when purchasing selected SsangYong vehicles
SsangYong is becoming a well-known brand to keen caravaners having worked with the Caravan and Motorhome Club for many years and gained an understanding of your requirements. Most important is a solid and stable tow vehicle and a totally reliable towbar – SsangYong are happy to provide members with a free fixed tow bar and electrics to complement their great range of towing vehicles and give members even better value for money
SsangYong is a specialist 4x4, SUV and MPV producer with over 60 years of experience that has created a range of tough, good looking and capable vehicles all of which are at the top of the class when it comes to towing.
The ever popular Korando starts from £17,495 and offers outstanding value for money, and of course won the Caravan and Motorhome Club Towcar of the Year (sub £24K) for 2018!
Turismo is perhaps slightly less well known – it's a full sized 7-seat MPV that can take luggage as well! Starting from just £21,495 it offers more space per pound than just about anything else on today's market. And with 4x4 on the top spec ELX model a caravaner with a large family, large dogs or an appetite for space will be well pleased!
New Rexton has already been named best value 4x4 of the Year by 4x4 magazine, who know a thing or two about SUV's! As a full-sized flagship SUV it tows how it looks – with purpose and with style to give a manufacturers towing limit of 3.5 tonnes with a GVW of over 2.1 tonnes. The free towbar offer is now available on the new Rexton making it a great deal for club members.
The Musso pick-up – choose between the outgoing model which offers amazing value from just £16,795 (ex VAT) and offers the sort of load space that conventional 4x4s simply cannot. However, if you can wait until late July choose the all-new Musso from £20,995, which being based on the new Rexton means it genuinely does feel and drive like an SUV rather than a truck, all whilst towing up to 3.5 tonnes and carrying upto 1065kg at the same time!
All SsangYong vehicles now come with an industry leading 7 years or 150,000 mile warranty to offer complete peace of mind as you'd expect from the Korean 4x4 specialist.
How to order
Visit your local SsangYong dealer or visit ssangyonggb.co.uk, test drive one of the range and find your next tow car. Your dealer will take care of the rest whilst you look forward to many years relaxed motoring. Don't forget to bring your Caravan and Motorhome Club membership card.
---
Terms and conditions
Offers only available to members of 3 months or longer.
Offers on new vehicle purchases only and cannot be used in conjunction with any other SsangYong offer or dealer initiative.
Fixed tow bar only (members can upgrade to a detachable on some models for an extra change). Not available on Tivoli, Tivoli XLV and Country and Field, BASC, Mole Valley farmers, Scottish NFU and Ringlink Scotland Affinity deals.
Offers valid on purchases made from 1 January until 30 September 2019.