Experience the Tour de France
14/06/2016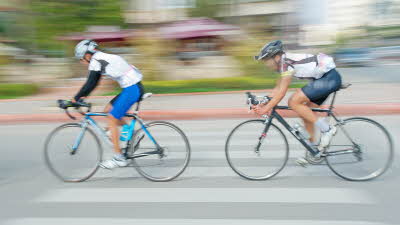 Take in the Tour de France
Join in and experience the excitement of being race-side at one of Europe's most famous bicycle races. This July, teams from across globe are competing in the Tour de France, including 'Team Sky' for Great Britain. The event runs from 2 to 24 July 2016 and has 24 stages – so there's plenty of time for you to show your support, cheer on Team Sky and maybe spot a few famous faces, too.

(You can view the full Tour de France 2016 route on the official website).
Pitch-up on route for £7.15
On 14 July at around 12.30pm, the tour is crossing Camping Domaine de Massereau in Languedoc-Roussillon. In this exciting stage of the race, you can watch the cyclists begin their ascent towards the infamous Mont Ventoux.

Especially for the occasion, the campsite owners have opened a special area, 250 metres outside the campsite for motorhomes and caravans. Here, members can stay for one night either on 13 or 14 July for just £7.15 (for 2 adults - including tourist tax).

After the event, you can celebrate into the evening as the campsite has arranged a firework display for Bastille Day.

Book by calling 01342 316101 and quote 'TDFMassereau2016'.

About the campsite

Domaine de Massereau is a beautiful site located between Montpellier and Nîmes. With a member rating of four stars, it has friendly staff and great facilities including a pool, bar and restaurant. Guests are also welcome to tour the campsite's vineyard and purchase its wine.

Pitch prices range from £17.93 per night in low season to £37.14 per night in high season.

This special member offer allows you to stay for one night, between the 13 and 14 July, for just £7.15 (for 2 adults, including tourist tax). Your booking will include:
pitch with electricity (no water or drainage)

a bracelet to wear, enabling use of the site's facilities
Hurry though, only 60 spaces are available!

Book your space and quote 'TDFMassereau2016' to take advantage of this special offer.

Call 01342 316101
Cycling in France
If you are a keen cyclist and love the buzz of Tour de France, you're not too late to head out on your very own Tour de France trip!

Explore the surprising and diverse landscapes that make up France. Enjoy the long stretches of Normandy's beaches or take a leisurely ride through the romantic city of Paris. Pick up the pace exploring the pine forests and lakes of Bordeaux or absorb the Mediterranean tranquillity as you ride around Provence-Alpes-Côte d'Azur.

Like the idea of exploring France by bike? Browse our top activity-focused overseas sites in France which offer a great base for cycling, hiking and other outdoor sports and activities.