10 Best Places to Visit in the UK
From the wonders of Scotland to beaches in the South East, we've brought together some of our favourite places to visit in the UK.
Photo by Club member Eleanor Hogg: @nellsoutdooradventures
From historically rich cities to miles of spectacular countryside, there's plenty to see and do across Britain. Whether you're looking to explore ancient ruins, meander down cobbled streets or eat chips from a cone during a beachside stroll, you can enjoy a refreshing and relaxing getaway. Here are ten of the best places to visit in the UK.
1. Canterbury
Photo by Club member Kevin Morrissey
First on the list is Canterbury, a beautiful and fascinating city nestled in the south-east county of Kent. A tourist hotspot well-known for its quirky cafés, bustling streets and timber-framed houses, Canterbury is also home to three UNESCO World Heritage Sites. These include Canterbury Cathedral, which towers over the city with its stunning mixture of Romanesque and Perpendicular Gothic architecture, the Church of St Martin – the oldest church in the English-speaking world – and the ruins of St Augustine's Abbey.
2. The Cotswolds
Photo by @laurabremerphotography on Instagram
A place of outstanding natural beauty, the Cotswolds is definitely the place to be if you enjoy sensational scenery or picturesque hikes, and you'll find plenty of campsites in the area to help you explore. The rolling countryside is dotted with chocolate box villages and historic towns, and there's plenty to keep you busy whether you prefer active breaks or gentle, cultural stops. Places of interest include Bourton-on-the-Water, otherwise known as 'Venice of the Cotswolds', the famous market town of Cirencester, and Burford with its wealth of boutique stores.
3. Oxford
Photo by Mike Molloy
Well-known for its prestigious university established in the 12th century, Oxford attracts tourists from across the globe. With 38 colleges all boasting exquisite architecture, it's no wonder the city was named the City of Dreaming Spires by poet Matthew Arnold. A visual spectacle, Oxford is a popular filming location; its Harry Potter location tour passes by New College, Christchurch, and parts of the Bodleian Library. Other places of interest include the Oxford Castle and Prison, Oxford Botanic Gardens and the Pitt Rivers Museum.
4. Snowdonia
Photo by Club member Graham Hembrough
Inspiring scenery abounds in Snowdonia, Wales' activity capital, and it's no wonder the region is considered one of the best places to hike in the UK. Whether you're a cyclist, climber, golfer or water sports enthusiast, you'll find plenty to do here – all against a stunning backdrop. For those who prefer a more sedate experience, there's excellent bird watching and fishing, as well as ancient monuments and castles to explore at your leisure. Round off a day out at one of the region's award-winning restaurants, such as Tyddyn Llan or Dylan's in Criccieth.
5. Peak District
Photo by Sid Richardson
If you're looking for scenic places to visit in UK, the Peak District National Park certainly won't disappoint. Located in central England, not far from popular cities such as Manchester, Sheffield and Leeds, the Peak District offers a haven of tranquillity and is the perfect place to relax, away from the hustle and bustle of everyday life. From steep limestone valleys and dramatic gritstone ridges to cosy country cottages, open fires and pubs that'll revitalise you after a day of adventure, the Peak District has it all.
6. Lake District
Photo by Club staff member Jo Thomas
The Lake District in Cumbria is another place of great beauty that's perfect for hikers, cyclists, writers, painters, and those simply seeking fresh air. Well-known for its glacial ribbon lakes, rugged mountains and historic literary associations, the Lake District offers a good reason to head to England's north western corner. As there's so much to see, it's a good idea to find a base at one of the local market towns such as Kendal, Ambleside or Keswick, all home to traditional inns, galleries, local art and more. From there, you can lace up your hiking boots and see some of nature's wonders first-hand.
7. Devon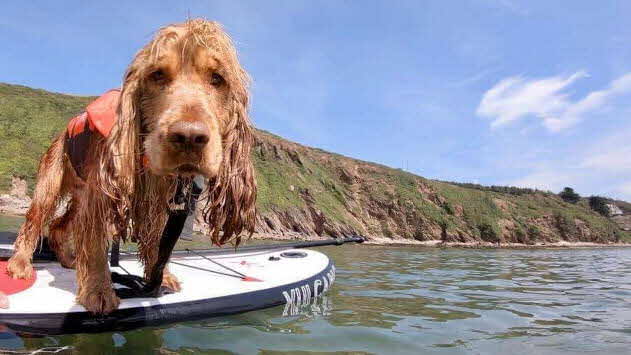 Photo by Club member Clare Johnson
Combining two of life's pleasures – good food and the great outdoors – Devon is the perfect place for a wholesome, relaxing, and scenic camping holiday. While sports lovers can ride the waves on a surfboard, foodies can sample the local cream teas, a famous treat in this region. Exploring the craggy landscape of the Dartmoor National Park – home to forests, rivers and free-roaming Dartmoor ponies – is also a highlight.
8. Loch Ness
Photo by Club member Linda Burgess
A place of breath-taking beauty and fascination, Loch Ness is located in the Highlands and internationally famed not only for its dramatic scenery, but also for the possible existence of the mysterious Nessie. Take a boat tour and try to catch a glimpse of the elusive monster for yourself, or explore the castles and lighthouses that dot the landscape. It's a great place for stargazing too, thanks to the clear, unpolluted skies.
9. Bath
As one of the most picturesque small cities in the whole of the UK, and the only city to be declared a UNESCO World Heritage Site, Bath is an attractive place for a weekend getaway. Discover the well-preserved Roman Baths dating back to AD75, or celebrate one of Bath's most famous residents at the Jane Austin Centre. The Georgian elegance of this city combines with a 21st century cosmopolitan buzz that makes it uniquely exciting to explore.
10. Brighton
Photo by Club member Kenneth Wilson
Another gem in the south-east of England, Brighton is a lovable, eccentric city packed with unique boutiques, cake shops, vibrant markets and more. Whether you want to head straight for the bohemian North Laine district, sit for a while by the coast or head to a quirky eatery for some organic homemade grub, you're sure to forget your troubles in this energetic city. Check out our campsite near Brighton - the perfect base from which to discover this seaside gem.