Don't miss 'Caravanner of the Year' on BBC2
11/04/2016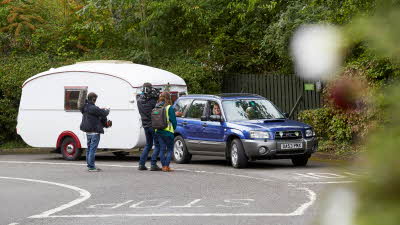 Six enthusiasts and Club members are challenged with various tasks and battle it out over two exciting weekends to be crowned the winner of Caravanner of the Year.
When to watch
The Caravanner of the Year competition was filmed by the BBC. The second and final, part airs on Wednesday 27 April at 8pm on BBC2. Tune in to find out who wins!
About the show
Watch the fun and drama unfold as caravan, motorhome and campervan owners strive to be the best above the rest. The challenges included:
Manoeuvring
Navigation
Hospitality
Caravanning know how
The competition was filmed at our very own Ferry Meadows site and was marked by our panel of judges:
Grenville Chamberlain (Club Chairman)
Lucy Jayne Grout (vintage caravan restorer and designer)
Martin Dorey (BBC series The Camper Van Cook)
Andy Harris (motorhome journalist)
Tune in and watch, and don't forget to tell your friends and family about it too!
Want to know more?
If this has fired your interest in the Club, discover the benefits of joining including access to over 2,500 sites and huge savings on family days out.

If you feel like you need to hone your skills like our enthusiasts, we also offer a host of training courses perfectly designed for both new and experienced caravanners and motorhomers.
Follow Caravanner of the Year on Twitter @CaravanClubCOTY or like our Facebook page: Caravanner of the Year - don't forget to use the hashtag! #caravanclubCOTY