Caravanner of the year winners
28/04/2016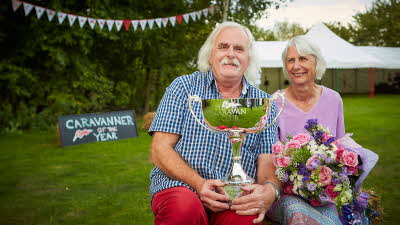 John and Jenny Marsland emerged victorious after they impressed the judges in the final episode.
The programmes were filmed at Ferry Meadows Club site and aired on BBC2 at 8pm on 20th and 27th April. They followed the fun and drama as motorhomers, caravanners and campervanners competed against each other.
About the show
Six top enthusiasts (all Club members) battled it out across two highly charged weekends to win the Club's inaugural competition.
The competitors were faced with a variety of challenges designed to test:
Manoeuvring
Navigation
Hospitality
Caravanning know-how
Their efforts were then judged by our panel of experts:
Grenville Chamberlain (Club Chairman)
Lucy Jayne Grout (vintage caravan restorer and designer)
Martin Dorey (BBC series The Camper Van Cook)
Andy Harris (motorhome journalist)
The winners
The victors, John and Jenny Marsland, said, "We entered the competition to show that you don't need to spend a fortune to be adventurous and rounded caravanners."
"We also wanted people to see how beautiful our Cheltenham caravan is and to show how it has stood the test of time."
"We had great fun during the competition heats and we met such lovely people along the way. To put the icing on the cake, we won the title of Caravanner of the Year, which has made us very proud of our pastime."
Take a touring adventure of your own
Visit the setting for Caravanner of the Year and book a break at Ferry Meadows Club site. The site, in Cambridgeshire, sits in a beautiful country park and is surrounded by lush greenery.
Join our Club
If you're not a member yet, have you considered joining? There are a host of benefits to being a member, including access to over 2,500 sites, exclusive member offers and great savings on days out. Find out more about what Club membership can offer you.
Join in the conversation
Out & About Live commented that Caravanner of the Year has, "got people talking about the industry we love" - and we want those conversations to continue!
Follow Caravanner of the Year on Twitter @CaravanClubCOTY, or like our Facebook page: Caravanner of the Year to be part of the conversation. Don't forget to use the hashtag! #caravanclubCOTY