City to Country Life Art Project - the artists
31/10/2014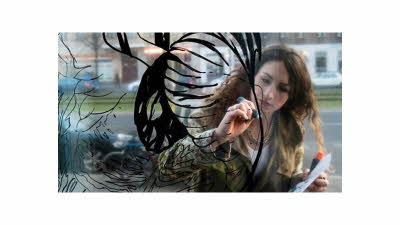 The artistic team have previously worked with the likes of Google, BBC, ITV as well as working on "team building" projects and "community ventures" such as rejuvenating disused community areas.
We had the pleasure of speaking with some of the artists that we worked with on our nature art project.
Rosie
Years painting: 9
Style: My paintings tend to tread the fine line between abstraction and figuration, juxtaposing organic structures and geometric patterns. Having experimented with paint for as long as I can remember, I am now honing my spray-painting skills and enjoying creating works on a large scale, with speed I didn't know was possible. Though based in London, through my painting I've been lucky enough to travel to Berlin, Milan and Norway.
Favourite things: Green and Black's organic dark chocolate ice cream, running, snowboarding, London.
David/Badbones
Years painting: 12
Style: I started painting in Brighton around 2000. I took a lot of inspiration from the graffiti artists in the area and developed a bright, cartoony style. I started painting walls all over London a few years later and began to mix more realistic elements into my street art. Nowadays, I like to work with realism, typography, graphic design and random cartoon elements. I've been on TV a bunch of times and travelled the world with my art, painting in New York, Paris, Milan, Rome, Belgium, Amsterdam and Canada.
Favourite things: Sneaker collection, iPod, sketchbook, Coco Pops, sleep.
Darren
Years painting: 10
Style: Much of my work spans multiple creative disciplines and promotes off-kilter, character-driven concepts that combine a playful approach to colour with an inquisitive eye for composition. Think Fruitella funk with a twist of cheeky satire and dark humour in equal measure.
Favourite things: Exploring abandoned spaces, skateboarding, 1930s' animation, chorizo.
Joe Epstein
Producer, LDNGraffiti / Director, LDN Digital Design Ltd.
Born in London, Joe has over 25 years' experience working as a digital designer and art director for many diverse clients and brands. Joe has also been passionately documenting the lifespan of some of London's most original street art and graffiti for over 7 years. Joe has contributed to exhibitions in the UK, developed the Banksy London Tour iPhone app, published a book and Joe's website LDNGraffiti is an ongoing photographic documentary of Graffiti and Street Art in London, giving an insight into the creative output lost and found in and around the capital.
More can be found at LDNGraffiti.co.uk and on Twitter @LDNGraffiti.
Find out more about the project