February magazine walk correction
22/04/2015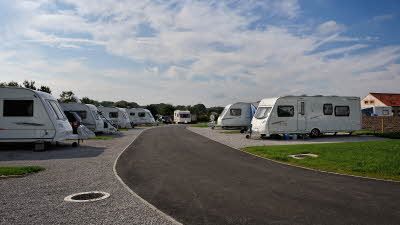 The directions for this route included a section in the grounds of the Bridlington Links Golf & Leisure Estate. The golf club has been in contact to ask that this section of the route is amended on safety grounds, as it takes walkers too close to golfers and flying golf balls.
So, if you are planning to follow this trail while enjoying a stay at Bridlington Club Site, please follow the new route shown here (these replace the original directions 1 to 4).
New directions
A) At the end of the drive, turn left and then right to cross the road to the golf club entrance. Keep to this tarmac road until you have passed the golf club car park (on your left).
B) With the club house on your left, turn sharp right, ignoring the grass track and follow the tarmac road and continue along this road with the green driving range building on your right - Don not take the tarmac road leading you past the club house or go along the grass track.
C) Just before the log cabins (at the green box) turn left and follow the track (with the walled garden on your tight).
D) At the 'T' junction where this track meets another similar track, turn left and after approx 30m, turn right up a slight mound onto a narrow path leading you through the woods. Do not continue along the main path at this point.
E) At the end of the woods, you will meet another footpath where you can either turn left and continue to the Club's walk or turn right and head towards Sewerby and Bridlington.
If you intend to continue on the Club's magazine article route, from point E, follow the public footpath across the golf course (parallel to the cliff top) and join the walk instructions from the Club magazine article 'Point 5'.