Your new and improved website
13/12/2016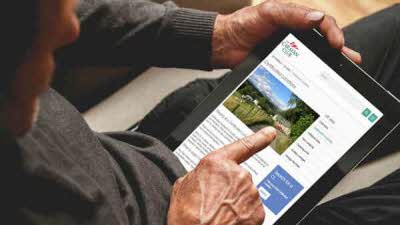 Welcome to your new, improved website
We've listened to your feedback and are pleased to introduce some intuitive new features that we hope you will enjoy.
We've also completely refreshed the website's look and feel. We've brought in a clean, modern design, simpler navigation and plenty of informative and inspirational content.

What's new?
Improved navigation and layout
Clearer signposting along with the fresh new design guides you to everything you need to know about our products and services. Find what you're looking for with ease, from overseas holiday bookings and insurance quotes to towing advice, training courses, member benefits and special offers.
We think you'll love browsing the website from your tablet or smartphone, as more of the site is now optimised for viewing on mobile devices.
Upgraded 'Search & Book'
It's now even easier to find the campsite you want, when you want, thanks to an upgraded Search & Book tool. Simply specify a destination, dates of travel and the facilities you need and we will suggest the perfect location for you.
Your Club site booking details can still be accessed via My Profile, including those made before the website was relaunched.
Refreshed campsite pages
It's now easier to access the wealth of sites on our network. Our new, user friendly Club sites, CLs (Certificated Locations) and Overseas site pages now include an 'at a glance' area, start price and quick-click booking options, as well as more prominent visitor reviews.
Other new features
Club Together, our online community

Contributors to our popular community can now upload photos and embed videos into discussions. Star ratings have been removed following feedback from our regular forum users, to keep posts relevant and in keeping with a leisure forum.
What's on - events search tool

The new and all-encompassing 'what's on' events search tool shows all Club-hosted and Centre rally events in one place. Search by date, location or event type to find something that tickles your fancy.
Caravan Insurance

Our caravan, motorhome and overseas travel insurance pages have been enhanced. It's also now much simpler to get a quote and buy your Caravan Insurance policy online.
Frequently Asked Questions (FAQ) section

We hope the new improved content and navigation means you find everything you're looking for. Just in case you need a little extra help the new FAQ tool will guide you to lots of useful information in seconds.
We'd love to hear from you
Following months of planning and development, we are proud of our new website and we hope you like it too. We have endeavoured to provide you with a smooth and informative online service, so you can make the most of your membership. But we won't stop here - development to the Club's website will continue, supported by the improvements we have made to our systems to help us stay up to date.
Have a browse today and find out what it has to offer - your next getaway is just a few clicks away!
If you have any questions or feedback, please contact our Web Contact Team on: webcontactteam@caravanclub.co.uk