Motorhome and Campervan Design Awards 2020
Motorhome and Campervan Design Awards 2020
Our Motorhome and Campervan Design Awards are 21 this year, celebrating the variety of makes and models of motorhomes on offer and choosing the best of the bunch to help you decide which is best for you.
Held during the Caravan, Camping and Motorhome Show at the NEC in February, the aim of the awards is to provide the best quality and quantity of information to members and buyers. This year, 132 vehicles were submitted and appraised by an independent panel of judges who assessed criteria including electrics and safety, comfort, kitchen/washrooms, air conditioning, heating and ventilation systems, technical aspects and stowage.
So just how do you judge 132 motorhomes and campervans at the NEC show? Here are our judges to show you how!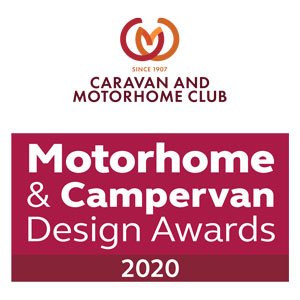 The price of the entrants includes the Vehicle Excise Duty applicable at the time of judging. For most entrants, this was £2,135, although this was subsequently reduced in the Budget dated 11 March 2020.