Quick and easy mushroom stroganoff
Quick and easy mushroom stroganoff
Campervan Cook Martin Dorey is inspired to rustle up a tasty mushroom stroganoff following a visit to Black Horse Farm Club Site in Kent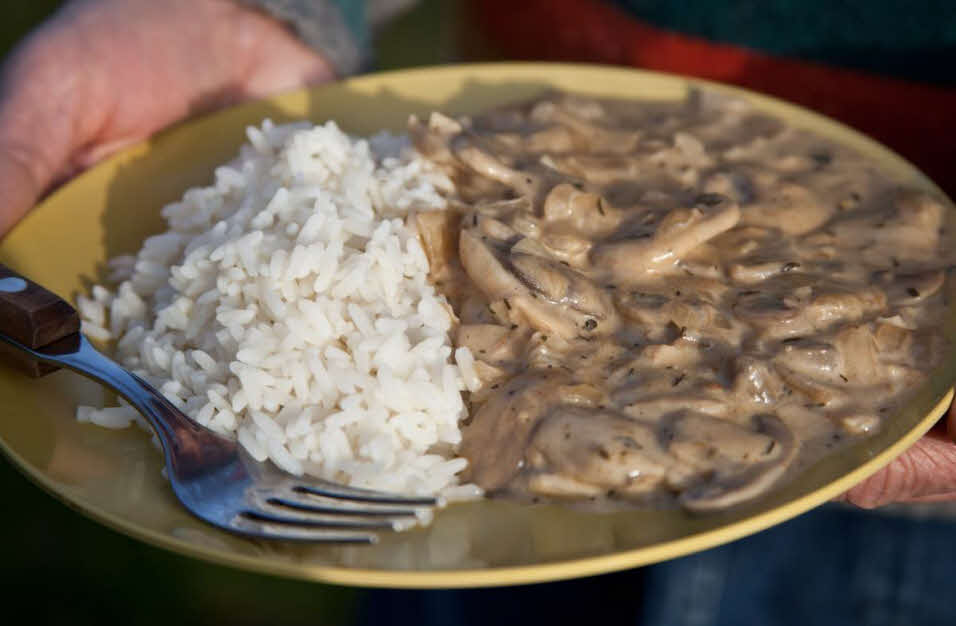 Mushroom stroganoff is a simple but tasty meal to make while touring
I'm sure many members will be familiar with the Black Horse Inn, which is across the road from Black Horse Farm Club Site near Folkestone. The site is handily located for trips across the channel and before lockdown I stayed there for the first time prior to a jaunt to western France.
The Black Horse Inn is a cosy country pub with decent food and a nice line in red wine, it was the perfect place to wind down after a long drive from Cornwall. In case you were wondering, I went for the mushroom stroganoff, and I enjoyed it so much that I decided to have a go at making it myself.
It seems this humble dish has gone through many changes since it was first rustled up in 19th-century Russia (it's named after a member of the Stroganov family, who were particularly influential as merchants during the time of Ivan the Terrible). Often beef is used, and some versions of the recipe include a dash of white wine, or the addition of tomatoes, and even chicken.
I chose to remain more or less traditional, even though I have forgone the beef in favour of the humble button mushroom, as I am trying to eat less meat this year. The result? Why not try it for yourself and see?
Recipe: Mushroom stroganoff (serves two)
Ingredients
500g of button mushrooms, sliced
2 small white onions, finely chopped
2 large cloves of garlic, finely chopped
300ml of vegetable stock
1 tsp paprika
1 tsp English mustard
1 tsp dried thyme
1 tbsp plain flour
Seasoning
2 tbsp crème fraiche or soured cream
White long grain rice for two
Method
First, heat some oil in a saucepan over a medium heat. Add the chopped onions and fry for a few minutes until they are soft. Next, add the garlic and fry for a few minutes. Add the mushrooms and cook for around five minutes, at which point they should have released their juices. Add the mustard, paprika and thyme and stir. Sprinkle the flour over the top of the pan and then stir in. Next, add the stock and stir well to avoid any lumps. Season and cook for another five minutes or so until the sauce thickens to a 'gloopy' consistency and then remove from the heat. Stir in the cream and serve with white rice.