Easy barbecued pork kebabs
Easy barbecued pork kebabs
Campervan Cook Martin Dorey's quick, simple meal is perfect - at home or away!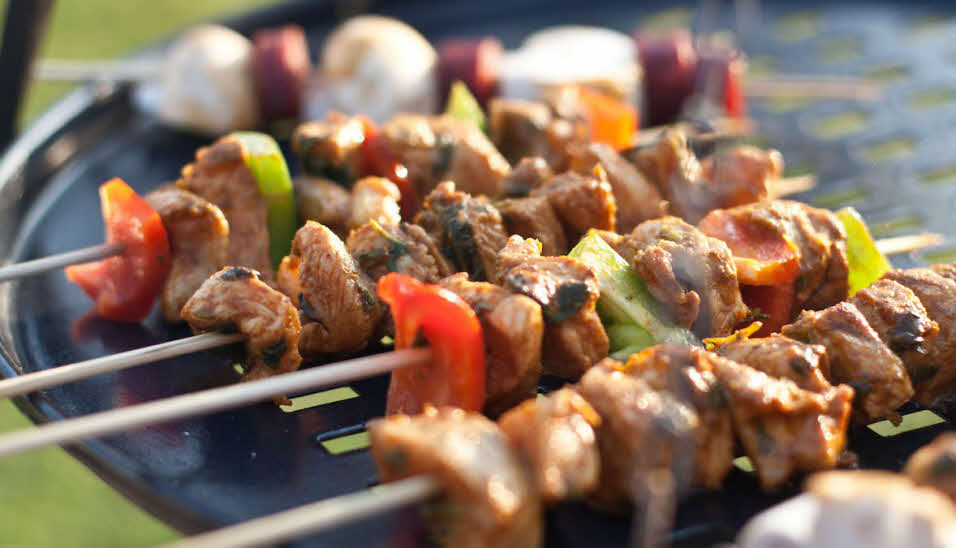 Curried pork kebabs - easy and delicious Credit: Martin Dorey
How are you keeping? I hope you are well. Here, at home in Cornwall, we've been enjoying amazing weather and have been able to get out for walks and exercise in the lanes around our house.
We've even found a few new footpaths and bridleways, so we're getting to know our local area really well. There is a lot of pleasure in that. Last week we found a path that had been forgotten and was very overgrown. Sploshing through the mud, brushing aside branches and finding where it – eventually – led us made us feel like we were exploring somewhere new, even though it was just a few minutes' walk from home. I guess you can take your sense of adventure anywhere!
We've been enjoying the quiet too, and love sitting out in the garden during the light evenings, taking in the birdsong and watching the fabulous sunsets. We've also been lighting the barbecue quite a lot, which has given me a chance to roll out a few favourites and try a few new ideas.
This recipe – curried pork kebabs – is one that I picked up a while ago and have cooked a lot over the years, simply because it's really easy and uses some basic ingredients you are most likely to have in your store cupboard or can get easily from your local supermarket. At the moment that's an important consideration. No one wants to hang around looking for obscure foodstuffs when they could be back at home enjoying the garden or having a mini-break in their caravan or motorhome (on the drive, of course!).
Recipe: Curried Pork Kebabs (makes 4)
Ingredients
4 x thick (boneless) pork chops
1 clove garlic, finely chopped
100ml olive oil
Juice of 1 lemon
1 tsp paprika
1 tsp curry powder
1 tsp ground cumin
Leaves from a small bunch of thyme, finely chopped
Small bunch coriander, finely chopped
1 x red or green pepper, cut into 2cm cubes
Method
This recipe is perfect for the barbecue, but you can easily cook your kebabs under the grill, on a griddle or over an open fire if you feel so inclined. You'll need skewers; if you use bamboo skewers soak them for about 30 minutes before cooking.
Cut the fat off the chops and dice into cubes of about 2cm. Mix all the other ingredients (except the pepper) in a bowl and then add the meat, stirring well to ensure every bit is covered with the marinade. Cover and leave for at least half an hour. Meanwhile, cut the pepper into similar 2cm slices.
Skewer the pork cubes, along with the pepper, and barbecue (or grill) for about five minutes each side until browned and cooked right through. Serve with rice or a salad. Easy – and delicious.