A delicious dish for one
Campervan Cook Martin Dorey serves up a delicious and simple meal which is perfect for the solo traveller.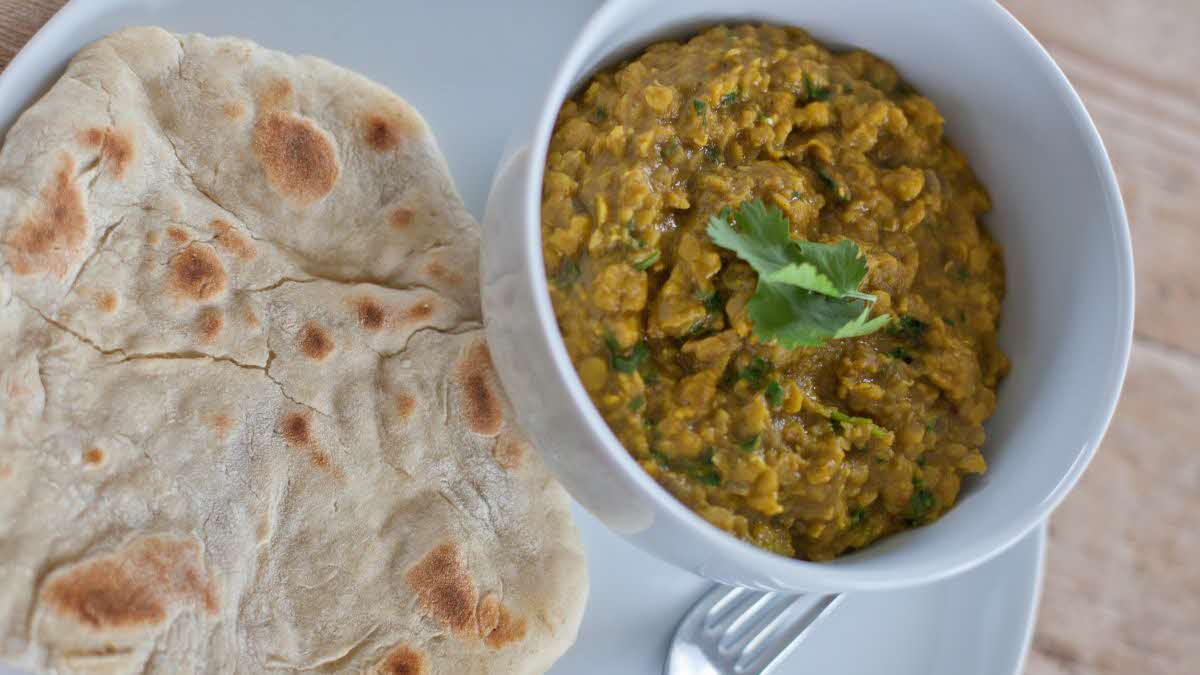 Red lentil dhal with homemade pitta bread is a perfect meal for one
I was recently asked to create a recipe tailored for somone touring alone - so here is a dish dedicated to the solo traveller. While this is an an easy meal to whip up for one it can also be expanded to cater for any lunch guests when needed.
The best thing about this simple yet delicious recipe for a red lentil dhal with home-made pittas is that you can cook it at any time using ingredients from the store cupboard.
I was given this for lunch by some friends in France while we were exploring the Alps and I realised it's perfect for taking on tour. It also makes a good side dish to serve with fresh local veg (or a curry) and can be jazzed up in any number of ways. Add spinach and tomato for a fresher taste or almonds and harissa spiced yogurt for something a little more 'Moroccan'. I've made this one with olive oil, so it's suitable for vegans, too. Hope you enjoy it!
Recipe: Red lentil dhal (serves one)
Ingredients
One cup of red lentils
2 cups of water
Olive oil
Small red onion, finely chopped
Small knob of fresh ginger, finely chopped
1 garlic clove, finely chopped
Sprinkle of chilli flakes
½ tsp (each) of curry powder, coriander, turmeric
Small bunch of fresh coriander
Vegetable stock cube or a tsp of bouillon powder
Method
In a small pan, soften the onion over a gentle heat with olive oil. Add the garlic, ginger and chilli flakes and cook for a coup le of minutes. Then add the curry powder, coriander and turmeric and stir for a couple of minutes more to make a paste.
Next, add the vegetable stock cube and water. Dissolve the stock cube, then add the lentils.Bring to a simmer and let it bubble away for 25 minutes, checking that there is enough water and stirring every few minutes. If the lentils start to get too thick and dry, add more water. Serve with a sprinkle of coriander leaves.
Recipe: Pittas (serves one)
Ingredients
1/3 cup of warm water
1 sac het of active dry yeast
1 cup of all-purpose flour
1 tsp of salt
1 tsp of olive oil
1 tbsp of fennel seeds
Method
Mix the sachet of yeast with the flour, fennel seeds, salt and oil. Add the water and mix in a bowl until you have a slightly wet dough. Knead a little on a floured surface then return to the (cleaned) bowl, lined with a little more olive oil. Cover with a tea towel and leave in the warmest place in your van for 30 minutes. Cut the dough into two and roll into flatbreads about 1cm-2 cm thick. Cook for five minutes or so on the barbecue or griddle – or until they begin to puff up or brown nicely.
Tips and advice for touring all year