What to expect at a 'customer handover'
What to expect at a 'customer handover'
Ready to pick up your new caravan or motorhome? The dealer should give you an in-depth introduction to your new touring vehicle...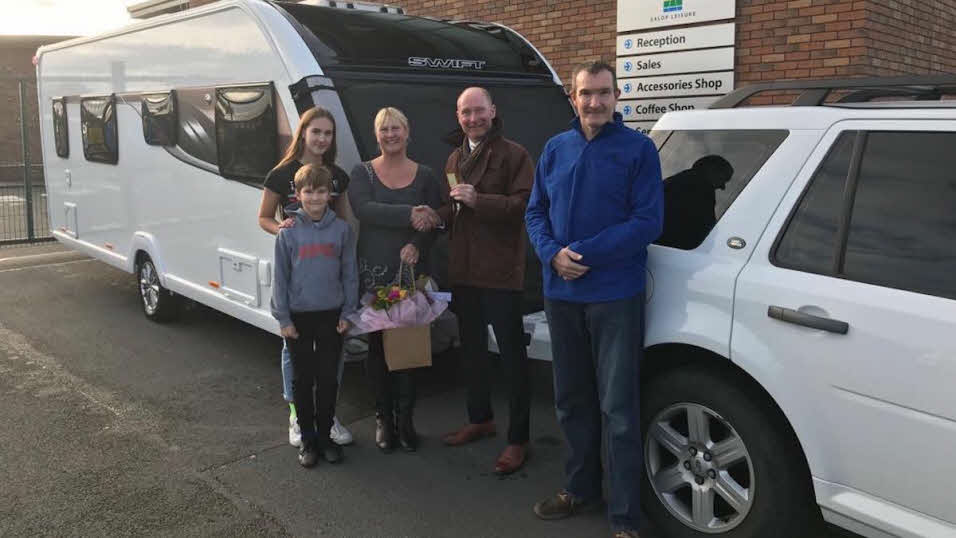 Happy days: handover complete
You've chosen your new caravan or motorhome and the big day has come to collect it. Naturally, you are filled with excitement and a little trepidation – but don't worry, as all dealerships should offer a comprehensive 'customer handover'. In addition to dealing with the financial paperwork, this session
will include a detailed explanation of how everything works.
Just to be clear, this is not the same as a Pre-Delivery Inspection (PDI), which is usually carried out before the handover itself. A PDI is a detailed examination of the leisure vehicle and its equipment, and should be accompanied by a thorough valet.
Let's take a look at what you are likely to experience during a handover, using my experience at Salop Leisure near Shrewsbury in November 2019 as an example.
Fond farewell
We were part-exchanging our well-loved Bailey Orion 460-5 for a Swift Conqueror 565. The weather was not on our side, and it was particularly cold with sleet and snow showers, but fortunately Salop Leisure carry out their handovers under cover.
The company also lent us a video camera with which to record the whole process, allowing us to listen and not be distracted by having to write things down. We were later sent a video link which we were free to peruse at leisure.
Exterior
We started on the exterior of the caravan, but, as we are experienced caravanners, Pete (our handover technician) didn't have to go into too much detail about ATC, stabilisers and handbrakes.
The gas locker on our Bailey was on the nearside, but on the Swift Conqueror it is positioned at the front. Check to see how many gas bottles your new locker holds. We transferred our old gas bottle over, but were pleased to see space for a spare. We considered that the position of the gas locker would have an impact on noseweight.
The fresh water inlet is in the same place as the one on our old Bailey, although we noted that the Swift features a Truma pressure water pump as opposed to a Whale submersible unit (a pressure water pump is located separately from the water tank, often under a locker).
The battery compartment on the Swift is on the opposite side to our Bailey – important when storing it close to a wall on the driveway. (It is usually the customer's responsibility to supply their own leisure battery.)
The Swift has a couple of extra noteworthy features. First, there are brackets for a bike rack (think
carefully before installing a bike carrier as it is important not to put too much weight on the rear). Secondly, a rear-view camera – which, via a screen in the towcar, shows you what is
immediately behind the caravan – was a useful addition.

Make sure you understand how to operate all the appliances
Interior
It was a welcome relief to retreat to the inside of the caravan on such a cold, gloomy day, where we were introduced to the efficient Alde heating system and effective LED lighting.
We were already used to most procedures, such as how to use the microwave and oven, how to make up the beds, how to operate the equipment in the washroom, etc. However, if you are new to caravanning/motorhoming, do not feel embarrassed about asking questions. Believe me, some motorhome bed set-ups are like jigsaw puzzles!
We certainly needed more extensive explanations for the Swift Command/Alde control panels. Pete
went into great detail as he steered us through the on-screen 'menus' – thank goodness we had it all recorded on video, as there was a lot of information to take in.
We were also grateful for the guide to the consumer unit, which houses the master switch for the boiler, reversed polarity indicator light (useful when touring abroad), 230V trip switch, 12V fuses and shut down switch.
Last checks
On completion of the tour, paperwork is signed to agree that everything has been covered. For safety reasons, it is particularly important that the wheel nuts have been checked for tightness (dealers should do this in the presence of the customer).
Salop Leisure registered our new caravan with CRiS (the Central Registration and Identification
Scheme). A CRiS 'check' provides the new owner with a history of the vehicle they are buying, including information on whether it has been reported stolen, has been recorded
with outstanding finance, or has been written off. It will also prove that you are the registered keeper, offering peace of mind.
Next on the agenda is to hitch up and do some final road light checks. Unfortunately our Land Rover didn't recognise the Swift's LED rear light clusters, so Salop Leisure fitted a device that sorted the issue.
Finally, the time had come to transfer everything out of our Bailey and into our new 'van. I'm not going to lie, it was emotional, as we have so many great memories of touring in it.

Ready for the off (we had purchased our towing cover in advance)
Final thoughts
It is a leap of faith, and you are parting with your hard-earned cash, but a good dealer handover helps to ease the nerves and prepare you properly for the road ahead.
Thank you to the team at Salop Leisure near Shrewsbury (salopleisure.co.uk).