Boost your driving skills with our Practical Caravanning Training Course
Boost your driving skills with our Practical Caravanning Training Course
Our new towcar reviewer, James Batchelor, took a Club course to learn the practical skills needed for the role
Lesley Harris, the queen of tow car testing, has decided to hang up her mirrors. Having covered thousands of miles and tested dozens of vehicles, the time has come for her to pass the much-envied task of car testing to someone else – me.
I have been lucky to work in motoring journalism for over a decade and in that time have tested cars that proved to be good, bad and sometimes downright dreadful. Through words in print and on camera, I enjoy helping people choose their next car, and that's what I intend to do with the Caravan and Motorhome Club.
I can bore people to tears talking about the number of storage places in the latest hatchback, and chat avidly about the fancy suspension on the new £127,000 Porsche 911 GT3. When it comes to campervans, I can tell you the differences between a Volkswagen California and a Mercedes-Benz Marco Polo. But with towing, I have a problem – I've never done it before.
That's why, on a chilly weekend in the middle of autumn, I set off to take part in the Club's Practical Caravanning course. Here's how I got on.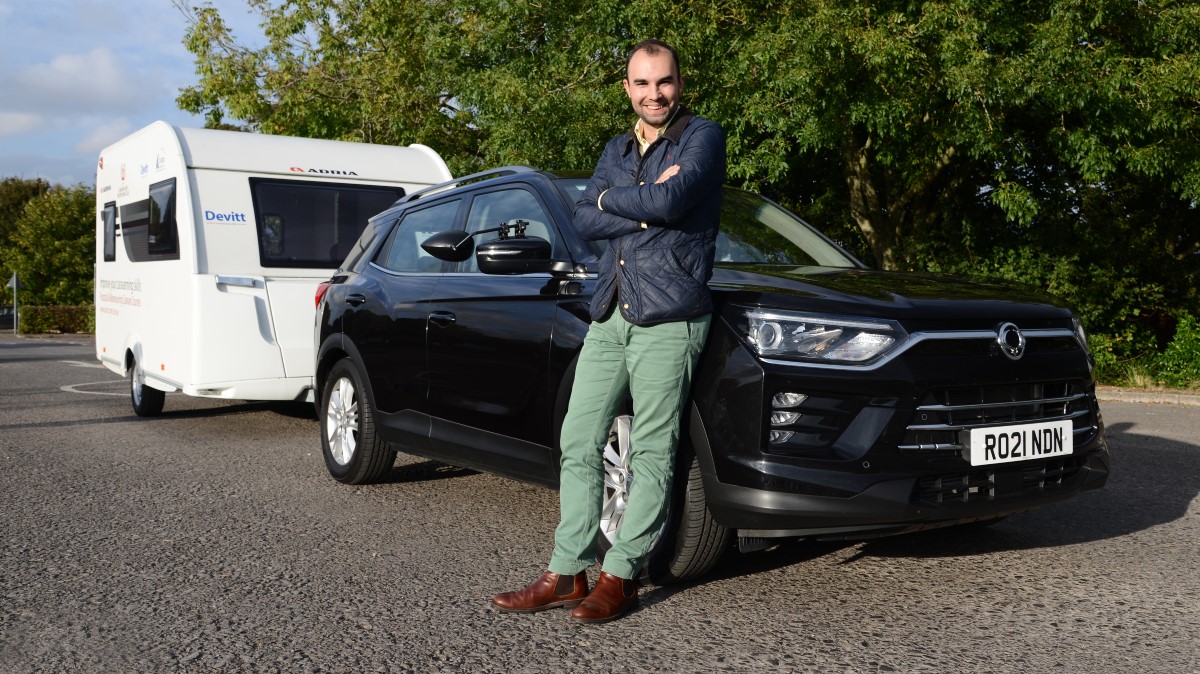 Learning the basics
For someone who has towed with a tractor and trailer in the past, you would imagine I'd have no concerns about learning the basics of towing a caravan. Trouble is, all my experience took place in my parents' garden nearly 30 years ago; the tractor was plastic and was powered by my chubby legs. That toy tractor was my pride and joy and, apart from a few flattened flowerbeds to suggest otherwise, my reversing skills with its matching trailer were superb.
Up until now, the idea of being in charge of a car with a large box attached to it is one that has scared me. I've seen enough caravan accidents on YouTube to put me off for life, so knowing that I'd be learning the vital skills needed to keep me and other road users safe was comforting.
The Practical Caravanning course is ideal for newbies like me, or for those who just want to brush up on their skills. Held at 14 locations across the country, the course costs £194 per person and takes 10 hours over two days, teaching participants practical skills and theory basics, covering the likes of hitching, loading, manoeuvring, safety checks and, most daunting of all for a beginner, reversing. Courses such as these have been operated by the Club for over 40 years, and attended by in the region of 47,000 people.
My nearest location for the course was Sparsholt College in Winchester, Hampshire, and at precisely 8.30am (arriving on the dot would make a good first impression on the instructors, I thought) I trundled into the coned-off car park in the SsangYong Korando loaned to me by the manufacturer.
In one of the nearby classrooms, instructors David, Lindsey and another David introduced the day-and-a-half's worth of planned activities, and explained vital caravanning theory including car-to-caravan weight ratios and how to load, as well as terminology such as 'gross train weight'.
There were 11 Club members on the course, and it was immediately clear that they had differing levels of competency and caravanning experience: some were learning for the first time; some were transitioning from motorhoming; and others were returning to touring after many years.
One participant quipped that his attendance on the course was his "wife's decision", to the amusement of the classroom. Another said the only reversing they'd ever done was on their driveway and they had backed into an apple tree. That's the lovely thing about the course – anyone is welcome, even accident survivors and first-timers like me.
Behind the wheel
After learning the theory, it was time for the car park, where the schoolroom lessons were to be put into action using two small Adria caravans. First up was the act of attaching towing mirrors – which I found surprisingly difficult – then reattaching them after they'd fallen off, followed by the art of hitching and unhitching.
My embarrassingly clean Korando was one of 11 SUVs, proving the popularity of this type of towcar, and its automatic gearbox and light steering made easy work of the manoeuvrability course. While closely positioned cones do not imitate a normal towing experience, I quickly felt confident with steering and compensating for the (in my mind) enormous contraption that I'd bolted onto my car.
So far, so good, but next up was reversing. It's fair to say this can be the most worrying part for a beginner because you have to use your car in a way that feels almost counterintuitive. But, slowly, it started to click, and after a few straight-line reverse exercises our group became experts – even an invisible apple tree proved no hindrance. Our small but perfectly formed Adria 'vans were ideal for learning the art of straight-line reversing, as their diminutive proportions meant even the slightest touch of the steering wheel had an effect – a longer 'van gives you more time to correct.
Next we tackled curved reversing, which is where the instructors' calm and measured teaching style really came into play. Imagining I was backing into a tight pitch with my neighbours watching my every move from behind their curtains, I gingerly edged the Korando and Adria into a coned area. Just as with the other exercises, all the participants successfully completed the curved reverse.
In fact, everyone reached the end of the course without a flattened cone or scraped bumper in sight. The Club makes clear that the course isn't designed to make you proficient – particularly where reversing is concerned – but to teach you the principles and give you the confidence to practise alone afterwards. As well as reviewing the latest cars for you, that's exactly what I'll be doing – practising and having fun as I dive into the world of caravanning.

Visit our website for full details and to book yourself in - https://www.caravanclub.co.uk/advice-and-training/training-courses/