An interview with Site Staff
An interview with Site Staff
We chat to the site managers helping you enjoy your touring breaks once again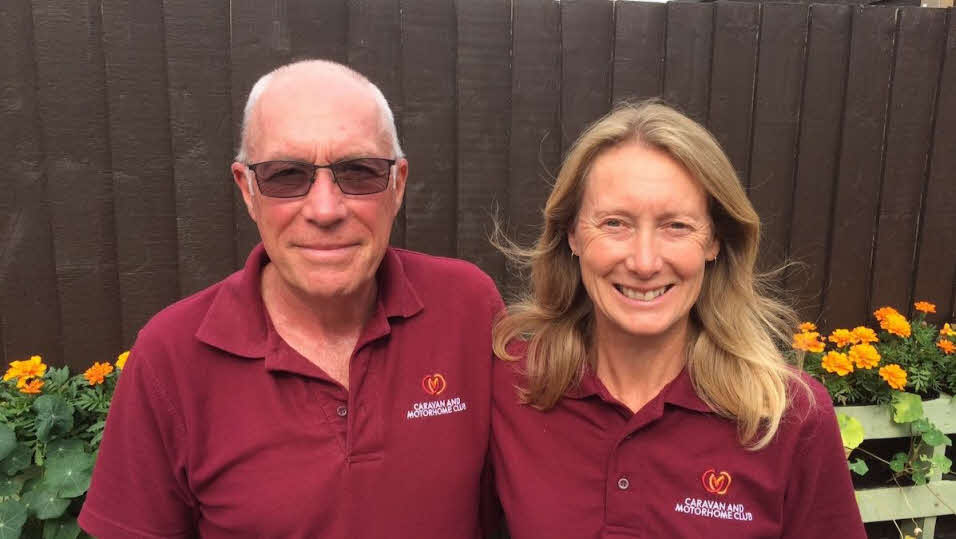 Gary and Helen Harrison, site managers at Commons Wood
As the majority of sites on the UK sites network are now open for business once again, we thought now would be a good time to catch up with some of our fantastic staff, all of whom are going the extra mile to keep you safe and help you enjoy a great holiday. Here we talk to two sets of site managers, who found themselves in different situations when lockdown was enforced. This is an extended version of the article that appears in the October issue of the Caravan and Motorhome Club Magazine.
Helen and Gary Harrison, Commons Wood Club Site, Hertfordshire
Commons Wood remained open during lockdown to support key workers and vulnerable visitors...
Can you tell us a little about the run-up to lockdown and how you evacuated the site?
We personally went to each unit and explained that the site was closing. Everyone was very understanding and those that could go, did so. The people with nowhere to go were very concerned, so we reassured them that we would feedback their circumstances and, as it turned out, we were able to accommodate them.
We understand that some key workers were able to stay on site. How did that work and how did you keep them safe?
We already had a few key workers and welcomed more after the initial lockdown. As the site had limited numbers, we were able to give everyone plenty of space between pitches, and obviously we had enhanced cleaning regimes. Knowing they were somewhere relatively safe was important to them. They preferred to be in their own unit rather than a key worker hotel. Initially we did need to remind people that their unit was their 'household' – not the whole site.
Some people were also unable to leave the site – either because they were particularly vulnerable or because they couldn't get home. How did you look after them?
In much the same way as the key workers. Because many of them are single and not able to meet friends and family, we were worried about them getting lonely. So with fewer members on site we were able to spend more time checking on them and getting to know them.
Do you have any particularly memorable stories about those who remained on site?
The best part was seeing the members form a supportive community. Being such a strange time with lots of uncertainty and fear, they were able to build relationships when previously they may not have. For example, once groups of six were allowed it was great to see the members enjoying each other's company (at a distance of course) playing boules on an empty hardstanding pitch.
How did you cope personally with the coronavirus outbreak and the responsibility of continuing to work for the Club?
We had mixed emotions. We felt privileged to be able to look after our members but also a little concerned for our own safety. Once we re-opened we were in a much better position than the closed sites as we already had a good idea of how the site could run.
Did you manage to keep the site maintained in the normal way?
Pretty much. Obviously the cleaning was enhanced. The main focus was on following the social distancing requirements, so we could continue to maintain the site by, for example, communicating where and when we needed to cut grass and hedges. We asked members not to approach us while we were working and telephone us instead.
How did you open up again to the general membership? Was it particularly hectic?
Getting ready for re-opening was very hectic. We have a large (450 unit) storage compound that opened with hourly appointments on 15 June, taking up pretty much a full time role until 6pm every evening. This meant we had to find the extra time to implement the measures to get the site 'Covid Secure', which resulted in lots of late nights keeping on top of site maintenance as well as installing hand sanitisers and the new signage, etc. We have to say that our Regional Manager and all our head office colleagues were extremely supportive.
Do things feel as though they are slowly returning to normal?
Yes, things are more normal. The toilet block has restricted access with a wristband system to indicate how many people are already inside. We also have lots more signs around the site reminding members of how to keep safe at service points and in communal areas. The cleaning regimes have been further enhanced as guidelines were updated. The hardest thing for members is the reduction in face to face contact. Whereas before they might have come into reception for a natter, they now have to modify their behaviour and chat to us outside (at 2m) or over the telephone. It is also hard for us as usually we are very happy to help, but now we have to ensure we can keep us and them safe when they seek assistance. For example, if they have a problem with their caravan, we can't just 'pop in' and have a look for them.

Have you had any messages of support or thanks from the members?
Yes. From our 'lockdown' members we had a thank you present and card signed by everyone on site (23 people), which we found very touching. Some quotes from that: "Thank you for letting us stay - we don't know what we would have done otherwise"; "Thank you for all you have done for us in these strange times"; "Thank you for all your hard work." We also received a card and 'hamper' from one couple. Since re-opening for leisure, we have had compliments for the way the site has been organised to keep people safe.
What's it like to see members enjoying our sites once again?
It was strange to meet new people after so many months of the same faces. Everyone was excited about getting back out touring. We were a bit nervous how members would comply with the new ways but everyone has been understanding.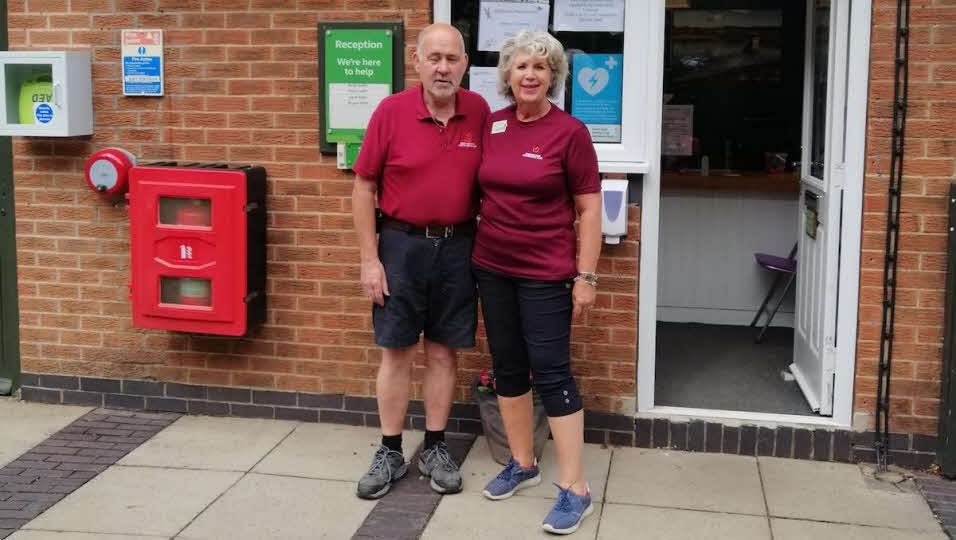 Mark and Ruth Swift - "It's heart-warming to have guests back on site."
Mark and Ruth Swift, Carsington Water Club Site, Derbyshire
Carsington Water was closed completely over the lockdown period.
What challenges did leaving the site and being furloughed present?
Opening up our site is a big operation requiring a team of volunteers and site staff, so it felt quite surreal and sad to be leaving the site after all our hard work. Plus we did not know how long the furlough/employment situation would go on for – so this left a lot of uncertainty. We could not stay on site as we are quite isolated here. As all travel was effectively banned we were too far from the shops and doctors to stay. Mark is diabetic so was in the 'vulnerable' category, which meant we had to go home so he could self-isolate if required.
How did you cope with lockdown?
Ruth: I thought I would struggle with being home-bound, but I really enjoyed it. I had the opportunity to tackle the big garden and home tasks that we don't have time for normally. I also made face masks for people and enjoyed supporting our friends and colleagues. The hardest parts for me were not being able to visit my only brother who lives in Devon, missing my birthday celebrations, and the uncertainty about the furlough.
How did you prepare for the site reopening?
This was an extremely challenging situation in many ways. To understand the situation better, you would need to know that we normally have a team of 12 people to open our site at the beginning of March. This is made up of our core team (two managers, two assistants) and at least 10 volunteers over an eight-day period. Normally, like March this year, we have a two-week pre-opening period, which includes clearing the site of tree debris (one week, all hands on deck) and a further few days to complete all other site preparations. When we returned in June, due the Covid restrictions, we were not allowed to have our volunteers helping us. Plus our usual assistants were delayed by one week in returning to site. Fortunately, working with our regional manager, we were able to organise relief staff to assist us. This meant we all had to work extremely hard, doing 12 hour-plus days, to clear the site of debris, make all our plans for social distancing, and implement everything ready for opening. We know all teams throughout the network were facing their own challenges, so it was a very busy, pressurised time for all involved.
How have things changed now you are open once again?
A large number of the guests on site are new to the Club and new to touring. This means they need much more explanation. People arriving on site for their first post-lockdown visit are on edge, frightened, unsure of everything. This means they need reassurance, support and understanding. The overall differences are that there is more to do in terms of cleaning/disinfecting, more support required for guests, we're running close to full all the time – so more check-ins, more departures and more rubbish. We now have to start cleaning the Toilet Block at 9.30am rather than 9.45am. Fifteen minutes might not sound a lot, but to us it makes a huge difference. The bin run takes much longer due to the higher occupancy. Plus new people have loads of new stuff which means more boxes etc for us to collect. We return to the office at 11.45am and start disinfecting fobs and rubber bands and answering messages – the average for us is 15 messages in an hour.
Have you had any messages of support from visitors?

Yes, lots. Many guests have said thank you for being open, thank you for all your hard work, thank you for keeping the loos open.
Is it good to see people enjoying themselves on site again?
Of course, it is brilliant and heart-warming to have guests back on site. Chilling out, enjoying life, being free after being 'locked up'. Helping our guests to have a fantastic time with us. This is why we are site managers. Happy days!