Carried away
Want to take your bike or e-bike away with you on holiday? Sammy Faircloth takes a look at transportation options
Environmentally friendly and great for our health, cycling ticks plenty of boxes for us. As a family, we have always enjoyed riding our bikes – in fact my husband takes part in triathlons and time trials all around the country. And using a motorhome is cost-effective and comfortable, allowing easy transportation of his equipment.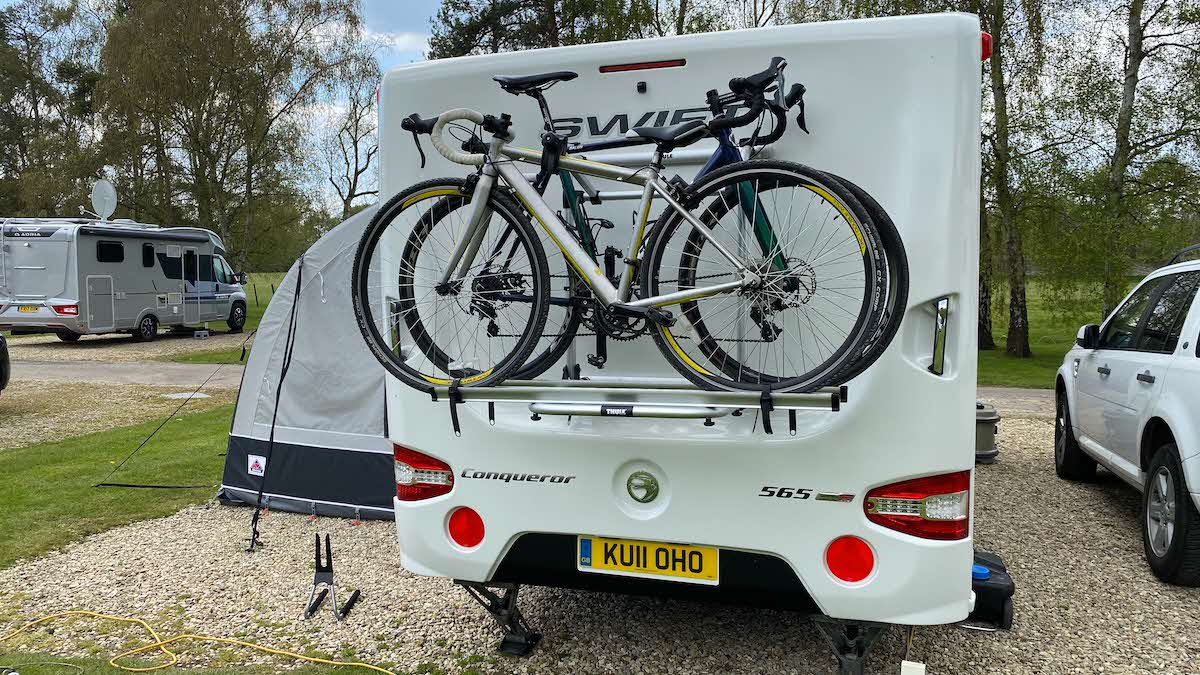 You can find inspiration at camc.com/blog/hobbies-and-activities/cycling, where there are lots of rides from or near to Club campsites; many of these routes also have accompanying videos that can be watched via the Club Magazine App or at youtube.com/caravanandmotorhomeclub.
Of course, it is possible to hire bikes from specialists all over the country, and the Club currently offers this facility at New Forest Centenary, Cayton Village and Henley Four Oaks Club campsites, with more in the pipeline. But what if you want to take your own machine with you? This month, I take a look at the different options available.
Caravans and towing vehicles
One of the most obvious ways to carry a bike is on a roof-mounted rack on top of the towing vehicle (this will also take the pressure off your caravan payload allowance). Installation can be quite a challenge if you own a high-sided vehicle – caravan steps can come in handy!
Alternatively some caravans feature pre-installed fixing bars that give you the option of fitting a rear-mounted cycle rack. A word of caution – do not put too much weight on the rear of your caravan (eg heavy e-bikes or more than two standard bikes). This can make the outfit unstable when towing and result in the 'pendulum effect' or 'snaking'.
You could also store bikes inside the caravan while towing, but remember they can move around a lot if not securely fastened – the last thing you want is to damage the interior. Caravans such as the Swift Basecamp are built with active people in mind and feature floor brackets for securing bikes and other equipment.
Some European caravans feature long A-frames with space to mount a bike rack. Be careful of your caravan's noseweight (the downforce from the hitch onto the towball) when using one, though. The Club advises that noseweight should be 5% to 7% of the caravan's laden weight.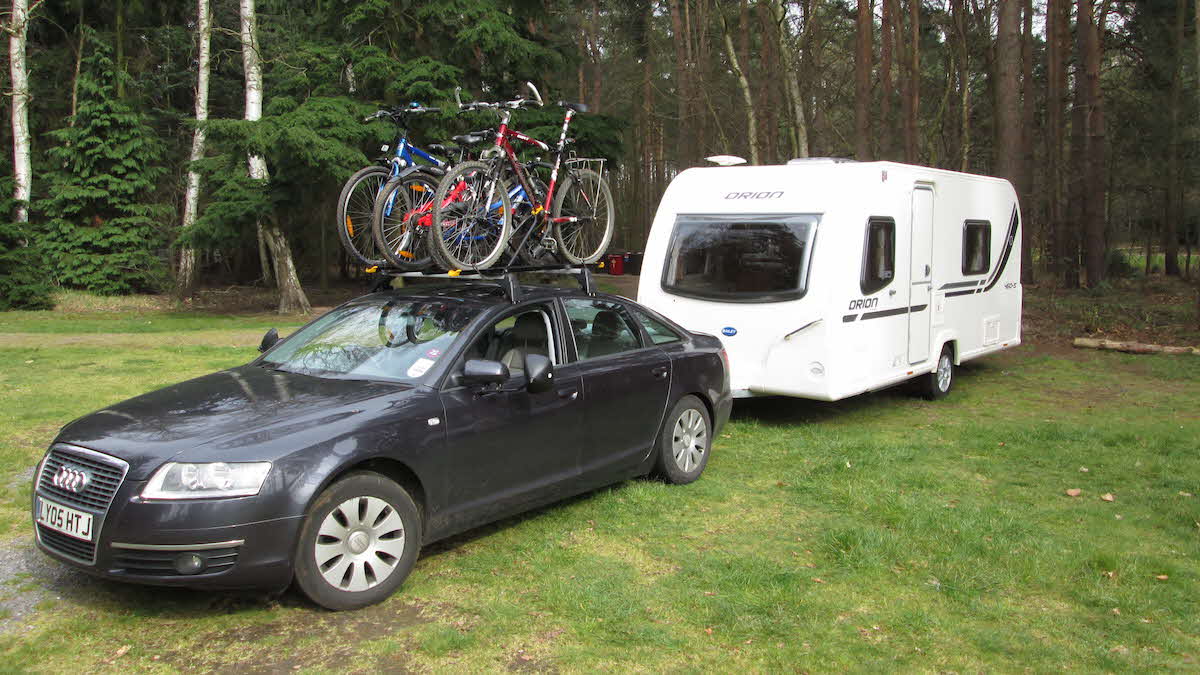 Motorhomes
Motorhomers often like to take bikes, e-bikes, scooters and motorbikes with them on holiday as they are ideal if they want to get out and about once pitched up on site.
An important thing to consider, especially when transporting e-bikes, scooters and motorbikes, is weights. Such vehicles can be very heavy to handle, can eat into your payload allowance, and can possibly affect your rear axle limit.
Motorhomers tend to carry regular bikes on rear-mounted bike racks and, again, manufacturers are pre-installing bike rack brackets to make it easier for customers. Internal 'garages' in motorhomes are ideal for transporting and storing bikes or mopeds – but check your measurements and weight restrictions. It is imperative that they are 'lashed down' in transit (most garages come with dedicated attachment points).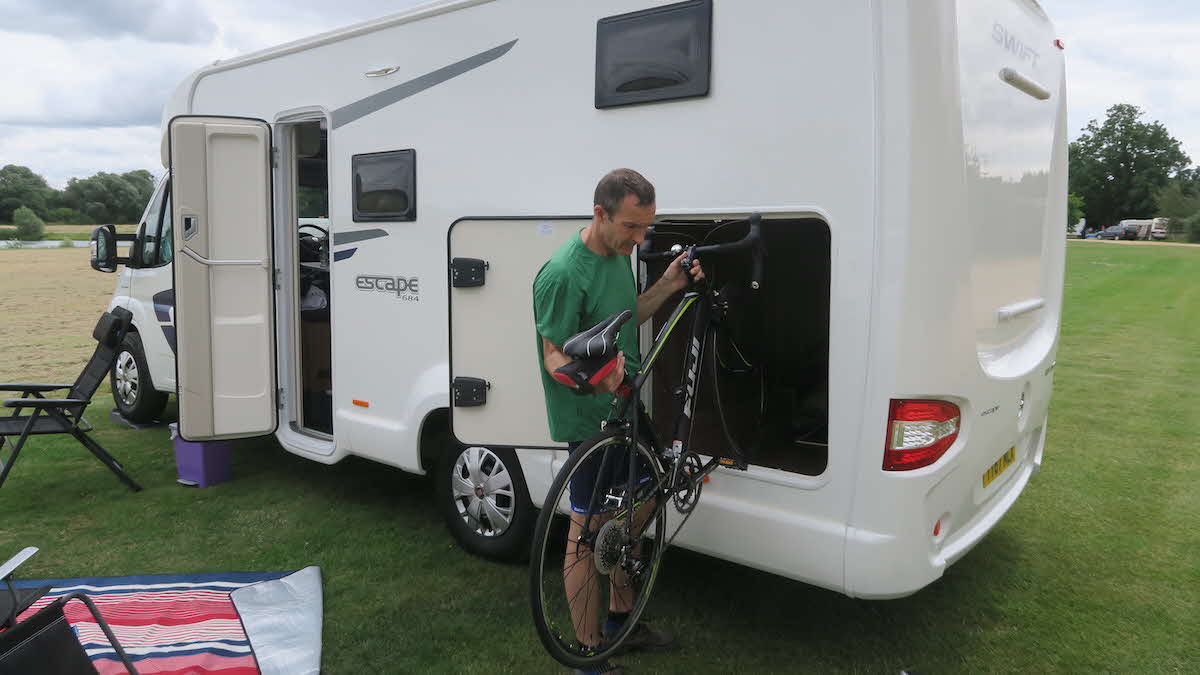 Campers and van conversions
Campervan owners have the option of mounting a bike on the roof or the rear of their vehicles. Meanwhile, companies like CJL Leisure Vehicles have created specialised 'bike vans' containing dedicated bike storage areas that will keep your valuable two-wheeled machines safe during transit. Also, look out for the new Auto-Trail Expedition 68, which features a slide-out 'bike tray' as an optional extra.
Touring abroad
In any country, when transporting bikes on the rear of a vehicle, your number plate, lights and indicators must be clearly visible. In Spain and Italy it is mandatory to display a reflective, red and white diagonal striped warning sign on protruding loads, like bikes. Manufactured by companies such as Fiamma, they can be purchased from most caravan dealers and accessory shops – be aware that the signs for Spain and Italy feature different numbers of stripes. For more information see camc.com/overseas-holidays/useful-information/compulsory-and-legal-requirements. It is advisable to check the latest legislation in countries that you intend to visit before leaving on your adventures.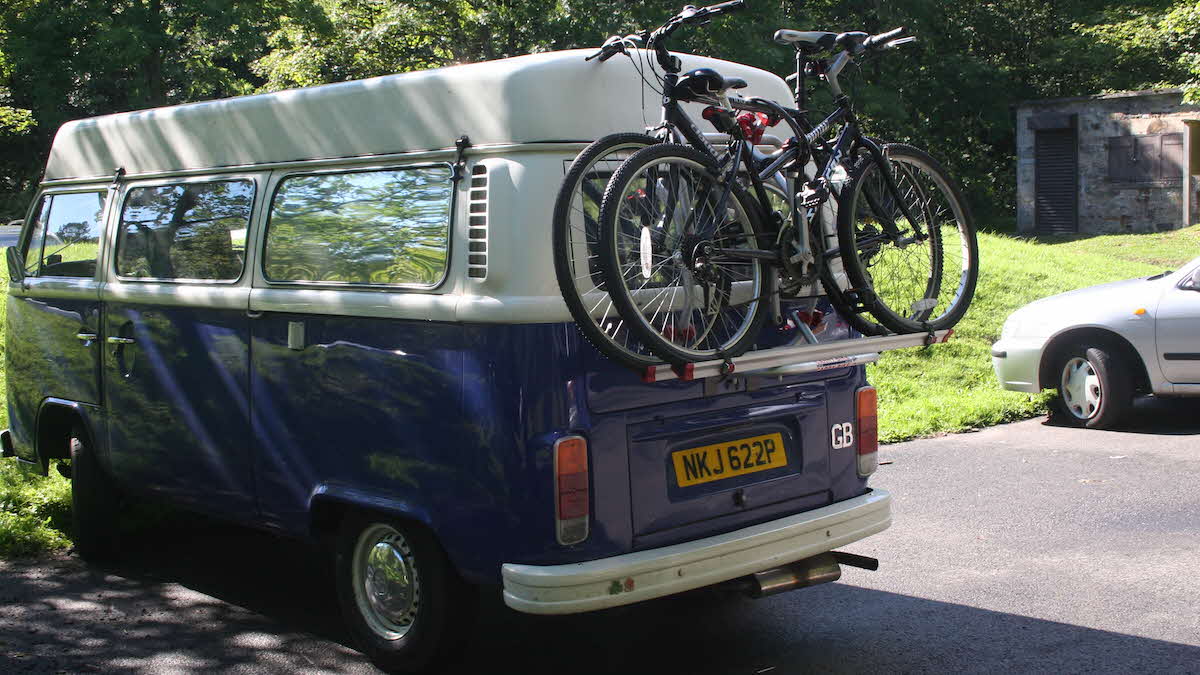 Final thoughts
Remember that if your cycles or rack obscure your vehicle's rear lights and number plate, you'll need to use a suitable lighting board, and think about security while in transit or when parked up – fit locks and security cables. You'll find discounts on bike carriers in our Club Shop (shop.camc.com), while members can save up to £135 on Raleigh bicycles and e-bikes – see camc.com/raleigh for more information and terms and conditions.