Exploring the Jurassic Coast, Dorset and Hampshire
Exploring the Jurassic Coast, Dorset and Hampshire
If you are already planning your adventures for 2021 what better place to start than a tour along the Jurassic Coast taking in Dorset and Hamsphire, says Jane McGowan.
As we bid a not so fond farewell to 2020, we can only hope that the coming months bring with them a return to healthier, happier times – and multiple opportunities to hit the open road. This proposed tour concentrates on the south coast and the counties of Dorset and Hampshire, all the while celebrating the simpler things in life that go hand-in-hand with our great hobby.
The first stop is Smedmore House Affiliated Site near Kimmeridge, located on the estate of the eponymous stately home, just a stone's throw from Dorset's Jurassic Coast. This part of the county is blessed with swathes of forest, downland and beachfront – perfect for those wanting to get away from the hustle and bustle. Situated within the Dorset Area of Outstanding Natural Beauty (AONB) and surrounded by farmland, Smedmore House offers splendid views of the sea, as well as the hills of Purbeck to the east.
The house was built by Sir William Clavell in 1620, and the family's connection stretches across the local area. One example is Clavell Tower, a four-storey, circular structure that stands high on a cliff-top (visible from the site). Built in 1831 by Smedmore House's then-owner Reverend John Richards Clavell, the folly (which has featured in the works of Thomas Hardy and PD James) has been used as a summer house, observatory and even a base for the American Army in preparation for D-Day.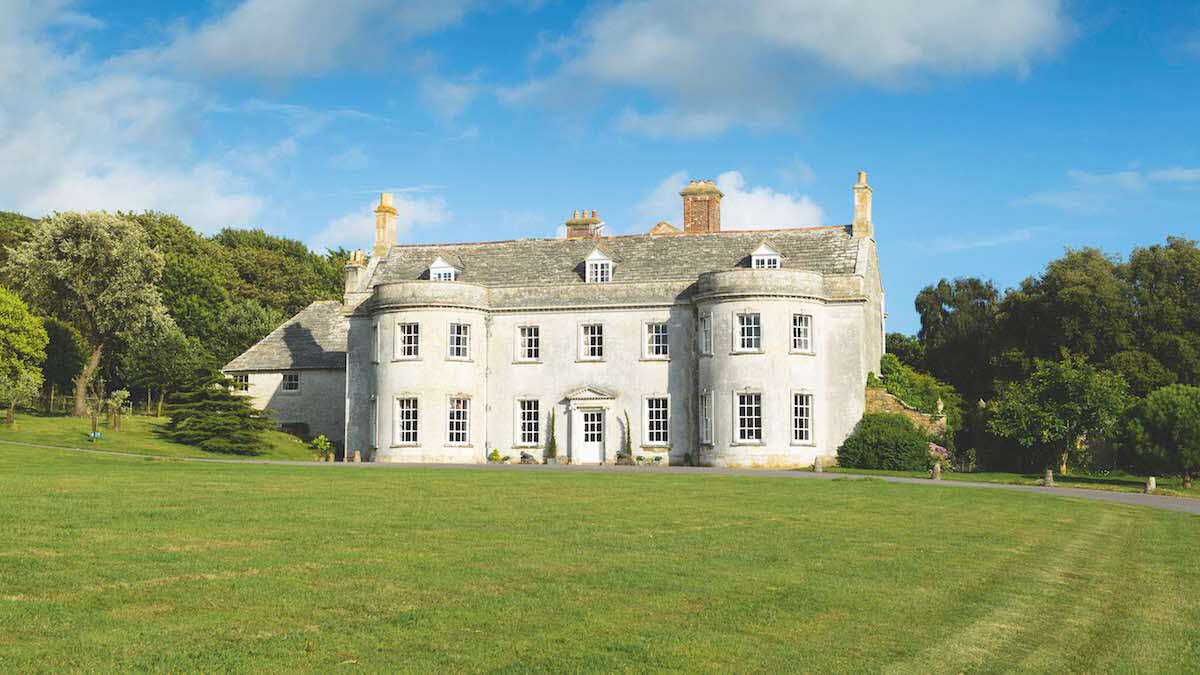 Bill Allsopp/Alamy
Go to Smedmore House Affiliated Site
Of course, you can't come to this part of the world and not be tempted by a spot of serious hiking or walking. The famous South West Coast Path is easily accessed from the site, giving visitors the opportunity to absorb the splendour of this ancient coastline on gentle strolls or all-day excursions. Kimmeridge Bay, for example, is a super place to visit. A favourite with fossil hunters, its pebble and shingle shores often yield fantastic treasures (jurassiccoast.org contains a wealth of information about fossil hunting and safety advice relating to cliffs).
It's a lovely spot for a family day out and you will be surprised just how long children will continue to search for in the hope of uncovering some long-dead creature or perfectly preserved dinosaur poo! Should their interest in all things Jurassic be piqued, then a visit to The Etches Collection - Museum of Jurassic Marine Life is a must. This state-of-the art facility is a fantastic resource for anyone wanting to find out about life and death in the 'Kimmeridigian Seas' in the time of the dinosaurs – around 157 million years ago.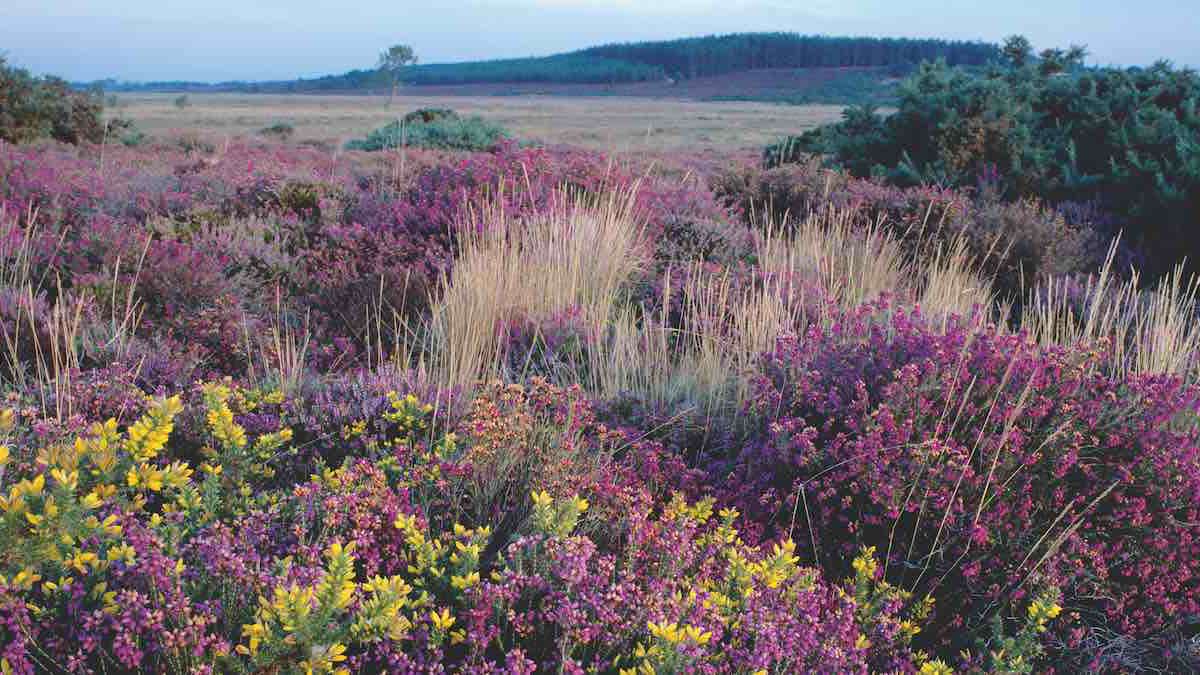 Bob Gibbons/Alamy
Moving inland, the second stop on this trip is Hunter's Moon Club site, situated on the edge of the ancient Wareham Forest with many woodland walks directly accessible from the site. En route, it is worth taking a slight detour to Hartland Moor – an impressive expanse of open heathland overseen by the National Trust. The epitome of Thomas Hardy's Wessex, the area was the inspiration for The Return of the Native's Egdon Heath. To the south you can see the Purbeck Hills and the spectre of ruined Corfe Castle, while there are also points at which you can enjoy views of glorious Poole Harbour.
Hardy's birthplace at Higher Bockhampton, a hamlet just outside Puddletown Heath, is less than 15-minutes' drive from Hunter's Moon. The pretty thatched cottage (built by his grandfather) was his base while he wrote his first five novels. Now looked after by the National Trust, there is also a visitor centre dedicated to Dorset's most famous son nearby, on the edge of Thorncombe Wood.
Serious sand lovers should most definitely make a beeline for Studland Bay. Boasting three miles of almost-white beaches, undulating dunes and views of Old Harry Rocks, it's the perfect spot for a shoreline walk. For the more adventurous, the bay is also a great place to try a number of different watersports. There are various hire centres dotted around offering stand-up paddle boarding, kayaking or kite surfing, as well as sailing schools providing long or short courses.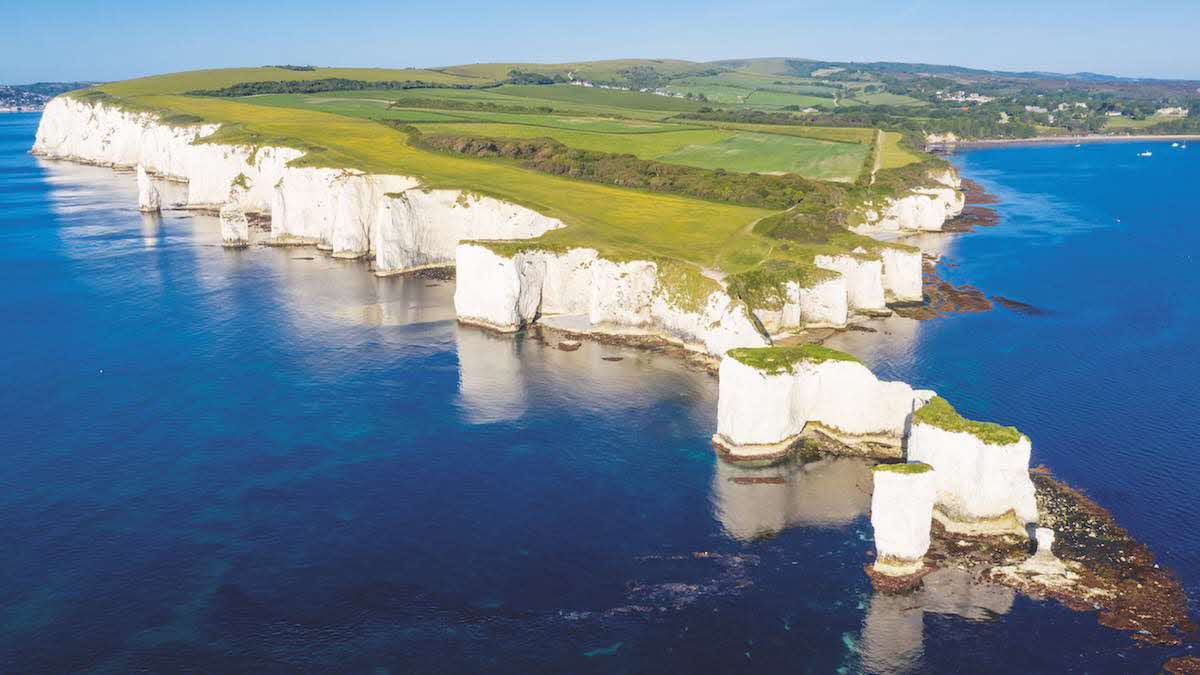 stocker123/Alamy
The traditional seaside town of Swanage is also within reach of both Smedmore House and Hunter's Moon, with its jolly mix of cafes, gift shops, fish and chip sellers and ice cream vans; it makes for a wonderful day out – especially if you have children. The Blue Flag beach is a popular spot for families throughout the summer – there is even a traditional Punch and Judy show during high season.
But if you're looking for somewhere away from the crowds, head north-east to The Old Stables Certificated Location near Wimborne. This CL is located in a one-acre field behind the owner's property, and is the perfect destination should you want to get away from it all. If you can tear yourself away from this tranquil spot, the bustling beachfront towns of Bournemouth and Poole are both within 30 minutes' drive, offering a heady blend of seafront attractions, high-street shops and a multitude of restaurants.
One attraction (11 miles from the CL) certainly worthy of a visit is Hengistbury Head. It's a fascinating spot that boasts not only a pretty pebble beach with a dramatic clifftop backdrop, but also a wildlife reserve and a land train that ferries visitors to nearby Mudeford Sandbank. Known as the 'Spit', this thin landmass forms a natural barrier between Mudeford Quay and the sea. It is home to nearly 350 privately-owned and very sought-after beach huts (one recently sold for £330,000), one shop and a café.
From Hengistbury it is only a short drive to our next destination, over the border in Hampshire. Once the location of a Second World War airfield, the Club's New Forest Centenary site is set within the wonderful National Park. History buffs will be interested to note that parts of the runway can still be seen, and at the site's northern edge you will discover a memorial dedicated to the role the New Forest Airfields played during the conflict.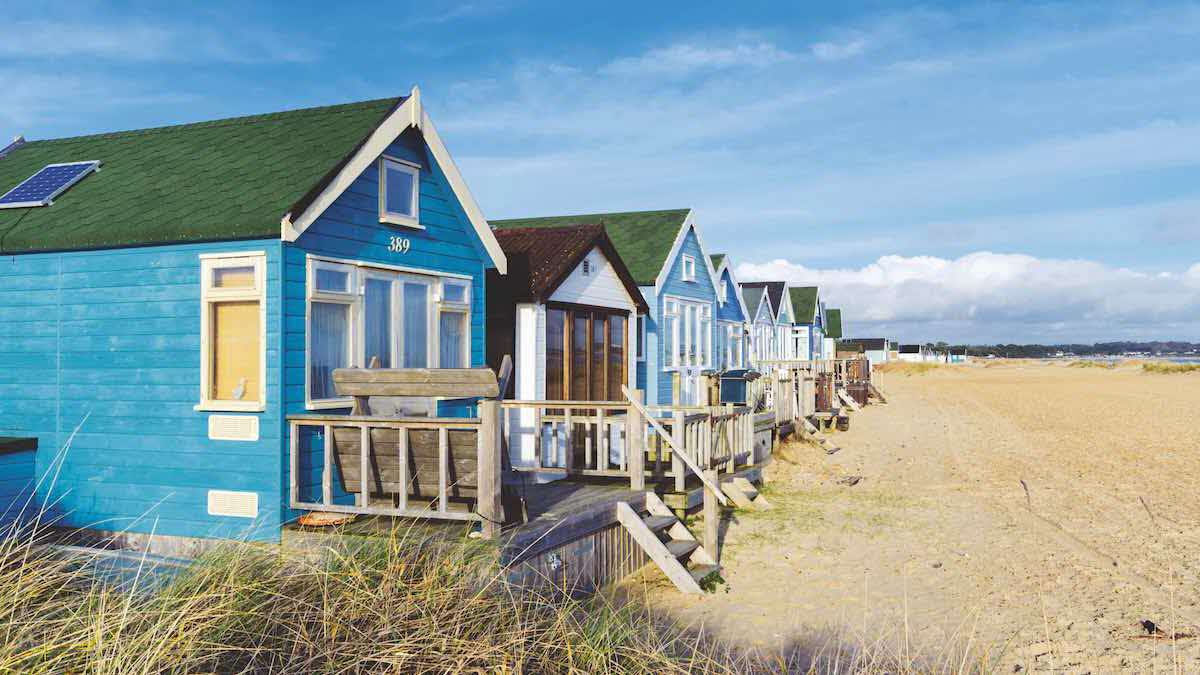 Helen Hotson/Alamy
Go to New Forest Centenary Club site
There is plenty to keep youngsters entertained both on site - there is a great playground and a large playing field – and across the wider area. This is prime walking country, and I find children are much more enthusiastic about a ramble when there is a chance of spotting a fabled New Forest pony – the 3,000 or so animals are free to roam and graze, and are always a delight to see.
There are excellent cycling opportunities too – in fact one trail starts just 200 yards from the site. While many visitors stick to the forest trails and chocolate box villages that abound here, it's worth remembering you are still within easy reach of the coast. Just a 30-minute cycle from the New Forest site is Barton on Sea, where you can once more indulge in some fossil collecting or simply soak up the view in one of the cosy, coastal cafes.
Before you bid farewell to the New Forest you could stay at Brook Cottage CL. Situated on the park boundary, near the town of Ringwood, this restful spot features level pitches dotted around a small central copse.
Local attractions include the Castleman Trailway – a thoroughfare that is popular with walkers, cyclists and horse riders. Following much of the old Southampton to Dorchester railway line, the route crosses some lovely stretches of heathland and woodland.
From Ringwood, it's about an hour's drive eastwards to our next Club site – Rookesbury Park near Fareham. Edged by the ancient Forest of Bere, Rookesbury Park is a popular choice with families thanks to its great play areas. It is also a good base from which to explore the towns of Portsmouth and Southampton.
Go to Rookesbury Park Club site
Don't miss the wonderful walk that leads directly from the site to the village of Wickham. Apparently home to the second largest medieval square in England, this lovely, lively village features a selection of independent cafes, tea rooms and shops selling everything from antiques to handmade chocolates. There is some wonderful architecture to admire, too – from 15th century cottages to several perfectly preserved Georgian dwellings.
While you are in the village, it's worth stocking up on picnic treats – just a few minutes' walk away (the path is just to the left of Greens Restaurant), you will find Wickham Water Meadows, a natural body of water criss-crossed with wooden walkways. It is the perfect location for a spot of al fresco dining.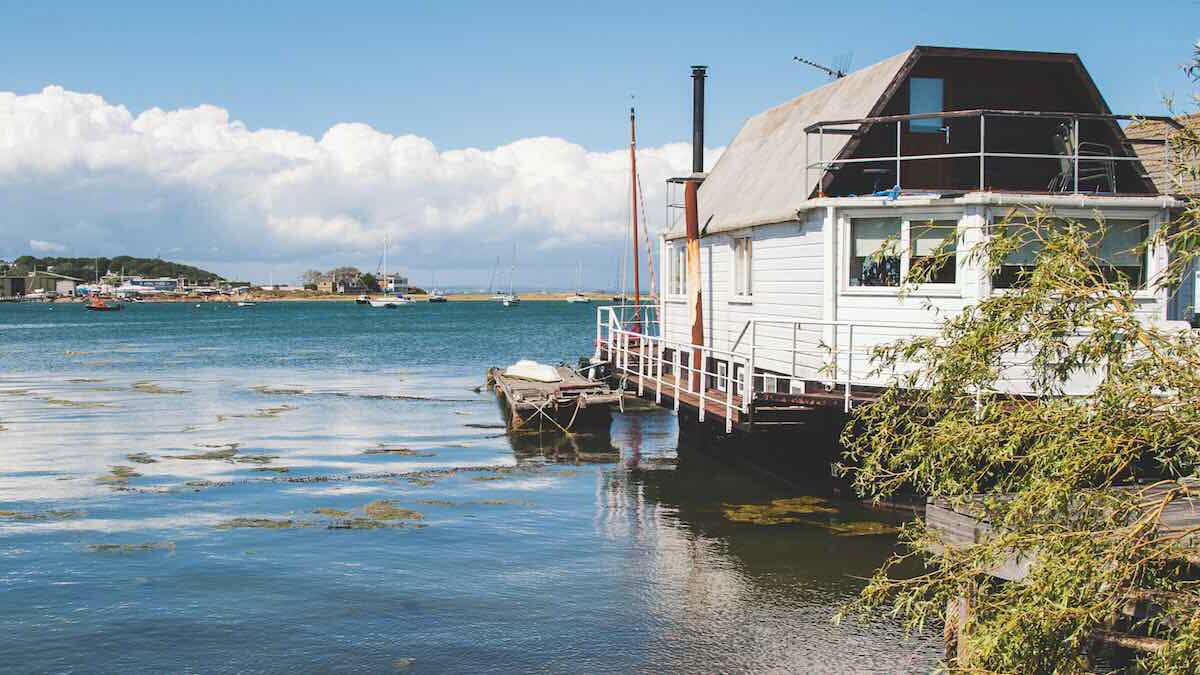 Paul Carstairs/Alamy
From your base at Rookesbury Park you are well placed for a day trip across The Solent to the wonderful Isle of Wight (ferries depart regularly from Portsmouth for Fishbourne). If you're feeling a little more adventurous, why not pack up the caravan and enjoy a full-blown stay at Southland – a Club site in Newchurch, near Sandown.
Sandown offers vast stretches of golden sand and children will love the traditional pier, while there is loads more family fun to be had at Isle of Wight Zoo. The beauty of the island, of course, is that the attractions are packed in a relatively small area. Must-visits should include the likes of Blackgang Chine and Monkey Haven, as well as a number of history museums – which inevitably leads us back to the dinosaurs. In fact, the Isle of Wight has been referred to as the 'dinosaur capital' of the UK – so why not join an organised dinosaur fossil hunt and search for your own little piece of history?