Motorhoming with your dog
Motorhoming with your dog
My first ever motorhome trip didn't get off to the most auspicious start. My Manchester Terrier, Arty, sat in the passenger seat glancing over at me nervously as we drove along the M4 to Wales. A potent combination of lashing rain and 50mph winds meant our journey was less than serene.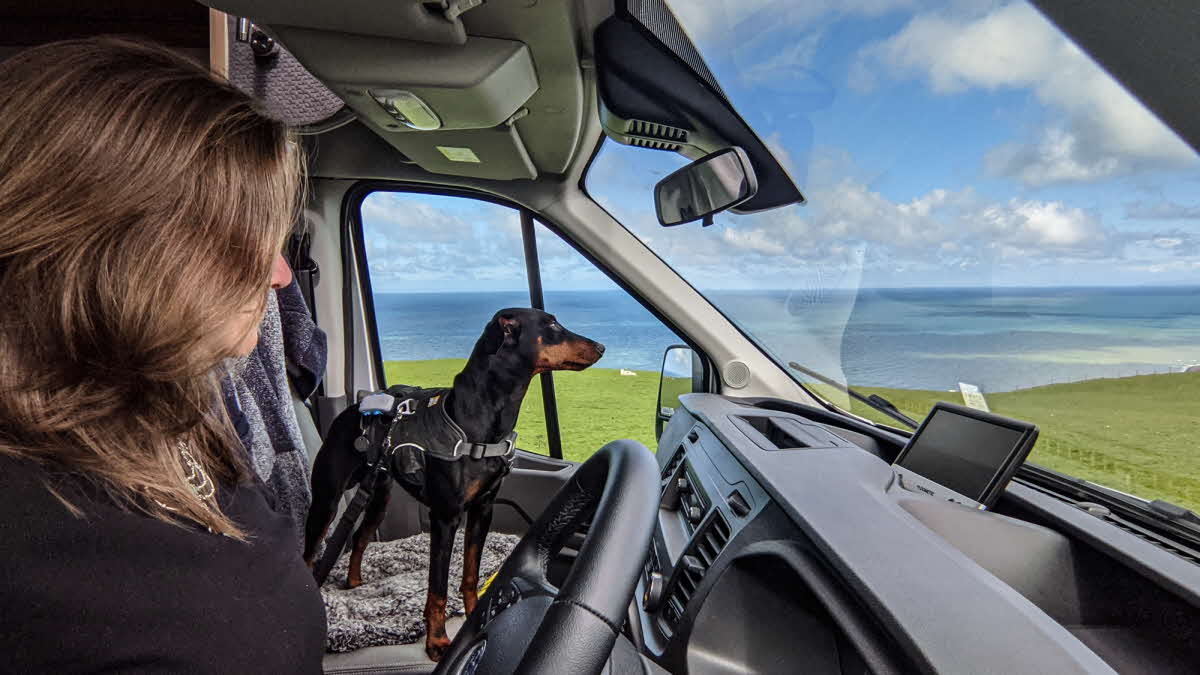 I was completely new to the motorhome scene, and so when numerous vehicles on the other side of the road flashed and waved as they passed us, I began to panic: was there something wrong with my motorhome? Was something hanging off or trailing behind or on fire!? After the fourth vehicle – a Bailey motorhome just like my own – flashed its headlights and the kindly couple in the front seats raised one hand, I realised there was nothing wrong at all. It was simply a salute. An acknowledgement of my membership to a club I'd previously not known about. I was being inducted into a group of those in the know – the people who know the sheer joy that can be found in the freedom of motorhoming.
The idea of living in a motorhome for an entire month, just me and the dog, was initially daunting. But as I hit the road, we found our stride pretty quickly and enjoyed a month of pure adventure. We toured Welsh castles, played fetch on the beaches of Pembrokeshire, walked in the shadow of the tallest mountains in the country and parked up in laybys overlooking the sparkling coastline to cook lunch and have a cup of tea.
We even made some friends. As we parked up next to another motorhome at South Stack Lighthouse in Anglesey, the owners got out with their two dogs. The six of us – three humans and three dogs – stuck together on a walk up to the viewpoint just as the sun was setting, swapping stories about our favourite parking spots and great roads to drive on as the dogs played around our feet. It was the very definition of adventure.
Now, thanks to the Spaceship Rentals motorhome hire from the Caravan and Motorhome Club, anyone can take on this kind of adventure and, because their vehicles are dog-friendly, you don't have to leave your furry friends behind.
Thinking of hiring a Spaceship Rentals motorhome and taking your dog on a trip? Here's everything you need to know about motorhoming with a dog in tow.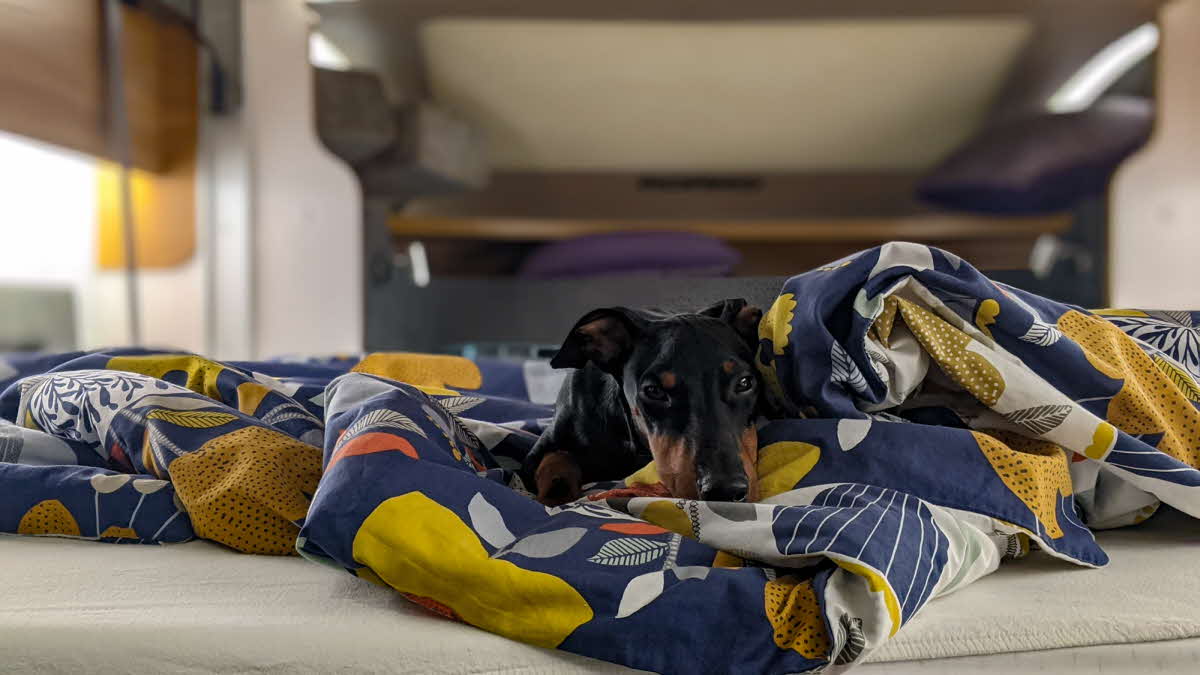 1. You're going to need a longer lead
My dog loved being on the Caravan and Motorhome Club's campsites. I'd set him up with a blanket on the floor outside the van and he'd lie down, facing the action and just watch the world go by. But rules are rules, and all dogs must be kept on leads at most campsites. That's why you're going to need a longer lead.
I always bring a 10-metre training lead with me that I can attach to a metal ring inside the van, or to a towbar or another sturdy part of the vehicle. It means the dog can roam (within reason) and I can relax in the knowledge he'll stay safe.
2. You've got to keep them safe while driving
Letting your dog roam in the motorhome while you're on the road is dangerous – not just for them, but also for you, as they could be a distraction. Instead, follow the advice of the Highway Code: "When in a vehicle make sure dogs or other animals are suitably restrained so they cannot distract you while you are driving or injure you, or themselves, if you stop quickly. A seat belt harness, pet carrier, dog cage or dog guard are ways of restraining animals in cars."
As well as ensuring your dog is secure in the motorhome, you'll want to make sure they're comfortable. If they suffer from travel sickness, try giving them ginger biscuits before you set off, or invest in some pet-safe travel sickness tablets. Avoid feeding them in the four or five hours before you travel to ensure they don't make a mess while you're driving.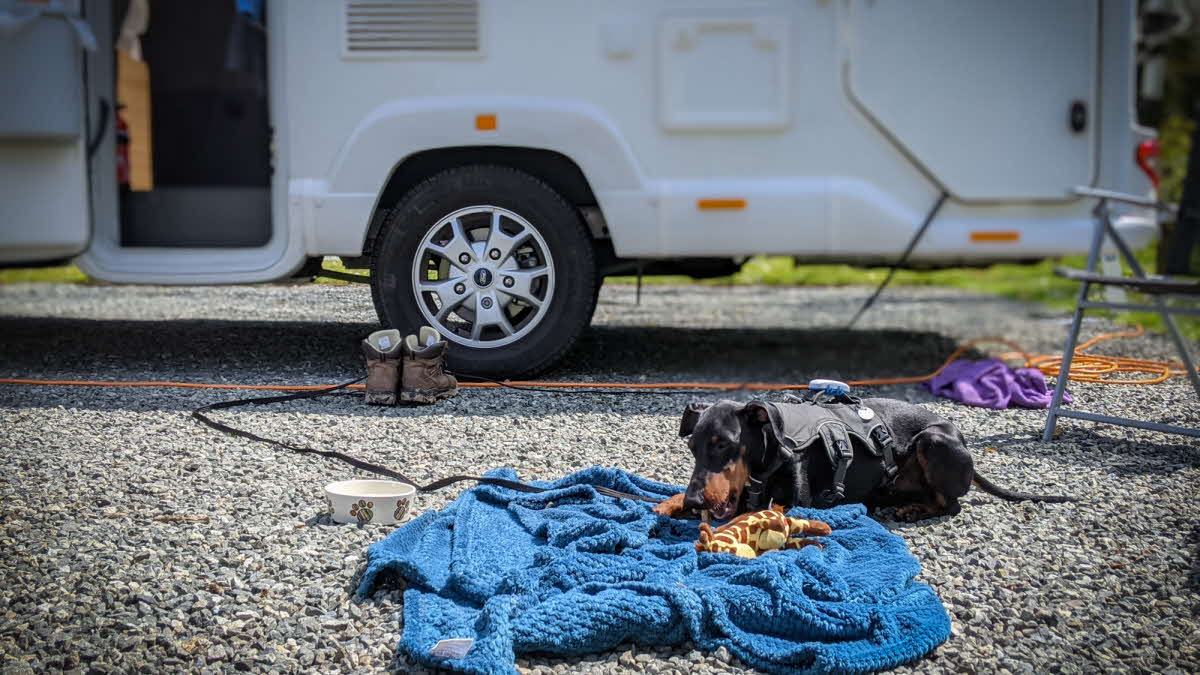 3. It's important to book the right kind of campsites
Not all campsites are made equal, and while many say they're dog-friendly, they don't always have the right facilities. Instead, look out for places that have on-site dog wash areas and even off-lead running areas where they can play and let off steam. On our trip, we stopped at some of the most dog-friendly Caravan and Motorhome Club campsites in Wales. The Brecon Beacons site has a gorgeous, leafy dog walking area by a babbling brook, perfect for early morning strolls, and Anglesey's Penrhos Caravan and Motorhome Club Campsite has a fenced-in field for running around.
Most Caravan and Motorhome Club campsites have water bowls and tie-up rings around all their facilities, too, making camping with the dog a total breeze. Look out for their "Paws of Approval" rating, too, which is given to the campsites that excel with their dog friendliness and facilities.
4. Wet weather needn't be a nightmare
No one likes the smell of wet dog, but it's especially unpleasant inside confined spaces – such as a motorhome. It was after a particularly soggy day of walking in the Brecon Beacons that I learned this the hard way. We returned from a failed hike up to an Iron Age hillfort, rained off thanks to mid-summer storms, when Arty decided there was nothing better than rubbing his damp (thankfully short) fur on the sofa of our motorhome to dry off. I looked around while making my tea to see him wriggling on his back on the lovely cushions, covering my seat for the evening in his wet dog scent. It was a windows-open affair for the rest of the night.
But you needn't make the same mistake! This is where your awning and a good stock of spare towels comes into play. Always ensure you've got towels by the door, and a covered area outside the motorhome to dry the dog off before they step inside. Level it up with an outside door mat and you'll be set for cosy nights inside your motorhome when the weather's not on your side.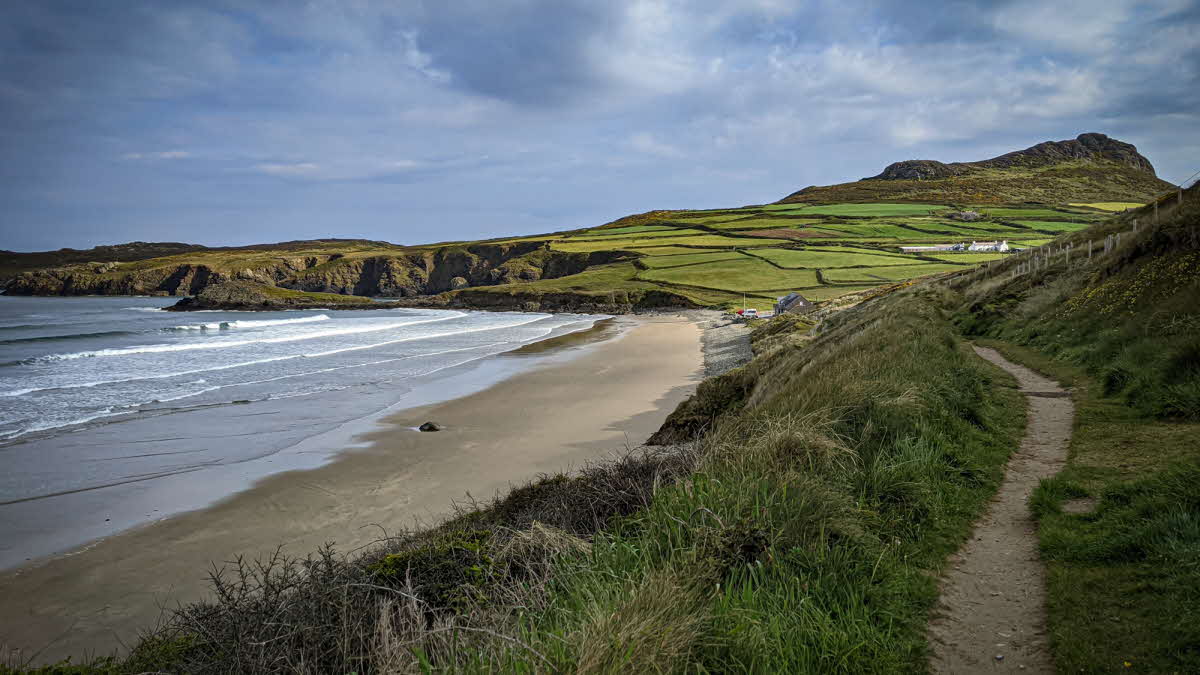 5. Choose the best dog-friendly destinations
The key to a great motorhoming holiday with the dog is not just about how dog-friendly your campsite is. When you leave the site, on foot or in the motorhome, you'll want to know your dog is going to be welcomed wherever you go. Cornwall might seem like the ideal destination for your adventures, but not all of its beaches are dog-friendly year-round. Instead, head to Northumberland where vast swathes of its coastline are dog-friendly and perfect for chasing balls on the sand.
And while the Welsh countryside is indeed a walker's paradise, you need to think about the sort of livestock you might encounter and whether your dog might be overly interested in the sheep. Instead, why not head into Snowdonia and explore some of its forested areas such as Coed y Brenin, where you're unlikely to meet any cattle and the dog can roam off-lead if under control.