Virtual tour of Hampshire and Wiltshire
Virtual tour of Hampshire and Wiltshire
Jane McGowan banishes the lockdown blues by looking forward to a touring adventure in Wiltshire and Hampshire which will truly raise the spirits once restrictions are lifted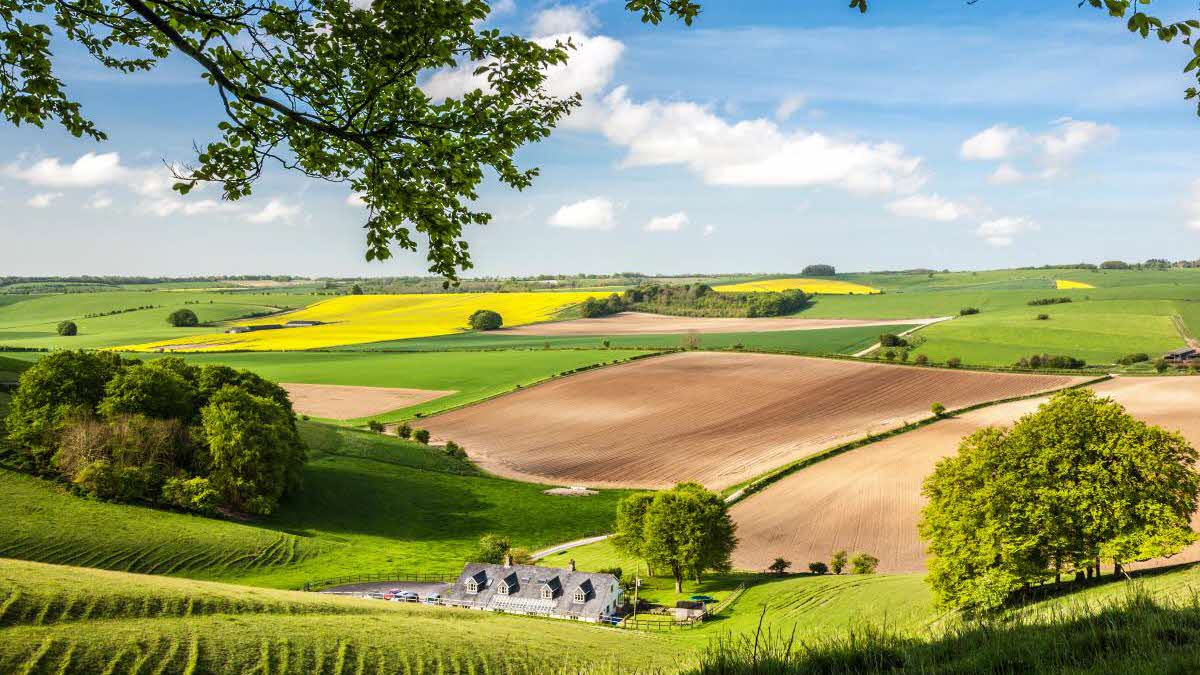 Anna Stowe/Alamy
It's important to stay positive in these uncertain times – so rather than worrying about all the things you are missing, why not focus on the future and the adventures you will have once this troubling period has passed?
Hampshire and Wiltshire might not immediately spring to mind as holiday destinations – but they make for a fantastic tour, not least because they are home to a wonderful selection of Club sites and Certificated Locations. The two counties share some of the country's prettiest scenery as well as a rich history, embodied in the likes of ancient Stonehenge and the naval base of Portsmouth. Add to that a myriad of first-class attractions for all the family and some outstanding beaches, and you have all the ingredients for a tour to remember.
My proposed route weaves a trail through two Areas of Outstanding Natural Beauty and a National Park, and on this occasion is linear rather than circular in form. An ideal place to start is Flaxlands Fishery in the north of Wiltshire. One of the Club's newest CL venues, it is situated just 10 minutes from Junction 16 on the M4, yet is a peaceful spot where you can relax and take in views of the two fishing lakes and the splendid landscape beyond.
Those longing to experience the freedom of the great outdoors once more will be pleased to learn they are on the fringes of the North Wessex Downs AONB – the third largest in Britain. Straddling the counties of Berkshire, Oxfordshire, Hampshire and Wiltshire, it provides woodland and meadowland for countless wildlife species and is home to 520 Scheduled Monuments (nationally important archaeological sites or historic buildings), not to mention 4,000 listed buildings, including one of England's top castles in Highclere Castle (the setting for Downton Abbey), and no fewer than eight white chalk horses.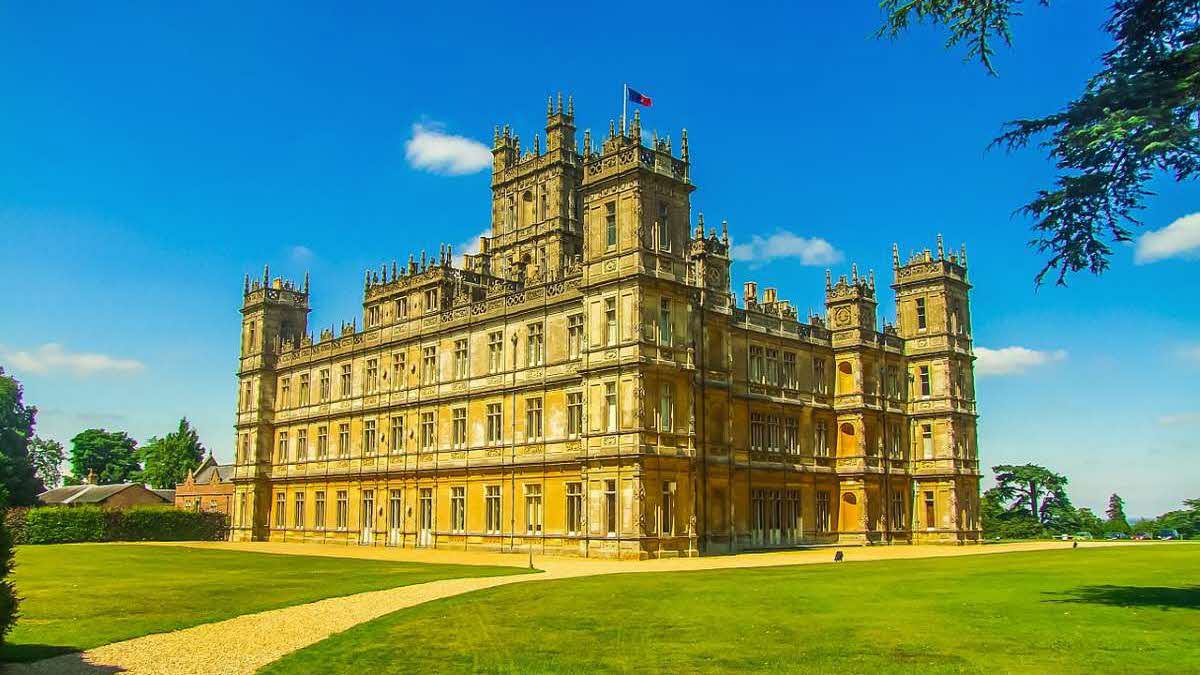 Highclere Castle is one of 4,000 listed buildings within the North Wessex Downs AONB
There are fantastic walking opportunities within the AONB, including routes that feature ancient stone circles, railway lines, Roman towns and 'chocolate box' villages. Church Farm CL, for example, at Stanton St Bernard near Marlborough, offers direct walking or cycling paths to Wansdyke and the Kennet and Avon Canal. A working farm, it boasts views of one of the aforementioned chalk horses – 'Alton Barnes' on Milk Hill – just over two-and-a-half miles away.
Continuing in a south-westerly direction, we headed for Green Hill Park, another of the Club's newer CLs. Once again, this venue offers visitors the opportunity to lose themselves in vast swathes of unspoilt landscape. From here you could easily enjoy day trips to Bath and Bristol, although I would recommend the picturesque riverside town of Bradford-on-Avon just under five miles away.
The first main Club site on this tour lies about 10 miles to the south of Green Hill Park. Longleat sits at the heart of the grand estate, offering easy access to its famed safari park – members frequently report hearing the roars of the nearby lions late into the evening!
The site itself features 164 well-spaced pitches surrounded by mature trees and hedgerows. As well as a play area and playground, a games room will help to keep younger holidaymakers happy whatever the weather.
The estate is a wonderful tourist destination: the main house and beautiful gardens are well worth exploring, while the drive-through safari park and Main Square area are ideal for families. Club members can save 20% on a day ticket and make savings on other ticket options should they wish to visit more than once.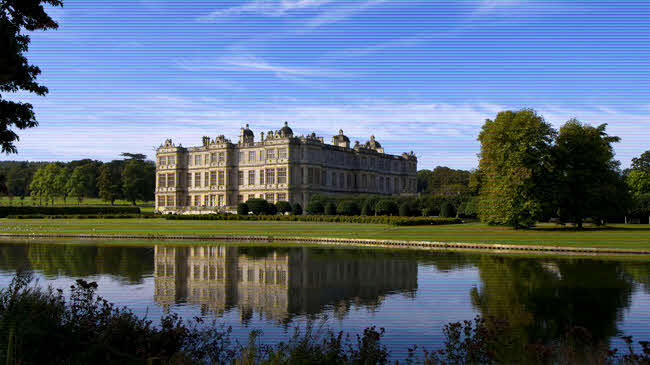 Longleat House is within walking distance of Longleat Club Site
The house, which in the main dates back to the late 16th century, is one of England's best examples of an Elizabethan 'prodigy house' – a term that came to denote a grand, extravagant style of architecture. Standing within 400 hectares of Capability Brown-landscaped parkland, it is open to the public who are free to roam around myriad rooms from 11am every day. A selection of guided tours is available, including the intriguing 'Scandalous History Tour' which reveals some of the famous and infamous goings on within the walls.
From the splendour of Longleat, a journey 35 miles east, skirting the perimeter of Cranborne Chase AONB, takes you to the next Club site on our itinerary, Salisbury Hillside. Anyone making their way via the A303 will be able to make out magnificent Stonehenge during the journey, and as it's just 25 minutes' drive from the Club site a day trip to this ancient monument is more than tempting.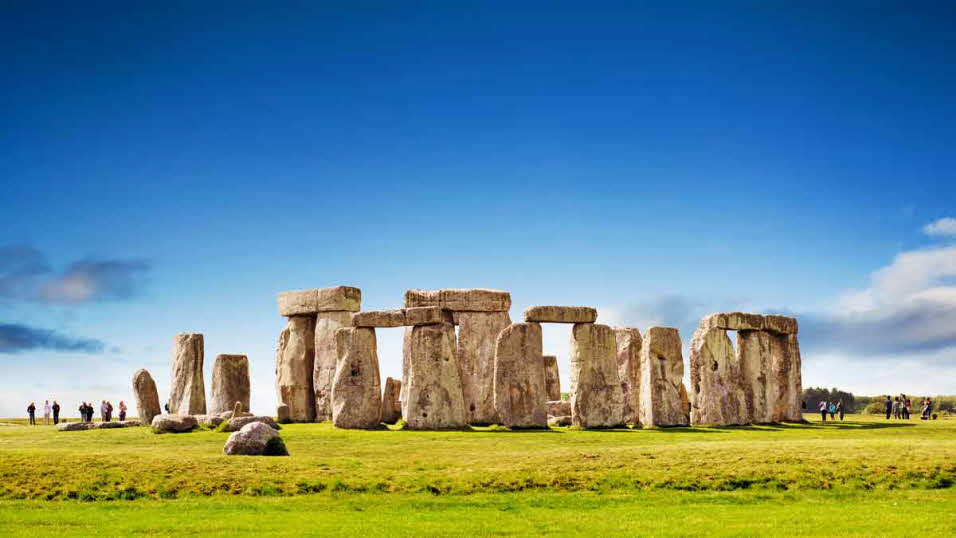 Stonehenge is an amazing spectacle with a fascinating history
While the stone circle is undoubtedly the main attraction, there is plenty to see and do in the immediate area. Children will enjoy exploring the replica Neolithic dwellings that have been kitted out with household artefacts detailing how our ancestors lived, while the visitor centre is home to a series of changing exhibitions recording the history of the circle and the local area.
On arrival at Salisbury Hillside Club site, you will find an intimate venue (it houses just 38 pitches) sitting within some truly breathtaking scenery. It's a great base for exploration and perfect for runners, walkers and cyclists.
Go to Salisbury Hillside Club Site
The famous Test Way, which stretches from Inkpen in Berkshire to Southampton is also easily accessible from the site. A short drive brings you to Stockbridge, where you can pick up the trail and embark upon a five-and-a-half mile stroll to the Mottisfont country estate. Following old railway lines, the walk will take you past reed beds and through meadowland via the ancient Roman crossing point of Horsebridge, a hamlet home to the John Of Gaunt Inn, which offers a warm welcome to walkers, cyclists and dogs.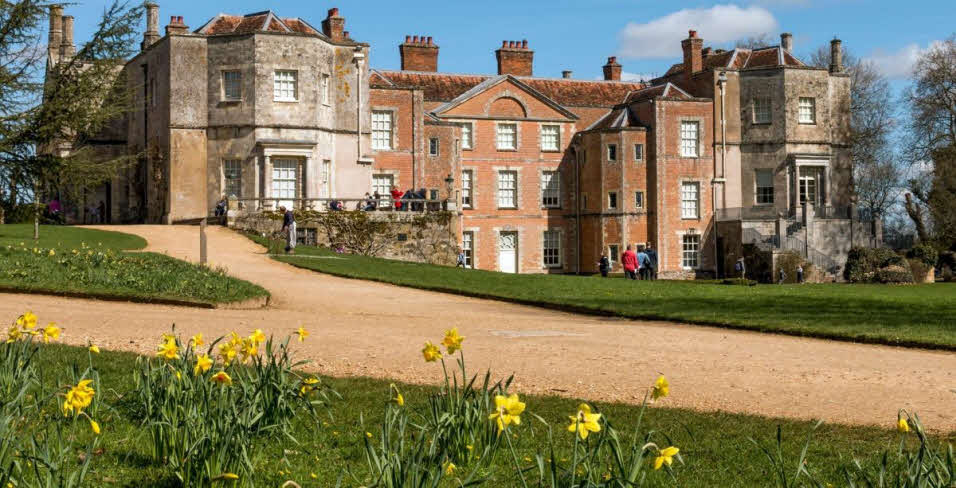 The picturesque Mottisfont estate
Now in the care of the National Trust, Mottisfont was once the site of an Augustan priory dating way back to 1201. It was a popular stopping point for pilgrims en route to Winchester who came to view the abbey's relic – said to be one of John the Baptist's fingers.
Continuing on a south-easterly path, the next Club site is Rookesbury Park, located on the edge of the Forest of Bere. It's a great option for families as there is a large play area, playground and mini golf course, and you can combine fresh-air fun (there are woodland walks directly from the site and the South Downs National Park is just minutes away) with a day trip to Portsmouth, where you can indulge in some serious retail therapy (Gun Wharf Quays) or explore Britain's naval history in the many museums.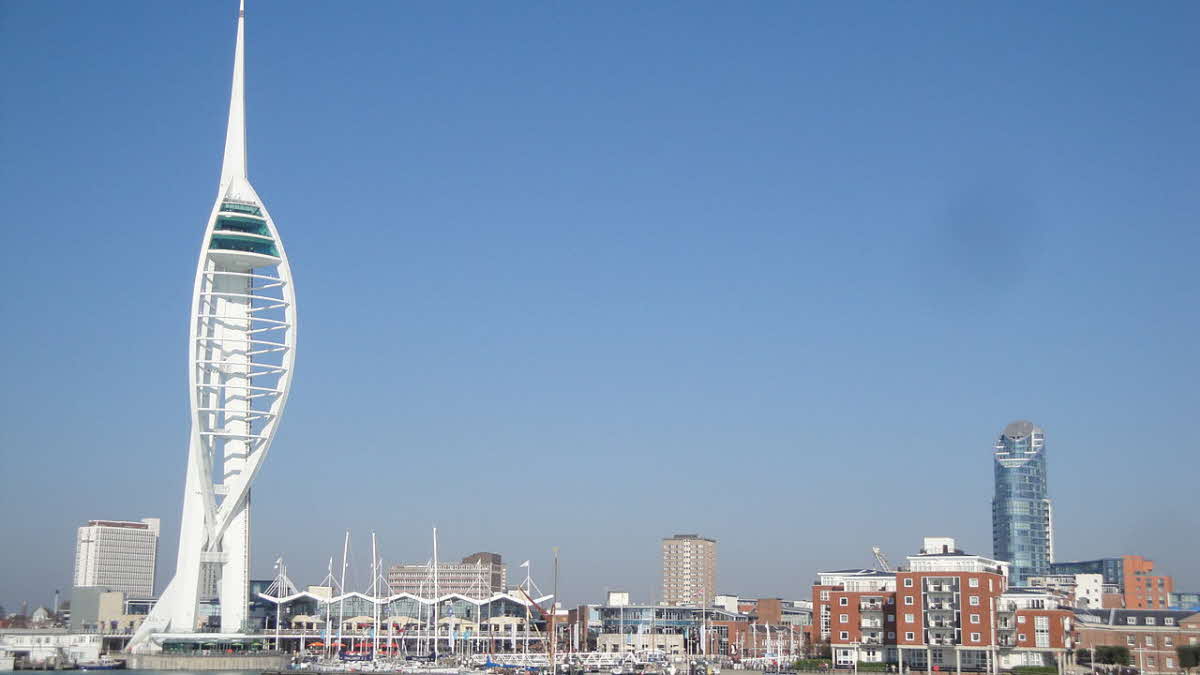 The Spinnaker Tower in Gun Wharf Quays
Go to Rookesbury Park Club Site
I can highly recommend a visit to the D-Day Story at Southsea. This modest centre, which is great value at £25 for a family of five, gives a personal portrait of lives forever altered by the events leading up to and including 6 June 1944, when military personnel from across the world set sail to claw back western Europe from the grip of Nazi Germany.
The final stop on this adventure involves you making a little sea journey of your own (albeit a lot less foreboding) as you bid farewell to the mainland for the Isle of Wight (Club members receive 6% discount with Red Funnel ferries). Many people may think of the Isle as offering a typical, old fashioned bucket-and-spade experience, unaware that it is home to its own AONB and stretches of 'Heritage Coastline' renowned for their beauty and scientific interest. And centrally-located Southland Club site is perfect for lovers of both coast and countryside.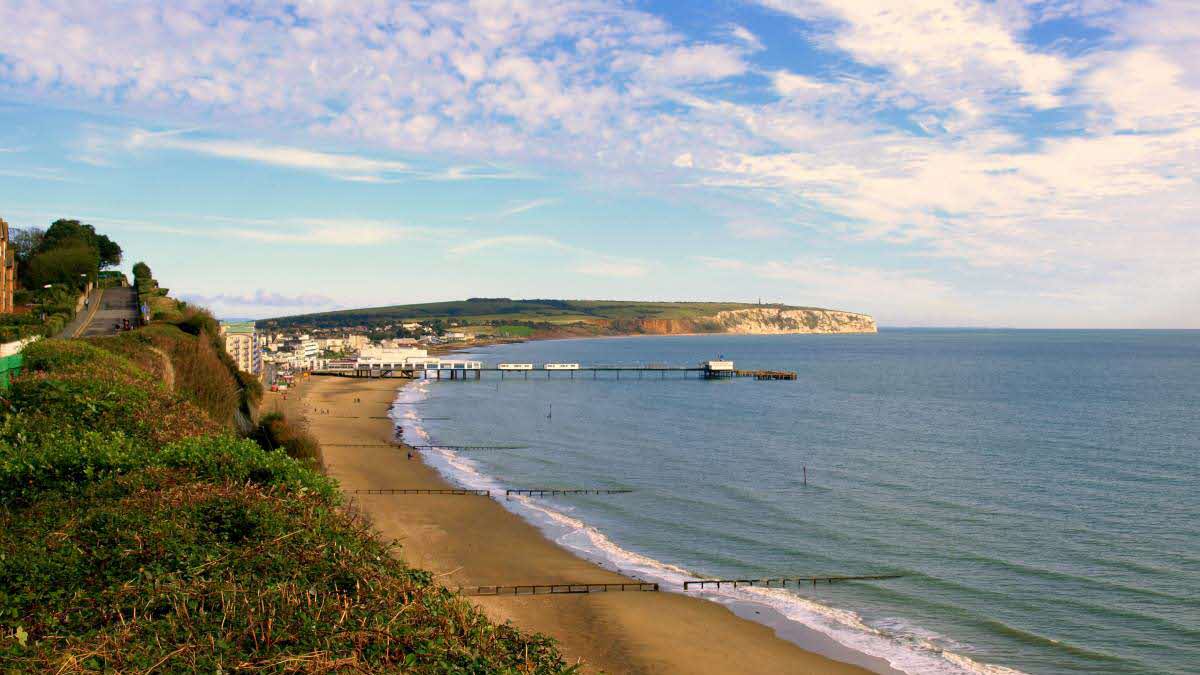 John Hill/Alamy
Situated on the outskirts of the village of Newchurch, the site is just 10 minutes' drive from Sandown seafront and its Esplanade that stretches all the way to the gloriously sandy beach of Yaverland. Meanwhile, Sandown Bay – 2019 winner of BBC Countryfile Magazine's 'Beach of the Year' award – is just a little further afield.
For such a compact place, the Isle of Wight has more than its fair share of activity options. Younger children will love Blackgang Chine and Robin Hill theme parks, while older ones could get their excitement from a spot of surfing, kayaking or parascending. A stay at Southland would certainly mark the perfect end to a quintessentially English holiday.