A magical coastal tour of Sussex and Kent
A magical coastal tour of Sussex and Kent
Andrew Ditton takes the slow lane on a tour along the colourful south coast from Bognor to Folkestone with a few detours inland to enjoy some quintessentially English villages, gardens and culture.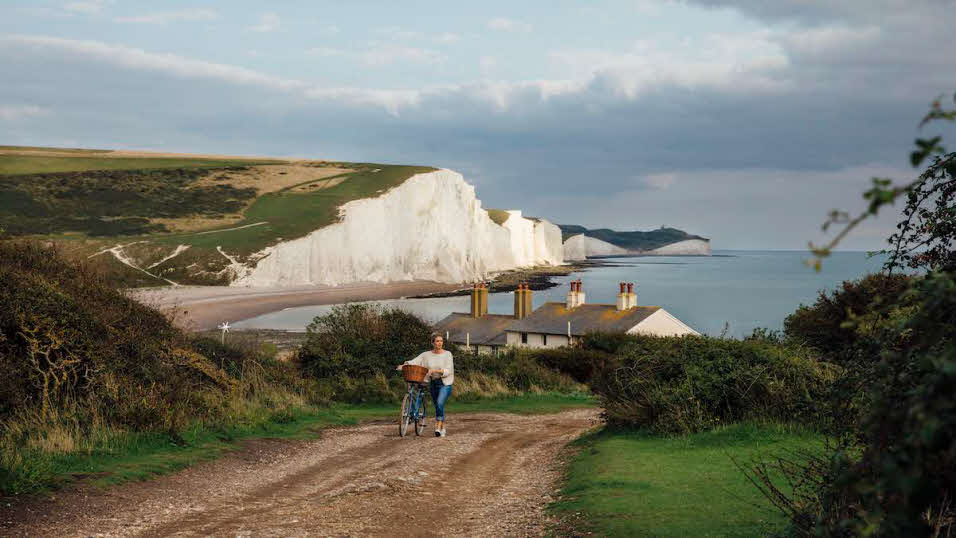 The cliffs at Seven Sisters Country Park in East Sussex ©VisitBritain
There is something magical and calming about the combination of sunshine and the seaside in the south-east of England. Colourful pebbles on the beach, handsome sandcastles, bright beach huts, ice cream emporiums, gift shops and vintage boutiques give the area a timeless, retro feel that is increasingly appealing to people looking to recreate simple, enjoyable holidays of yore.
Our tour begins in West Sussex and ambles its way slowly and gently to east Kent, taking in much of the coastline but also popping inland to enjoy some quintessentially English villages, gardens and culture.
The dignified resort of Bognor Regis is our first port of call, with a stay at the super-convenient Rowan Park Club site. Access directly off the main road will subdue the anxiety of members with larger outfits, and the proximity of a retail park just across the road means you don't have to move the motorhome every time you need a loaf of bread.
Dog owners love this site: right next door is a delightful, canine-friendly nature reserve. It took me and my faithful friend almost an hour to walk the perimeter of Bersted Brooks, enjoying the recently planted trees that are well on their way to establishing mature woodland on the site. Another super outing is a stroll along Bognor's promenade, a couple of miles from the site, while further afield, the charming coastal resorts of Pagham and Bosham demand relaxed exploration.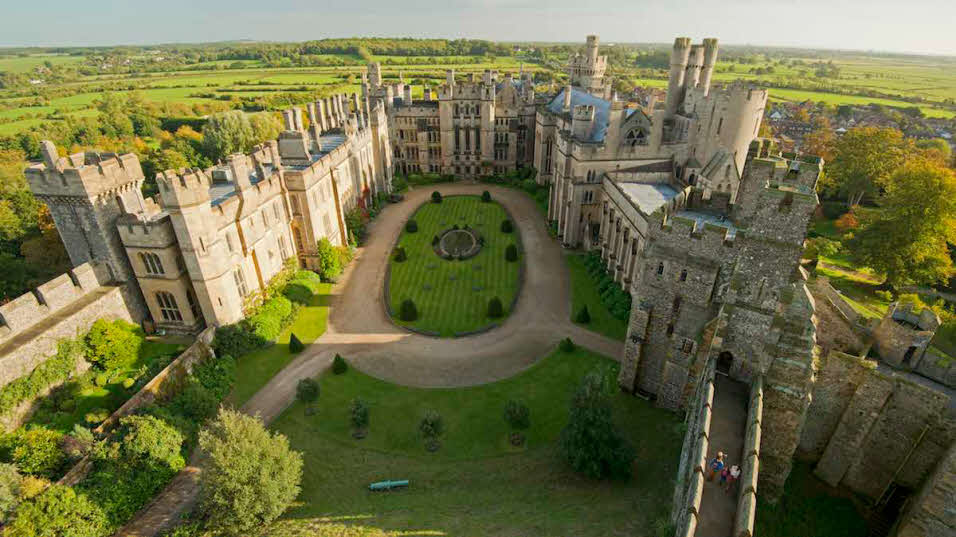 Arundel Castle is a short drive from Rowan Park Club site and makes for a good day out ©VisitBritain/PeteSeaward
Nearby Chichester Cathedral is a wonderful place to visit while fans of hit television series The Repair Shop should make a beeline for the Weald & Downland Living Museum. This (dog-friendly) open air collection contains more than 50 buildings, some of which are more than 1,000 years old.
If you fancy pitching up somewhere a little less formal, try Upper Chancton Farm Certificated Location (CL), to the north-east of Bognor Regis (and directly north of Worthing). Set on a working farm and affording delightful views, this is an ideal spot for new caravanners – there's a huge amount of space on offer, negating any need for difficult manoeuvres when pitching.
Next stop is the utterly delightful Broomfield Farm Club site near East Hoathly and Lewes. For me, this was a trip down memory lane, as my parents used to bring my family here in the early 1970s. Despite modern upgrades such as EHUs and a healthy sprinkling of hardstanding pitches, the site has lost none of the simple, rural charm I remember from my childhood.
Go to Broomfield Farm Club site
There are a couple of pleasant walks you can enjoy from the site. A 40-minute stroll takes you into the charming village of East Hoathly, where you can reward yourself with a pint at the Kings Head or a slice of something delicious with a cup of tea at Muffins Cafe. The second walk from the site takes about two hours and provides a sublime taste of what the South Downs can offer. If you prefer two wheels to two feet, it's a four-mile ride to Horam, where you can pick up the Cuckoo Trail. This family-friendly route follows a former railway line; you can ride (or walk) as far south as Eastbourne on the coast if the fancy takes you.
Heading further afield means taking the car or motorhome off site or walking to East Hoathly to catch a bus. The surrounding area is rich in culture, from castles at Lewes and Herstmonceux to Rudyard Kipling's residence – Bateman's – at Burwash, which was bequeathed to the National Trust by Kipling's widow upon her death in 1939. As ever, call or check the website before heading off to see what's available and to book a timed entry ticket.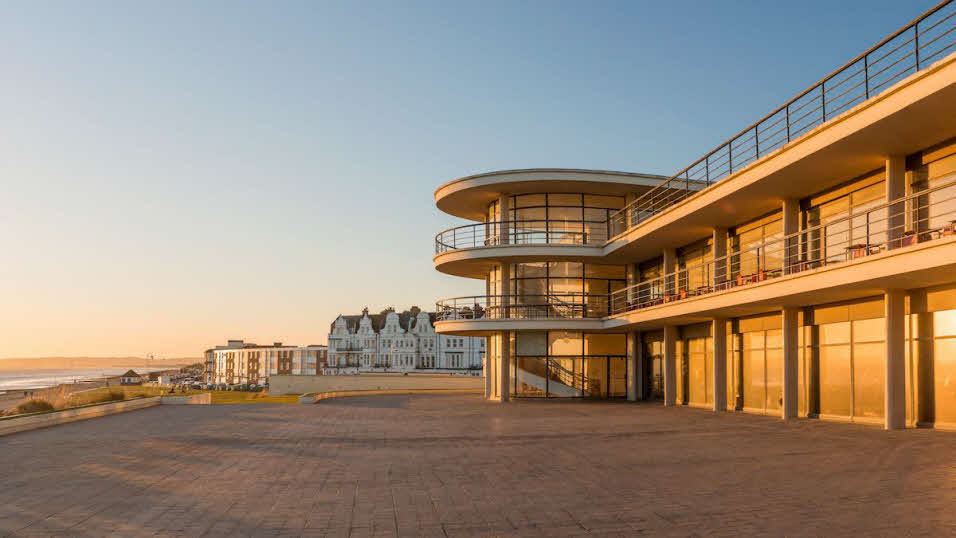 De La Warr Pavilion is a magnificent sight on the seafront at Bexhill ©VisitBritain/GuyRichardson
Leaving Broomfield Farm is a wrench but arriving at the immaculate Pondarosa CL to the north of Bexhill-on-Sea is compensation. "I've planted over ten hundredweight of daffodil bulbs along the drive!" says the owner, Mark. "When members arrive in the spring they will be greeted by a fairytale scene."
The area is popular with history buffs, and the site of the Battle of Hastings lies a short drive from the CL. Fans of history a little more 'mid-century modern' will love nearby Bexhill-on-Sea thanks to its eclectic mix of vintage and retro shops, not to mention the stunning modernist De La Warr Pavilion.
After another lungful of sea air, it's time to zig zag back inland to Bearsted Club site near Maidstone. Ease of access from the M20 motorway makes this a popular site for stopovers, but as the closest Club site to all that north Kent and the River Medway can offer, it makes for a great place to base yourself for a longer stay.
The most obvious attraction is Leeds Castle. Known as 'The Loveliest Castle in the World', it's a 30-minute walk from site, or a few minutes if you want to use the car park. Most of the attractions are outside, from the stunning view of the castle itself to immaculate gardens, falconry displays, a bird of prey centre, and adventure golf.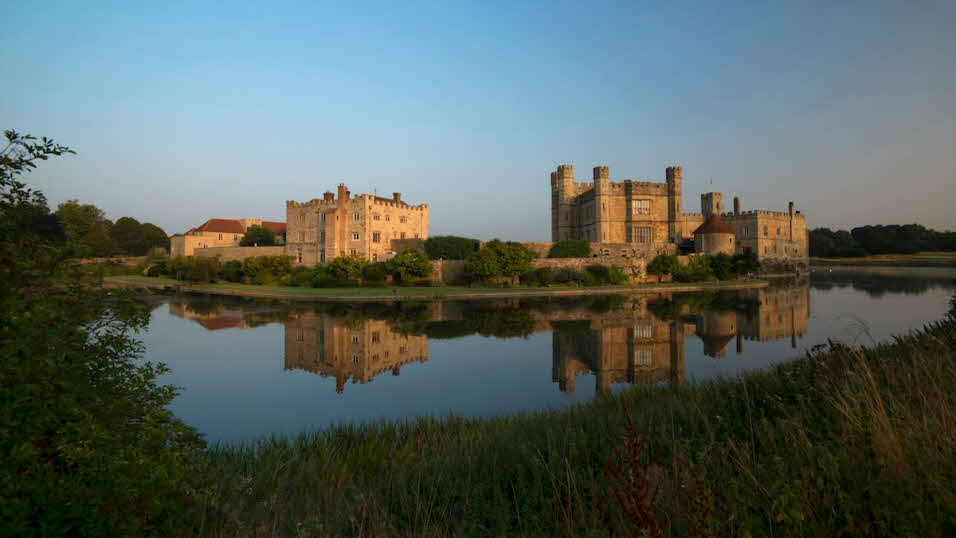 Leeds Castle is not only stunning but also offers bags of things to see and do ©VisitBritain/PeteSeaward
A short hop down the M20 takes us beyond the town of Ashford to what could be described as a 'Destination CL'. There is so much to keep you occupied at and around Hamilton Farm Airfield and CL that you might find you don't need to take the car off site, especially if fishing is your bag. Carp, tench, bream, rudd and roach populate the various ponds and lakes on this 75-acre slice of rural heaven, and fishing is free to members staying on site.
Go to Hamilton Farm Airfield and CL
I did not partake in what owner Richard calls 'The Foot Fish Challenge'. This involves heading down to the stunningly scenic pond where fishing is not permitted, inserting a piece of bread between each toe, and lowering your foot into the water. Richard tossed a piece of bread into the pond, igniting hundreds of small fish into a feeding frenzy that made the water look as if it were boiling. "You can often hear the shrieks as far away as the caravan pitches!" laughs Richard. The less brave (like me) are welcome to enjoy the verandah overlooking the lake at any time. Time it right for a midsummer evening, and you'll be treated to the sight of glow-worms lighting up the hedge.
Following Hamilton Farm, Black Horse Farm Club site near Folkestone had a lot to live up to – and it rose to the challenge admirably. Motorhoming members in particular love this site; across the road you'll find a friendly and well-stocked village store, and next to that an equally friendly pub that serves great food. To say that The Black Horse Inn is dog-friendly is an understatement – they even have a food menu for dogs!
Go to Black Horse Farm Club site
From the site, there is a lovely walk that takes in nearby Reinden Wood or catch a bus – which leaves from right outside the site every 20 minutes during the day – if you'd like to venture into the charming town of Folkestone or the cosmopolitan city of Canterbury.
Folkestone has enjoyed a renaissance during the past few years, thanks to the redevelopment of the area behind the harbour, which is now known as the Creative Quarter. I enjoyed wandering its cobbled streets, discovering the art, and meeting the colourful people who frequent and work in the area.
The iconic White Cliffs of Dover provide a fitting end to Andrew's tour ©VisitBritain/JasonHawkes
The historic town of Dover tops the list for culture a little less modern and more suited to the history buff. Dover Castle is an absolute 'must-see', not just for its medieval Great Tower and tunnels, but for its Roman Lighthouse and First World War Fire Command Post, the latter offering stunning views across the channel (see english-heritage.org.uk for information).
On your way back to the site, be sure to stop off at the newest piece of England, Samphire Hoe, signposted off the westbound A20 trunk road. This is a 30-hectare nature reserve created by the spoil from the excavation of the Channel Tunnel. From the car park you'll find a network of paths, some of which are accessible to wheelchair users, which allow you to discover this beautiful and brand new part of the country.
Samphire Hoe is one of the few places where you can garner easy access to the most impressive views of the White Cliffs of Dover. It is believed that Shakespeare was a regular visitor to Dover, and that the very cliffs that tower above Samphire Hoe inspired those in his play, King Lear. The name of the cliff here is Shakespeare Cliff, and it's at this point I bring this stupendous tour of the south-east of England to an abrupt and reluctant close. You could say I'm leaving you with a cliffhanger. I'll get my coat.