A beautiful beach break on Cornwall's north coast
A beautiful beach break on Cornwall's north coast
The Davey family follow in the footsteps of Cornwall's legend, King Arthur, and the tales of smugglers and pirates. They explore a string of beautiful sandy beaches, rugged scenery straight out of Poldark and pretty port towns, on a seven-site tour of Cornwall's north coast.
The Davey family explore a string of beautiful sandy beaches, rugged scenery straight out of Poldark and pretty port towns on a seven-site tour of Cornwall's north coast
By: Lee Davey | 24 Apr 2019, 10.35am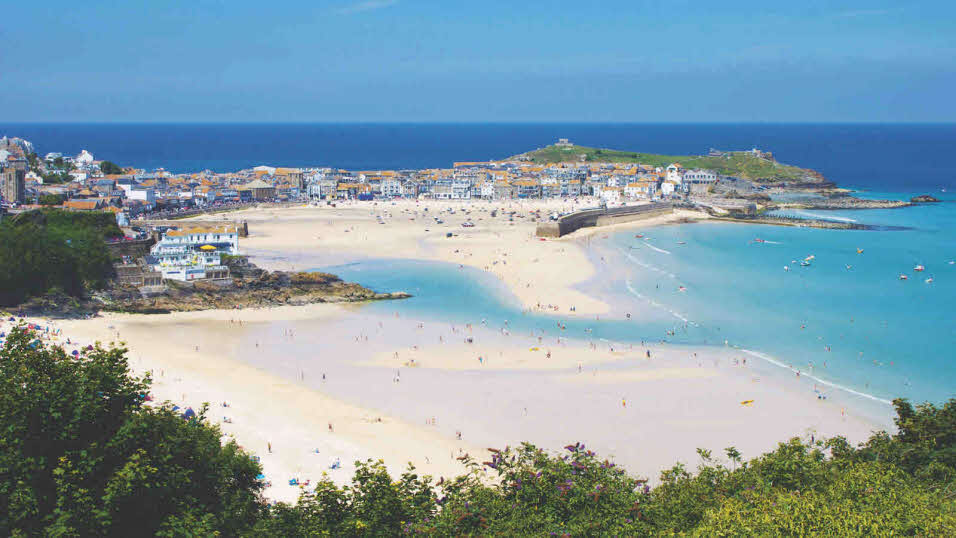 Beautiful St Ives Bay (© robertharding/Alamy)
Is there a region of England with a history that is as fascinating as Cornwall's Arthurian legend and tales of smugglers and pirates form part of the appeal for many visitors but my children seemed more interested in the sun, sea and ice cream during our seven-site tour of the county's north coast.
Our itinerary would take us to an interesting mix of places: tranquil Club sites a stone's throw from bustling surfing meccas, a family-owned Affiliated Site (AS) and three immaculately-kept Certificated Locations (CLs) that offer outstanding value for money.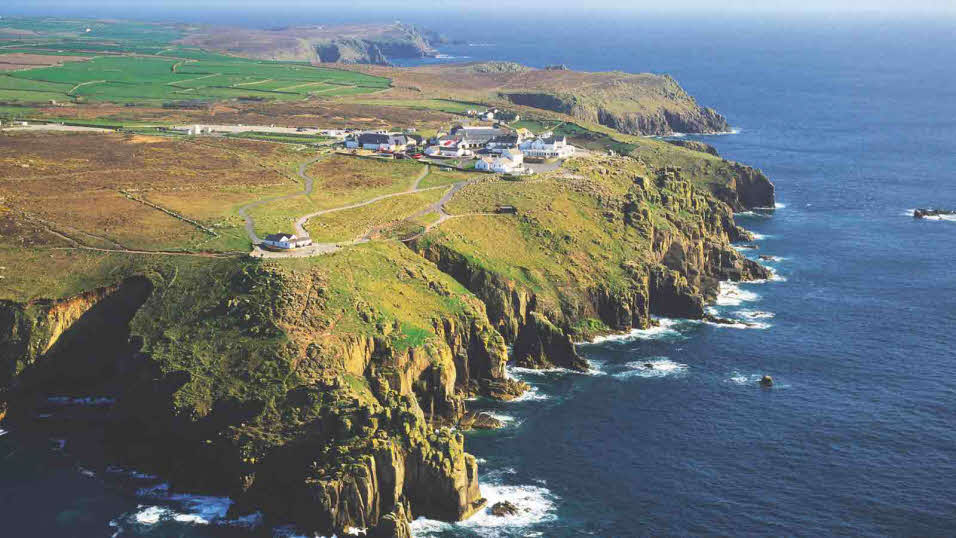 Land's End was a hit with the Davey family (©robertharding/alamy)
Before we pitched up anywhere, though, we made our way to a spot that has appealed to me for a long, long time. Land's End has changed somewhat from my many visits as a kid. This time my children, Poppy and Charlie, loved a couple of the newer attractions, such as Arthur's Quest – a King Arthur-themed adventure that uses the latest interactive technology. However, there's more to this location than high-tech amusements, and eventually we made our way along the coastal path to enjoy the iconic view.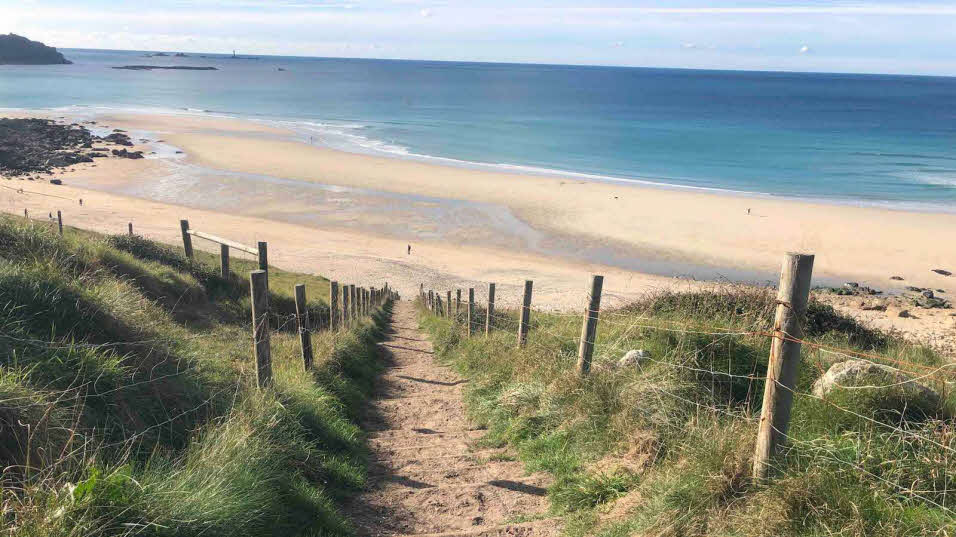 Steps lead straight down to Gwynver beach from Trevedra Farm site
Next stop was Trevedra Farm. As well as offering great facilities and a relaxed feel, the site's location makes occupying even the most restless of children easy. The kids disappeared straight away towards Gwynver beach which is accessed via a (steep) footpath at the bottom of the site. It's an absolute gem, with dogs welcome all-year round. The view from the top at high tide, overlooking the horseshoe-shaped bay, is picture-perfect, while, once the sea rolls away, it's possible to walk along the sand as far as neighbouring Sennen Cove, where you can enjoy a bite to eat in the pub, café or chip shop.
Green Pig Farm CL, our next destination, lies between the bustling towns of Penzance and St Ives. Those pitched at the top enjoy a distant view of the small tidal island, St Michael's Mount. If you're after a long walk from this CL, I'm told that this historic Cornish counterpart to France's Mont St Michel is an eight-mile round-trip, although there is a bus stop nearby.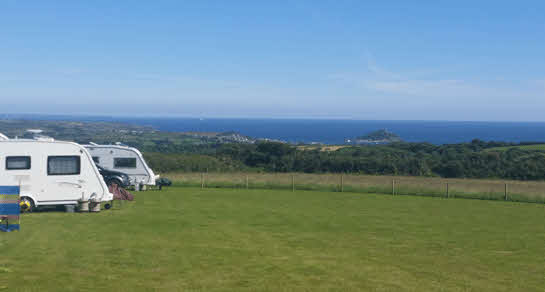 The view to St Michael's Mont from Green Pig Farm
St Ives is a must for art lovers. The main draw is the Tate St Ives gallery on the seafront, which primarily showcases the work of British artists, while the Barbara Hepworth Museum and Sculpture Garden displays this important 20th century artist's bronzes and other works. The town has a maze of cobbled streets, traditional fishermen's cottages and a wide variety of independent eateries and shops, making it a favourite with British holidaymakers.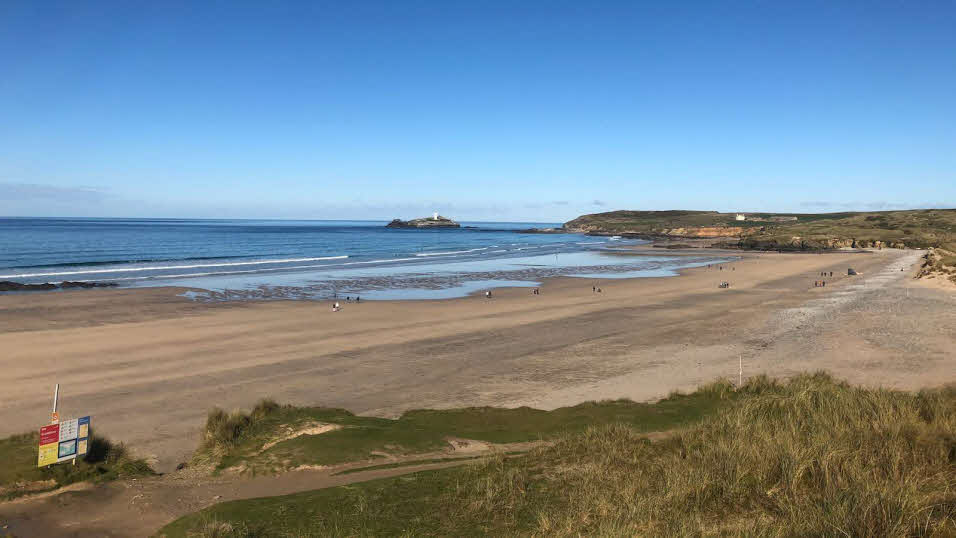 Gwithian beach is a short walk from Godrevy Park
Our next destination was Godrevy Park Club site, on the opposite side of St Ives Bay, where we followed a sign at the back of the site that simply read 'To the Beach'. Venturing through the dunes, we arrived at Gwithian, at the eastern end of a band of sand that stretches all the way to Hayle, three miles away. The beachfront car park was full of vehicles carrying surfboards or draped with dripping wetsuits, and if the external wetsuit shower at Godrevy Park is anything to go by, surfing is an increasingly popular pastime among Club members.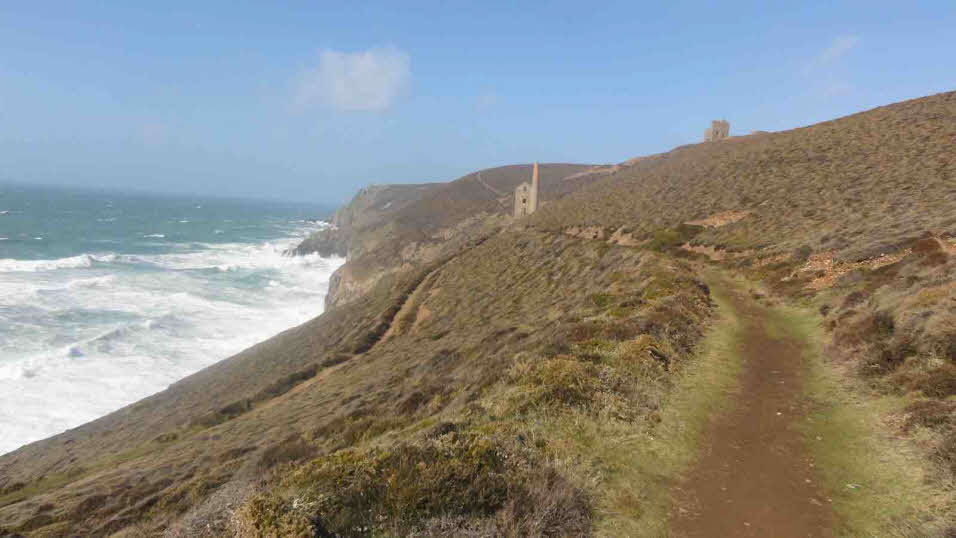 The rugged coastline at St Agnes Head which will be familiar to fans of the BBC show Poldark
Driving north-east, we were soon firmly in Poldark country – Winston Graham's historical novels are set in Cornwall and both of the BBC's TV adaptations have used Cornish locations during filming. None of the backdrops is more striking than the rugged landscape of St Agnes Head. Here, huge engine houses look out over the coastline, and they are instantly recognisable to those who have watched the adventures of Captain Ross. If you're staying at St Agnes Beacon Club site this iconic scenery is just a short walk away.
Go to St Agnes Beacon Club site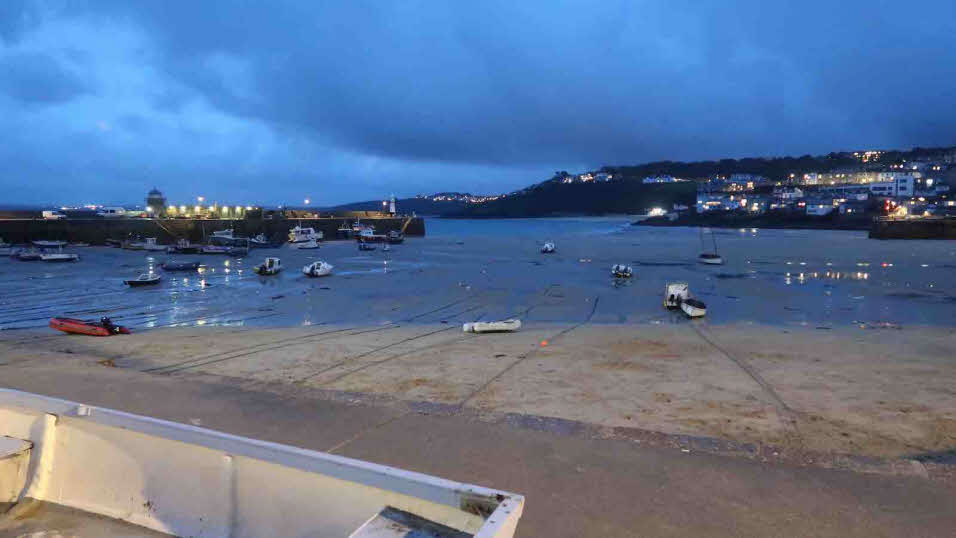 The pretty town of St Ives at dusk
A few miles inland, towards the town of Scorrier, you'll find Mount Pleasant Farm CL. Another well-maintained site, it offers rural views a five-minute drive from the A30, making it a great base for anyone wishing to sample the delights of Cornwall – Falmouth, Penzance, St Ives, Truro and Newquay are all within easy reach. We had a great time following seemingly never-ending trails in this area on our mountain bikes, armed with little more than an Ordnance Survey map app. The routes rivalled some of the ones we have sampled in Wales.
Heading north again along the Atlantic coast we arrived at Treamble Valley Club site. Around four miles inland from Perranporth, this quiet oasis is a great place to retreat to when you've had enough of the packed, peak-season beaches. The layout gives the feel of a much smaller site, but there are more than 130 pitches and the facilities reflect this. Recent investment has improved the children's playground, with lots of rides and a zipwire.
Go to Treamble Valley Club site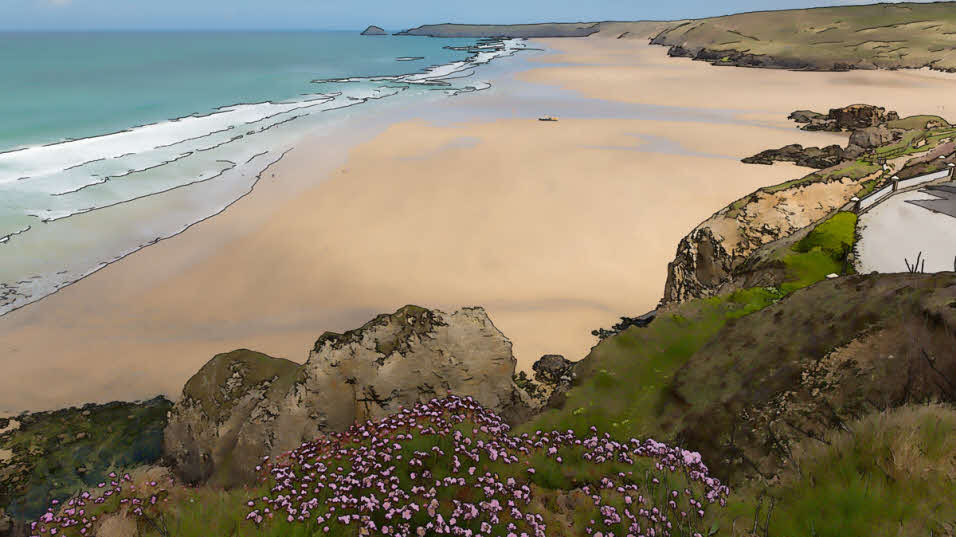 Perranporth beach is a surfing hotspot
Perranporth is another UK beach and surfing hotspot. The beach stretching northwards from the town centre is arguably the major attraction. This stretch is also blessed with a pub called The Watering Hole, serving really good food and boasting one of the best – and largest – beer gardens I've ever seen.
Perranporth is dotted with campsites, and the Ocean Meadow CL is another that I can recommend. Only a mile from the beach, it sits high above the town offering commanding views. Visitors are obviously drawn to Perranporth itself, but the CL's location makes trips to St Agnes Head and beyond easy enough too.
Perranporth was the end of our journey but it won't be long before we return to Cornwall. The scenery in this part of England is stunning; not just along the jagged coastline, but also inland, with moorland, pretty villages and monuments to grab your attention.