Northern delights for the whole family
Northern delights for the whole family
Jane McGowan and family find there is something to do for all ages and interests on an eye-opening tour of County Durham, Tyne and Wear and Northumberland which takes in Harry Potter castles, colourful coastal towns and an international white water centre.
Jane McGowan and family experience the best of coast and country on a tour of County Durham, Tyne and Wear and Northumberland
By: Jane McGowan | 23 August 2019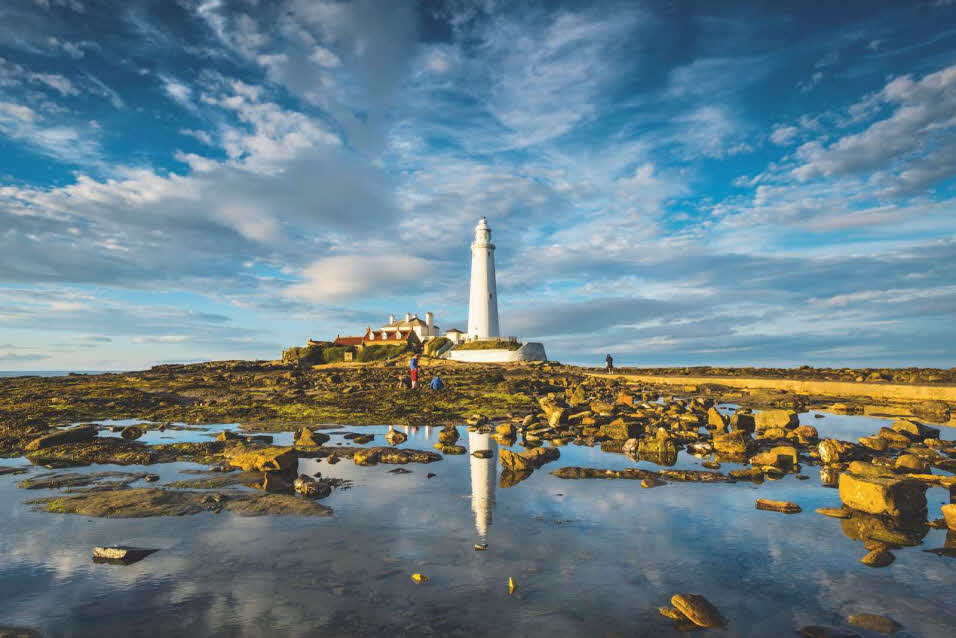 You can walk to Mary's Lighthouse in Whitley Bay from Old Hartley Club site ©Bill Allsopp/Alamy
As a Lancashire lass, childhood holidays were either spent heading north to the Lakes, or south-west to Wales. An unwritten rule forbade us from venturing across the Pennines into the 'enemy' territory of Yorkshire. Our easterly aversion meant not only did we miss out on the beautiful White Rose county but the wonders of Northumberland remained shrouded in mystery. It was time to put that right...
Recent holidays with my own family have mostly been spent looking for ways to entertain children with varying interests (watersports, history, shopping) and skin tones – two members of our clan have red hair, meaning breaks at sun-drenched foreign resorts are not very popular. What could be better then, than a road trip to England's North East, which not only boasts a couple of the country's most iconic cities, some majestic castles and an international watersports centre, but a mixed climate with warm rather than hot summers.
Our first stop was at Old Hartley Club site which is perched on top of a cliff and offered wonderful views of St Mary's Island and its lighthouse from our pitch.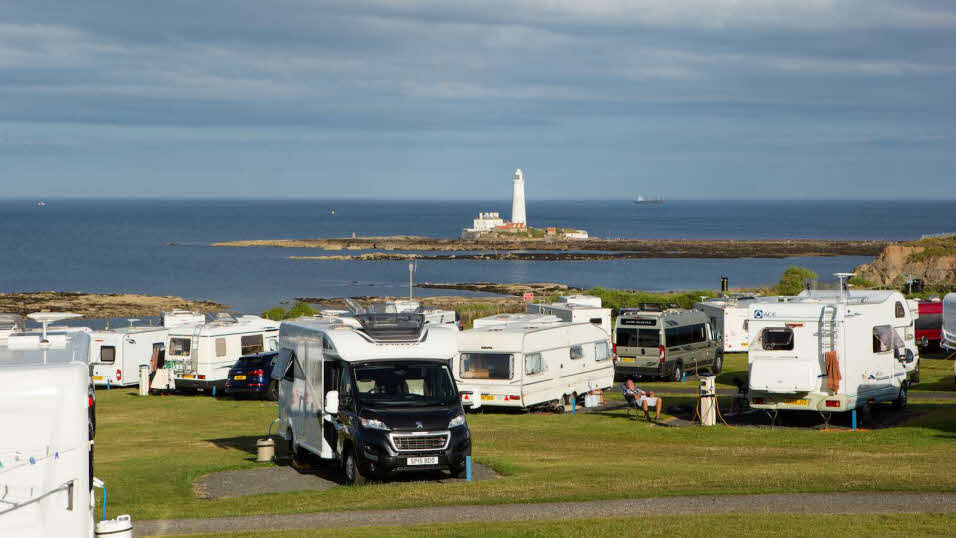 The views from Old Hartley Club site are sensational
Keen to explore, we took a trip to nearby Whitley Bay, a traditional Victorian resort that has benefitted from recent regeneration and offers miles of sandy shoreline. There is a bus stop a few hundred yards from the site entrance with services running regularly into town.
One spot of particular interest is Spanish City – a seafront leisure and dining complex with a fascinating past. Founded by theatrical impresario Charles Elderton in the early 1900s, it was loosely modelled on the great buildings of Andalucia with a dome that quickly became the talk of Tyneside (it was the second largest in England behind St Paul's Cathedral). Today, after a £10m refurbishment, it hosts a variety of live events and festivals, as well as some fine dining establishments, including Valerie's, where you can enjoy an all-day brunch amid 1920s glamour.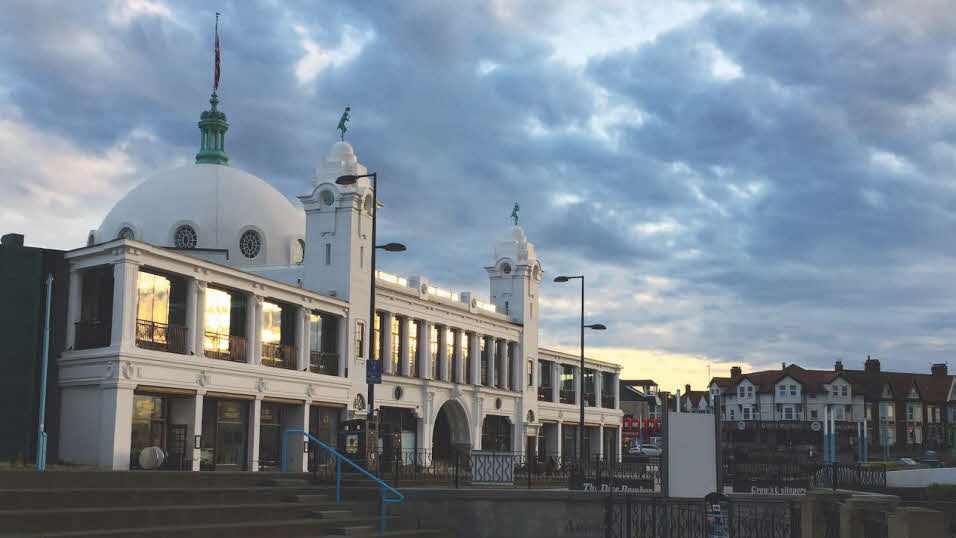 Spanish City in Whitley Bay boasts a host of buildings with fascinating pasts ©Ashley Cooper/Alamy
A stay at Old Hartley would not be complete without a stroll to St Mary's Island which is connected to the mainland by a causeway (accessible for around 16 hours 
a day). From the viewing balcony you will be treated to glimpses of seals and other wildlife, and, on most days, you can climb the 137 steps to the top of the lighthouse.
Next we headed north to Alnwick and its celebrated castle, which doubled up as Hogwarts in the Harry Potter films. The gardens are mesmerizing while the castle grounds are alive with lessons in broom flying, fighting displays and jester shows. You can go on a movie and television tour (the castle has featured in Robin Hood: Prince of Thieves,Downton Abbey and more) and there is even the opportunity to dress up in medieval costume and lock someone in the stocks!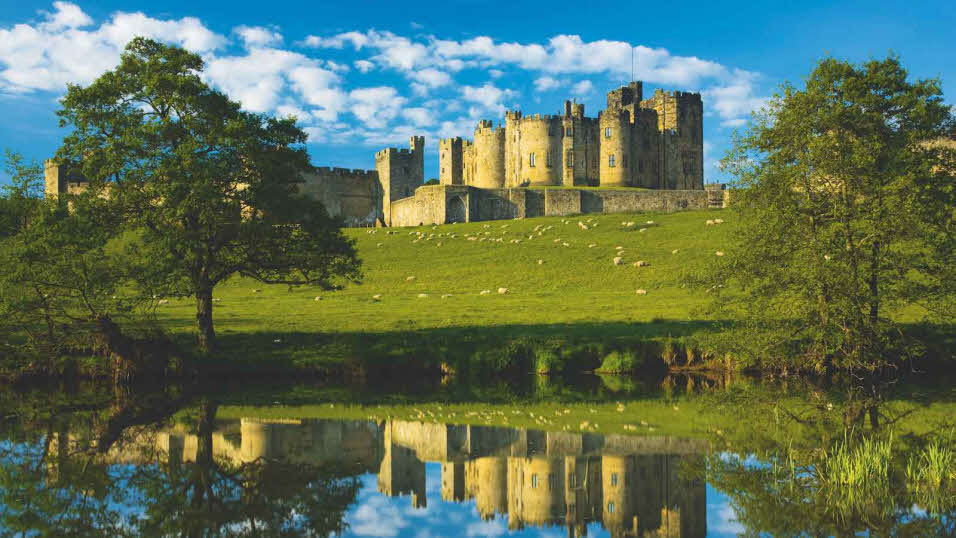 Alnwick Castle will be familiar to fans of the Harry Potter films ©Radius Images/Alamy
Bidding a sad farewell to Old Hartley, we headed for our next site, Durham Grange. Within close proximity of the A1(M), this open, level site is ideal for anyone looking to explore one of England's most historic cities.
You cannot even think about visiting Durham without a trip to the city's magnificent 11th-century cathedral, which stands guard on the banks of the River Wear. There is so much to see inside, including, of course, the breathtaking Rose Window, the Shrine of St Cuthbert and the tomb of The Venerable Bede.
It is just about possible to explore Durham Cathedral and the neighbouring Castle (both of which were granted World Heritage Site status in 1986) in a day. The 1,000-year-old castle is now part of Durham University and students have replaced the lords and ladies who once walked its hallowed halls.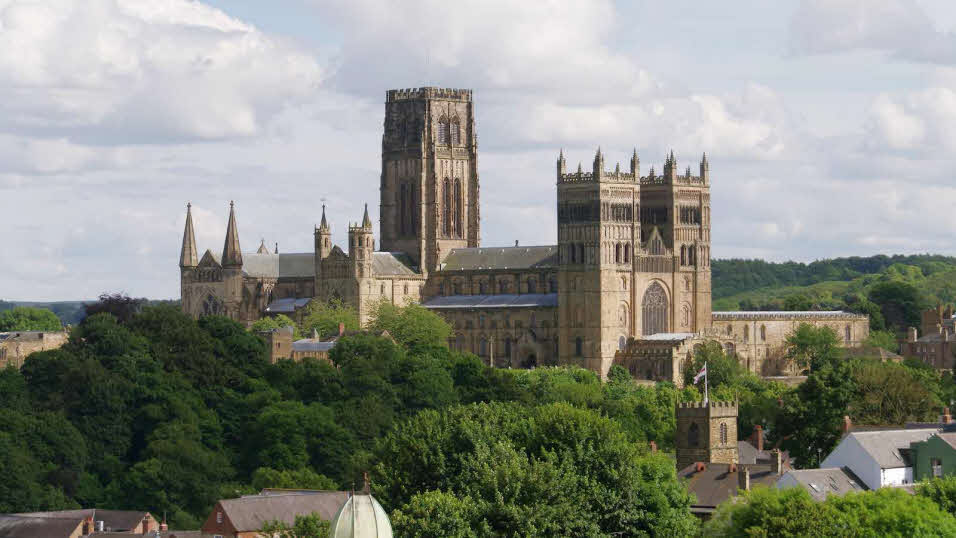 Durham Cathedral is a World Heritage Site
It was time for us to hit the road again and head south in search of our third site, Teesdale Barnard Castle, which sits on the edge of the lovely North Pennines Area of Outstanding Natural Beauty. The nearby market town of Barnard Castle is pretty attractive in its own right – frequented by the likes of Charles Dickens, Walter Scott and William Wordsworth.
It's a lovely place to walk around
 and browse the antique shops, but
 something in particular had caught my 
husband's eye – the Bowes Museum. Built in the 19th century to house a growing collection of antiquities and objets d'art by local businessman John Bowes and his beloved wife and artist Josephine, the chateau-style building is a pure joy.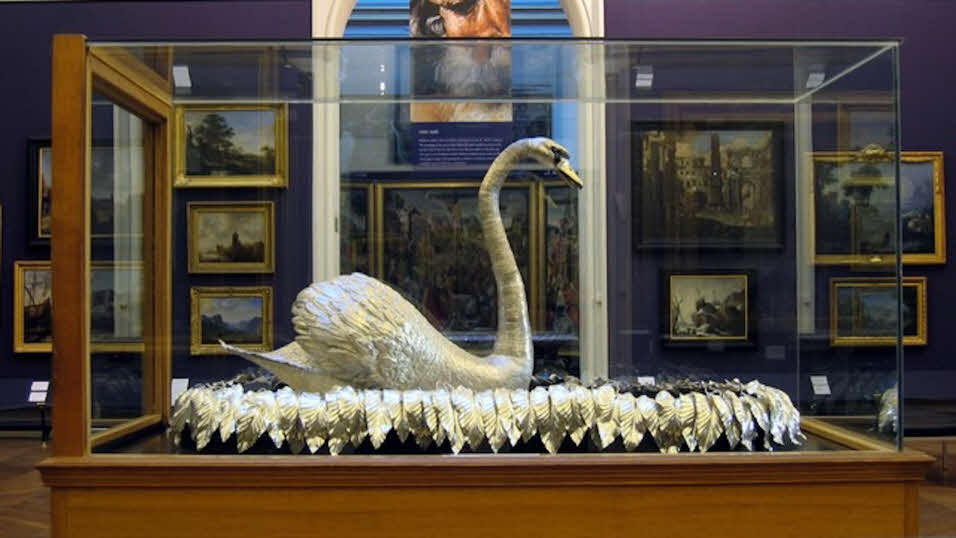 The Silver Swan performs each day at the Bowes Museum
Not only does it contain artworks by El Greco and Goya but it is also home to 'The Silver Swan' a beautiful and awe-inspiring piece of engineering, constructed in the 18th century by John Joseph Merlin. Make sure you are in the gallery at 2pm to witness its daily, 40-second performance. You will not be disappointed.
Our final destination was White Water Park Club site. After settling in at this spacious, tree-lined location, we wasted no time in heading to the Tees Barrage International White Water Centre which is adjacent to the site. But it would seem we were not the only ones keen to make use of this acclaimed attraction – while visitors are more than welcome to try their hand at canoeing, kayaking or paddle boarding, you'll need to book around six weeks ahead to be certain of securing a spot!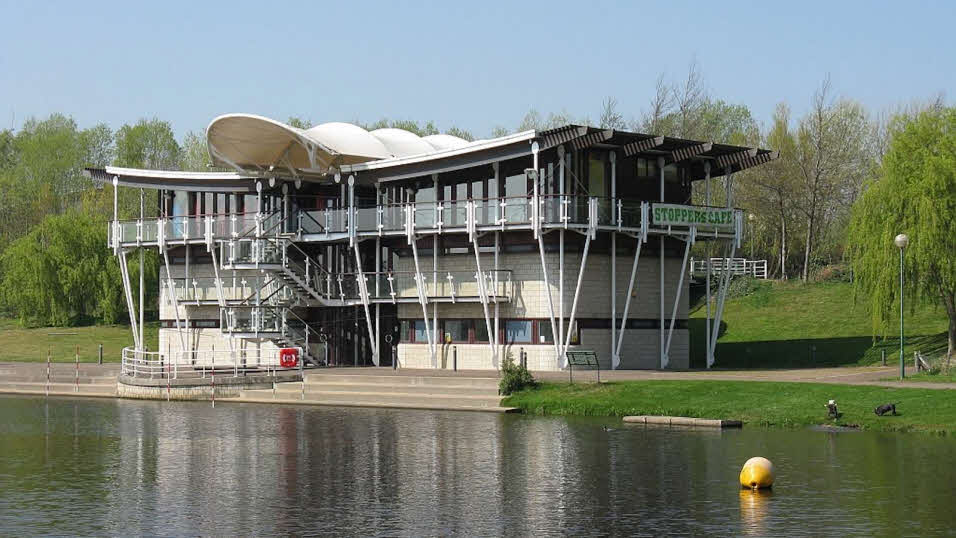 The Tees Barrage White Water Centre is a very popular spot so book in advance
Sensing our daughters' disappointment, the friendly receptionist suggested we could try the adjacent Air Trail – a high-ropes 'climbing adventure course'. Sadly, I had 'forgotten' my trainers and my husband was steeling himself for the five-hour drive home – so it was up to the junior members of our party to take on the 18m-high wood and steel structure that overlooks the Tees. While my heart was in my mouth just watching them, they loved it and it was well worth the £9.95 per person price tag.
So with aching arms and legs (them) and
 a slightly stiff neck (me), we packed up the motorhome and waved goodbye to the North East. It took me some 40 years to make the trip to Tyneside. Somehow I feel it won't take me that long to return.