A tour full of eastern promise
A tour full of eastern promise
Jonathan Manning is swept along by an irresistible force from Cambridge towards the coast on a seven-site tour of East Anglia which features beautiful beaches, architectural delights and stunning scenery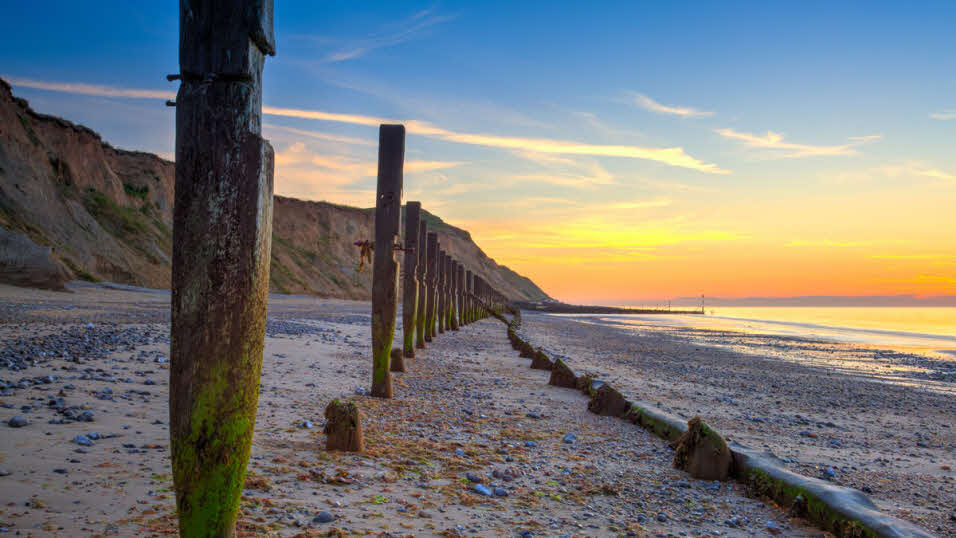 The beach at Sheringham is just one of the coastal highlights of this tour of East Anglia
The author, geographer and presenter of Coast, Nicholas Crane, once expressed a theory that there was a centrifugal force acting on Britain. As an island nation, he said, the sea exerts an irresistible pull, drawing us out to the beach and brine. This tour of East Anglia offers abundant circumstantial evidence for Crane's argument, spinning caravanners and motorhomers from the centre of the region to its salty periphery and a series of sites that echo to the call of the gulls.
My journey starts, however, in the high-tech heart of East Anglia, at Cherry Hinton Club site on the outskirts of Cambridge. Pitches are sensitively landscaped within a former chalk pit that is now part of a Site of Scientific Interest, thanks to the presence of uncommon plants, including magnificently-named species such as great pignut, moon carrot and grape hyacinth, which would not seem out of place in a Hogwarts herbology lesson.
Unfortunately no magic spells seem able to fix Cambridge's traffic or eye-watering car park fees, so Cherry Hinton is a site at which to park up before exploring other modes of travel. It's a 40-minute bus ride to the city centre or you could hop on a bicycle. In theory Cambridge is a bike-friendly city but the network of cycle lanes can be so busy that it becomes intimidating.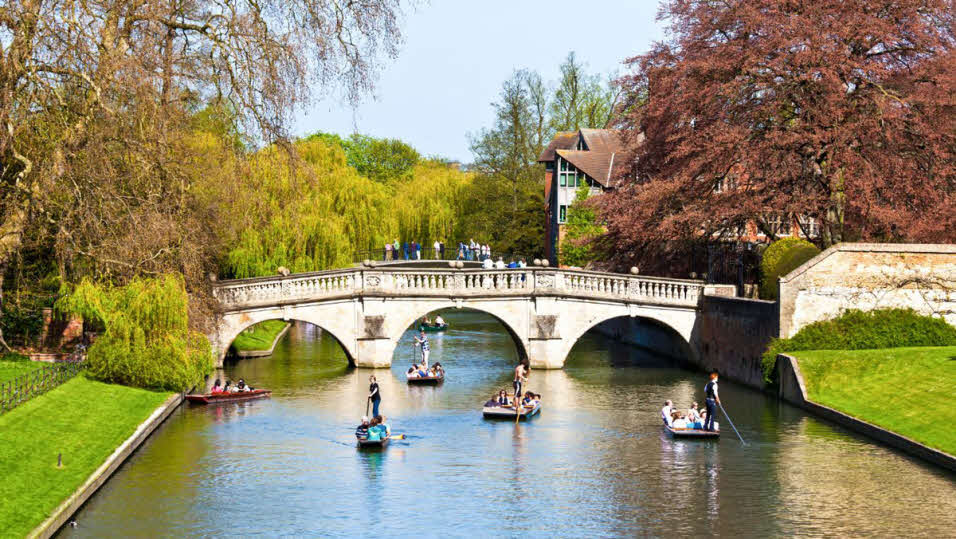 Punting on the River Cam can be a lovely way to spend an afternoon
Similar chaos is a feature on the River Cam, where tourists navigating 'The Backs' turn punts into spinning dodgems. It's fun to watch from the safety of one of the bridges, or from the stability of a professionally-poled punt.
No visit to Cambridge would be complete without tours of at least a couple of colleges. King's College with its towering chapel, and the vast Great Court and beautiful Wren Library of Trinity College are particular highlights.
Next stop is Fields End Water Affiliated site. This year-round, adults-only campsite has two well-stocked fishing lakes and a middle-of nowhere feel to it, although the Fens towns of March, Ely and Peterborough are no more than 30 minutes away.
Go to Fields End Water Affiliated site
The Fens are a haven for wildlife and the Wildfowl and Wetlands Trust reserve at Welney is just up the road. Here, a number of hides gaze out across 1,000 acres of the Ouse Washes.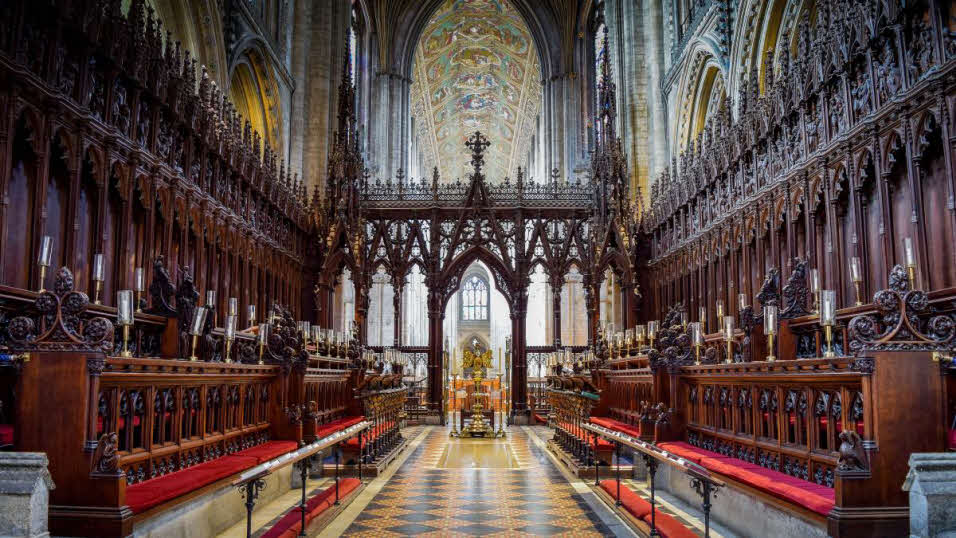 The interior of Ely Cathedral is a wonder to behold
Given the absence of contours, the magnificent Ely Cathedral hoves into view from a great distance. There's a free glimpse from the West Doors down the nave of this medieval masterpiece, while a more detailed tour has an admission fee attached.
Heading almost due east towards the rising sun, I arrive at Bucks Farm CL, which sits at the end of a tree-lined drive off a country lane. A large, flat, grassy paddock offers five pitches, each with hook-up, and a network of footpaths radiates from the site.
Go to Bucks Farm Certificated Location
The seaside towns of Walberswick and Southwold are close by, the latter home to Adnams brewery and distillery, but it's inland where surprises lie; pretty Halesworth has a pedestrianised thoroughfare with a good range of independent shops, while Framlingham boasts higgledy-piggledy streets of pink timber-framed houses that lead up to a huge castle which offers amazing views from the ramparts.
Glimpses of the sea flash through the car window on the drive north to Great Yarmouth where the Club site sits in the middle of the racecourse, providing a grandstand view of the horses as they gallop past – a golden seat during the crowdless racing of lockdown (see greatyarmouth-racecourse.co.uk for the latest racing information). No arrivals or departures are allowed on race days but once you're on your pitch there's no need to move your caravan or motorhome.
Go to Great Yarmouth Racecourse Club site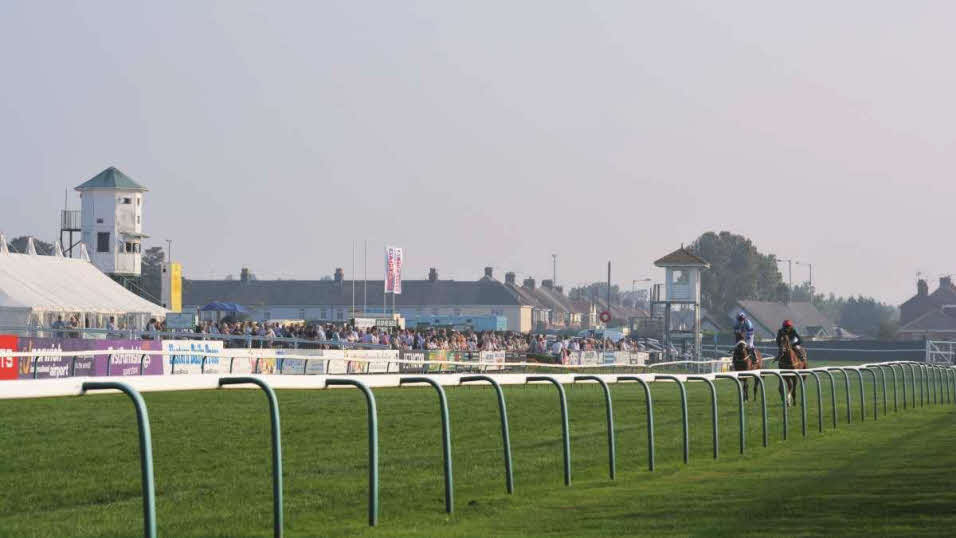 You can get a great view of the action from your pitch at Great Yarmouth Racecourse ©Tony Gage
The town offers something for everyone, young and old, those seeking the high life or the quiet life. Club site manager Sally Broughton says, "It's a short walk to the beach where a right turn leads to ice cream, candy floss and a little road train that will carry you the mile to the six acres of Pleasure Beach rides and attractions. Or turn left for some beautiful coastal walks."
Inland the Broads beckon, a seemingly endless (125 miles if you're counting) network of waterways patrolled by canoes, kayaks, yachts, motorboats and even small 'ferries', the latter offering cruises that leave someone else to worry about navigation. To pioneer your own channel through this vast waterland, the hire of a small motor launch starts at about £20 per hour.
The Reedcutter Inn CL offers an immersive sense of the Broads while allowing you to keep your feet on terra firma. Set on the banks of the River Yare, the site has grass pitches with electric hook-ups, although there's hardstanding for use after periods of rain.
Go to The Reedcutter Inn Certificated Location
Peregrine falcons nest on the tower of the nearby sugar factory and RSPB reserves punctuate the Yare marshland upstream, making this a birdwatcher's paradise.
Norwich and Yarmouth are roughly 10 miles in opposite directions. Norwich, a city that has somehow managed to modernise without jettisoning the character that made it special, offers a fantastic day out. A daily (except Sundays) market sells local produce, while a browse along Elm Hill, with its cobbles and independent antique and craft shops, feels like walking through a medieval film set. A short walk leads to Norwich Cathedral while at the Sainsbury Centre art gallery there are works by Degas, Picasso, Monet and Hockney on display in a spectacular building designed by Sir Norman Foster along with a 350-acre Sculpture Park.
Heading back to the coast, Grange Farm CL is tucked away on a small farm where the focus is on wildlife. A field of wildflowers attracts a dazzling range of feathered-friends which you can watch from the bird hide.
Go to Grange Farm Certificated Location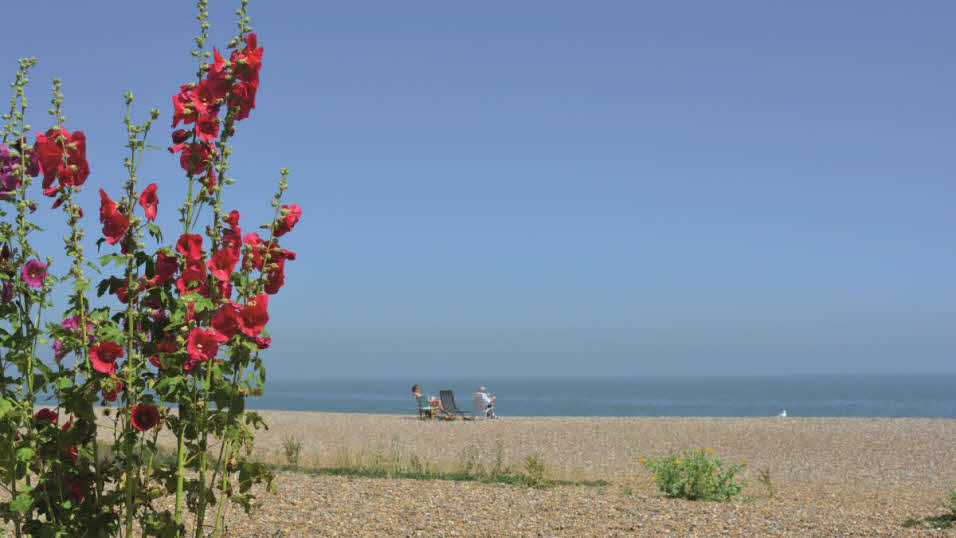 Happisburgh beach is just one of many lovely stretches of coast in Norfolk ©Tony Gage
It's about a mile-and-a-half walk on footpaths from the site to the sea, and only a little further to a lovely beach at Sea Palling. To the north, the pretty village of Happisburgh, with its stick-of-rock striped lighthouse, is gradually succumbing to coastal erosion.
Feeling the centrifugal force pushing me outwards, I hug the coastline as best I can on a drive north, passing through Cromer to my final stop, Incleboro Fields Club site, just a hop and skip from the sand at West Runton.
Go to Incleboro Fields Club site
Waves lap the shore about a mile away, with Sheringham to the west and Cromer to the east, seaside towns with an optimistic air and decent cafés, pubs and, of course, fish and chips.
The sun sets over Cromer pier towards the end of what has been a magical tour
To work up an appetite I clambered up Skelding Hill, to the west of Sheringham, to reach the Old Coastguard Lookout tower. From this eyrie-like perch I could spy the steam engines of the North Norfolk Railway huffing and puffing on their way to Holt, gaze over the velvet grass and sandy tracks of the Norfolk Coast Path as it heads west to Hunstanton, and just about spot the heads and shoulders of walkers on the fabulous treetop gazebo platform in Sheringham.
On reflection, it's far more than the sea that has drawn me to this lovely part of the world.