A tour of two countries
Jonathan Manning straddles the border on a seven-site tour of northern England and southern Scotland which takes in historic castles, magnificent beaches and wonderful walking terrain
Jonathan Manning straddles the border on a seven-site tour of northern England and southern Scotland which takes in historic castles, magnificent beaches and wonderful walking terrain
By Jonathan Manning | 3 February 2020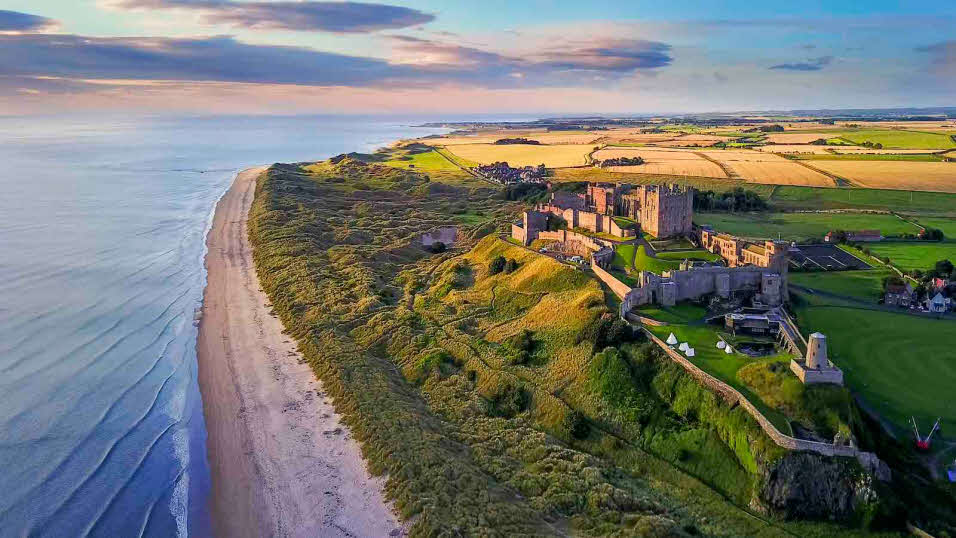 Bamburgh Castle perched above a beach on the Northumberland coast ©VisitBritain/Yin Sun Photography
Surely there's no more evocative wake-up call than the song of the gull. The throaty 'ke-ow' instantly conjures memories of seaside holidays, bracing coastal breezes and the shielding of chips from aerial ambushes. From inside 
a caravan, the sound is fresh and exciting, a summons to get out and explore.

I'm at Berwick Seaview Club site, deliciously perched on the River Tweed estuary in the far north of Northumberland. Berwick-upon-Tweed's strategic importance placed it at the heart of Borders conflicts. Magnificent Tudor walls surround the harbour, protecting it from naval strikes, and the town's historic wealth is evident in the handsome merchants' houses that gaze out over the river.
Go to Berwick Seaview Club site
The famous artist, LS Lowry, was a regular visitor for over 40 years, and a trail named in his honour links sites that inspired his paintings of the town. It turns out that Lowry wasn't the only celebrity visitor to Berwick. A plaque outside the Kings Arms Hotel proudly announces that Charles Dickens once stayed here, and further online research reveals that Lewis Carroll and The Beatles were also guests!
There is so much to do in the area: Alnwick Castle and Gardens (30 miles to the south), Seahouses (with boat trips to the Farne Islands), Bamburgh (with its own eyrie-like fortification high above miles of spectacular sand) and The Holy Island of Lindisfarne (a 12.5-mile bike ride away along the quiet National Cycle Route 1).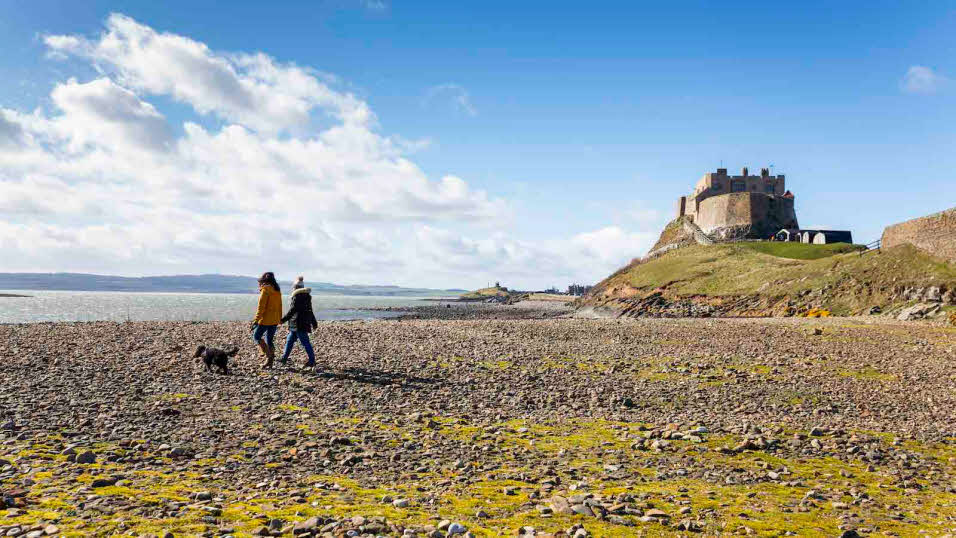 Lindisfarne Castle on the Holy Island of Lindisfarne near Berwick-upon-Tweed ©National Trust Images/Chris Lacey

A different kind of spirituality is at play at Paxton House, where a 'Fairy Trail' leads youngsters through the grounds of a stately home set in magnificent parkland just upstream of Berwick. Inside you will find the world's largest collection of Chippendale furniture.
Heading north into Scotland, the A1 narrows to a highway of roundabouts and B-road crossings, one of which turns to Bee Edge Certificated Location. The site opened last Easter and offers the best view on this working beef farm, with pitches looking over fields to the sea.
The village of Coldingham, which boasts two pubs and an incongruously large ruined priory for such a little place, is a 15-minute stroll away, and there's a lovely sandy bay barely a mile farther, with its own surf school and whitewashed beach café.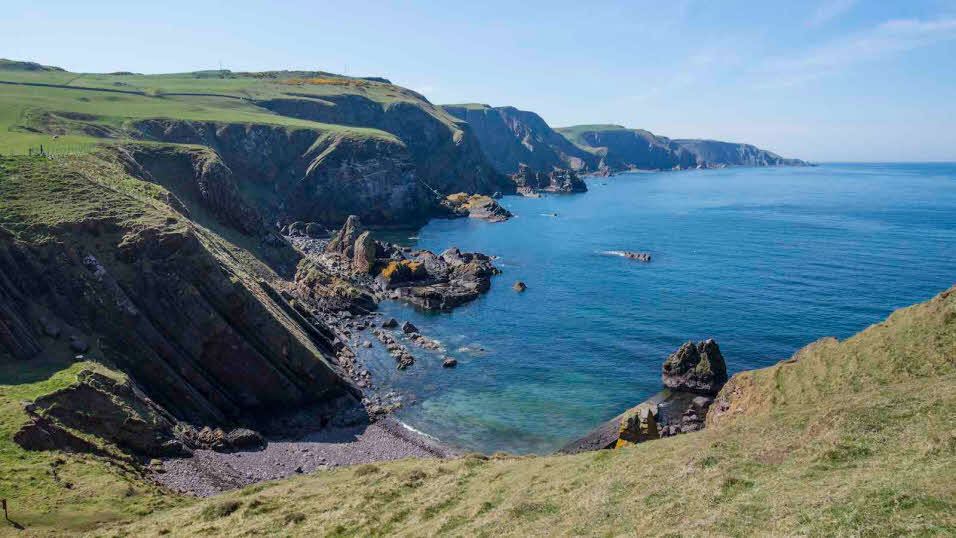 St Abbs Head is a perfect spot for a bracing clifftop walk ©VisitScotland/Kenny Lam
Fancying a walk, I head to St Abbs, a tiny fishing village where the harbour walls offer a protective cuddle for boats sheltering from the North Sea. Teens in tow may recognise the location from a Harry Styles video. A circular walk leads along clifftops to St Abb's Head National Nature Reserve, a seabird hangout with a colourful display of wild spring flowers and a lighthouse.
St Abbs is four miles and a million light years from the endless trundle of A1 traffic that I join to reach Yellowcraig Club site. Immediately beyond the campsite's gates a small pine plantation gives way to dunes that unfold into a fabulous beach. The intriguing Fidra Island stands just off shore, with a rock arch and lighthouse and a starring role in literature as the inspiration for Robert Louis Stevenson's Treasure Island.
Apparently the site enjoys a microclimate that sees only half the annual rainfall of Edinburgh, despite Princes Street being only a 30-minute bus ride away. If the weather does spoil, there's plenty to see and do nearby.
A star attraction is the National Museum of Flight, where I'm astonished to find Concorde in a hangar, as well as a Spitfire, Vulcan bomber and Red Arrow hawk.
Wings of a different sort hog the limelight at the Scottish Seabird Centre in North Berwick, which is a short walk from Yellowcraig. The Discovery Centre gives visitors control of cameras that are positioned on islands in the Firth of Forth, so you can zoom in for a close look at birds and their nests, while a 3D film theatre plunges viewers into the heart of Attenborough-style documentaries. (Members can enjoy discounts via the Great Savings Guide at both the National Museum of Flight and the Scottish Seabird Centre.)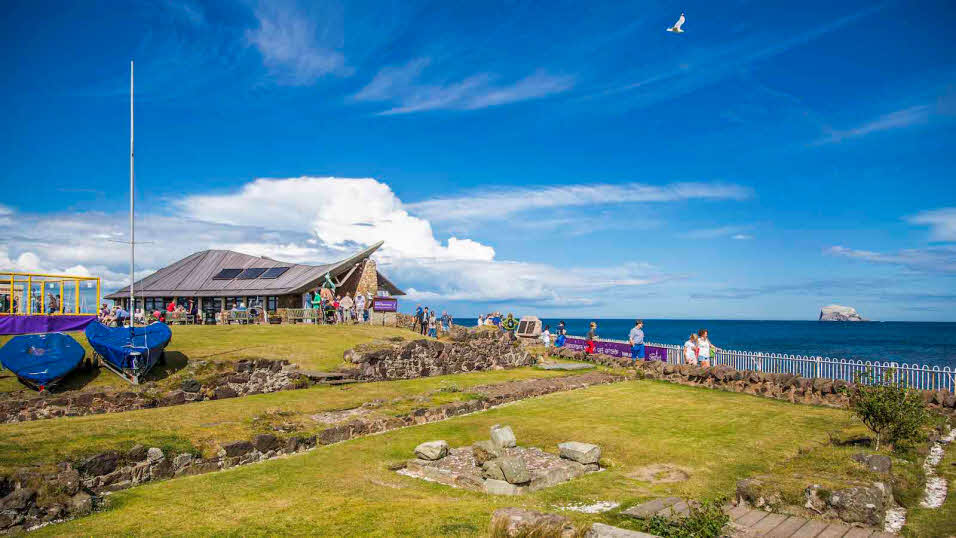 The Scottish Seabird Centre in North Berwick is only a short walk from Yellowcraig ©VisitScotland/Grant Paterson
I head to Kelso to visit Majestic Floors Castle – an impressive stately home with fine walled garden and estate which deserves a full day to explore. It takes less than 15 minutes to drive from Kelso to Crookhouse Farm CL, but the site feels remote, amid hills that are wild but not imposing. An easy access trail leads from the site down to Kale Water, while the hills beckon keener walkers.
Next I head west, drawn to the distinctive triple humps of Eildon Hill – often referred to in plural – which guards Melrose. The Club site (Melrose Gibson Park) is right in the centre of town, so motorhomers can easily walk to shops and attractions, and catch buses and trains – it's only 50 minutes to Edinburgh and the last train home leaves the city at 11.45pm. Plenty of time to catch a show.
Go to Melrose Gibson Park Club site
Melrose is a happening town in itself, hosting a series of first-class events, including the Melrose Sevens rugby tournament (April), the Borders Book Festival (June) and Melrose Festival Week (June), featuring a mass horse rideout, piper bands and a community bike ride.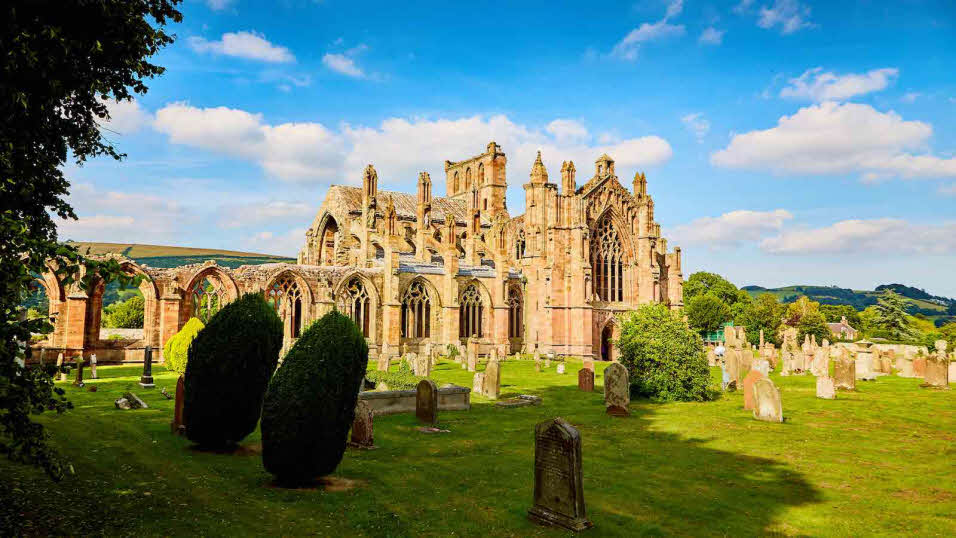 The ruins of Melrose Abbey, which was the first Cistercian abbey in Scotland
Year-round there are the colossal, haunting ruins of Melrose Abbey, where an excellent free audio trail guides visitors through the site and the history of the Cistercians. Formidable sheep farmers, the Cistercians were trading high-quality wool and fleece with Bruges as early as the 13th century, and lavished part of their wealth on the construction of a stunning abbey.
Centuries later, Scotland's favourite author, Sir Walter Scott, attempted a similar architectural transformation of a rather bleak spot by the River Tweed with the construction of Abbotsford. Scott's former home is a 2.5-mile walk along the riverbank from Melrose, and worth it for a glimpse of the writer's study and library, as well as the three gardens that surround the house.
A twisting, hilly road leads me to Hermitage Farm House CL, a brand new site where a narrow, stone bridge crosses a burn into the farm, and a bumpy track leads to an extraordinary 2.5-acre grass oasis, defended from rugged wilderness by a drystone wall.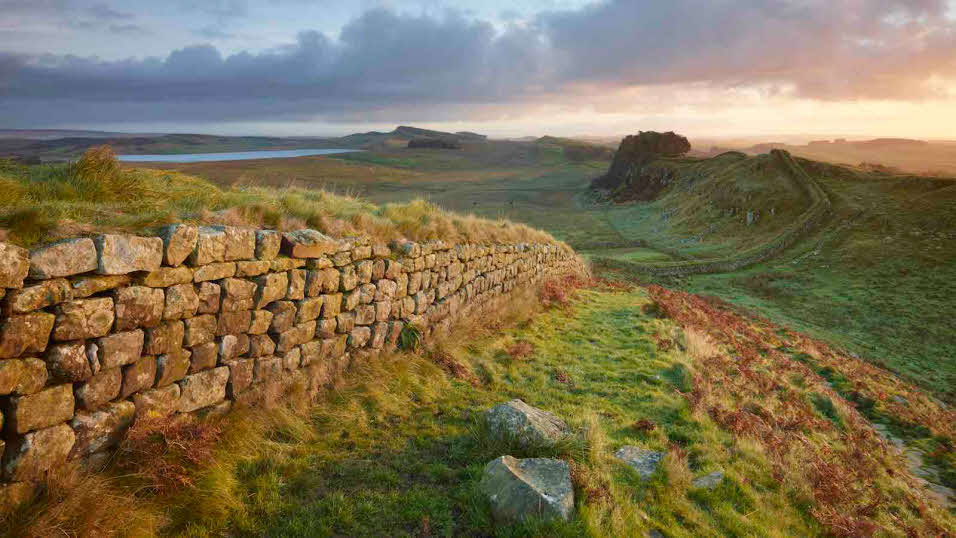 Hadrian's Wall was designated a UNESCO World Heritage Site in 1987 ©VisitBritain/Joe Cornish
Hermitage Castle lies within clear sight of the pitches – a squat, windswept, roofless fortress in a once-strategically important location. The official tourist overview describes it as "the guardhouse of the bloodiest valley in Britain", but today it's only a brutal gale knifing through my jacket, and there's not much to see beyond the muscular walls of the ruins.
The final site on this tour is Lidalia AS in Newcastleton – twice voted Scotland's Best Small Village in the 2010s. Tracks to the 7stanes mountain bike centre, one of the finest trail centres in the country, lead from the centre of Newcastleton, while hen harriers and wild goats survive on the moorland behind the site. If you're after outdoor activities, Hadrian's Wall and Kielder Water are within easy reach.
Warden Gillian Jackson tells me of a spot close by, where Northumberland, Roxburghshire, Cumbria and Dumfriesshire all meet, a junction of four counties and two countries. Could there be a more symbolic spot to finish a wonderful tour of the Borders?