Enjoy the cream of Cornwall
Enjoy the cream of Cornwall
The combination of miles of golden sands, rugged scenery and a fascinating history make Cornwall a popular destination for the Davey family who are counting down the days until they are able to return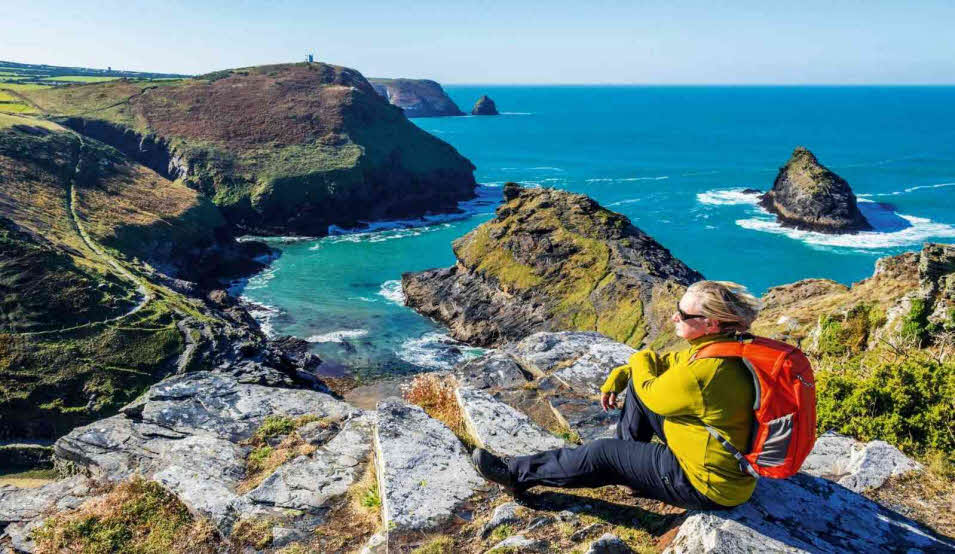 Cornwall offers some exceptional terrain for walking with sensational views ©eye35.pix/Alamy
Cornwall is a firm favourite on our family travel calendar, as it offers a diverse range of attractions that can occupy and entertain myself, my wife Helen, and my children Poppy and Charlie.
The wealth of coastline is something all four of us appreciate, with miles of rugged scenery to enjoy and long, picture-postcard sandy beaches to explore, all dotted with a diverse mix of folk.
But beyond the coastal hotspots lies a county with fascinating history to match its beauty, the landscape shaped at times by the copper and later tin mining industries during the 19th and 20th centuries.
Our tour – which we undertook in 2019 - began on Cornwall's north coast. The first stop, Camelford Club Site, sits inland from Tintagel and Port Isaac, and a short distance from the A39. A dozen or so hard-standings lie in the middle of this calm, unfussy site, surrounded by just over 40 grass pitches. There's also an enclosed dog walk, a grocery shop nearby and a smattering of pubs, restaurants and takeaways in Camelford itself – around 15-20 minutes from the site on foot.
Club members staying here tend to head for the coast, with Tintagel, Port Isaac and Boscastle the most popular destinations.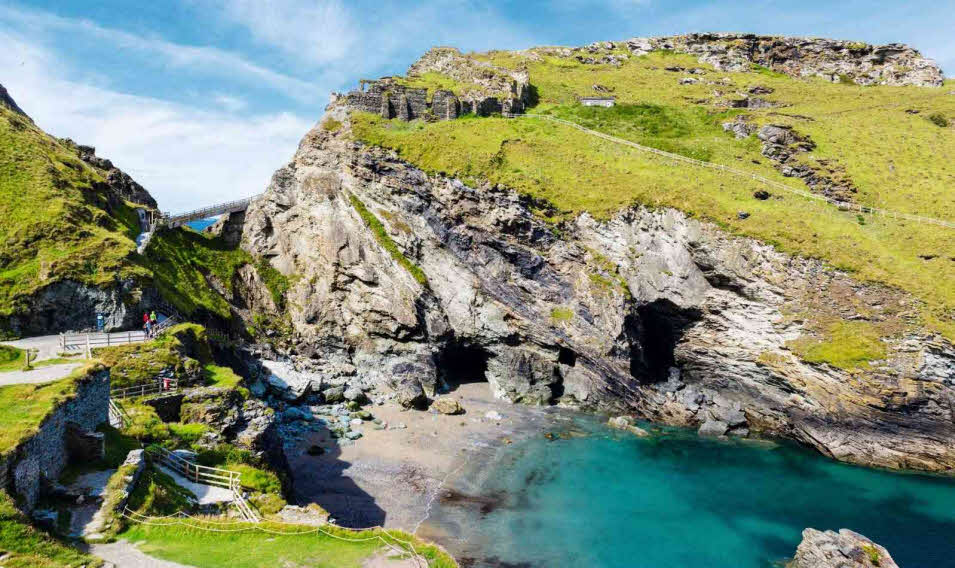 The ruins of Tintagel Castle are set high up on the cliffs in a spectacular setting ©IanGDagnall/Alamy
The subject of King Arthur has divided historians through the ages, with some claiming he is a genuine historical figure who fought against the invading Anglo- Saxons, while others believe that he (along with the likes of Merlin, the Knights of the Round Table and Camelot) is just one part of an enchanting myth. A visit to the village of Tintagel – or rather the castle ruins that looms over the sea – may sway you one way or the other.
Getting to the castle requires a steep climb but it's worth the effort, especially now that English Heritage has overseen the construction of an award-winning footbridge which spans a natural chasm and links the two separate halves of the ruins.
If Tintagel captures the imagination, you might also wish to find time for a trip to The Arthurian Centre in Slaughterbridge near Camelford, where you can learn about the king's supposed final moments. The town is said by some to be the site of the fabled castle, Camelot, and at this exhibition/battlefield attraction you can see where he was reputedly slain by nephew and nemesis Mordred. Club members are entitled to 50% off entry with the Great Savings Guide.
Back at the Club site we planned a visit to Port Isaac, the home of Martin Clunes' fictional TV character, Doc Martin. This Cornish village is very popular, thanks to its picturesque houses, narrow streets and small port. To the north-east lies Boscastle, another quaint harbour while Padstow is a working fishing port that is home to a number of eateries run by TV chef Rick Stein.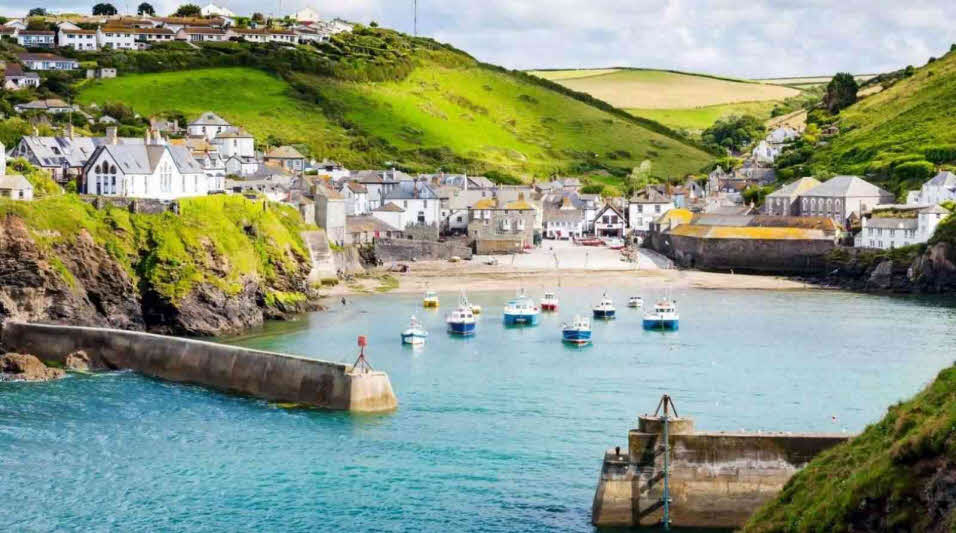 The picturesque coastal village of Port Isaac is a popular tourist destination ©ianwoolcock/Alamy
Next we headed south-west towards Redruth for Forge Manor Farm Certificated Location, a peaceful five-pitch site with well-kept grass.
Keen cyclists will want to try the nearby Cornish Coast to Coast cycle route, an 11-mile trail on purpose-built paths and quiet country lanes. Handily, there's a bike hire shop near the CL.
Marazion Club Site on the south coast is worth adding to your 'must-stay' list. There's no toilet block but this does mean we've found it easy to book over the years, even during peak periods.
The numerous sandy beaches are an obvious local attraction. Marazion Beach is the largest, and the car parks at Folleyfield or Marazion Station are your best bet, with the latter offering motorhome parking. There are cafés dotted at either end of the beach and it's possible to visit the famed St Michael's Mount from here.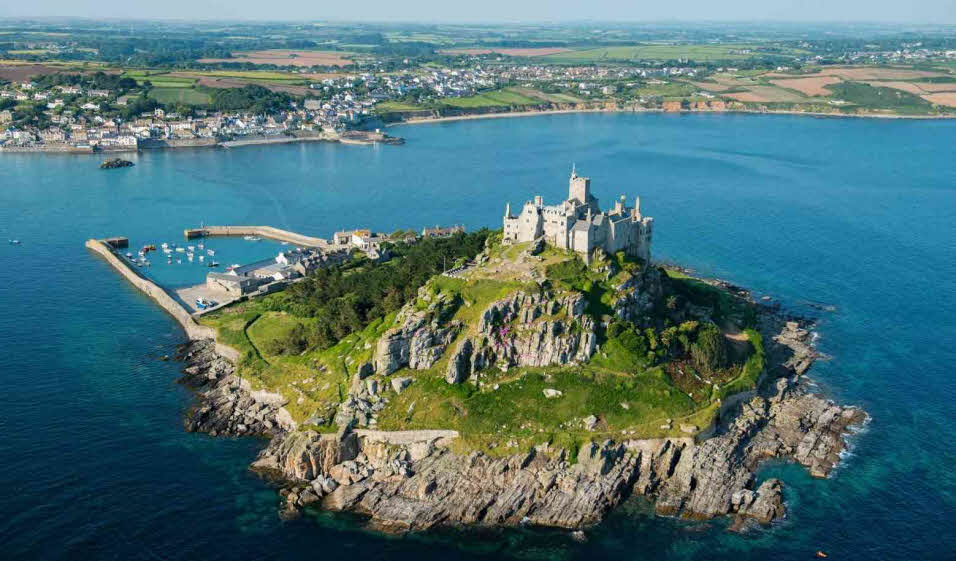 St Michael's Mount is cut off from the mainland at high tide ©VisitBritain/JasonHawkes
This tidal island is linked to the mainland by a man-made causeway and you can access it on foot at low tide or by waterborne 'taxi'. The island is the counterpart of Normandy's Mont-Saint-Michel, though, at 57 acres, it's around a fifth of the size of its French cousin.
To the east of St Michael's Mount lies Perranuthnoe Beach – approximately an hour's walk or a 10-minute drive from the Club site. You can join the South West Coast Path from the pay and display car park, and there's a café to enjoy before or after you take in the spectacular coastal views.
Taking a leisurely drive via Helston, Penryn and Truro, we arrived at the 170-pitch Merrose Farm Club Site, which sits at the tip of the Roseland Peninsula.
The site offers generous pitches and the quiet location ensures a good night's sleep for those who tire themselves out on rocky, Cornish footpaths.
The Roseland Heritage Coast is also blessed with a selection of excellent beaches - Porthbeor and Caerhays are relatively secluded, there are larger beaches at Carne and Pendower, while the more rugged stretches of coastline at Portholland or Portscatho are great locations for rock pooling at low tide.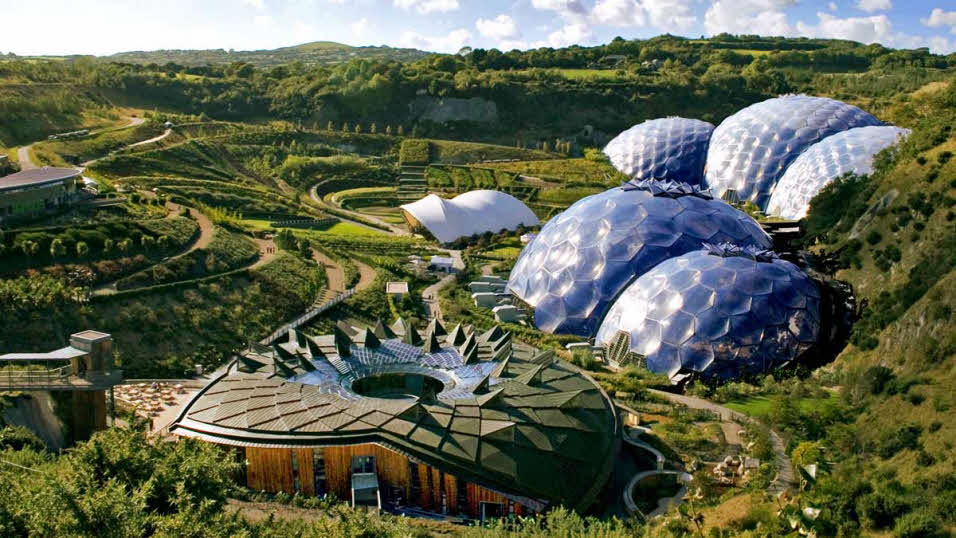 The Eden Project makes for a fascinating day and members can enjoy discounted entry
Our next two sites were CLs with both Frenton Farm and Toynes House near two of Cornwall's biggest tourist attractions – The Lost Gardens of Heligan and the Eden Project. A trip to the former (where you can enjoy a two-for-one offer by using the Great Savings Guide) can easily be combined with an hour or two in the beautiful fishing port of Mevagissey.
Inland and a few miles from St Austell, Frenton Farm has a five-acre wooded dog walk adjacent to the site and a bus stop at the entrance.
Toynes House, meanwhile, is just outside of Fowey. Tall trees border a spacious field and offer shelter, while the local bus service will be appreciated by motorhomers wishing to visit Fowey and Mevagissey. You could also try Golant to the north, where The Fishermans Arms overlooks the river.
Our final stop on this tour was Looe Club Site. With Bodmin Moor to the north, Dartmoor to the east and the coastal town of Looe to the south, it's one of our favourites. The facilities include a tennis court, crazy golf course and a ball game area, all set within a relatively large site with more than 200 pitches.
I've mentioned the site's near neighbour, The Coddy Shack, in these pages before, and I have no hesitation in recommending it again. As the name suggests, it specialises in seafood and is a firm favourite with Charlie in particular.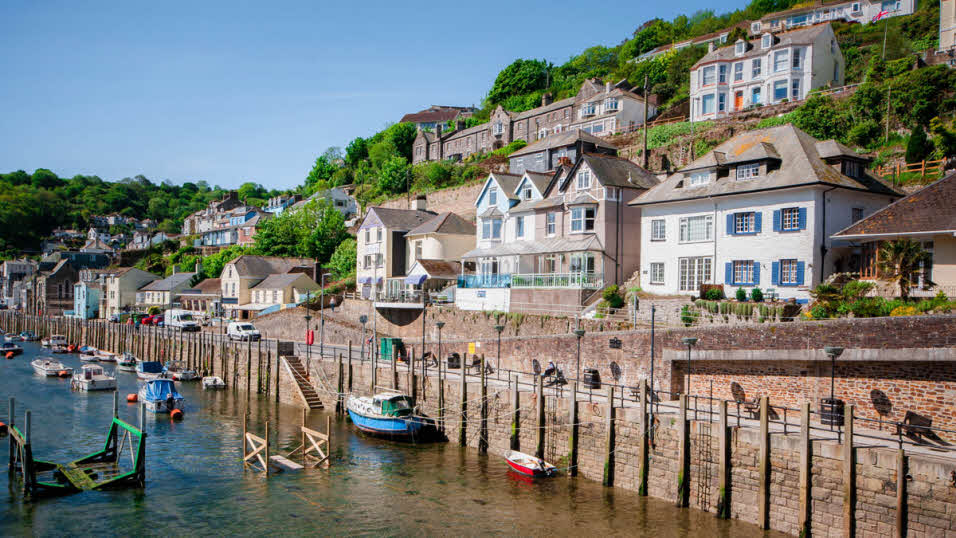 Looe sits on an estuary and is a perfect place to while away a lazy afternoon
The town of Looe and the village of Polperro are popular destinations and both can be easily absorbed into a long weekend. An estuary divides Looe into east and west parts, and it's easy to lose time in the streets here, which are full of boutique gift shops, cafes, restaurants and pubs. Polperro is smaller but its streets are no less charming.
Cornwall is a stunning part of the UK and the warm welcome you'll receive is matched by a climate that sees higher average temperatures than most other destinations. Take it from me: whether you're a frequent visitor or looking for somewhere new to go on holiday, Cornwall never disappoints.