Whisky galore in Scotland
Whisky galore in Scotland
A Scottish tour which really packs a punch! Andrew Ditton strikes (liquid) gold on a fascinating seven-site tour of Speyside and the Highlands which will appeal even to those who are not particularly fond of Scotland's favourite tipple. The trip visits numerous distilleries where you can mix your own blends along with taking in glorious countryside, a steam train ride and prime mountain-biking country.
By Andrew Ditton | 24 July 2019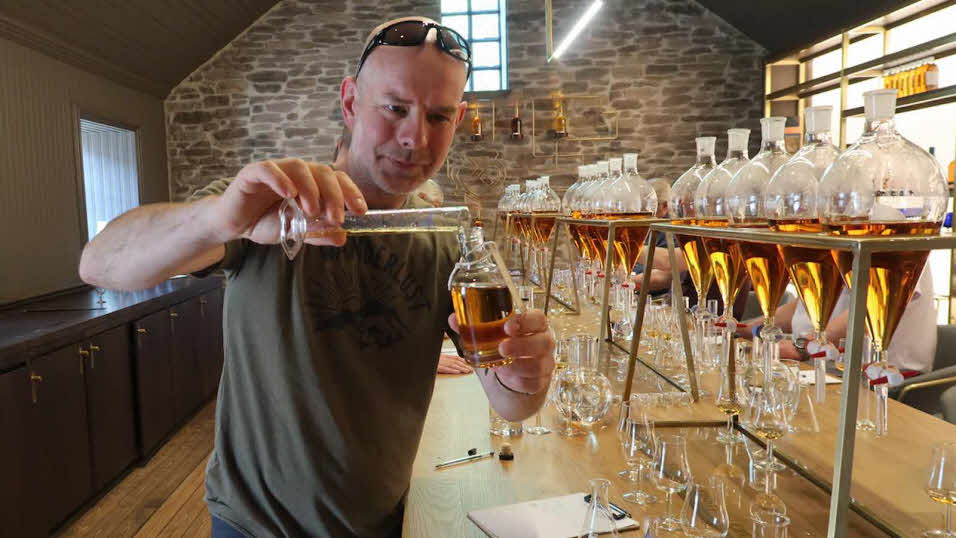 Andrew Ditton mixes his own blend at Strathisla Distillery
You don't have to be a whisky drinker to enjoy learning about the hugely important place the spirit holds in Scotland's culture. I jumped at the opportunity to find out a little more about this liquid gold on a fascinating seven-site tour.
If your knowledge of whisky is a little sketchy then there is no better place to start a tour than Inverness, known as 'The Gateway to the Highlands'. Culloden Moor Campsite lies a few miles to the east of the city, and it is a favourite with members who are starting or finishing the hugely popular North Coast 500 route.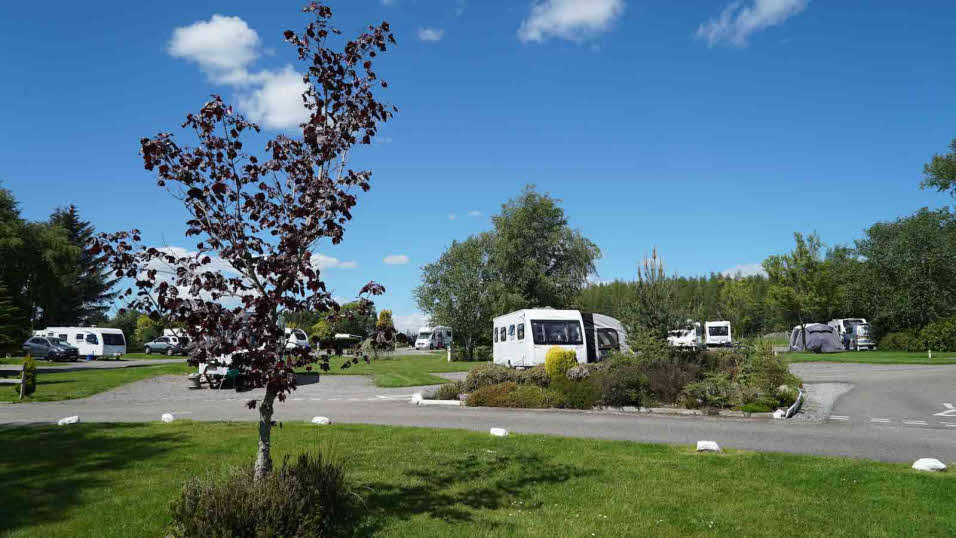 It's a full-facility affair set in a glorious hillside location, with an adjoining forest. Motorhomers – and whisky drinkers – will be pleased to learn of the hourly bus service from the site into Inverness.
Inverness plays host to an event called 'The Whisky Experience' and this really is the best place to begin, particularly for novices. While tasting sessions at distilleries can sometimes feel a little rushed, The Whisky Experience is a leisurely two-hour affair, in which participants are offered five different malts to sample. Bruce MacGregor took us through the five different whiskies one by one. It was the most informative and entertaining evening you could wish for.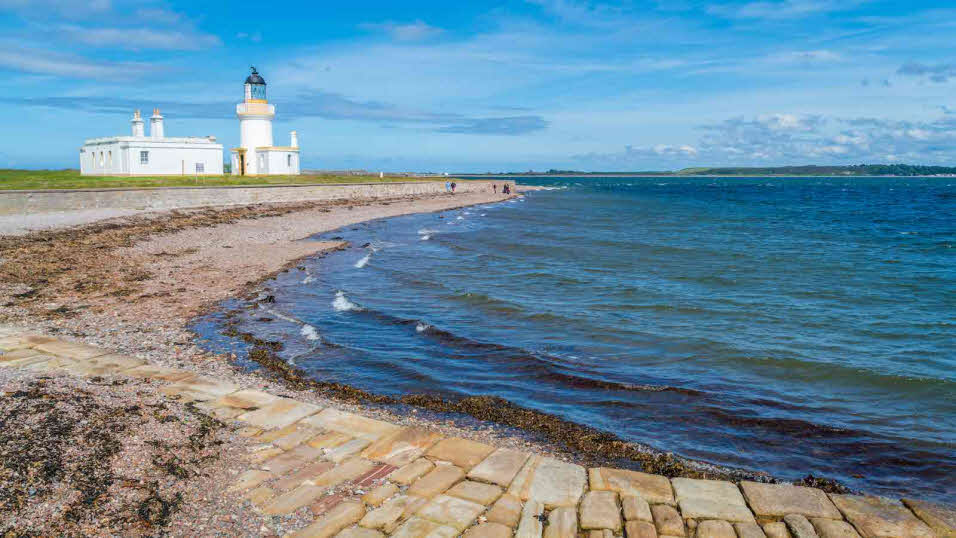 Chanonry Point
Bruce also highly recommends a visit to the Culloden Battlefield, which lies a mile and a half from the Club site, while another 'must-do' is dolphin- spotting at Chanonry Point on the Black Isle.
Culloden Moor is also a good base for exploring Loch Ness but The Steadings at The Grouse and Trout CL - a 'boutique' adults-only site - is even closer. While relaxing here I came across a great resource: the Malt Whisky Trail website which features locations within the 'Speyside' whisky region.
Here you will not only find information about distilleries to visit but also associated businesses that you might not have previously considered such as Speyside Cooperage near Dufftown where you'll gain an appreciation of the whisky cask, and see the amount of work, skill and raw energy that go into the creation of each and every one.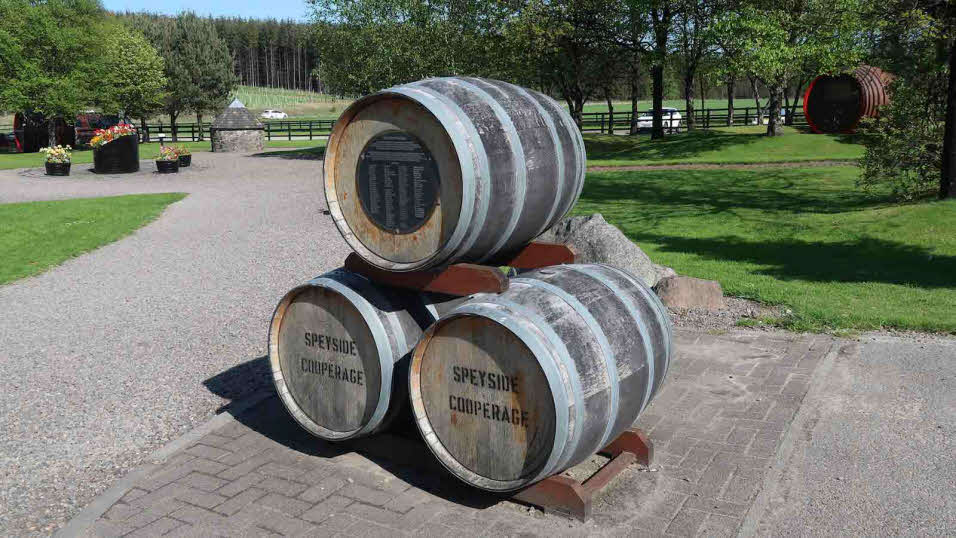 Speyside Cooperage provides a fascinating insight into how casks for whisky are made
Close by is Grantown-on-Spey Caravan Park, a super-smart Affiliated Site just 10 minutes' walk from the town of the same name, and adjacent to the Dava Way and other woodland walks.
The strath (valley) of Spey is the most renowned whisky-producing area in Scotland. Famed for its smooth, palatable whiskies, there are distilleries galore here that welcome visitors, and many are within easy reach of Grantown-on-Spey AS.
As well as sampling some of the woodland walks and cycling trails at Grantown-on-Spey AS, another essential day out is a visit to the Strathspey Railway. Tugged along behind a steam locomotive, the trip from Broomhill Station to Aviemore and back is delightful. Afternoon tea is available on board most days and every month there is a special Whisky Tasting Train.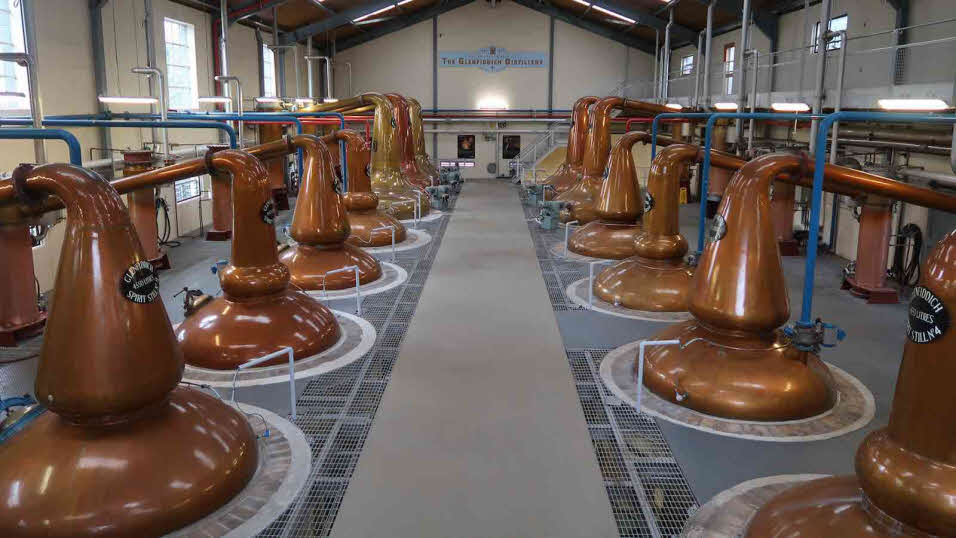 The Glenfiddich distillery offers a tour which takes you through every stage of the whisky-making process
Few distilleries are better set up for visitors than world-famous Glenfiddich, just three miles from the cooperage. The 'Explorers Tour' offers a fascinating look at the distillery, taking you through the whisky-making process from the malting of the barley to the bottling of the spirit.
The next site on my itinerary was Huntly Castle AS, a few miles south-east of the handsome town of Keith which is home to the Strathisla Distillery where I was going to tackle 'The Blending Experience'.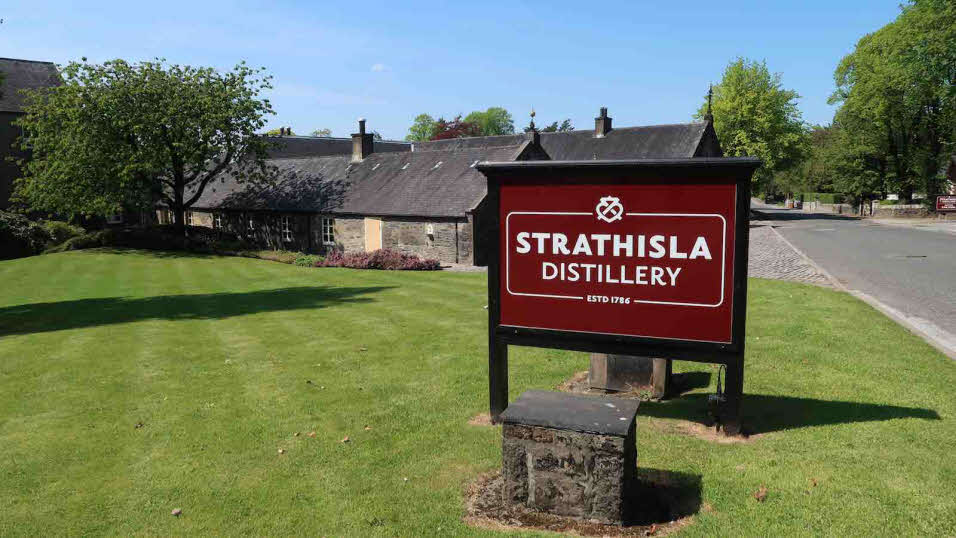 Strathsisla Distillery
After an interesting overview of the oldest – and most picturesque – operating distillery in the area, we were taken into a vault inside the warehouse, where non-drivers could sample full drams of some very special whiskies. We drivers were given a set of empty miniature bottles and a funnel so that we could decant our samples and take them home.
After the tasting, the real fun started in the Blending Room, which looks like a cross between an upmarket bar and a chemistry lab. The non-drivers definitely had the better deal, as they could mix and taste their blends before bottling them. The rest of us had to guess how it would turn out before creating our blends and taking home the results in a 20cl bottle.
Continuing on, a sea view was enjoyed at Sunnybrae CL, near Buckie. Offering vistas over of the Moray Firth from every pitch, and the ability to walk into the charming fishing village of Findochty in about 15 minutes, Sunnybrae is well worth a stop.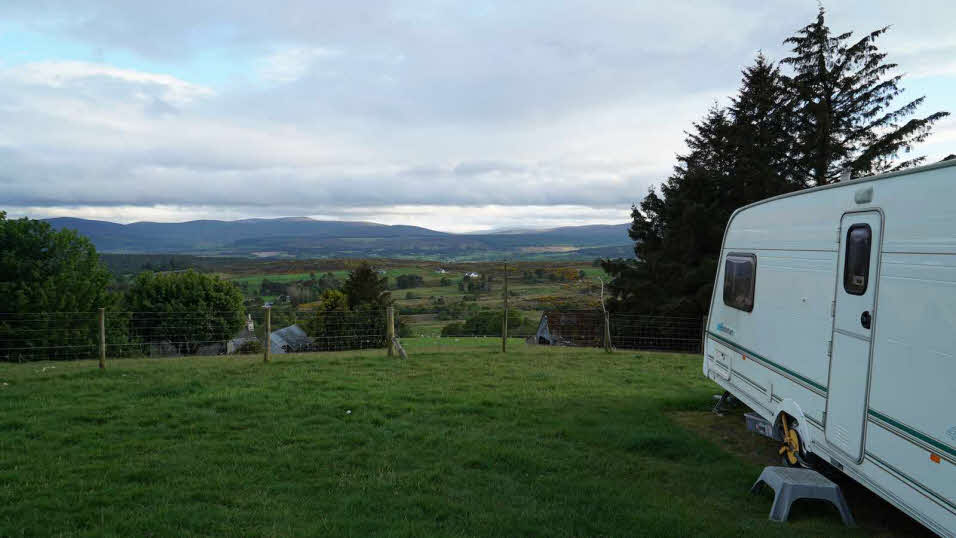 The view from Drumbhan CL
I then headed north for a couple of days at Drumbhan, another relaxed CL not far from Bonar Bridge. Here you have the opportunity to visit two more distilleries: Balblair and Glenmorangie, both of which are within the 'Highland' whisky region. A tour of the former comes highly recommended by the CL owner Russell Smith, but I fancied some outdoor time.
Nearby Balblair Forest offers waymarked mountain biking and walking trails. What attracted me was the 3km 'blue' mountain bike route, which combined uphill forest road fun with a swooping singletrack downhill return. More experienced mountain bikers might prefer the 7km 'black', while walkers are offered two short trails graded as 'strenuous'.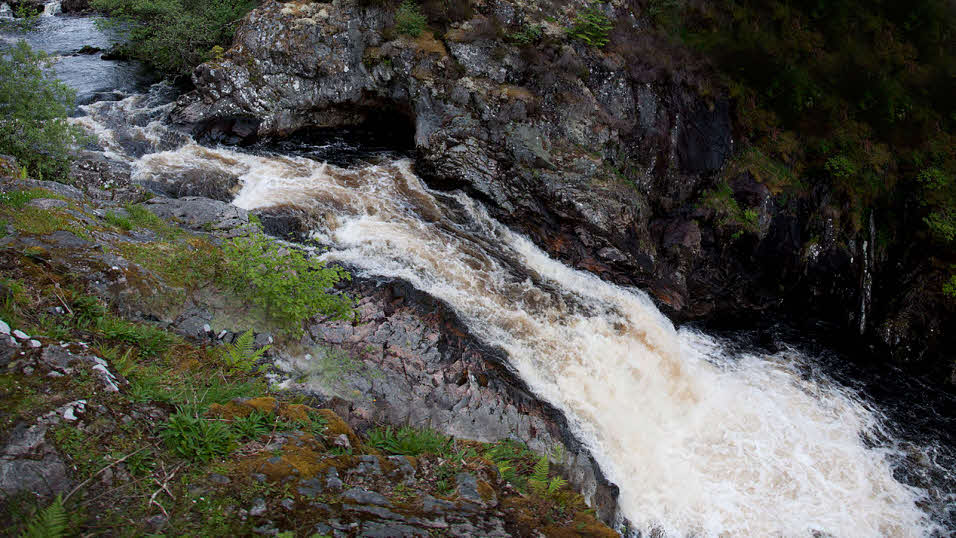 The Falls of Shin
Just up the road from Balblair Forest lie the Falls of Shin, famous for the leaping salmon making their way back upstream. Although I was a little early in the season, my patience was rewarded with the sight of two salmon leaping.
Brora Club site sits on the North Coast 500 scenic route and visiting members enjoy the local wildlife, including the Arctic terns that nest in the nearby dunes. A hundred yards or so from the site, they border an enormous sandy beach, and there's also a town with a rich industrial history to explore.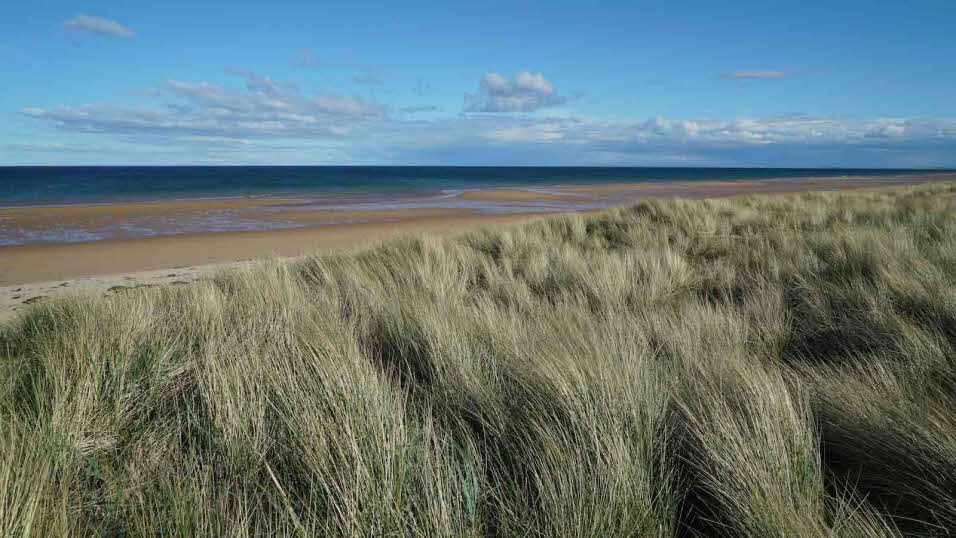 The wide open space of Brora beach
Keeping with the theme of whisky, the Clynelish Distillery lies a half-hour walk from the site, although it might take a little longer to wobble home after one of its three tours! This is a long-standing distillery and while you possibly might not have heard of its single malt, you might just have heard of one of Clynelish's most famous blends: Johnnie Walker.
Throughout my whisky-themed holiday, it became very clear that, while single malts are eminently appealing, blends can be just as good, if not better. "Look upon a single malt as a musician," said one of my tour guides. "On their own they play sweet music and can be appreciated solo. But if you carefully blend a few of them together you get an orchestra, offering a much more complex and richer sound."
I'll drink to that. Slàinte mhath!