A motorhome tour of secret Scotland
A motorhome tour of secret Scotland
Andrew Ditton steers his motorhome away from the more popular tourist route to explore a part of Scotland that offers the chance to get away from it all in tranquil locations with breathtaking scenery.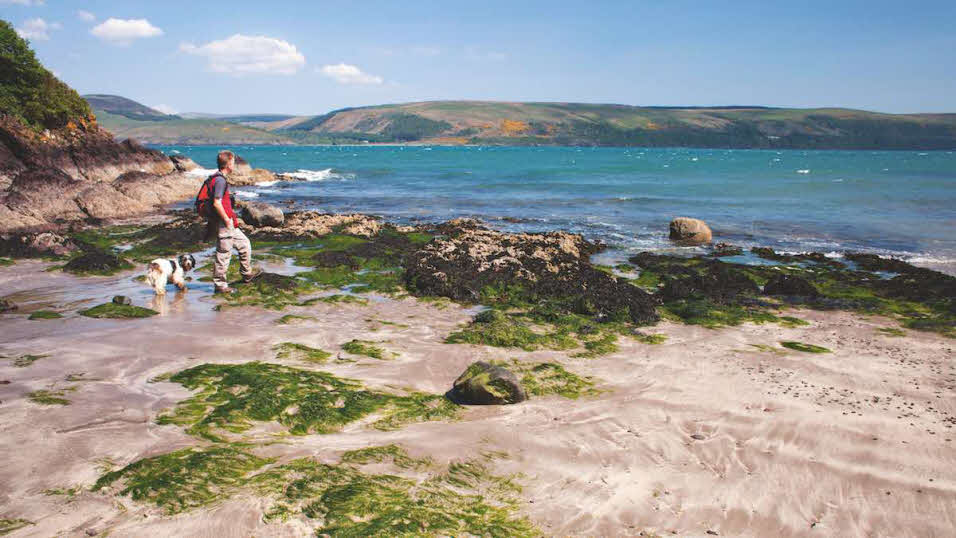 Loch Ryan is among the countless stunning locations on this tour of Scotland SouthWestImagesScotland/Alamy
Those interested in travelling through Scotland will find a number of popular motorhome and caravan tours, helping you to take in everything the beautiful country has to offer.
When some folks think about holidays in Scotland, they imagine shortbread and tartan, bagpipes and whisky. I adore all of the above but there is another Scotland free of such clichés. It's a Scotland that is jaw-droppingly scenic, awash with rich culture and bursting with things to do.
This tour takes us on a question mark-shaped route, as though demanding an answer to the query 'why should you holiday here?' The answer soon becomes apparent as we travel from Taynuilt in Argyll and Bute, around and through the Central Belt via Stirling, then down the south-west coast from Largs all the way to the Mull of Galloway. We walk in the forest, we taste city life, we pitch up alongside yachts and we end the tour at a chilled beach-side Club site that is in my personal top five.
It kicks off at Airds Bay Certificated Location in Taynuilt. North-east of Oban, close to the southern shores of Loch Etive, Taynuilt is presided over by the brooding Ben Cruachan. There is only one touring pitch available at this CL so make sure you book well in advance.
Go to Airds Bay Certificated Location
After unwinding on the private, pitch-side patio, it's time to stretch the legs on a woodland walk – a mere five-minute drive takes you to Fearnoch Forest. There's nothing quite like the fresh scent of pine and the peaceful majesty of trees to wash away stress and lift the spirits, so an amble along a walking trail (a non-intimidating two miles or so) is the perfect tonic. If you're lucky, you may even see a red squirrel or roe deer.
The nearby, seaside town of Oban would normally offer distractions aplenty, but on this trip we decided to press on from Taynuilt to Clachan Club Site, just north of Killin (please note that Clachan is currently closed but will reopen in 2021). Clachan is bathed in forest but offers open pitching areas. There is no facility block, but those who stay here are rewarded with a rich variety of visiting wildlife, from woodpeckers to owls.
If you're feeling fit, Scotland's 10th highest munro, Ben Lawers, lies just a few miles away and is begging to be 'bagged'. Alternatively, if you prefer a pair of wheels to a pair of feet, remember that you are on the fringes of Loch Lomond and The Trossachs National Park, which offers boundless bike-friendly terrain to explore.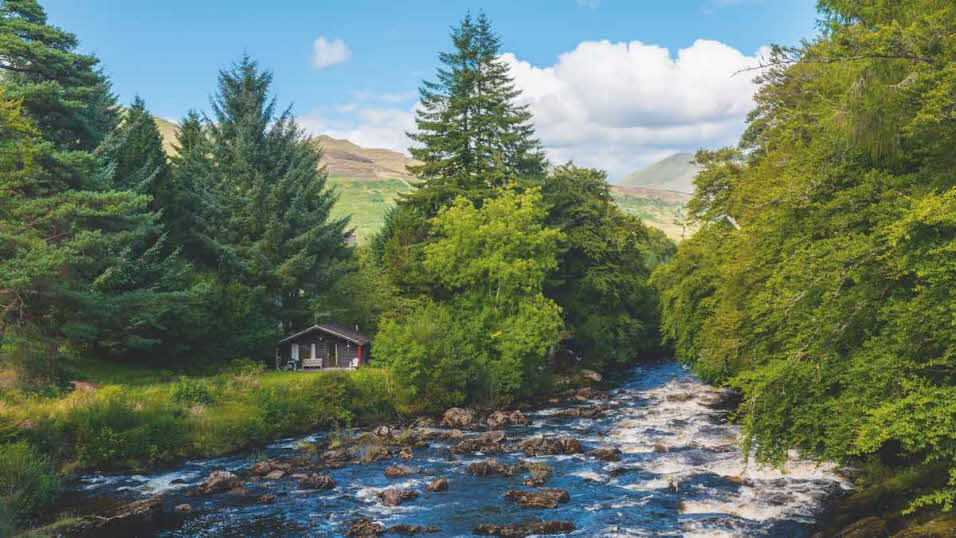 The Falls of Dochart in Killin can be an awesome sight, especially after heavy rain Ian Goodrick/Alamy
But it's the town of Killin that excites this Club member, who holds an interest in both Scottish Gaelic and the country's former railway branch lines. 'Cill Fhinn' (meaning 'The Fair [or White] Church' in Gaelic) is home to a fascinating heritage trail which can be completed in under an hour, depending on how long you spend admiring the powerful Falls of Dochart. Hungry for more, I tracked down the dismantled branch line of the Callander and Oban Railway, serving Killin and continuing on up to Loch Tay. Today, you can still walk the route of the former track bed the mile or so up to the loch.
Heading south and east from Killin, we wind down the A85 and A84, passing Loch Lubnaig and taking in the delightful towns of Callander and Doune before skirting the historic city of Stirling and arriving at The Woods Caravan Park Affiliated Site near Alloa.
From the site, it takes about 45 minutes to reach Gartmorn Dam Country Park on foot, from where a three-mile circuit around Scotland's oldest reservoir can be enjoyed. An alternative is to drive the seven miles to Dollar Glen, where you can enjoy a variety of woodland walks which take in a number of small waterfalls.
The big attraction here is the city of Stirling itself, often called 'The Heart of Scotland' while cosmopolitan Glasgow can be reached using the half-hourly service from Alloa station (just a couple of miles from The Woods). Glasgow is one of my favourite cities in the UK with attractions like the Mackintosh House (hopefully reopening soon), Kelvingrove Art Gallery and Museum and Glasgow Green.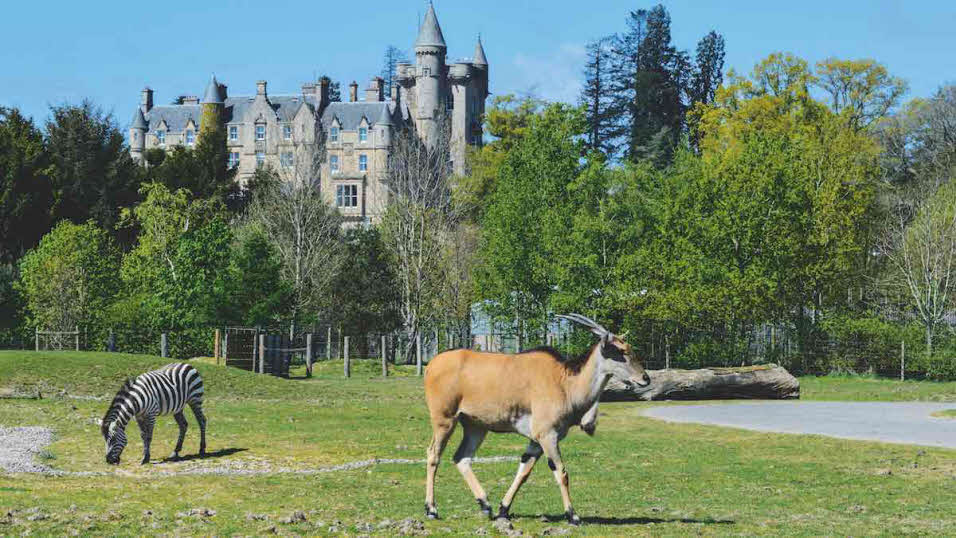 Blair Drummond Safari Park is a popular family attraction Angus McComiskey/Alamy
For younger members, a trip to Blair Drummond Safari and Adventure Park is a must. Two safari trails can be enjoyed one is a 'drive-thru' option featuring exotic species from around the world, while the Foot Safari takes in the likes of the rhino house and the Pets Farm.
After our enjoyable sojourn eastwards, we return to the west coast, south of the Clyde, at Largs. A motorhome-only venue, Largs Yacht Haven is a CL like no other. You pitch up right in the heart of the action within a lively marina – it's a vibrant place with plenty going on and 24/7 security.
Go to Largs Yacht Haven Certificated Location
An easy walk takes you to the seaside town of Largs, where you can catch a ferry to the island of Great Cumbrae. At roughly four miles long and two miles wide, Great Cumbrae offers a modest variety of pleasant and non-strenuous walking and cycling opportunities, while the resort of Millport is home to a Victorian promenade and what is said to be Britain's smallest cathedral (the Cathedral of the Isles).
Largs is also within easy driving distance of Ardrossan, from where you can sail to beautiful Arran – a place I'll never tire of visiting.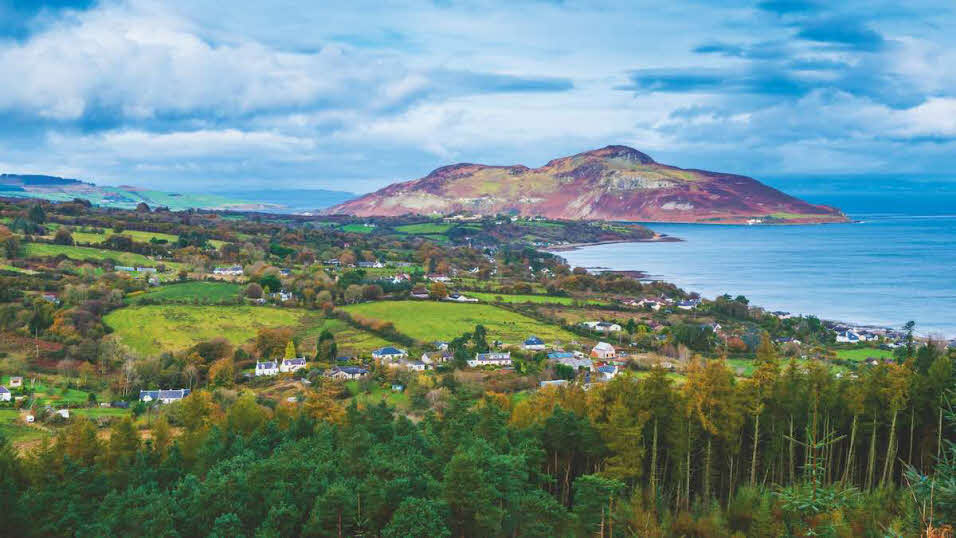 Looking across Whiting Bay to Holy Isle which is just off the Isle of Arran ScotImage/Alamy
Continuing on, we hug the coast of the mainland until we reach Maybole, just to the south of Ayr, and pitch up at The Ranch Affiliated Site. This is a great one for families, thanks to its terrific play area and sports field.
Go to The Ranch Affiliated Site
There is so much to do in the vicinity – a visit to Heads of Ayr Farm Park will keep youngsters happy, you could head for the Robert Burns Birthplace Museum in nearby Alloway or maybe enjoy a round at one of the world-class golf courses dotted around this part of the world.
Heading south from Maybole, driving towards Stanraer down the A77 is my highlight of the entire holiday. Delightful coastal vistas reward the wide-eyed passenger and the pudding-like island of Ailsa Craig can be seen on all but the cloudiest of days.
This wonderfull drive brings us to Port Logan CL which is one of those 'perfect' sites that is so utterly amazing that less charitable caravanners might prefer that it remained a secret. Sorry, folks. Sorry, too, to motorhomers and campervanners, to whom Port Logan CL is not accessible.
Go to Port Logan Certificated Location
Every grass pitch offers a stunning, west-facing sea view, with further vitsas down over the bay at Port Logan itself. When I last visited, I took the opportunity to indulge in a little kitesurfing in the bay. There's nothing quite like being able to stroll to the beach from the caravan, enjoy an uplifting kitesurfing session, then walk back in your wetsuit and dive straight into a hot shower.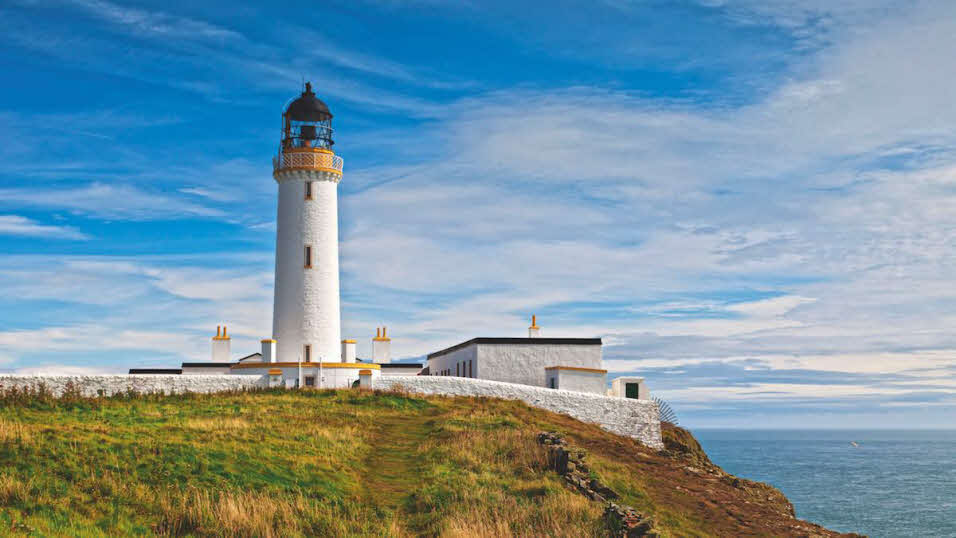 The lighthouse at Mull of Galloway which is close to New England Bay travellinglight/Alamy

Our final site is another of my firm favourites. For the birdwatcher, the stand-up paddle boarder, the dingy sailor – or anyone who just loves looking out over the sea from the comfort of their caravan or motorhome – New England Bay Club Site is as close to paradise as it gets.
Go to New England Bay Club Site
My dog, Dougal, adored the beach. Soft and sandy, it was the perfect place for games of ball. During my visit the beach also played host to bird-loving members who were enjoying rich rewards, with sightings of guillemots, kittiwakes and the occasional peregrine. For those of us less well-versed in which species is which, it's definitely worth driving down to the southern tip of the peninsula and visiting the Mull of Galloway and its RSPB reserve.
Home to a famous lighthouse and surreal- looking fog horn, the mull is a wonderful place. As well as the rich variety of birdlife, visitors are treated to wildflower displays in the fields and, if they're lucky, glimpses of seals and dolphins in the water below. The most south-westerly point in Scotland, it's the perfect spot to end our tour – I just can't wait to get out there and do it all again.