A real Peaky Blinder in Derbyshire
A real Peaky Blinder in Derbyshire
Jonathan Manning discovers underground lairs, ancient mines, soaring peaks and crooked spires during a fascinating seven-site tour in and around the beautiful Peak District National Park. He also visits pretty towns such as Bakewell, Buxton and Chesterfield, rides some of the most popular cycle routes in the UK and visits impressive attractions like Chatsworth House and Bolsover Castle.
Jonathan Manning experiences natural highs and goes deep underground during a seven-site tour in and around the Peak District
By Jonathan Manning | 25 November 2019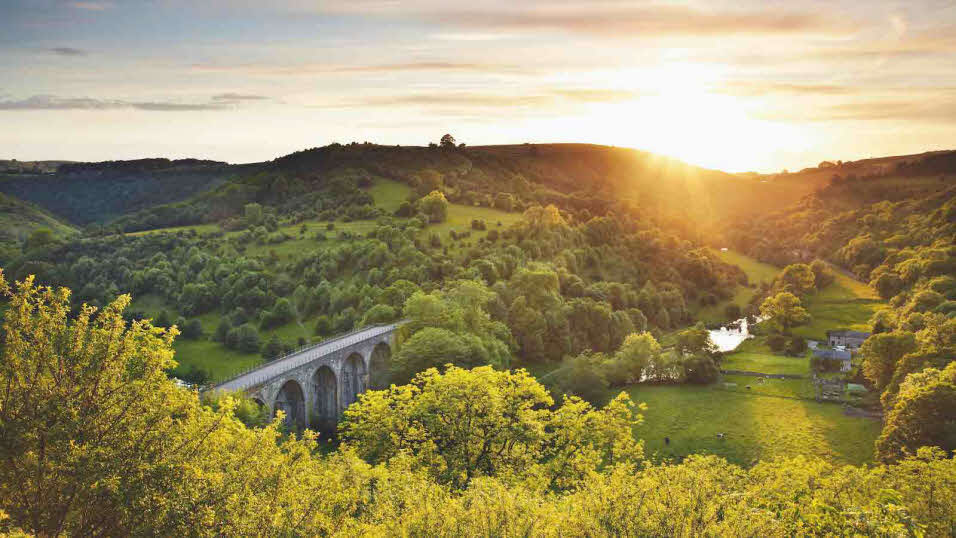 A spectacular view over Monsal Dale from Monsal Head ©Richard Wheeler/Alamy
Underground lairs, ancient mines, soaring peaks and crooked spires are just some of the highlights of a Derbyshire tour that starts in the county's former coalfields and finishes in a dramatic quarry. Travelling east to west in the arc of a broad grin, the route skirts the Peak District before diving into some of the most spectacular dales of the national park.
Barely two miles from the M1, I lower the steadies at Poolsbrook Country Park Club site. The pitches are flanked by a curtain of broadleaf trees and separated by neatly-tended lawns, making it hard to believe that this was once part of Ireland Colliery. Considering its past, it's interesting to see that the site uses ground source pumps to harness geothermal energy for heating, and solar panels to generate electricity, making it something of an eco-supermodel.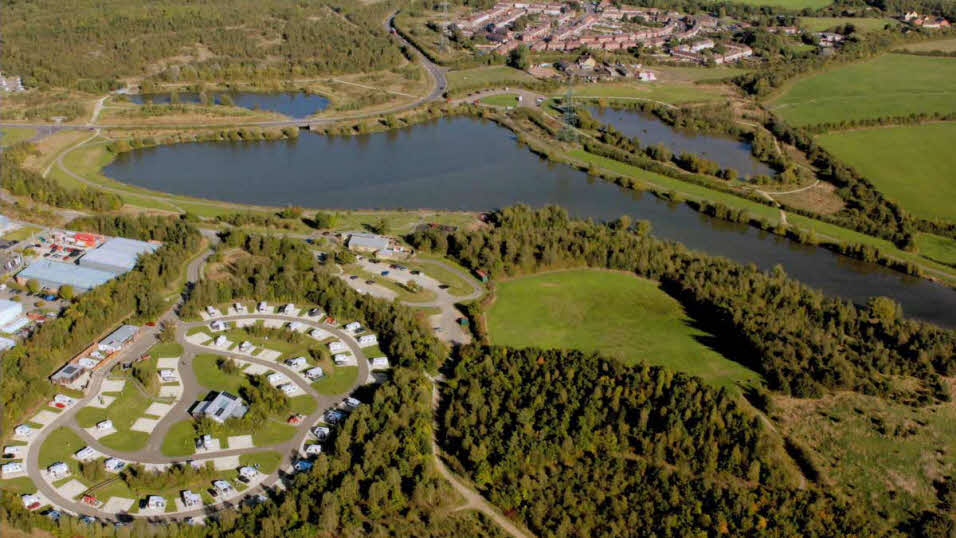 The facilities at Poolsbrook Country Park are conveniently accessible from the Club site
The 165 acres of Poolsbrook Country Park sit immediately on the site's doorstep, a network of smooth, level paths tracing their way around a central lake. It's ideal for a peaceful stroll or gentle bike ride while the traffic-free north-south part of the Trans Pennine Trail, which follows a disused railway line, is also nearby.
Go to Poolsbrook Country Park Club site
"I have never worked on any site where the cycling from the gate is as good as it is here," says site staff member Margaret Daykin who also recommends a trip to Chesterfield. The town is accessible by bus from the site and has an eye-catching collection of Tudor-style timber-framed buildings.
The standout feature of Chesterfield, however, is its distinctive crooked-spired church. The twist in the tower has spawned a thousand myths and legends, one describing how a local blacksmith once mis-shod the devil. Satan apparently leapt over the church in pain, knocking the spire as he did so.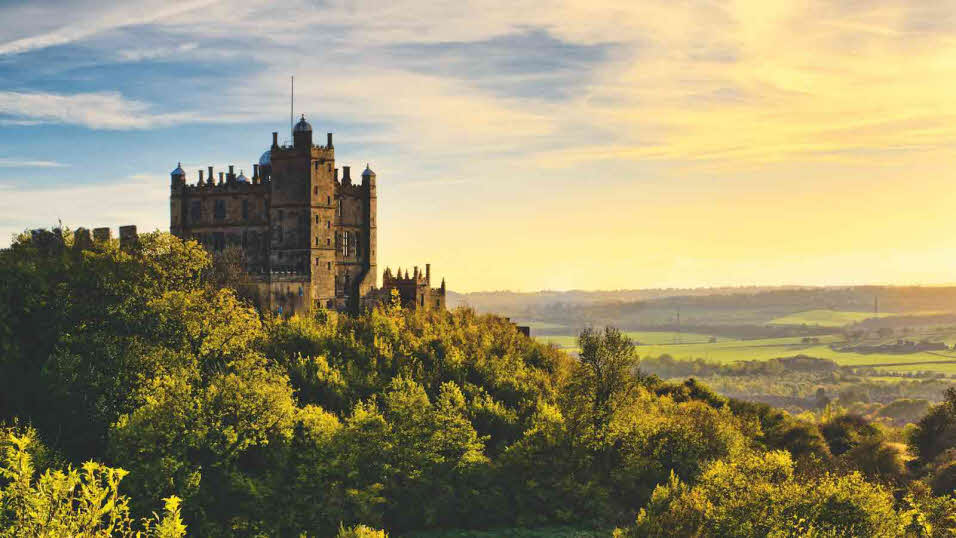 The impressive 17th-century Bolsover Castle makes for a fascinating day out
Margaret also points me in the direction of Bolsover Castle – a rival to local titans such as Hardwick Hall and Chatsworth House – which deserves a full afternoon's visit. The castle we see today was constructed in the early 17th century by Sir Charles Cavendish, with further additions by his son Sir William, whom even English Heritage describes as a "playboy, poet courtier".
Heading south-west, I arrive at Slate House Farm Certificated Location where I'm greeted by owner Sandra Poole and Rocky, her adorable, Jack Russell puppy. If ever a dog has landed on its paws, it's Rocky, with walks radiating from the site and 360-degree views of the countryside.
The route from here to Chatsworth, my next stop, passes through heather-covered moorland and woods, with rocky outcrops framing the horizon. It's not long before a millstone marking the Peak District National Park's boundary materialises, followed swiftly by Chatsworth House.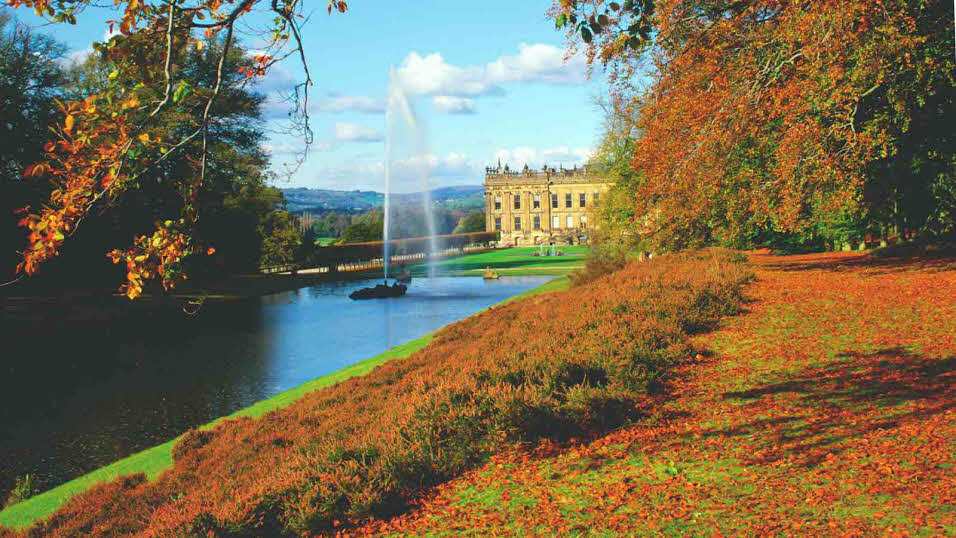 You can walk through the estate to Chatsworth House from the neighbouring Club site ©Brian Lawrence/Alamy
Chatsworth Park Club site is fabulously located in a former walled garden on the magnificent estate. Chatsworth House itself is a pleasant, 15-minute stroll away. As a day-tripper over the years, it's easy to think that I've 'done' Chatsworth – yet every visit unearths new treasures.
Go to Chatsworth Park Club site
It's not a cheap day out, with entry to the house and garden costing £22 per adult but you'll enjoy more than a full day's entertainment. There's also a farm and adventure playground for children to enjoy.
I head south to Carsington Water Club site which peers down onto the reservoir from its lofty position. Pitches are tucked in clearings between pine trees.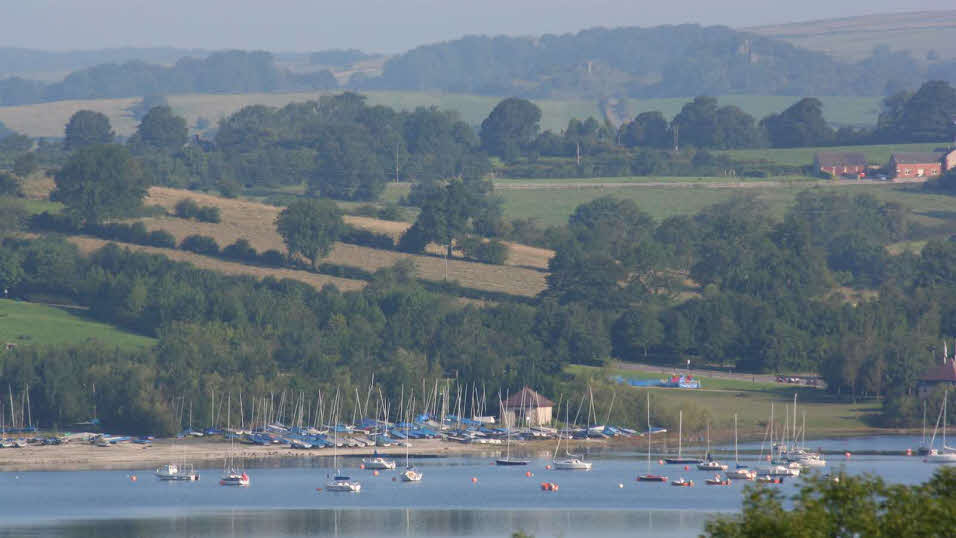 Carsington Water is a mecca for cyclists and watersports enthusiasts
Go to Carsington Water Club site
A 7.5-mile tour of Carsington Water on 
foot or bike is a must but when the weather is more 'indoorsy', there is a wide choice of National Trust properties within easy drives – Kedleston Hall, Sudbury Hall and the Museum of Childhood, and Calke Abbey.
Another Trust property waylays me on the next leg of this tour, as I follow a brief diversion to explore Dovedale from Ilam Park. The highlight for Instagrammers is the stepping-stone crossing of the river, although the best view is reserved for those who test their lungs on a climb to the summit of Thorpe Cloud from where a spellbinding vista opens up over the dale and the Lego-sized people ambling beside the Dove.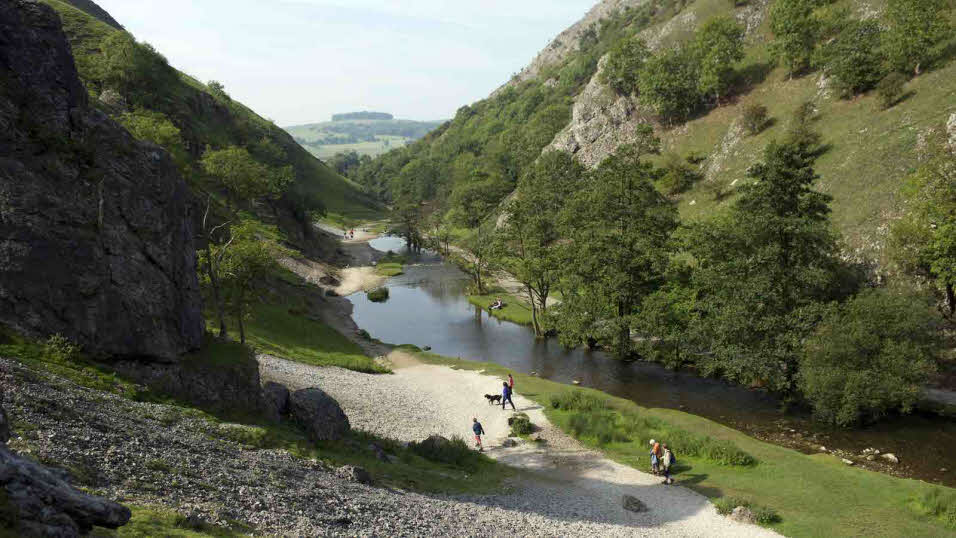 Dovedale is a popular spot for a family walk or picnic ©National Trust/John Millar
I push on northwards to Taddington Fields Farm CL, a bolt-hole for off-grid campers, with no hook-ups or water, with a bargain fee of £7 per night.
A footpath leads from the site down the tightly-clustered contours of Deep Dale and into Monsal Dale, where the exquisite River Derwent flows. The Monsal Trail heads to Bakewell in one direction, and through Millers Dale and Chee Dale in the other, along an old railway track.
Go to Taddington Fields Farm CL
Nearby Highlow Farm is at the other end of the CL spectrum, with neatly-mown grass, hook-ups, fresh water and disposal facilities. Each pitch has been carefully positioned to give its residents a spectacular view across the White Peak.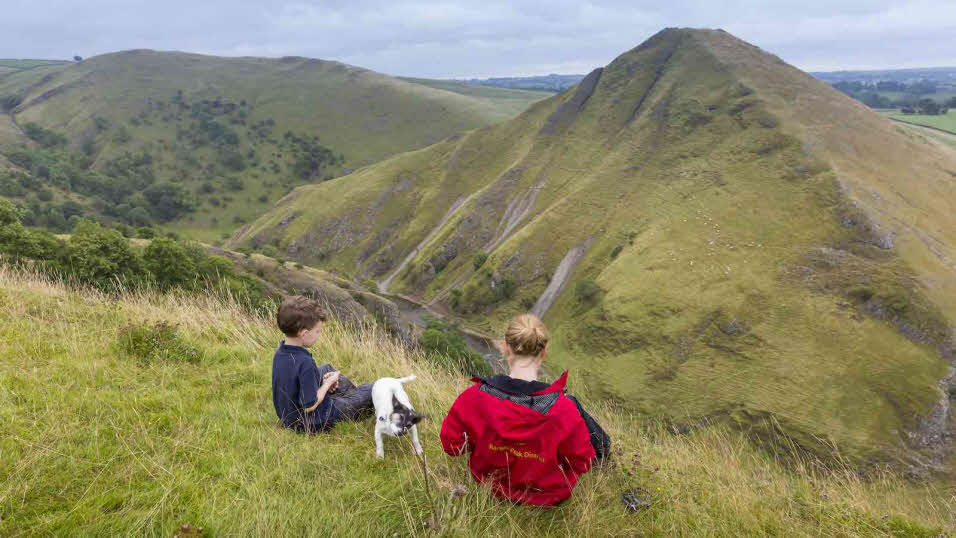 The imposing White Peak makes for a spectacular backdrop ©National Trust/Chris Lacey
"We're only half-a-mile from the High Peak and Tissington [cycle] trails, it's an easy walk down to Monyash and the entrance to Lathkill Dale is just outside Monyash," says Jo.
An easy 15-minute drive leads to my final destination, Buxton Club site, hunkered in an old limestone quarry in Buxton Country Park. The site benefitted from a major refurbishment last year including swanky new washroom facilities and resurfaced roads.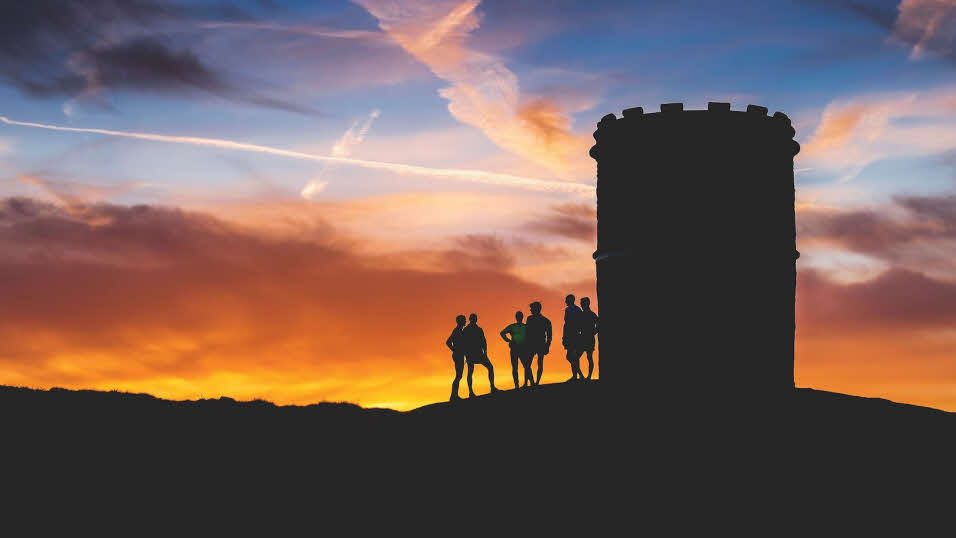 Solomon's Temple is just a short walk from Buxton Club site ©Paul Melling/Alamy
The elegant spa town of Buxton, with its Georgian crescents and beautiful Pavilion Gardens, is about a 30-minute downhill stroll from the site. Solomon's Temple monument is barely half a mile away, the tower standing proud over the local countryside, but I head underground into Poole's Cavern for a fascinating tour of a natural cave system that has been luring tourists for centuries.
Blinking back in the daylight, I realise this tour has swept from mine to cavern via castles and dales, a wonderful wombling experience both underground and overground!