Hitting the Highlands in a campervan
Hitting the Highlands in a campervan
Even a raging storm cannot spoil the untamed beauty of Scotland for Jonathan Manning as he heads north in his VW camper from Maragowan Club site to Kinlochewe. During his seven-site tour Jonathan has his breath taken away by enchanting waterfalls, fairytale castles, beautiful lochs, imposing mountains and a Harry Potter steam train.
Enchanting waterfalls, fairytale castles, imposing mountains and a Harry Potter steam train - all in one trip?
By Jonathan Manning | 27 Feb 2019, 3.45pm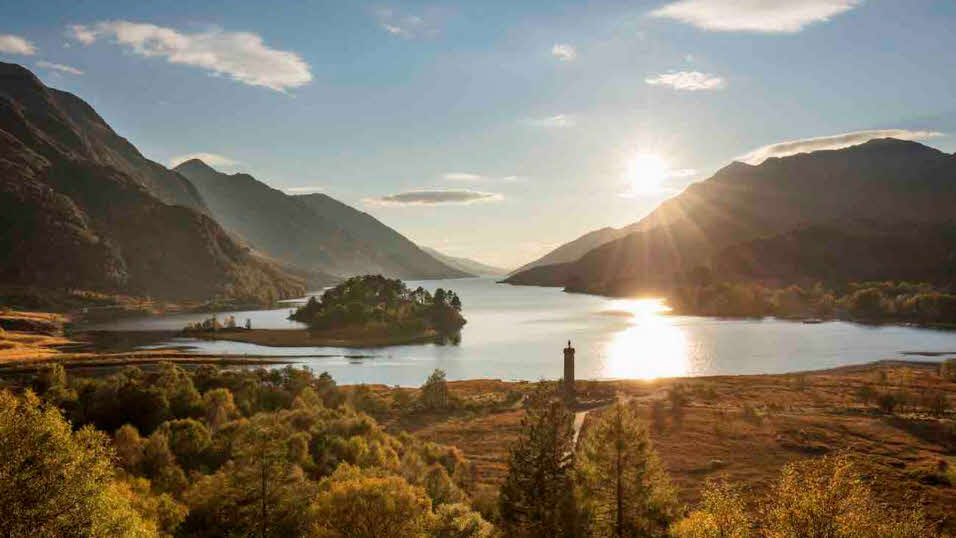 Even a raging storm cannot spoil the untamed beauty of Scotland for Jonathan Manning as he heads north in his VW camper from Maragowan Club site to Kinlochewe. During his seven-site tour Jonathan has his breath taken away by:
Enchanting waterfalls
A series of beautiful lochs
Fairytale castles
Imposing mountains
A Harry Potter steam train
Wonderful wiildlife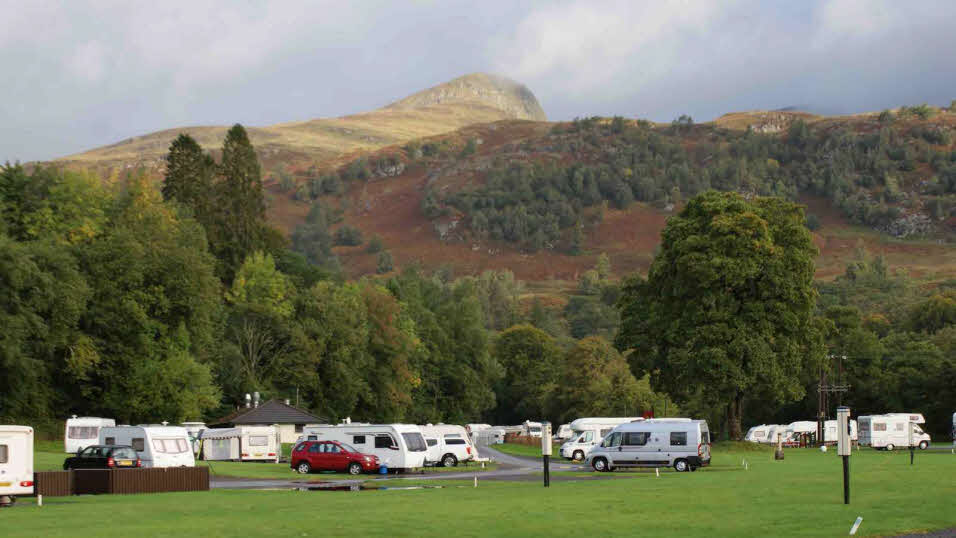 Maragowan Club site
Soggy start to an unforgettable tour
Great tours often have inauspicious beginnings and that was certainly the case for my campervan trip around Scotland due to the arrival of Storm Ali. At my first stop, Maragowan Club site, the warden warned me that evacuation plans were in place in case the River Lochay, which borders the site, breached its banks.
Thankfully the site did not flood and I woke to be greeted by a horizon of Munros (mountains over 3,000 feet) at dawn. This site boasts the best of both worlds; a spectacular setting, plus a well-equipped village – Killin - on its doorstep. On the edge of Killin are the Falls of Dochart, a thunderous torrent of water which left me completely mesmerised before I clambered back into my campervan to head through Glen Ogle on my way to Drummond Fish Farm.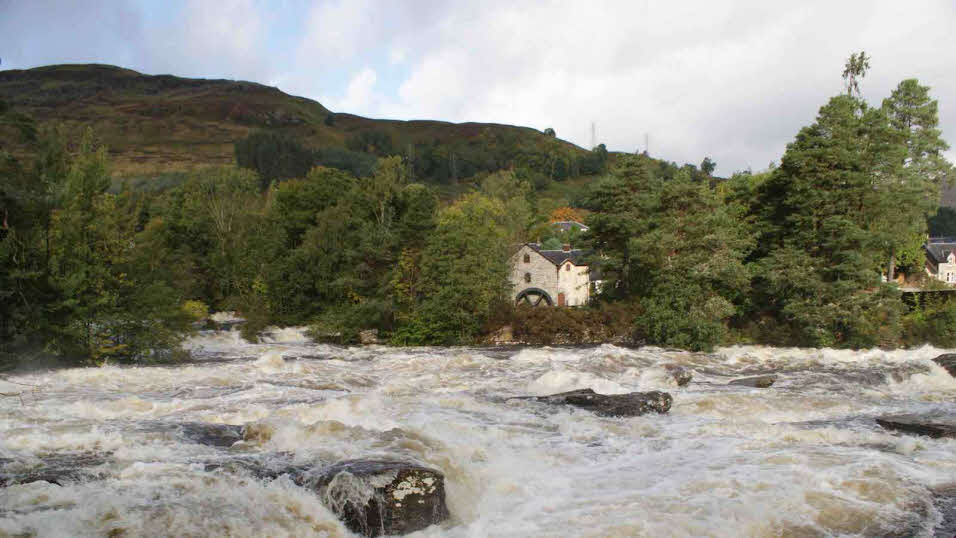 Falls of Dochart
A heavenly spot for anglers
The clue is in the name of this Certifcated Location which basks on the banks of Loch Earn. The loch offers premier league trout fishing, with 10,000 brown trout stocked each year, some of which grow to rod-snapping weights. The record brownie thumped onto the scales at 33lb and the heaviest rainbow trout was a pound heavier.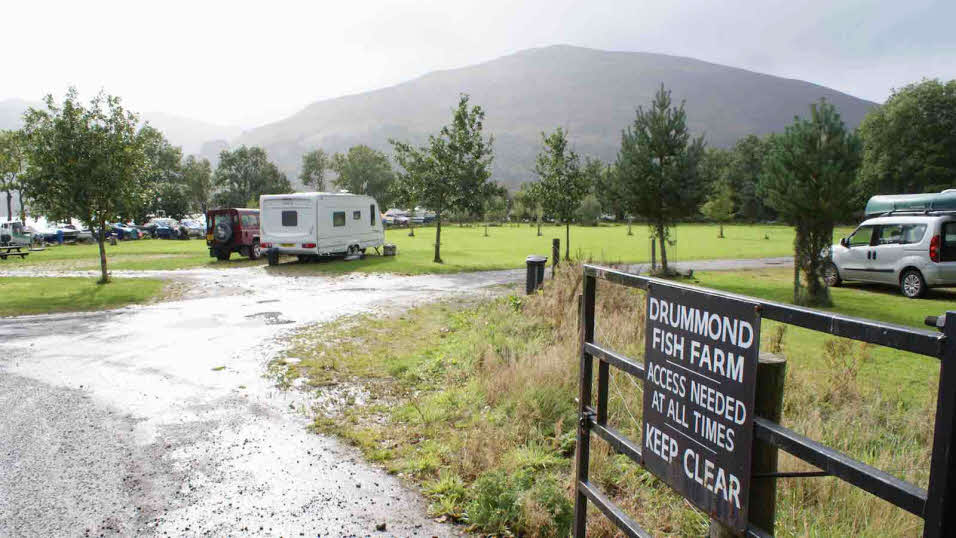 Drummond Fish Farm
Whether you plan to cast a line or not (and this is a great basecamp for walking and cycling), keep your eyes on the skies. "We have ospreys here in the summer and a few golden eagles, too," says warden Stuart Mathieson.
The hardship of riding out a winter here hits home at an unusual tourist attraction on the far side of Loch Earn. Cultybraggan Camp, near Comrie, was a prisoner of war camp during World War II, housing up to 4,000 captured Italian and German soldiers. The Nissen huts are still standing, and a fascinating, self-guided tour reveals what life was like here during the conflict.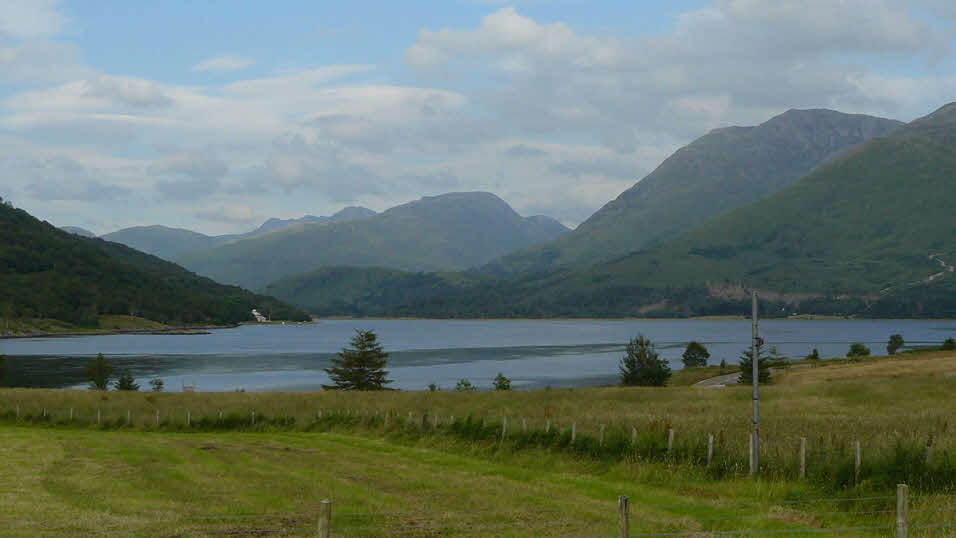 Dallachulish Farm CL
Twin peaks and a fairytale castle
Heading west I pitch up at Dallachulish Farm, a regional runner-up in the CL of the Year Awards 2017, which overlooks both Loch Creran and the towering lumps of Beinn Sgulaird and Beinn Fhionnlaidh, a pair of Munros as tall as any peaks in England.
"There's so much to do within 20 miles of here, and you can also catch a boat to Mull or Tiree," says site owner Ross MacPherson.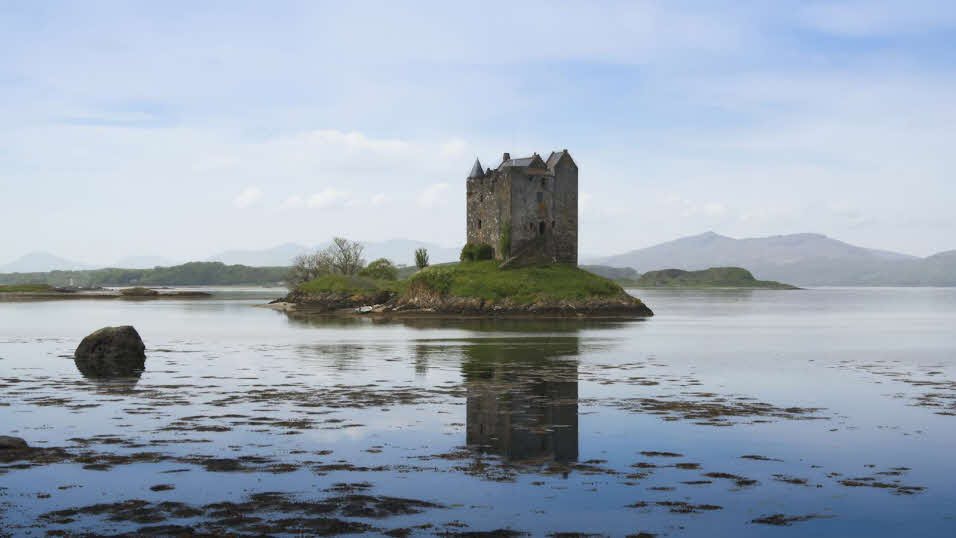 Castle Stalker
I stop for a coffee at the Castle Stalker View Café, entranced by the fairytale castle perched on a small island in Loch Laich. The castle is a photographer's delight, but is privately owned meaning only occasional tours are available to the public.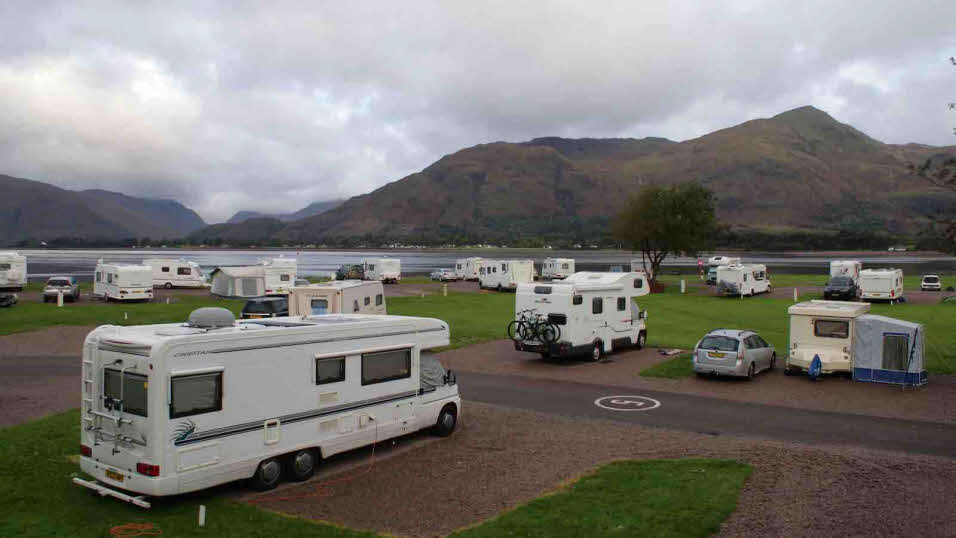 Bunree Club site
Loch, stock and one smoking view
I set off north once again along the coast road to Bunree Club site. When I pull on the handbrake it's at the most scenic pitch I've ever stayed on; through the windscreen I see nothing but beach, loch and mountains. "On a clear day you can see the Isle of Mull from the site," says warden Dougie Goldie. "We get otters here, and herons and sea eagles from Mull."
In the evening I sit in a deckchair to savour the mouthwatering view and when dawn breaks I lace up my boots for a walk into Glen Righ Forest, right behind the site, in search of waterfalls and red squirrels.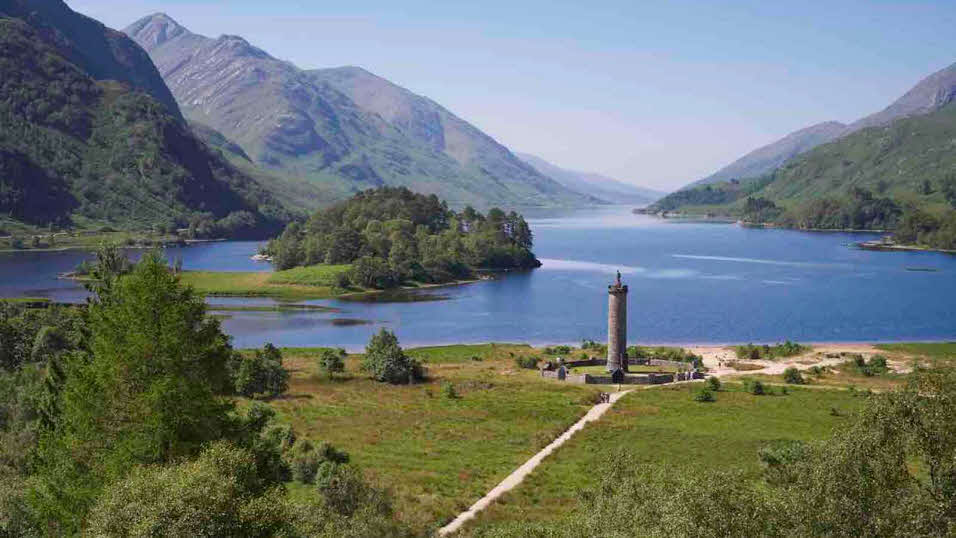 Glenfinnan Monument (©VisitBritain)
Where Harry Potter fans get all steamy!
It would be easy to spend an entire holiday at Bunree so it's with some reluctance that I pack up and steer the California further north, stopping briefly in Fort William for supplies, before making a beeline for the Glefinnan Monument. It's a haunting statue of a kilted Highlander gazing down Loch Shiel, in memory of the clansmen who gave their lives for the Jacobite cause. These days there's a new hero in town to rival Bonnie Prince Charlie, as the distant chuff of a steam train soon reveals.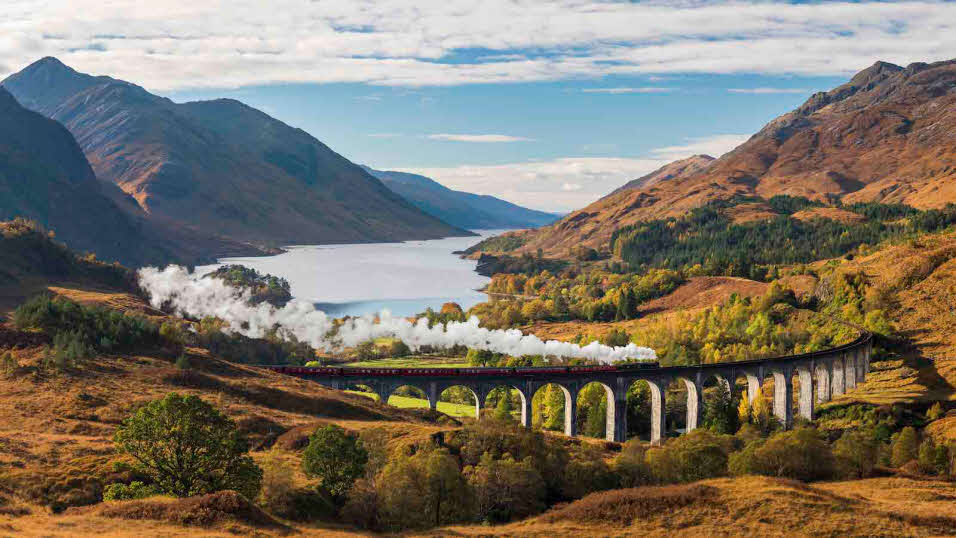 Glenfinnan Viaduct (©VisitBritain)
Glenfinnan Viaduct is now globally famous thanks to its place in the Harry Potter films as the young wizards make their way by train to Hogwarts School. Anyone who thinks trainspotting involves a lonely vigil at the end of a platform should witness the hysteria at Glenfinnan when a steam locomotive approaches!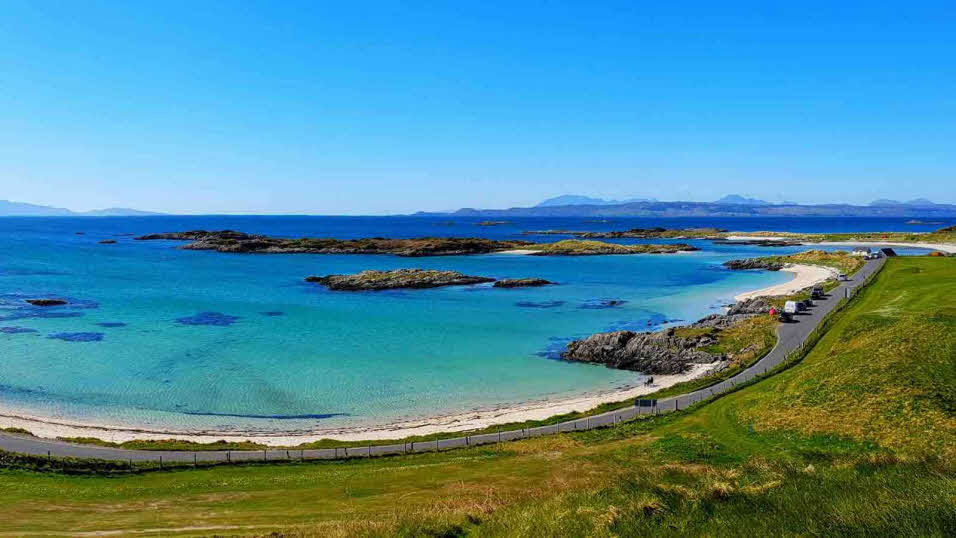 The coast near Traigh Farm CL
Skye is not the limit
The road quietens considerably west of Glenfinnan en route to the coast. But any sense that this is merely a through-route to Mallaig and an onwards ferry to Skye is instantly dispelled at Traigh Farm CL, where pitches give way to a white sandy beach.
Many campers bring their own dinghies and kayaks to this small slice of off-grid heaven, as well as their clubs – the site has its own nine-hole golf course. It's a beautiful spot.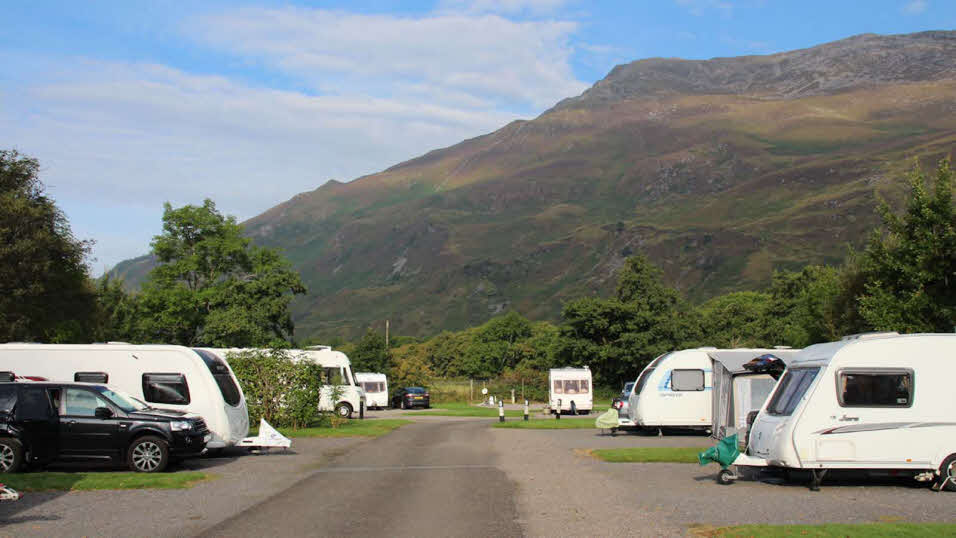 Morvich Club site
A hill walker's paradise
I head further north to Morvich Club site. The site lies in a valley, and the panorama on offer is magnificently mountainous. Chief attraction for hill walkers is the Five Sisters of Kintail although an out-and-back walk or mountain bike ride along the Affric Kintail Way offers easier access into the foothills.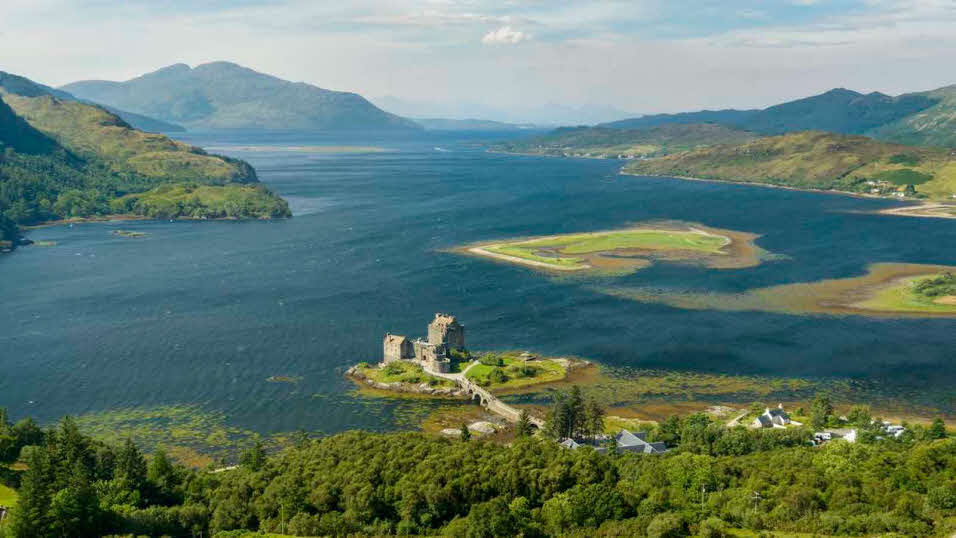 Eilean Donan Castle (©VisitBritain)
Also close by is Eilean Donan Castle which must be one of, if not the most photographed building in Scotland. This 13th century fortress, on a tiny island accessed by a handsome stone bridge, is framed by towering peaks and washed by waters that change from pewter to ebony in the flicker of a cloud. Scotland is indubitably home to some of the UK's best castles, which makes it the perfect destination for exploring the rich history that accompanies these majestic structures.
An ideal base for Munro baggers
The campervan's auto gearbox proves a godsend on the final stretch of this tour, climbing the contours on the A890 north to Kinlochewe Club site, close to the foot of Loch Maree. After the wilderness, the village of Kinlochewe appears like an oasis, with an excelllent café (the Whistle Stop, just around the corner from the site) and a welcoming pub.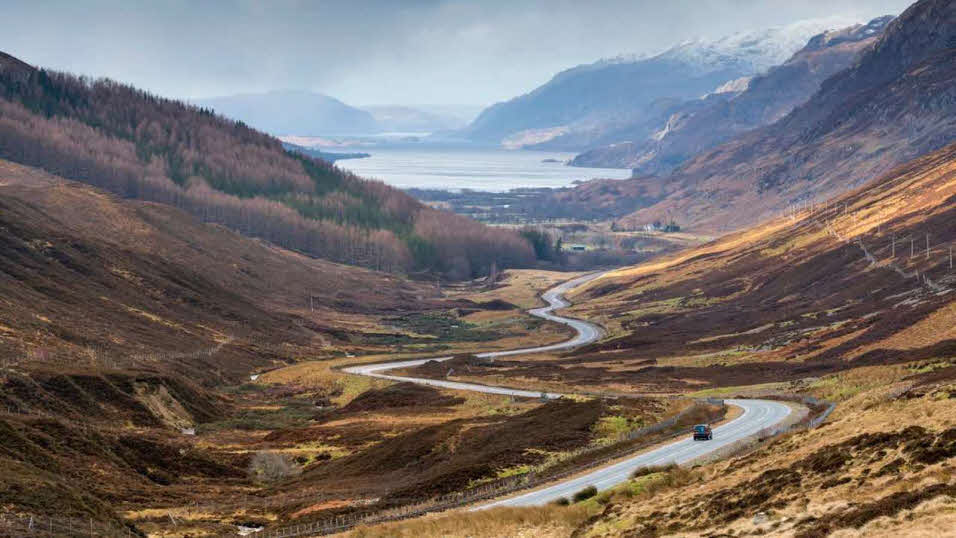 Loch Maree and the Torridon Hills near Kinlochewe Club site
With the Torridon range on the doorstep this is an ideal launchpad for hill walkers and Munro baggers. A 20p walk guide from the site reception offers step-by-step instructions for easier low-level routes.
Not so long ago, Kinlochewe hosted actors Sean Bean and Miranda Richardson and a film crew working locally, but the site doesn't need the stardust of celebrities to sparkle. It really was the perfect setting to bring a wonderful tour of this spectacular region to a close.