Dinosaurs in Dorset - Walking in their footsteps
Dinosaurs in Dorset - Walking in their footsteps
Dorset is home to the 'Jurassic Coast' World Heritage Site which stretches from East Devon to Dorset's Studland Bay. This rugged coastline draws in fossil hunters from all directions, as well as holiday-goers who are looking for a beach break with some cliff top trails and countryside adventures to boot.
By Lee Davey | 26 May 2019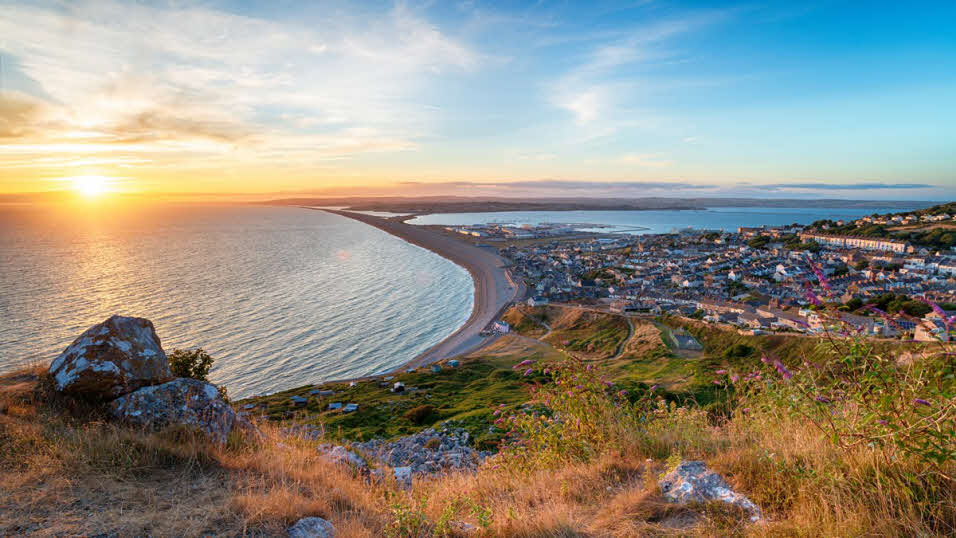 Stunning sunset over Dorset's Jurassic Coastline, looking back towards Weymouth
Should you and your caravan, motorhome or campervan be drawn to Dorset, it's fair to say that the pitch you select probably once played host to the occasional iguanodon, megalosaurus or pelorosaurus (the latter would no doubt have needed a 'super pitch').
The 'Jurassic Coast' World Heritage Site, which stretches from East Devon to Dorset's Studland Bay, is a huge tourist draw, the area boasting 185 million years of geological history and becoming a mecca for fossil hunters. But the region is not just a palaeontologist's dream come true – its dramatic seascapes, cliff top trails and swathes of quiet countryside make it popular with walkers, while families are lured by a host of attractions during the main holiday seasons.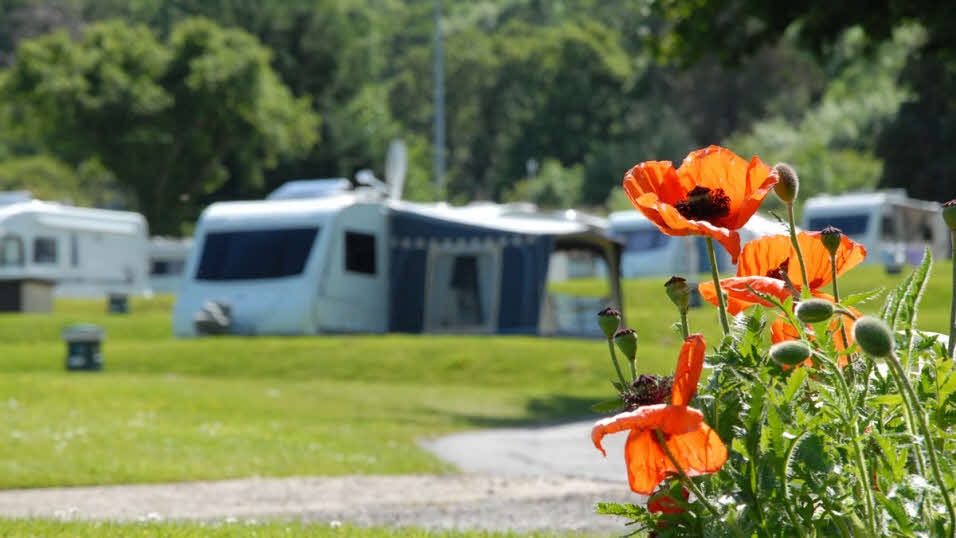 Poppies in bloom at our Wood Farm campsite
We began our seven-site tour at Wood Farm Affiliated Site near Charmouth, an independently-owned touring park that has been welcoming Club members since 1972. Most pitches offer commanding views across the Dorset countryside, while an indoor swimming pool and cafe are popular with visitors. The café also has a terrace, allowing you to keep an eye on the kids as they make merry in the play park.
Look up Wood Farm Affiliated Site
Charmouth is a great place to begin our Jurassic journey as the Heritage Coast Centre houses spectacular fossil collections, including the remarkable ichthyosaur remains that starred in the BBC documentary Attenborough and the Sea Dragon. Entry is free, though paid-for guided walks are available on which experts will help you find a fossil to take home. Lyme Regis is also a favourite for Wood Farm visitors, and Kate Winslet had been filming in there when we visited. She is set to star in the movie, Ammonite, about famed Victorian fossil collector Mary Anning – so you might very well see some of the locations mentioned here on the silver screen soon.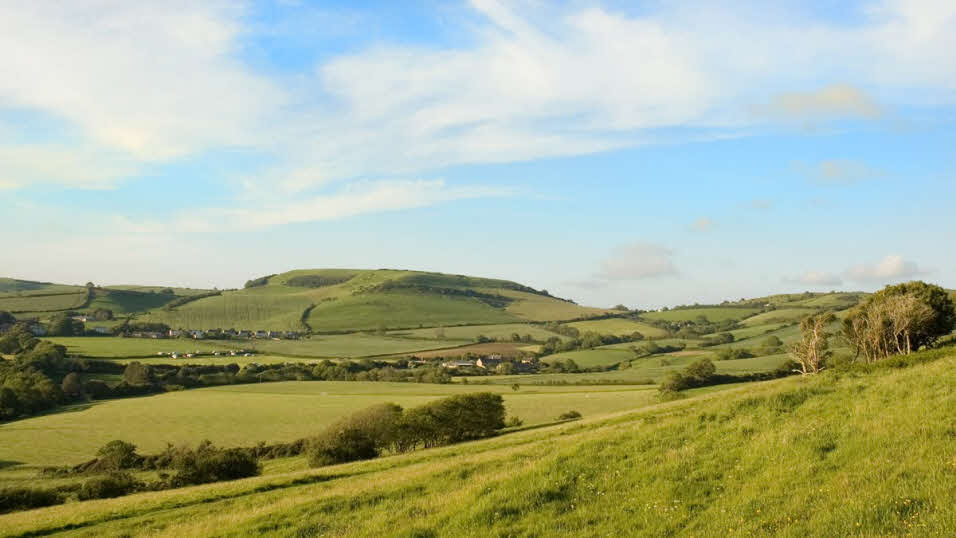 Quiet countryside of North Chideock, near Warmstall Farm
Just 15 minutes to the east of Wood Farm, Warmstall Farm Certificated Location is nestled in the countryside between Charmouth and Bridport, and is one of the quietest locations I've ever visited. Once on site, it's easy to see why this area is a magnet for walkers – visitors are spoilt for choice when it comes to exploring the area on foot. An hour's walk, for example, can take you to the National Trust's Golden Cap or Seatown Beach (with the handily-placed Anchor Inn).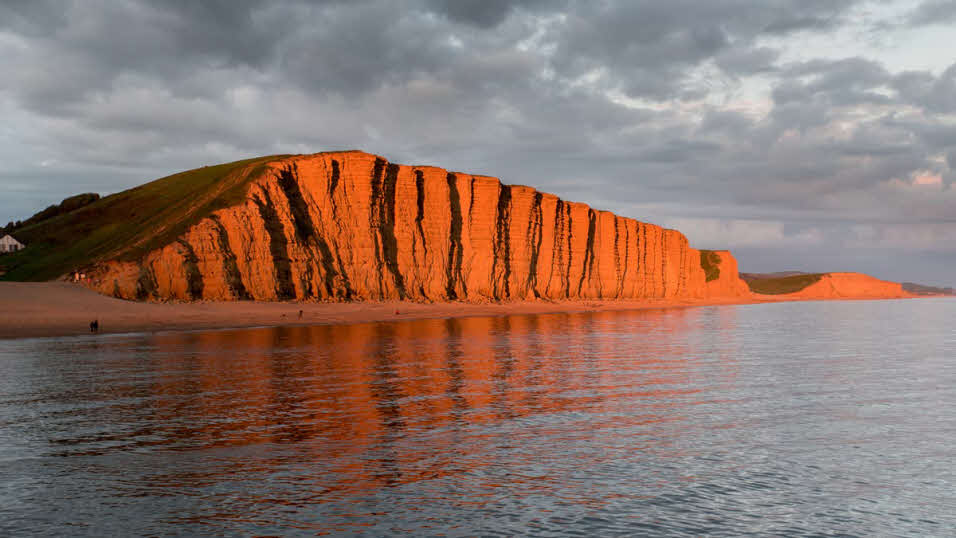 Jurassic Coast World Heritage Site East Cliff at West Bay, Bridport, as seen on the TV programme, Broadchurch
A further 20 minutes to the east, Bridport Bingham Grange is relatively new to the site network, having been acquired in 2018. The site, which was previously adults-only, now caters for members of all ages, and although there was no play area during our visit, plans are afoot to install one.
Look up Bridport Bingham Grange
Head south from the site through Bridport to West Bay and you'll discover yet another Jurassic fossil-finding hotspot and popular beach. Make sure you visit Bridport Market on a Wednesday or Saturday while there's also a vintage market at St Michael's Trading Estate on the last Sunday of the month from March until October.
Our next stop was 17 miles to the south-east at Winterborne Monkton. The Manor House CL offers easy access to the likes of Weymouth, Chesil Beach, the Isle of Portland and the appealing hamlet of Osmington Mills. However, not all members stay here so they can get to the coast easily – some use it as a base for family research at the nearby Dorset History Centre, while others might opt to make the short journey on foot to Maiden Castle – an Iron Age hillfort.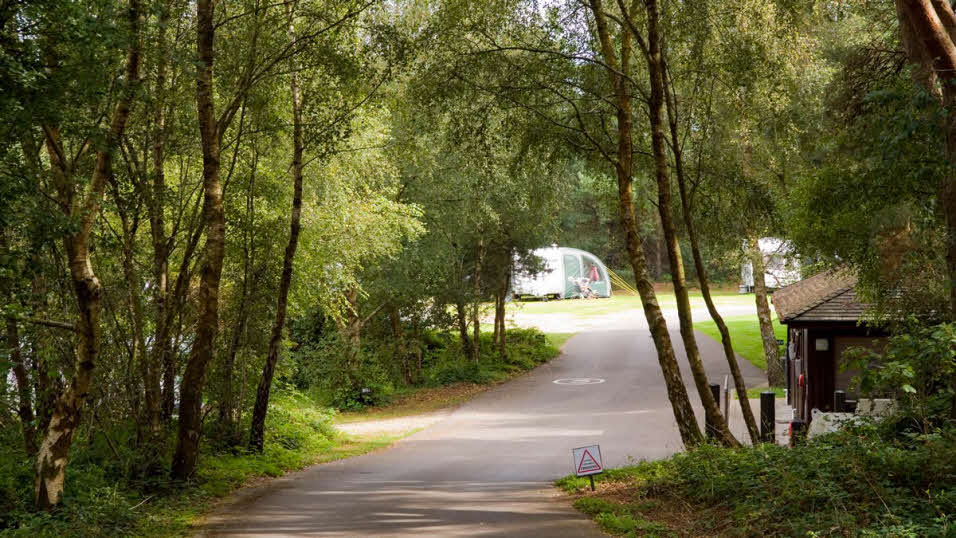 Mature trees offer shade and seclusion at Crossways Club Site
From here it was a short hop to Crossways Club site. We'd stayed here on numerous occasions before, each time managing to see the deer which seem to regard the site as their home. The 35-acre site contains 71 pitches, all set in cul-de-sacs which offer a degree of privacy. Transport links from Crossways are excellent, with the nearby train station offering travel as far as London Waterloo. However, Weymouth is proving more popular than the capital, with Rossi's ice cream parlour (near the clock tower) and historic Nothe Fort being our first ports of call. The snowsports centre at Warmwell Holiday Park is also a short drive from site and if, like me, you're not a natural skier or snowboarder, lessons are available.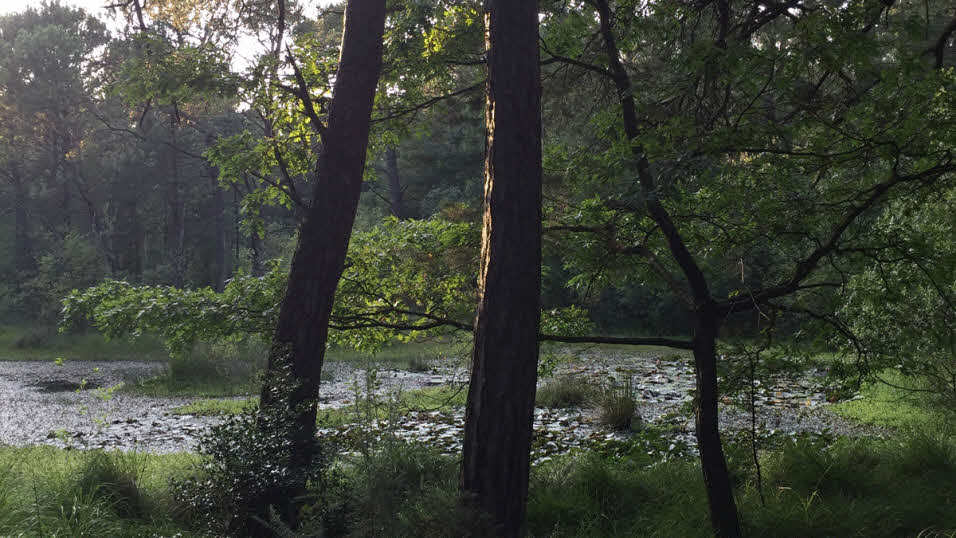 A tranquil lily pond lies right beside Trigon Farm CL
Another 15 minutes to the east, Trigon Farm is an easily-accessed CL. You and your dog can walk for two traffic-free miles around the Trigon Estate but should you wish to increase your step count, or if you're looking for off-road cycle routes, Wareham Forest is just across the road. Here you can access the Sika Trail – a family-friendly route featuring areas of woodland and open heath. You could also head for Woolsbarrow Hillfort – hidden from all but the hardiest explorer, it's a good destination to aim for if you've packed a picnic.
Between Swanage and Corfe Castle, Haycraft Club site was the final stop on our journey. It's a short walk to Harman's Cross station, where you can pick up the steam train headed for the pretty seaside town of Swanage. National Trust members are well catered for – the atmospheric ruins of Corfe Castle are a largely traffic-free walk from site, while if you require sand and sea, Studland Bay – where there are four miles of beaches to be explored – is a short drive away.
As you explore the miles and miles of unspoiled countryside and coastline in this beautiful part of the world, take a minute or two to consider what might have passed this way before...