A seven-site tour around South East England
Home ground
Aliy Fowler stays local in South East England – but is thrilled by her discoveries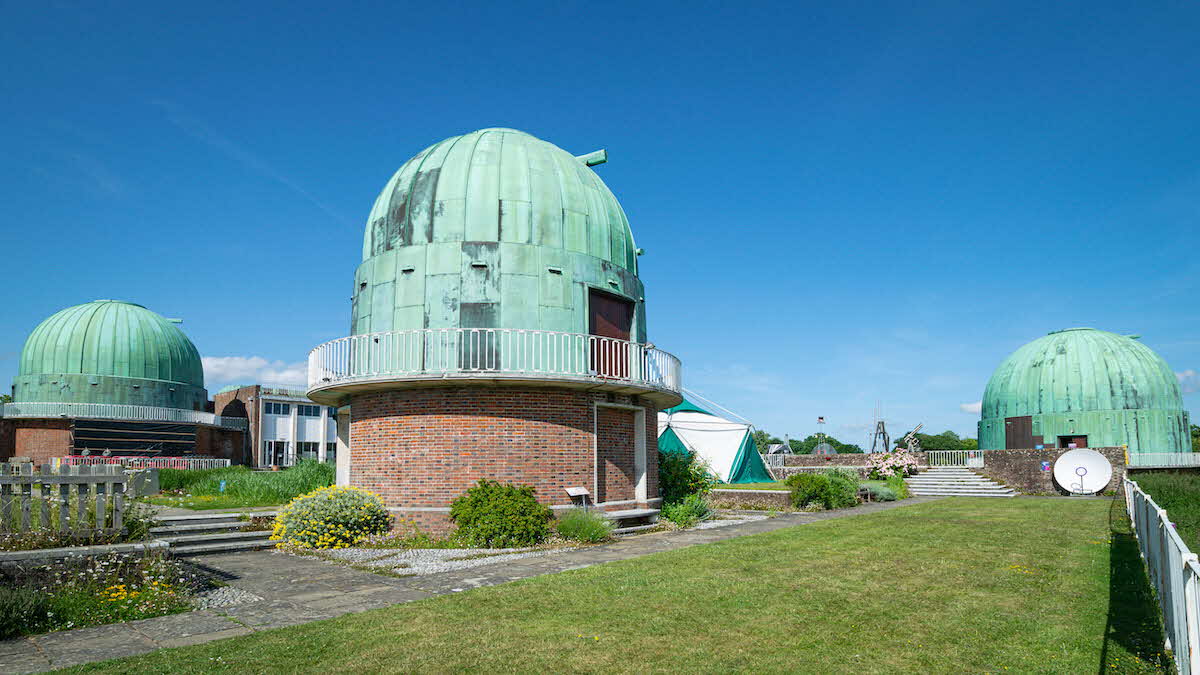 The Observatory Science Centre at Herstmonceux. Photo courtesey of Aliy Fowler
When you've lived somewhere for a while, you can find yourself visiting the same locations on your 'grand days out', either because they're firm favourites or because you're showcasing the best of your area to visitors. On day trips, there's rarely the opportunity to explore more than a couple of places, and this means you can miss some real gems. For this reason, we decided to try a close-to-home holiday in the South East of England. Although we took the 'van, we sometimes visited sites that were only an hour or so's drive from our house – and this gave us a freedom to explore that was eye-opening.
We began our trip just 35 miles from home, at Bearsted Club Campsite in Kent. It felt a little fraudulent to receive such a warm welcome when we'd hardly done any driving, but once we'd settled onto our shady pitch we could have been hours away.
Our first outing was to somewhere we'd tried to reach from home in the past but been stymied by the lack of obvious parking. This time, armed with local advice, we were successful. Kit's Coty House is an intriguing megalithic 'dolmen' burial chamber, situated just off the 153-mile-long North Downs Way. Passing through a gap in the hedge, we emerged into an open field with expansive views of the Medway Valley. Straight ahead of us was the H-shaped entrance to the original tomb, and although the mound of the barrow has long-since been ploughed flat (it would have been about 80 metres in length), the structure is still quite something to behold.
Sticking with the interment theme (not an obsession, honestly!), we took ourselves 10 miles north to Cobham Wood. A mixture of grassland and mature trees, this Special Site of Scientific Interest is great for a wander and offers a hidden prize at its centre in the form of a pyramid-topped mausoleum designed to resemble a grand classical temple.
Completed in 1786, and containing 32 coffin shelves, it was intended to be a resting place for the Earls of Darnley, but was never actually consecrated. It does, however, provide a wonderful landscape feature, standing at the highest point of the Darnley estate.
Whim wending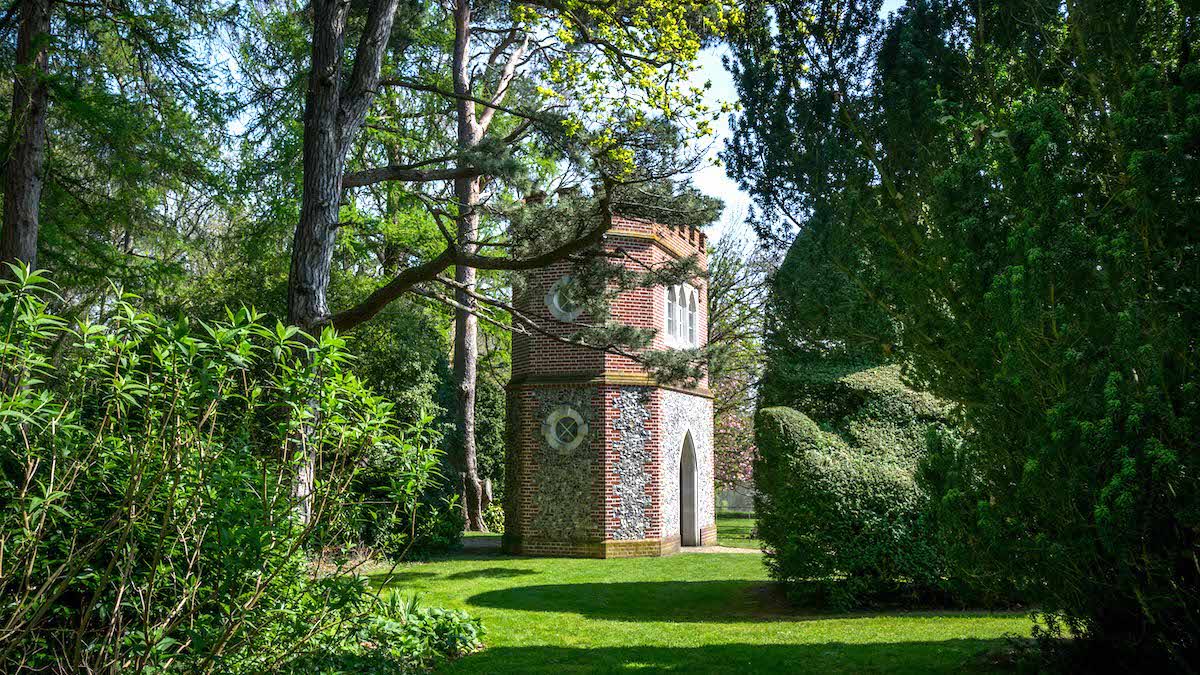 Tower at Doddington Place. Photo courtesey of Aliy Fowler
Our second port of call was Oakdale Park (please note: this site has since stopped operating as a CL). The proprietors own the attractive woodland which forms the backdrop to the pitches, so guests are free to wander. It really is a tranquil spot.
You're very close to Leeds Castle here, but as we'd been several times before we opted instead to spend the afternoon at Belmont House, a 30-minute drive away on the opposite side of the Kent Downs. This beautiful Georgian property boasts charming grounds, including a clock tower, Victorian greenhouses and a superbly Rapunzel-esque tower on the very edge of the gardens. This flint folly (now available as a holiday let) was built in 1808 for Belmont's owner, General Harris, who called it his 'Whim'.
Main house tours only take place three days a week but are definitely worth doing; Belmont is full of enchanting souvenirs of its former owners' voyages and is home to one of the best private collections of clocks in the UK.
When I mentioned my enthusiasm for towers, our guide suggested we make time to visit Doddington Place. A 15-minute drive from Belmont House, the 10 acres of landscaped gardens here have an exquisitely Edwardian feel to them, particularly the rock garden with its series of descending pools – a lovely relaxing setting for a sunny day! The folly tower didn't disappoint either. At the end of a long grassy, yew-edged walk, it's like a little piece of Hampton Court.
We journeyed next from the fringes of the Kent Downs to the border of the High Weald Area of Outstanding Natural Beauty. Surrounded by farmland and orchards, Tanner Farm Park is a peaceful Affiliated Site offering easy access to many picturesque walks.
After an al fresco lunch, we wound our way to Scotney Castle, a magical place now cared for by the National Trust. There aren't many opportunities to explore both an historic mansion house and an idyllic moated ruin in one outing. Scotney often hosts special events – live music, outdoor theatre, guided walks, etc – and this time, we were lucky enough to catch the Castle of Curiosities exhibition, which showcased many of the unusual objects acquired by Scotney's owners in the course of their travels.
Off the radar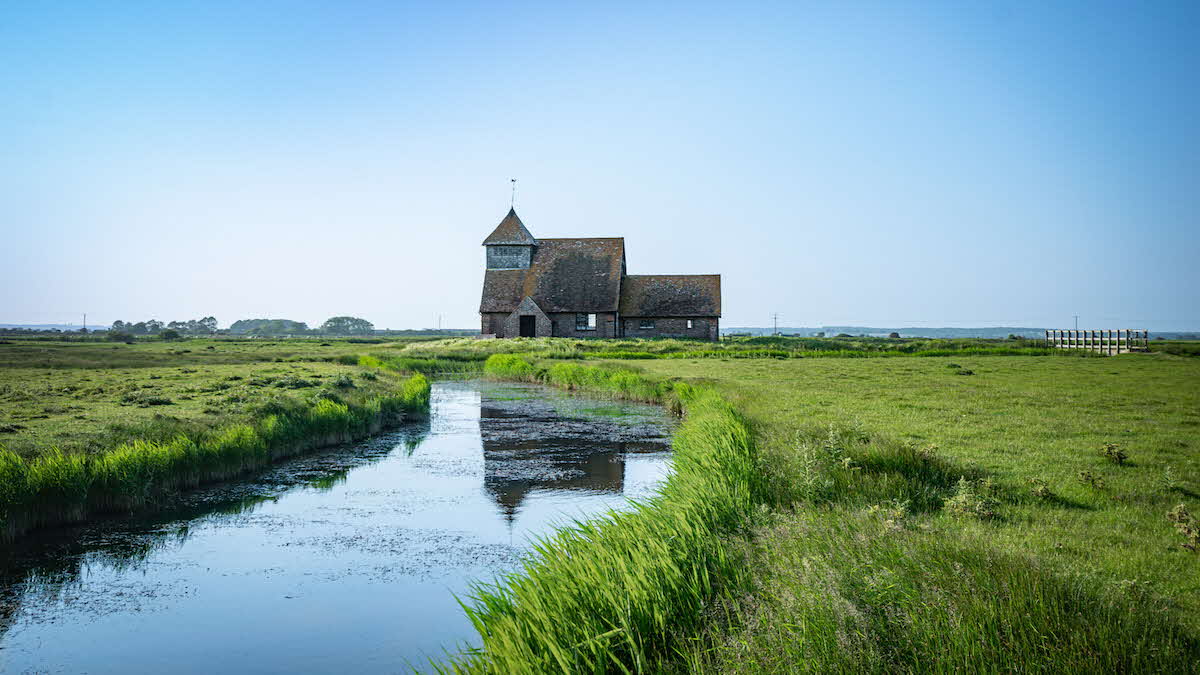 Church of St Thomas Becket, Fairfield. Photo courtesey of Aliy Fowler
In the morning we departed for Bedgebury Pinetum. A loss of satellite signal meant we found ourselves on the aptly named Rogers Rough Road – asphalted, but only just – and ended up in the Wealden village of Kilndown. Fortuitously, we parked right outside the church, which turned out to be one of the finest early Victorian examples in the country. It's marvellous outside, but the interior is something else, with its richly carved high altar and ornate gilded rood screen. The red, gold and blue pulpit was modelled on one in Beaulieu Abbey, and the freestanding marquetry panels are a testament to the incredible craftsmanship of the carpenters from the nearby Bedgebury Park estate. We made it to the highly scenic Pinetum eventually, but we were glad that our sat-nav had diverted us to somewhere new.
The midpoint of our tour was Hamilton Farm Airfield CL. With nearly 70 acres at guests' disposal, a delightful lake and four very well-stocked fishing ponds, this enormously friendly site was an instant hit with us. It's an excellent base for exploring the former smugglers' paradise of Romney Marsh, the 100-square-miles of sparsely populated wetland in this corner of the country, which is a haven for ornithologists.
We headed straight for the Denge Sound Mirrors on the coast at Greatstone-on-Sea. These odd-looking but spectacular concrete structures are the remains of an obsolete technology. Built in the late 1920s and early 1930s, they were an experimental incoming aircraft early-warning system, the low-lying marshes being well-suited for their placement. It's only possible to get up close to the mirrors on special open days as they are situated on an island within the RSPB nature reserve, but we still had an excellent view of these huge 'listening ears' from the bank.
The following morning we returned to the marshes, our destination Fairfield – one of the area's 11 'lost' villages. These are settlements that were abandoned, for reasons ranging from the prevalence of water-borne diseases on the marshes to the development of army ranges. Only a few farmhouses remain in Fairfield these days, but standing alone in a field criss-crossed by ditches is the 13th-century 'isolated church' of St Thomas Becket.
Prior to 1913, when a new water course was dug, the church was often stranded during winter and spring. Full of atmosphere, this location was used in the BBC's adaptation of Great Expectations and it's not hard to see why. Even today, the only way to reach the church is by footpath and a series of narrow wooden bridges. You're likely to see plenty of birdlife there; we were treated to sightings of coots, little egrets and even a marsh harrier.
Close to the bone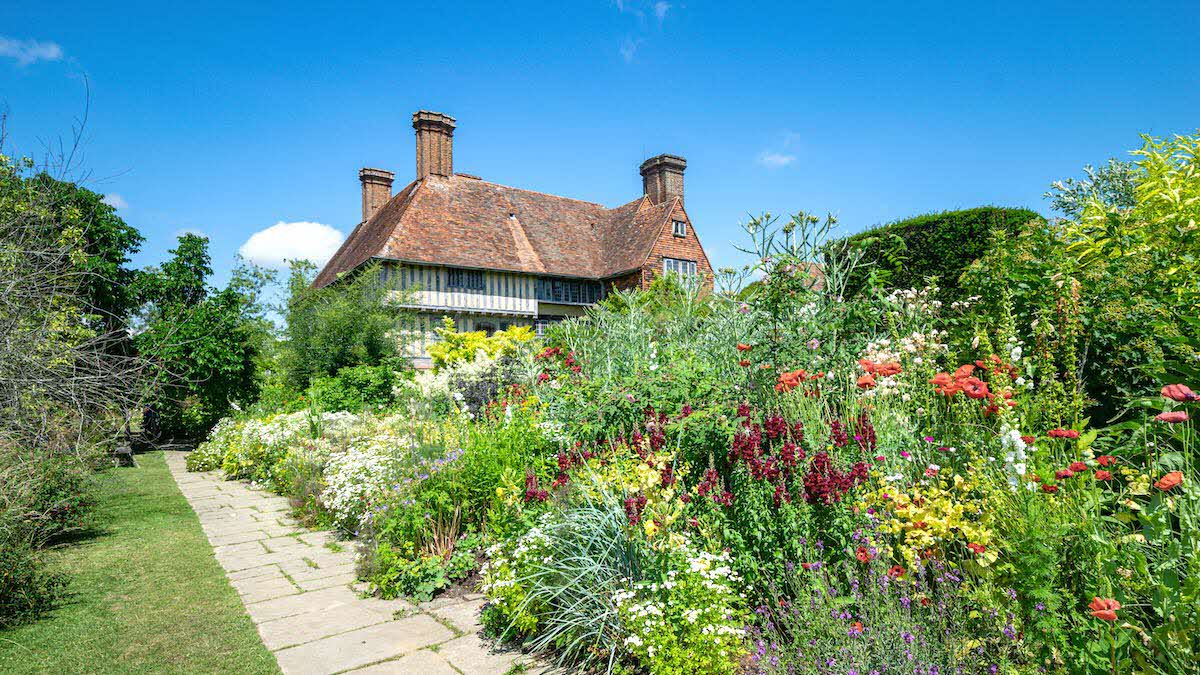 Great Dixter. Photo courtesy of Aliy Fowler.
Our next stop was Daleacres Club Campsite on the outskirts of Hythe. There's lots of space here, sympathetically divided into different zones, each of which feels nice and secluded. Once we'd installed ourselves on our leafy pitch, we decamped to the town to visit the Crypt of St Leonard's. A steep but attractive climb from the High Street, this medieval ossuary is one of only two that remain in England and it houses the largest collection of human skulls and bones in the country. It might sound macabre, but the on-duty guide really brought its extraordinary history alive for us.
Back outside, it was a short walk to the Malthouse Arcade, an antiques and craft market open on Fridays and Saturdays. Located in the Malthouse building, which was constructed in 1669 as a brewery, it is reputedly haunted and is certainly characterful. It hosts 25 diverse stalls and a little cafe. We stopped there for a bite in the cafe, then followed a short section of the Royal Military Canal through the verdant Holman's Field to Hythe station. This is the most easterly point on the Romney, Hythe and Dymchurch Railway that connects the town to the Dungeness National Nature Reserve. We arrived just in time to watch the Southern Maid steam in, and the engine being rotated on the manually operated turntable – definitely not something you see every day.
Although it's scarcely more than 50 miles from home, we were definitely in unknown territory when we arrived at our sixth stop-over – but what a site it is! Occupying the grounds of one of England's many lost country houses, pitches at Battle Normanhurst Court Club Campsite are shielded by copious mature shrubs and magnificent trees. Where else could you park your motorhome in the shade of an imposing listed wall or access one of the shower blocks via a sweeping stone staircase from 1870?
After a thorough recce, we made for the village of Northiam to visit Great Dixter, a stunning property that is made up of 15th-and 16th-century houses with early 20th-century additions by Edwin Lutyens. It was the long-time home of esteemed gardener, Christopher Lloyd, and the grounds are simply stunning. There is an unmanicured charm to the planting that lends them a wonderfully intimate ambience.
The Observatory Science Centre at Herstmonceux was on our itinerary the following morning. Here, the spectacular green telescope domes are the stars of the show (pardon the pun), but there are so many interesting exhibits and hands-on experiments that we stayed far longer than intended. There is a good cafe on site, but we headed to nearby Hastings for a fish lunch then took the West Hill Lift – a Victorian funicular railway – to the top of the cliff, where the craggy ruins of the castle overlook the sea. We had hoped to take the iconic East Hill Lift too, which accesses the nature park above that end of the town, but it was closed for repairs. (It has since reopened.)
Dive talkin'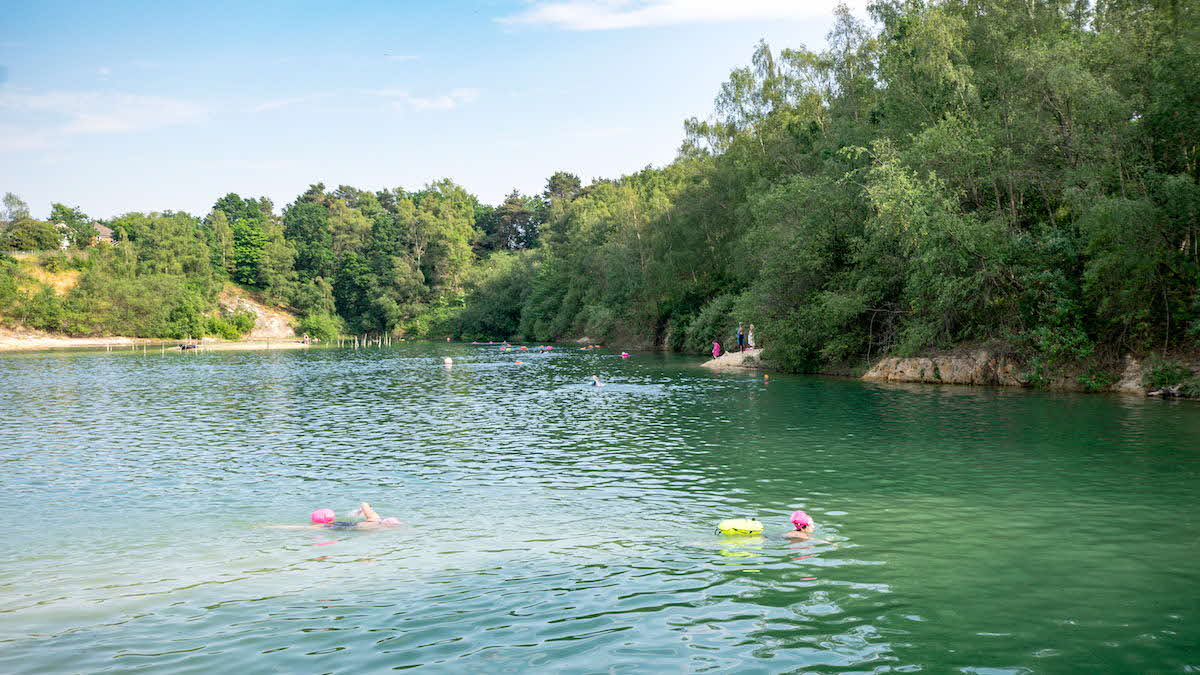 Diver's Cove is about 15 minutes' drive from Alderstead Heath. Photo courtesy of Aliy Fowler.
Alderstead Heath Club Campsite was our final destination. Despite being close to London it's exceedingly quiet, spacious and green. The afternoon was proving to be on the warm side, so we were very pleased when a fellow guest told us about Divers Cove.
Just six miles away, this is a gorgeous 7.3-acre reservoir which offers early evening (and weekend morning) open-water swimming sessions in a former sand quarry. You can hire wetsuits and – as we did – you can enjoy a post-dip warm-up in one of their lovely barrel saunas. There's a small on-site cafe too and regular artisan pizza nights. Having experienced this friendly spot for ourselves, we wish we lived a bit nearer! (Make sure you visit diverscove.co.uk to find out more about booking a swim and read the 'Frequently Asked Questions' and Lake Rules pages.)
For the last day of our trip we fancied something cultural and we were spoilt for choice, with the fomer homes of Winston Churchill (Chartwell), Charles Darwin (Down House) and Anne Boleyn (Hever Castle) all within striking distance. We eventually plumped for Hever because, in addition to the double-moated 13th-century castle and gardens, there are some interesting extras on offer: a 100-year-old yew maze, a water maze and (my favourite) a fabulous permanent exhibition of miniature houses from the medieval to the Victorian eras.
It proved to be a really enjoyable final day out, with the added benefit of being only an 80-minute drive from home. I'll admit, we did end up visiting a few places that we already knew and loved, but the majority were entirely new to us, and we were astonished by the number of intriguing discoveries we made. We'd definitely stay away close to home again!