Highlights of the Cumbrian Coastal Route 200
Coasting Along
From windswept island causeways to Roman ruins, the Cumbrian Coastal Route 200 has it all. Nick Harding points his motorhome towards England's North-West
Officially, the new Cumbrian Coastal Route 200 stretches from Morecambe Bay in the south via Solway in the north to Carlisle. Designed for cars, campers and motorhomes, the route has been split into five ordered sections (as detailed below), but you can be as flexible as you want – for example, you could start at either end, depending on whether you are arriving from the north or south. You could structure your journey to incorporate stops at a variety of Club campsites and Certificated Locations, or pitch up with a caravan and use your car to sample parts of the trail. And, best of all, you can take as long as you like to do it!
I visited Cumbria with my partner, Lin, and dog, Bonnie. The weather wasn't the greatest, with Storms Dudley, Eunice and Franklin threatening, but the memories more than make up for that.
Hold on tight for a guide to just some of its many highlights (for the official route, head to visitlakedistrict.com/information/vanlife-lake-district-cumbria/cumbrian-coastal-route). I don't think I've ever packed so much into a single week's campervanning – we would definitely recommend you take longer than a week, if you can!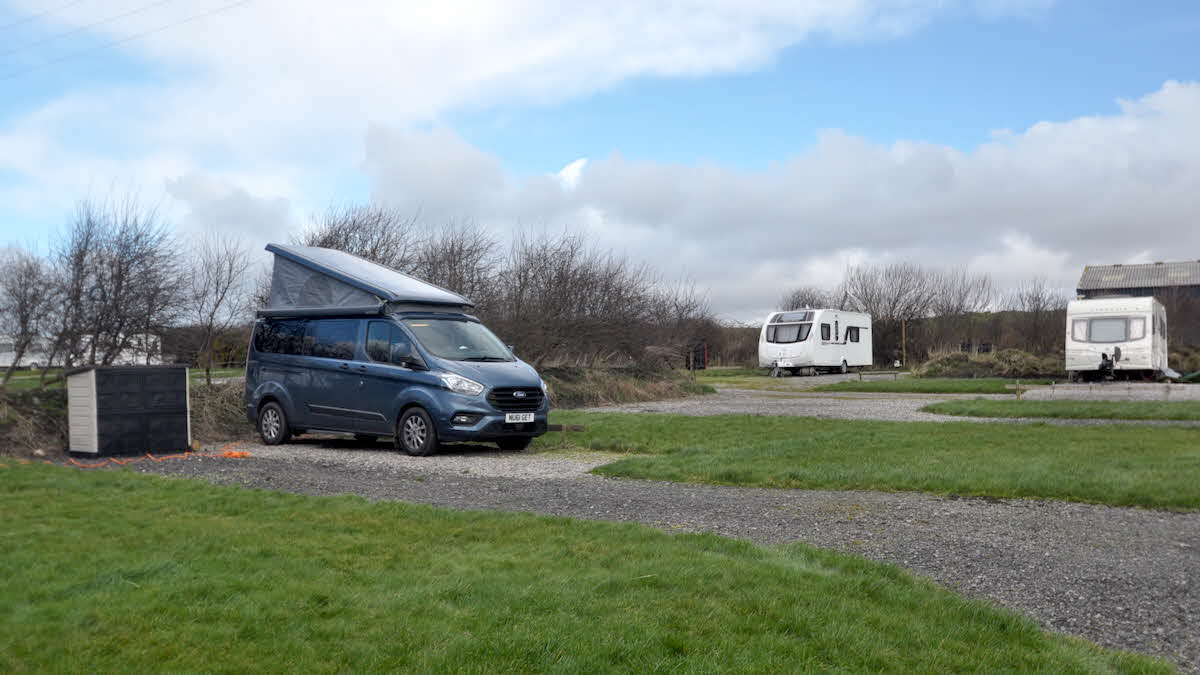 Old Kiln CL

Day one – Morecambe Bay
The area around Morecambe Bay is proving a draw for 'foodies', and our first aim was to stock up for the week at specialist local retailer 'A Day's Walk'. The company's Lake District Food Hall can be found at Holker Hall on the Cartmel Peninsula. Co-managers Colin and Emma Sneath explain that fresh produce arrives on the same day they order it, and venison comes from the 175-acre Holker Estate. Our next stop was pretty Cartmel, where you can pick up the area's signature sticky toffee pudding in the village shop.
We rounded off our first day by exploring the rather grand coastal town of Grange-over-Sands ('Grange' to the locals). After pitching up at Meathop Fell Club Campsite and pitching in to dinner, we were able to enjoy some of our discoveries from A Day's Walk. (Quick tip: head to the dog walk field and you'll get fine views out across Morecambe Bay.)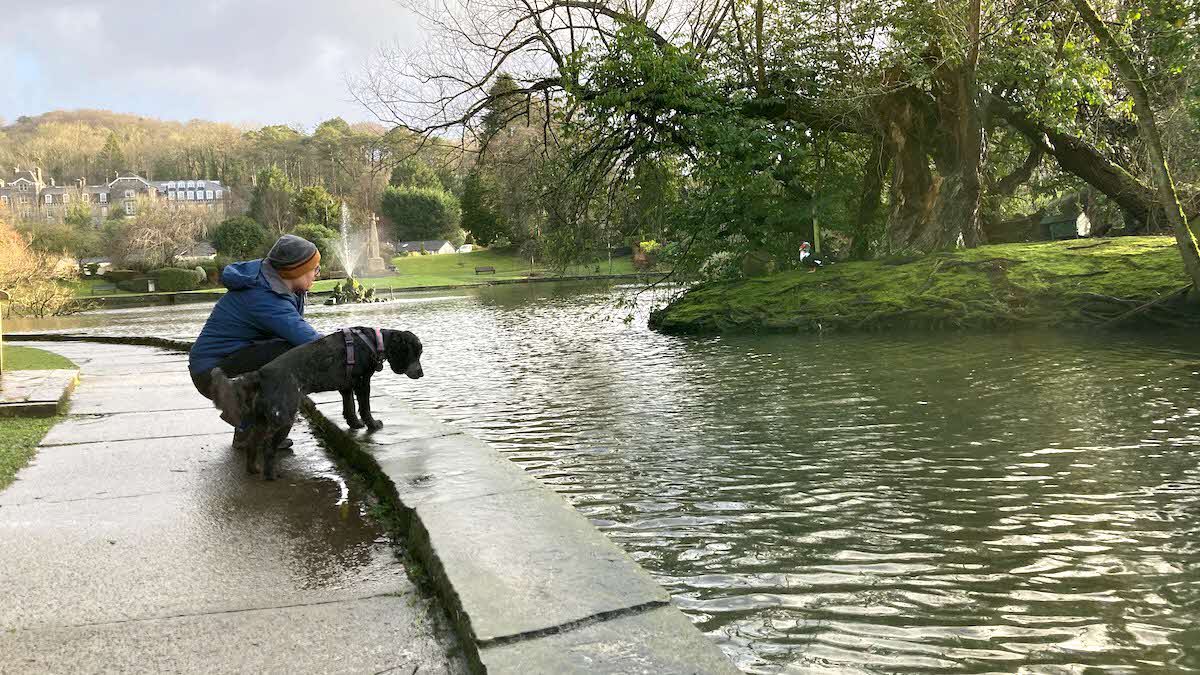 The Grange
Day two – Furness Peninsula and Islands
Having headed south-west to the Furness Peninsula, we took a short drive across the causeway to Roa Island, where the Bosun's Locker cafe is open daily aside from Mondays and Tuesdays. From Roa you can catch the passenger ferry for Piel Island, with its ruined 14th-century castle (you may have seen recent news stories about the island's search for a new 'king' and landlord for its pub).
With its docks, supermarkets, shops and restaurants, Barrow-in-Furness is an important hub, but we had an appointment further inland, in the town of Ulverston. Here, the 1930s-built Roxy still operates as a cinema, but downstairs is devoted to the Laurel and Hardy Museum. Stan Laurel was born in Ulverston, and there's even a copy of his birth certificate among the hundreds (if not thousands) of museum exhibits. The duo's films play on an endless loop, too.
"My whole life has been Laurel and Hardy'" says Mark Greenhow, curator of the museum and grandson of its founder Bill Cubin (a former Mayor of Ulverston). "My first memory is of grandad winding back a cine film... his big regret was he never wrote to Stan [who was known to be a great writer of letters]."
Ulverston is also home to the multi-award-winning Shed 1 gin distillery, renowned not only for its gins, but also its afternoon teas. Indeed, the 'G&Tea' is a fine feast – it includes a delicious baked yoghurt, cake and a scone plus marmalade (another award-winner). Co-owner Zoe Arnold-Bennett makes it all using the same ingredients (botanicals) that go into the gins; just don't plan to go out for an evening meal, as we originally had!
We stayed for the night at The Old School House CL in Broughton-in-Furness. This is a gem, with hardstandings, electric hook-up, a fire pit (they sell logs) and lovely views over to Beacon Tarn. (Note there's a 7.5m maximum outfit length)
Owners Barbara and Howard Wood – who are campervanners themselves – helpfully provided a rundown of local highlights: "You can walk down to the village from here... it takes about 35 minutes and it's all off-road," says Barbara. "You can join the Coniston old railway line from our site so the walk is mainly flat. There are two pubs in the village, The Black Cock Inn and the Old Kings Head. Both do good food and dogs are allowed in both. I suggest that you book a table, though, as they can get very busy."
Other recommendations included Silecroft – "folk are really taken aback when they go" – as well as Roudsea Wood and Mosses National Nature Reserve, Millom Beach and Haverigg "for brilliant sand dunes".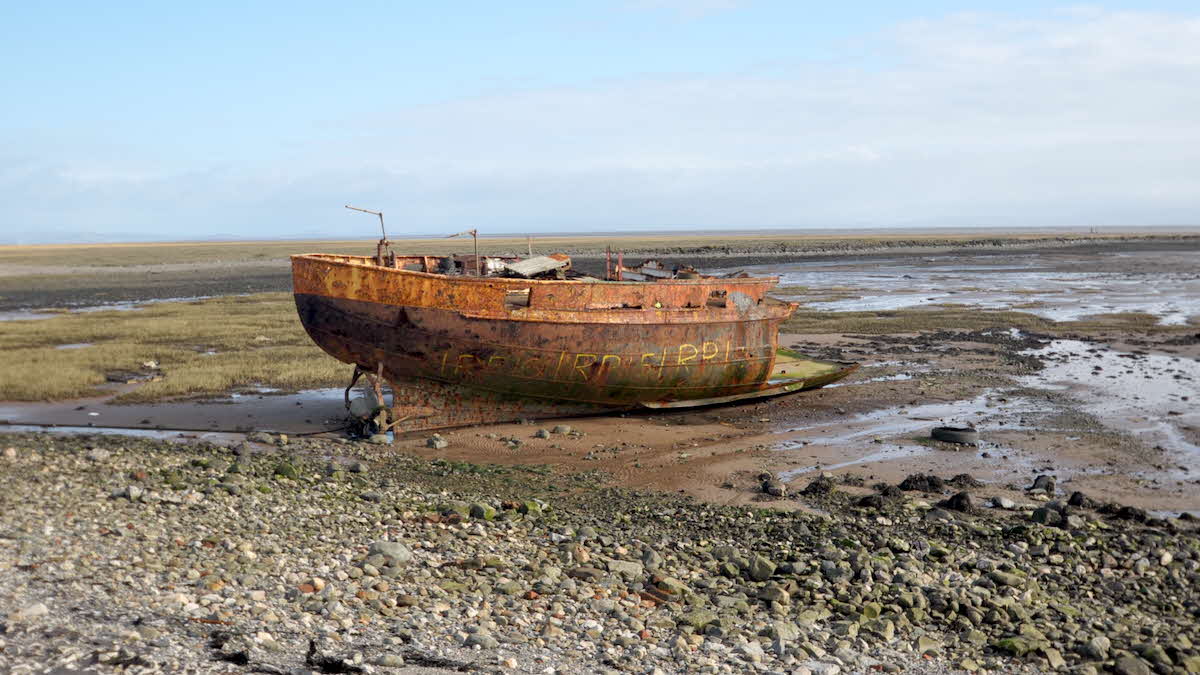 Roa Island
Day three – Haverigg to Seascale
We had intended to investigate some of Barbara's suggestions, but at this point the stormy weather hampered our progress. At three-mile-long sandy Silecroft, for example, we could barely open the doors of our campervan, so opted to sit and watch the foam that was being whipped up by the super-strong winds through our windows.
The next stop was Ravenglass, where you can visit the Roman baths, which, along with Hadrian's Wall further north, form part of the 'Frontiers of the Roman Empire' UNESCO World Heritage Site.
With Dockray Meadow Club Campsite closed at the time, our next stopover was
a private commercial site called Shepherds Views, near Holmrook. The only fuel station en route was having its pumps replaced, but after we checked in we realised we didn't have sufficient diesel to power the heating system. Out we went again, some 11 miles up the road to Egremont, with the weather getting fouler. By the time we were safely back on site with a Shed 1 gin (Cuckold's Revenge) and tonic (Mawson's Fell) in hand, we had learned our lesson: keep your fuel topped up.
Day four – Seascale to Maryport
While Whitehaven may have seen busier days as a port, you can learn about its history – as well as that of nearby Seascale and its power plants – at the imposing Beacon Museum, which overlooks the marina. The museum is a fantastic mix of interactive and traditional galleries and exhibitions, and there's a cafe and gift shop.
Whitehaven was once famed for its rum, and the history of the dark spirit's role in the area is recounted alongside tales of piracy and prohibition at The Rum Story, located in the 18th-century warehouses and cellars of the Jefferson family business.
We stayed a night at Old Kiln Farm CL, right on the coast near Allonby. Here you'll find a flat field with concrete-slabbed hardstandings and mains hook-ups as well as a small toilet/shower building.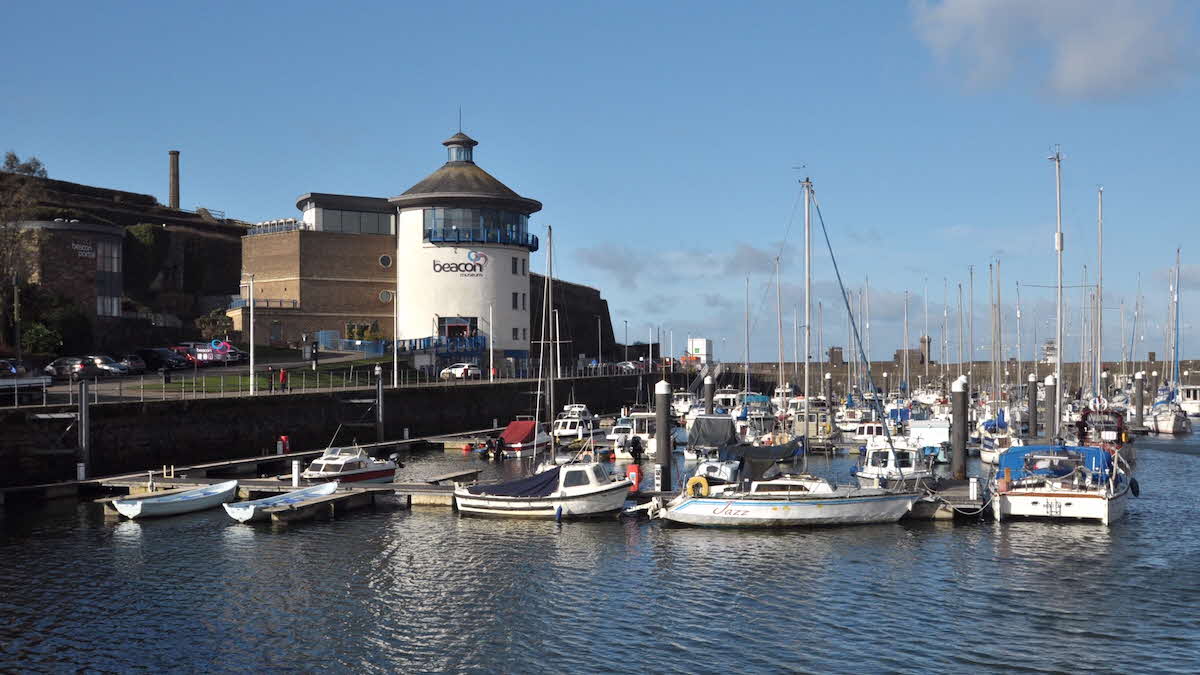 Whitehaven
Day five – Maryport to Carlisle
Our first stop on the fifth day was at Senhouse Roman Museum in Maryport, overlooking the Solway Firth. This attraction is home to the largest group of Roman military altar stones (ie small monuments) and inscriptions from any site in Britain. There is also a reconstruction of a typical lookout tower.
Heading inland, we visited Cockermouth, the birthplace of Romantic poet William Wordsworth. The National Trust looks after the family's Georgian townhouse and garden. There is plenty of history and culture elsewhere in the market town – another son was Fletcher Christian, who attended the same school as Wordsworth prior to leading the infamous mutiny on The Bounty.
We had set aside time to take in Allonby Beach and drive through parts of the Solway Coast Area of Outstanding Natural Beauty, which sadly meant our exploration of Carlisle had to be curtailed. If you would like to round off (or start) your trip along the Cumbrian Coastal Route 200 by visiting this historic city, Englethwaite Hall Club Campsite is now open for the 2022 touring season and sits less than 10 miles to the south-east.
A proper visit, to see Carlisle's castle and discover more about its strong links with the military, will have to wait... and hopefully the weather will be calmer next time!