A seven-site military history tour across the home counties
On manoeuvres
Alison and Elizabeth Fowler delve into Britain's military history during a tour stretching from Cambridgeshire to Oxfordshire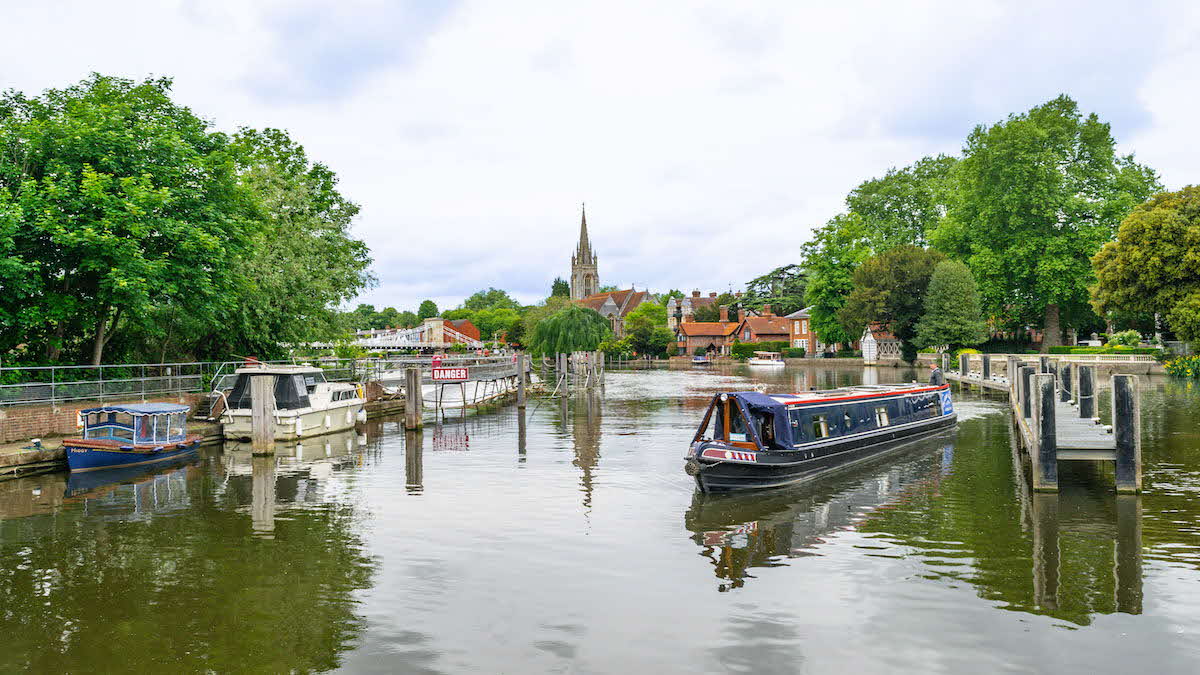 Marlow lock, Buckinghamshire
The First and Second World Wars were pivotal periods in British history that continue to influence our national psyche to an astonishing extent, while physical evidence of these conflicts can be found in a wealth of buildings, dedicated museums and monuments across the country. When planning this tour we didn't set out to focus on 20th-century military history, but sometimes an unlikely itinerary emerges and surprises you with what it has to offer.
We began our trip at the Lawn Farm Certificated Location (CL), a spacious site near Cambridge and Huntingdon with south-facing pitches arranged along the treeline in a large, level field. Once we'd settled in, we made straight for Huntingdon, having been told that the airy restaurant at the Old Bridge Hotel was a great place for a swanky lunch. While enjoying our starters, our waiter explained that the hotel was used by the officers of the Huntingdonshire Cyclists Battalion during the First World War and featured in the town's Great War History Trail. Apparently, Huntingdon played a significant role during the Great War, and the trail seemed an excellent way to learn more. That, then, was our post-prandial activity sorted – and a fascinating walk it was, our version of it ending up at the poignant Thinking Soldier war memorial in the market square.
We later took a short drive to Hemingford Grey to visit its medieval manor. We had anticipated only seeing the cottage gardens (which are an absolute delight), but were just in time for a captivating house tour with the owner, the daughter-in-law of author and former resident Lucy Boston (please visit greenknowe.co.uk for tour details, which are by appointment).
This is an incredible building, steeped in history. It's worth going just to see the huge 1929 gramophone in the music room. Here, twice a week throughout the Second World War, Boston gave regular record recitals to personnel from the surrounding airfields. Our trip, it would appear, had found its theme!
Cherry pick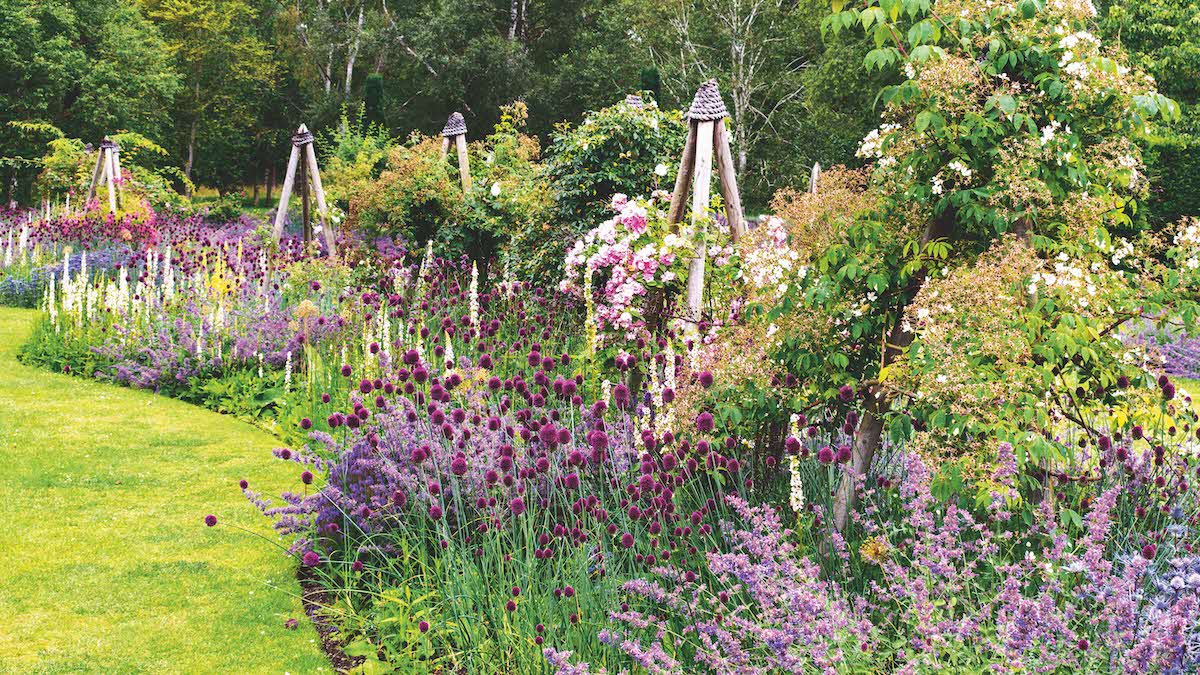 Cambridge Botanic Garden – image supplied by Alamy
Our second stopover was Cambridge Cherry Hinton Club Campsite, a gem of a location, set in an attractively landscaped ancient quarry works. We headed straight for Cambridge to explore the heritage-listed Botanic Garden with its wonderful glass houses, then booked onto a guided punt tour of the picturesque College Backs. In the afternoon, we left the bustle of the city for the Orchard Tea Garden in the village of Grantchester, and treated ourselves to scones and Earl Grey in the shade of an old plum tree.
Many Cambridge luminaries have taken tea here, but none is so definitively associated with it as Rupert Brooke, whose Great War poetry embodied the optimism felt at the beginning of that conflict: "If I should die, think only this of me:/That there's some corner of a foreign field/That is for ever England" (The Soldier, 1915).
Sitting in the orchard, we preferred to think of his 1912 offering, The Old Vicarage, Grantchester, a tribute to his erstwhile home: "Stands the Church clock at ten to three?/And is there honey still for tea?"
With both World Wars now looming large on our agenda, we couldn't leave the area without a visit to the immaculately kept Cambridge American Cemetery. If you've never been, don't miss the opportunity. With its tranquil reflecting pools, stunning devotional chapel and moving visitors' centre, it's a setting as beautiful as it is poignant.
Stop number three for us was Ashridge Farm Club Campsite in Hertfordshire. Small and surrounded by trees, it has a lovely relaxed feel; it's only a 10-minute walk from there to the pretty village of Ashwell.
Make sure you download the excellent tourist map because there's plenty to see. We loved the little Ashwell Museum. Housed in a timber-framed Tudor building, the museum's collection started life in a garden shed, featuring a hoard of relics collected by boys from the nearby Merchant Taylors' School. (This is another impressive building, which can be seen just over the road from the grounds of St Mary's Church). Our favourite part of the village was the unusual, 18th-century, thatched cob wall that runs for 80m along Gardiners Lane. It's known locally as the Bee Wall, being the habitat of several species of solitary masonry bees. It was marvellous to watch them coming and going in the sunshine.
Iconic aircraft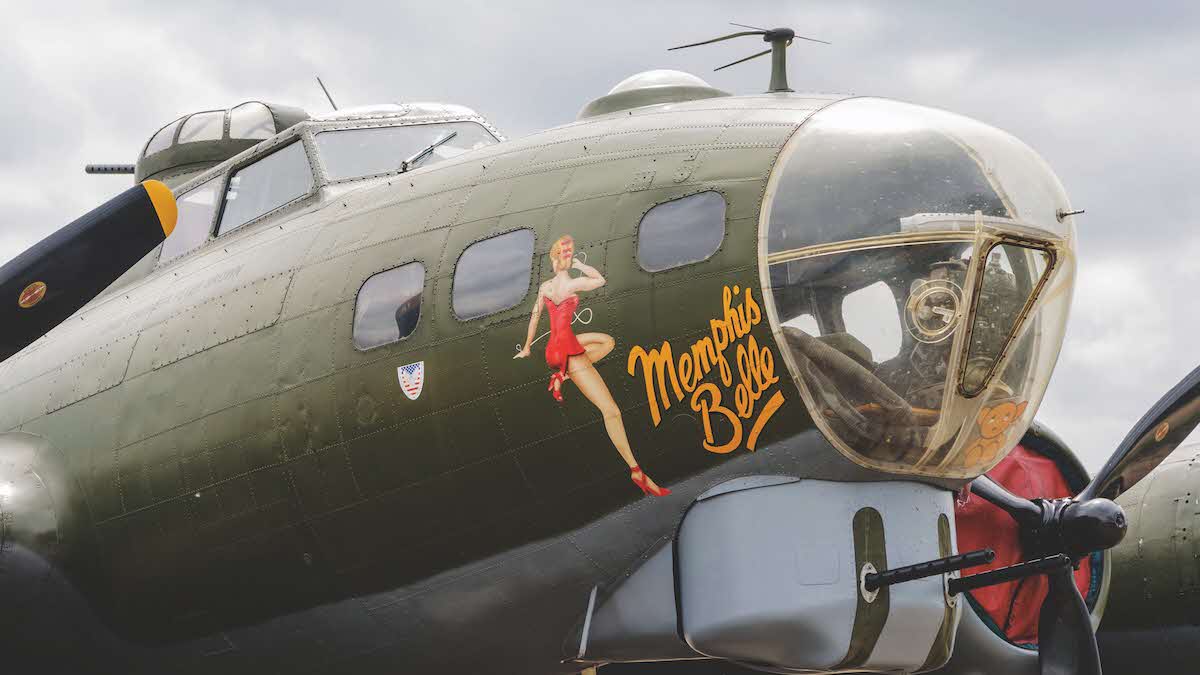 Sally B, a B-17 used in the film Memphis Belle, at Imperial War Museum Duxford – image supplied by Alamy
After lunch we drove east to resume our military theme with a visit to the Imperial War Museum at Duxford. Based at the aerodrome originally operated by the Royal Air Force during the First World War, the museum houses a vast array of aircraft, military vehicles, naval vessels and more. We spent several hours in the various hangars, where the volunteer guides were extremely informative. But the real highlight was sitting outside, watching a pair of Spitfires being put through their paces above our heads.
The halfway point on our tour was the delightful Rosehill Cottage CL near Shillington, Bedfordshire. Surrounded by horse paddocks, it's blissfully quiet with gorgeous views. As it's situated at the north-eastern end of the Chiltern Hills, our first excursion was to the Pegsdon Hills and Hoo Bit Nature Reserve. Here we wandered happily for hours, finding orchids and moschatels in the wildflower meadows below the chalk hills, and watching skylarks in song-flight and grizzled skipper butterflies emerging in the grassland.
In the afternoon we headed for the market town of Hitchin – and there discovered the 14th century Church of St Mary. It's remarkably large for a parish church and its waterside situation makes it a must-see. We had an impromptu tour of the interior as well. It's serene inside, and the abundance of clear windows makes it upliftingly light. There's some fine medieval glazing, and a stained-glass memorial to the fallen of the First World War.
The following day, we made for the home of the Second World War codebreakers at Bletchley Park in Buckinghamshire. We'd both been before, but there's simply so much to see that one visit is not enough. New to us, the current D-Day exhibition was excellent. It's an immersive cinematic experience exploring the role played by Bletchley staff in the largest amphibious landing in history. However, the interior of the Victorian Mansion, with the library and Commander Denniston's office recreated to show how they looked during the war, is still the best part for us.
Common ground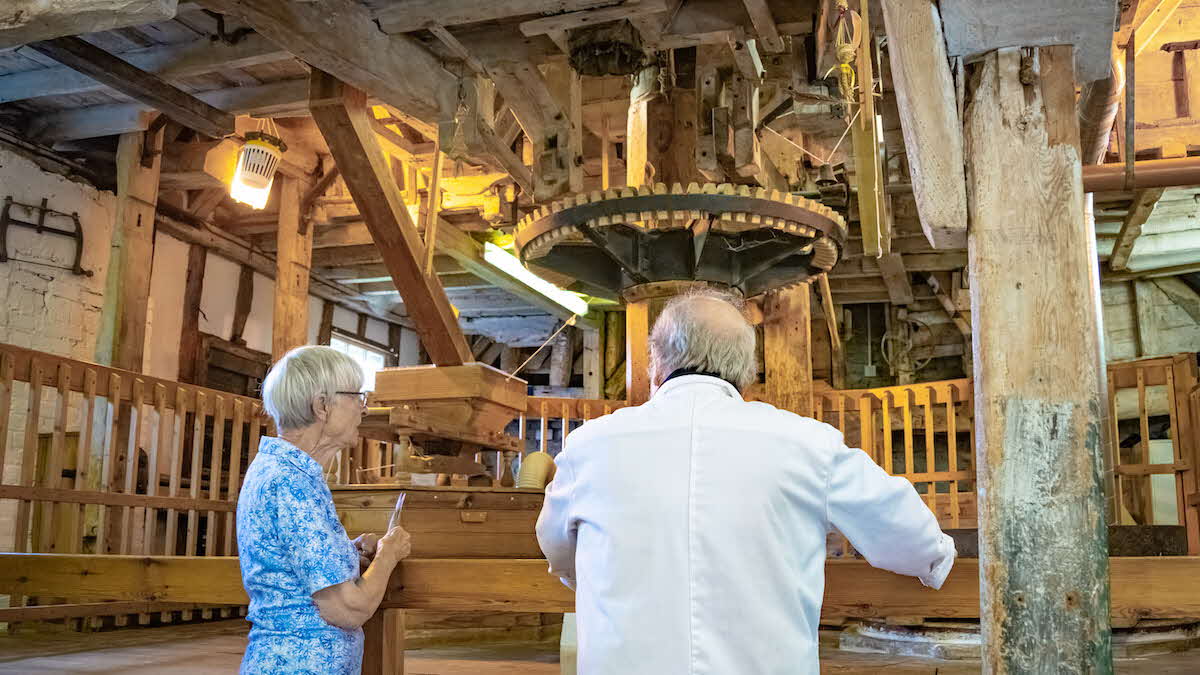 Mill Green Museum and Mill
Next up was Commons Wood Club Campsite near Welwyn Garden City in Hertfordshire – a peaceful and leafy location, and great for wildlife, but with convenient train services that carry you to central London within 40 minutes. We began by venturing just 1.5 miles to the Mill Green Museum, a 300-year-old water mill that has been restored to full working order. It's an idyllic setting and we were lucky enough to receive a demonstration from the knowledgeable miller.
The weather took a turn for the worse as we were leaving, so we sought out an indoor distraction. Escape Hunt Watford offers a number of different escape room scenarios but its 'Our Finest Hour' game had an obvious appeal. Set during the Second World War, you are cast as British intelligence agents tasked with finding and destroying enemy super-weapons. It turned out to be a lot of fun – a truly immersive experience and infinitely preferable to watching the rain!
The sun returned in the morning, in time for a visit to Hatfield Park. This estate's early 17th-century gardens are beautiful and the house is a splendid example of Jacobean architecture. Its interior is exquisite, too, and our tour guide was brilliant, bringing everything to life with his passion and incredible depth of knowledge. We were interested to learn that, during the Second World War, Hatfield House was the venue for the UK's first Civil Resettlement Unit, created to help repatriated British POWs readjust to civilian life.
Our penultimate stopover was at Wyatt's Covert Club Campsite in Buckinghamshire – another green haven, and just 18 miles from central London. This area is brimming with options if you're after 20th-century military history. Head east into the capital and you'll find the Royal Air Force Museum on the old Hendon Aerodrome. Head west and there's Hughenden Manor, the locus of a crucial secret map-making operation during the Second World War. Around 20 miles away is the Battle of Britain Bunker – a vast operations room at RAF Uxbridge, 60 feet underground, from which fighter aircraft operations were controlled.
Closest to Wyatt's Covert, however, is the Chiltern Open Air Museum. Here, over 35 historic, vernacular buildings – painstakingly reconstructed to tell the history of the Chilterns – are arranged over 45 acres of parkland. One particularly apposite area (for us) showcases a First World War Nissen Bow Hut, a Second World War Sewell Nissen Hut, and a wonderful 'Dig for Victory' allotment. But there's more to discover, from an Iron Age roundhouse, to a 19th-century tin chapel, to a 1940s prefab. We spent an entire day exploring and could have done with longer.
Model citizens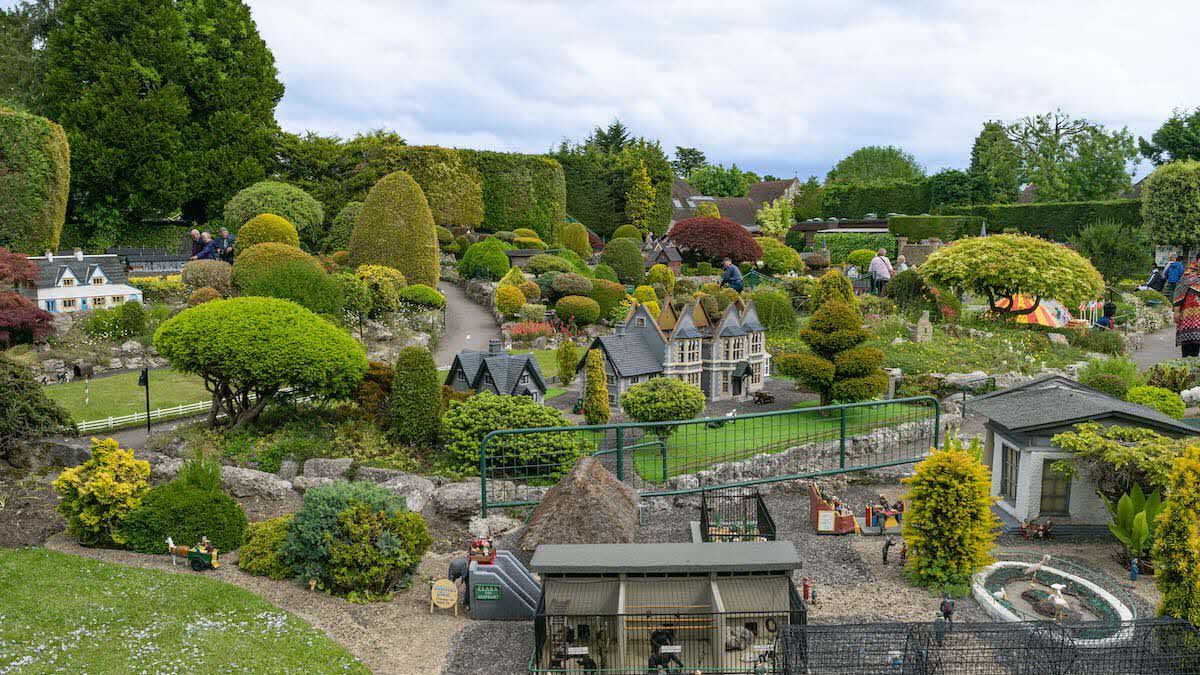 Bekonscot Model Village
Taking a break from all things military, our next excursion was to the extraordinary Bekonscot Model Village. What a magical choice that proved to be. It's the oldest original model village in the world, covering 1.5 acres and featuring six separate towns and villages, which nestle in immaculate miniature gardens. It's hard to think of a slice of British life that is not depicted here.
Henley Four Oaks Club Campsite was our final stay. It's a lovely, verdant site, with pitches distributed between lofty trees.
The site managers recommended nearby Nuffield Place for an afternoon visit and we were so glad they did. This is the former home of William Morris, founder of the Morris Motor Company and later Viscount Nuffield. Set in an enchanting Arts and Crafts garden, the house remains much as Morris and his wife left it, an unpretentious and slightly quirky time capsule of 1930s Art Deco.
Although he was one of the richest men in the world during the early 20th century, Morris led a simple life, using his wealth to benefit others. He is well known for his charitable Nuffield Foundation and for Nuffield College in Oxford, but there was so much more to find out from our enthusiastic guide. During the First World War, for instance, Morris switched his factory from the production of cars to mine sinkers and his war work gained him an OBE. We'll never look at a Morris car again without thinking of how much good was done by this amazing man.
For our final day, we rounded off with a sunny stroll along part of the 184-mile Thames Path. We started in Henley and finished over eight miles downstream in the vibrant Georgian market town of Marlow, which has to be one of the most attractive locations on the river. We lingered for a while near the weir, drinking in the scene – the spire of All Saints Church rising beyond the trees in the distance, the pretty, two-century-old suspension bridge spanning the waters and boats manoeuvring in and out of the lock. Just as we were contemplating finding a bus back to the site, an elderly gentleman joined us on the bank and told us that his grandfather had been a member of the Upper Thames Patrol. This, he explained, was a water-borne defence unit – a 6,000-strong branch of the Home Guard that patrolled the river from Teddington to Lechlade between 1940 and 1944. These volunteers were taught how to send signals using flags, how to interrogate strangers approaching defence stations, and even how to detonate explosives set under bridges – should enemy forces arrive.
We were fascinated and humbled in equal measure to learn something new about the roles ordinary people played in defence of the realm. It was a chance meeting and a fitting finale to our unanticipated voyage of wartime history discovery.