A seven-site tour of the west of Scotland
West side story
Rugged scenery, picturesque pitches, and one of the best steam train journeys in the country – Andrew Ditton takes a leisurely tour of the Scottish west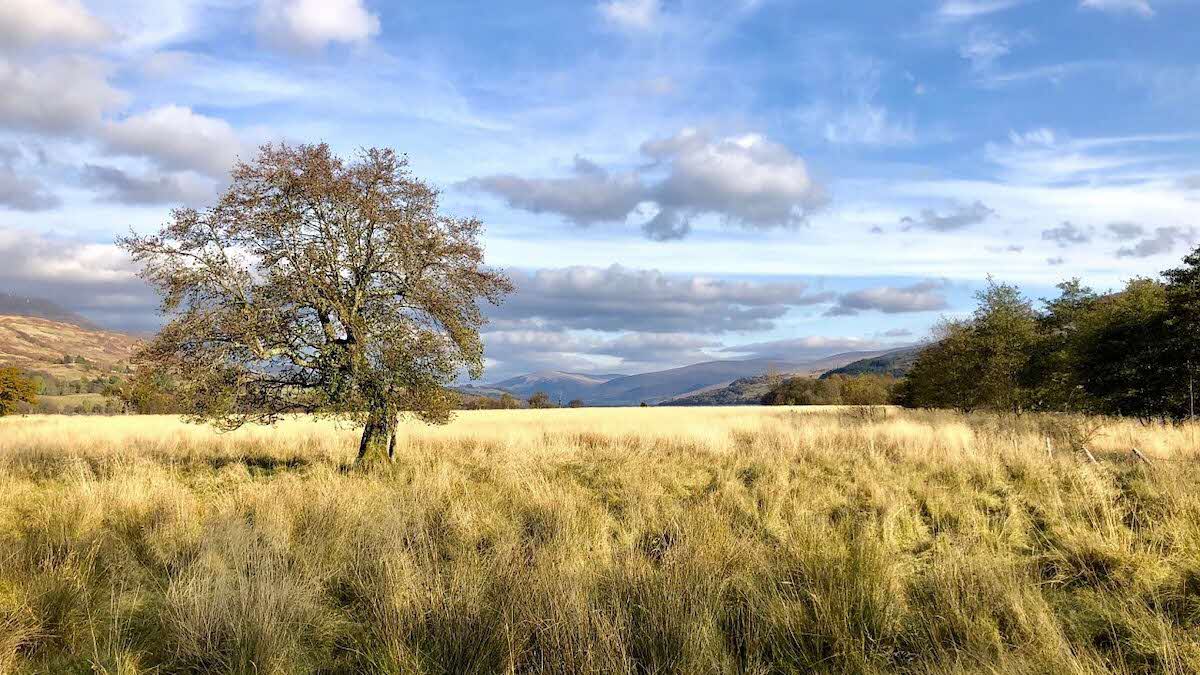 Loch Tay by member Katie Dudley
Holidays to Scotland should come with a warning: if you're not careful, the country will seduce you and take up residence in your heart. Don't attempt to resist its rugged charm – I tried to do so for many years before giving in, dismantling my life in south-east England and taking up residence north of the border.
Despite calling Scotland my home all year round, I can't think of anywhere I'd rather go on holiday. This tour presents the best of what the country has to offer: walks for all abilities; nature that will leave you open-mouthed; Club campsites with stunning views; exemplary local food and drink; and unforgettable days out.
Above all, this break invites you to slow down. Take your time and spend a little longer than usual at each site to enjoy everything on offer, and plan to spend twice as long as you normally would on the connecting drives. You'll need to stop frequently to absorb Scotland's beauty lest you become overwhelmed by the sheer rugged grandeur of it all.
Good Crieff!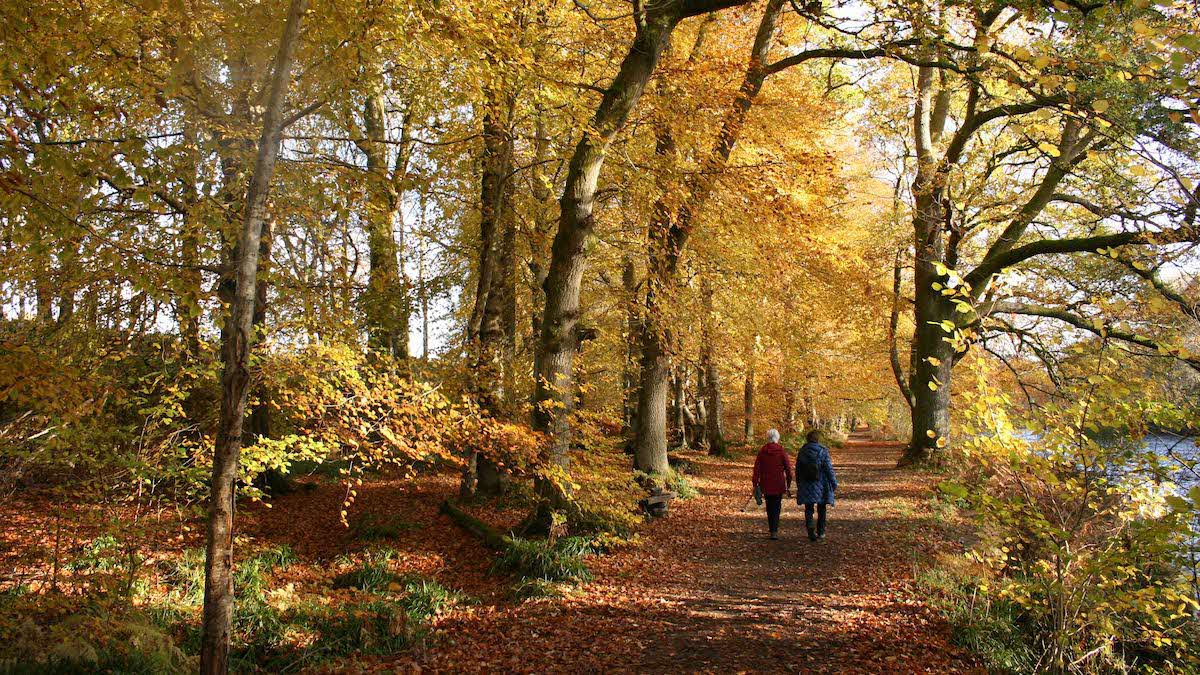 Lady Marys Walk in Crieff by member Eric Ness

Approaching from England and the Central Belt of Scotland, we start this tour at Lochlane Certificated Location (CL) near the charming market town of Crieff.
Lochlane opened in 2018, and is the perfect place to power down if you've had a long journey. Glorious sweeping views are on offer from each of the tiered hardstanding pitches and, if you're lucky, you'll see red kites hovering above as deer daintily pick their way across the fields. A 10-minute walk takes you to the secluded banks of the River Earn, which slowly meanders from Loch Earn to the River Tay in Perth.
"We attract lots of hillwalkers," says Laura, one of the family members who takes care of the site. "Ben Chonzie and Ben Vorlich are popular mountain walks, while Lady Mary's Walk offers a more sedate option along the River Earn."
If you prefer your off-road explorations to feature knobbly tyres rather than walking boots, you'll find blue, red and black mountain bike trails at nearby Comrie Croft.
All this seemed too much like hard work to me. I chose instead to visit Caithness Glass and watch the craftsmen turn molten blobs into outstanding glass creations, before enjoying a walk with the dog through the delightful MacRosty Park in Crieff.
Onward to our next destination, Killin. While the distance might be short, the journey cannot be rushed. Much of the road follows the shores of Loch Earn, which twinkles seductively as you drive. Take my advice, and don't fight the urge to stop. There are laybys a-plenty where you can pull in, brew up, and soak in the view before carrying on.
Killin spoils members with its offer of two very different Club campsites. Last year we opted for Clachan, a mile or so beyond the town and nestled quietly among the trees. Though it lacks a toilet block, Clachan benefits from a relaxed ambience that lures members back time and time again. (Make sure you check the site's page at camc.com before you visit as the Club was trialling a new automatic barrier system as this issue went to press – see page 15 of the September magazine for more information.)
This year, though, I opted to stay at the full-facility Club campsite on the edge of town – Maragowan. Lucky me – I managed to bag a pitch right on the banks of the River Lochay, which attracts anglers, paddleboarders and kayakers. Kayaks and mountain bikes can be hired from the Outdoor Centre in Killin, where the staff can also advise you on the extensive network of cycle trails in the area.
One such trail, which is also accessible on foot, follows the former Killin Branch of the Callander and Oban Railway, which closed in 1965. From the site, it's a pleasant walk to Loch Tay, where you can still spy the occasional wooden sleeper in the ballast of the path bed.
Alternatively, you can follow the line into town, admire the cascading Falls of Dochart on your way through, then pick up the line again at Acharn Forest. Walkers can take the four-mile trail through the forest, while those on two wheels normally head to the stunning Glen Ogle viaduct just over half an hour's ride away.
Mull it over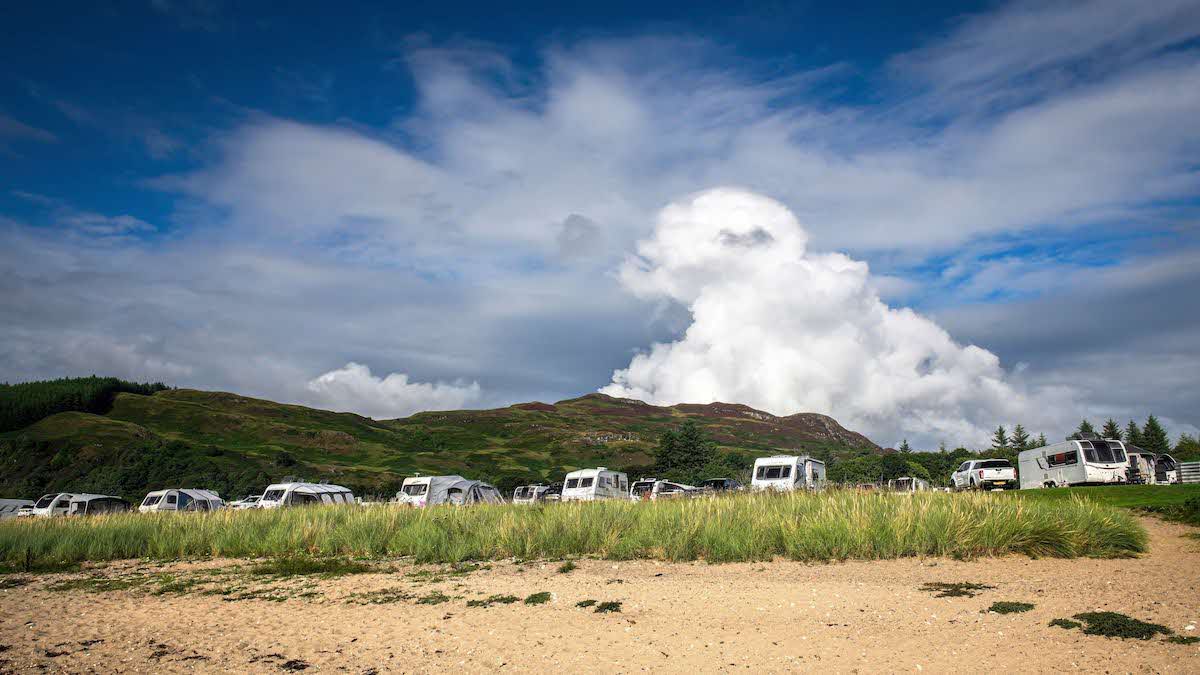 North Ledaig by member Stephen Goacher
It's now time to leave the forest behind and head to the coast and the bustling town of Oban. Day trips to the Isle of Mull or Lismore are straightforward from Oban thanks to its comprehensive ferry links, or you can go further afield to the Inner, or even the Outer, Hebrides. Today, though, we are escaping the hubbub of Oban and settling a few miles outside town at North Ledaig Affiliated Site (AS).
The fame of North Ledaig (which has been affiliated with the Club for 60 years) is widespread thanks to its immaculate facility blocks, spacious pitches, and sweeping sea views across Ardmucknish Bay toward Lismore, and Mull beyond.
Bordering the site is a sandy beach, while running through it is the former Oban to Ballachulish Railway. Now part of Sustrans Route 78, this pathway, known as the Caledonia Way, links Oban with Fort William on mostly traffic-free routes. You can cycle or walk along it, most conveniently to the nearby village of Benderloch, where you can head up the hill to Beinn Lora. From the elevated viewpoint you can look down over the campsite ("I can see my house from here!") as well as admire the views across the Firth of Lorne to the mountains of Mull. Reward yourself on the way back to the site with a refreshing cuppa and slice of something decadent at the Ben Lora Cafe and Bookshop.
There's a wealth of things to do in Oban, from castles to boat trips to a spot of retail therapy, but for my wildlife fix I hitched up the caravan and headed to the Scottish poster boy of Club campsites, Bunree.
Ever-changing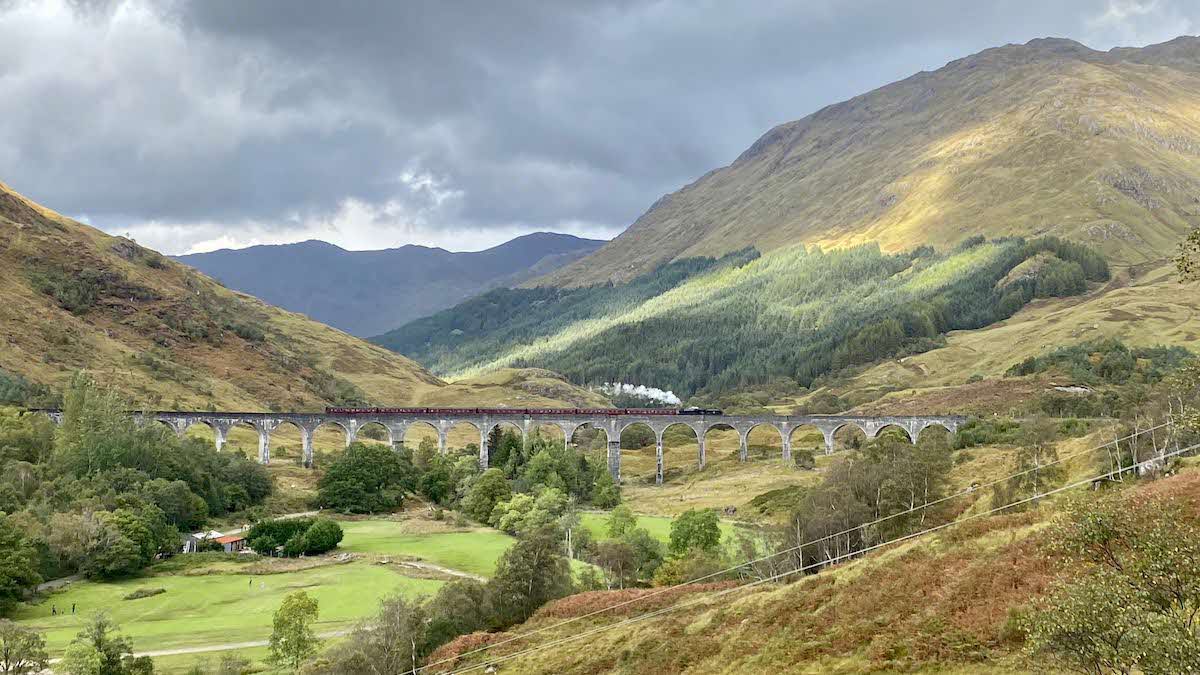 Glenfinnan Viaduct by Linda Burgess

You'll no doubt have seen pictures of Bunree in Club literature, because it's just so ridiculously pretty. Loch Linnhe laps at the edge of the site, while the moody mountains across the water add a jaw-dropping backdrop that transforms every minute thanks to the ever-changing light and cloud cover.
A short walk away is the forest at Glen Righ, where you'll find the 45-minute circular footpath that takes in the dramatic Inchree Falls. From the viewing platforms you might see brave families canyoning alongside the falls with the company Vertical Descents. My cousin and her son were brave enough to join them and absolutely loved it. Of course, I would have loved to have had a go (or so I pretended), but someone needed to look after the dog.
Instead, I made use of the Club's Great Savings Guide and took Dougal on a wildlife cruise with Cruise Loch Linnhe from the nearby town of Fort William. Quite simply, it was two of the most enjoyable hours I have ever spent in the area.
From the comfort of the cabin and clutching a warming cuppa, I listened to the fascinating commentary from our skipper, Karl, who brought to life everything around us, whether social, historical, geological, environmental or just plain quirky. The highlight of the trip was doubtlessly the seals. Karl skilfully manoeuvred the boat to within photo range from the open deck, but remained far enough away so as not to upset them. It was magical.
Magic of the Harry Potter kind came the next day as I ticked another item off my bucket list and travelled on board The Jacobite steam train. My top tip is to allow plenty of time to park. We ended up having to walk 15 minutes from the motorhome-friendly West End Car Park to Fort William station, as all other car parks were full. Riding in a classic Mark 1 carriage, we enjoyed stunning views en route to Mallaig as the train puffed and panted its way through the jaw-dropping landscape. Everybody wants to see Glenfinnan Viaduct, made famous in the Harry Potter films, and the guard thoughtfully announced our approach in advance.
Upon arrival in Mallaig, there was enough time to take a wee boat trip, wander the harbour, or just do as we did and find a dog-friendly cafe (The Tea Garden at Mallaig Backpackers) for an enormous leisurely lunch before staggering the 50 yards or so back to the train.
If you prefer to visit Mallaig under your own steam, consider staying at Traigh Farm CL in Arisaig. As I was unhitching, a dejected-looking couple engaged me in conversation. They were staying elsewhere, but had tried unsuccessfully to reserve a pitch here. Boasting incredible views, it's a very popular site, so booking way in advance if you want to stay more than a few days would appear to be essential.
Mallaig is about 10 minutes' drive in one direction (or 45-60 minutes' cycle ride if you're feeling fit), while Arisaig is half that distance in the other direction. It was in Arisaig that I stumbled upon the dog-friendly Sound Bites Cafe, a vibrant place that offers good food, good music and good conversation with the staff. It's serendipitous little finds like this that make a holiday memorable.
From Mallaig you can take a ferry as a foot passenger to Armadale on the Isle of Skye, and visit the nearby Armadale Castle for the day. Alternatively, you can board the ferry with your touring outfit (book in advance – see calmac.co.uk), enjoying the short hop over the Sound of Sleat as the most efficient means of getting to the final site on our tour.
Come back for mor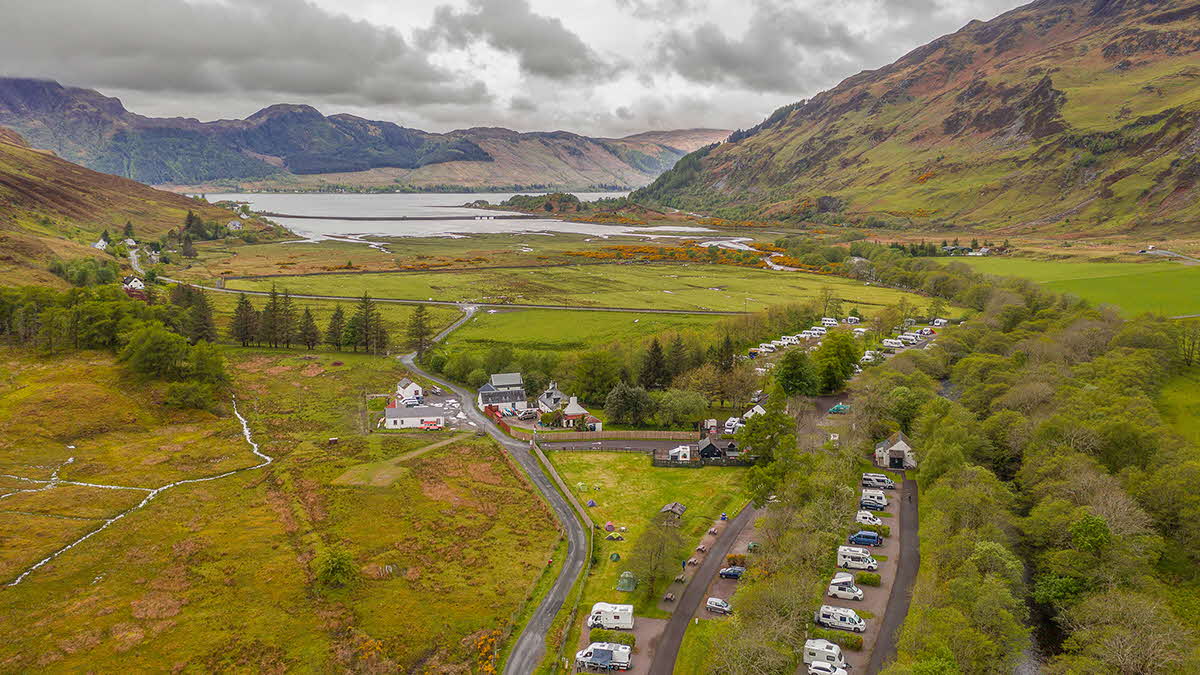 Morvich by Alan Clark
A personal favourite of mine, Morvich Club Campsite, is nestled in a location that might realistically be described as awesome. The mountains surrounding the site emit a calming presence, casting visitors under their powerful spell.
If you have use of a car, then the circular route to the Isle of Skye taking the Glenelg ferry in one direction is a great day out. Built in 1969, this ferry is the last in the world to feature a manually operated turntable. Other recommended attractions include Attadale Gardens and Eilean Donan Castle.
However, there is actually no need to use the car or 'van at all. My vehicle remained stationary for the entire stay as I picked off a couple of the 22 walks on offer in the area. One of the more straightforward options, which offered sightings of deer along the way, is the relaxed three-to-four-mile circular route from the site. Taking in open countryside, wooded areas and the adjacent River Croe, it's a delightful way to spend a couple of hours.
It was my intention to tackle the 12-mile all-day round trip to the Falls of Glomach (which has a drop of 113m, making it one of the tallest waterfalls in Britain), but we just didn't manage it this time.
However, when you visit a corner of the country as attractive and as magical as the west of Scotland, you don't really want to do everything on your first visit. Leave a few plans in reserve, so you have an excuse to go back.
Just be careful you don't fall completely in love with the region and end up doing what we did and moving there. If our experience is anything to go by, you're in serious danger of improving your quality of life beyond measure. You have been warned!